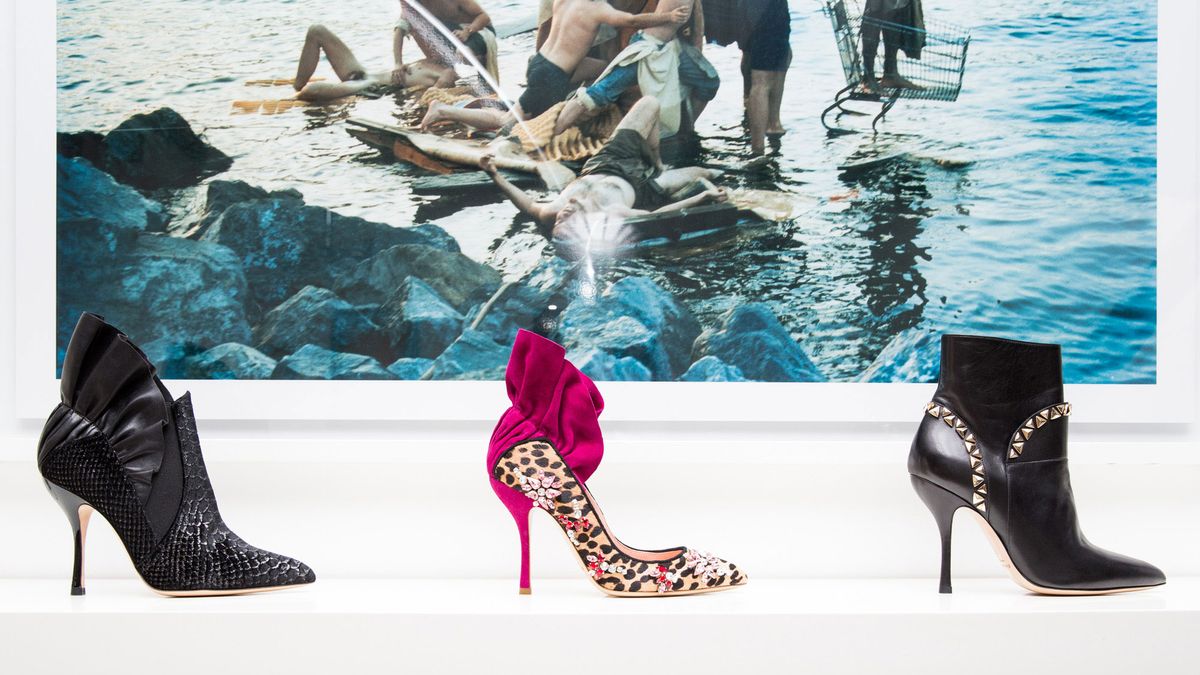 Designers
Dahlia Selva Is Our Latest Luxury Footwear Obsession
Founders Danilo Giordano and Stephanie Roy-Heckl invite us over for a shoe-filled afternoon.
Alec Kugler
A lot of good can come from meeting someone at work who you really click with, and in the case of Danilo Giordano and Stephanie Roy-Heckl, crossing paths while they were both at Ralph Lauren forged not only a friendship that the two hold dear, but also the idea to create their own luxury shoe line,
Dahlia Selva
. Marked by slim heels, dramatic ruffles, and removable velvet ribbons, the collection launched over the summer on the brand's e-commerce platform and at Nordstrom.
"I was VP of designer for women's shoes at Ralph Lauren," Giordano says from Roy-Heckl's art-filled apartment in Chelsea, the rooftop of which houses their office space. "That's where I met Stephanie, and it was love at first sight, of course." Born and raised in Naples, Giordano studied costume design at Arte Polimoda in Florence and landed a job at Tod's the day after graduation. Roles at Valentino and Marni followed, and he moved to New York in 2007 to take the job at Ralph Lauren. Around that same time, Roy-Heckl, who grew up in Vienna and earned an economics degree at Bocconi University in Milan, was interning in the PR department in Gucci's NYC office. She quickly learned that PR wasn't for her and made the switch to sales. At Ralph Lauren she was in the wholesale department, inking deals with retailers such as Barneys and Bergdorf Goodman; she later went on to do the same at
Christian Louboutin
.
---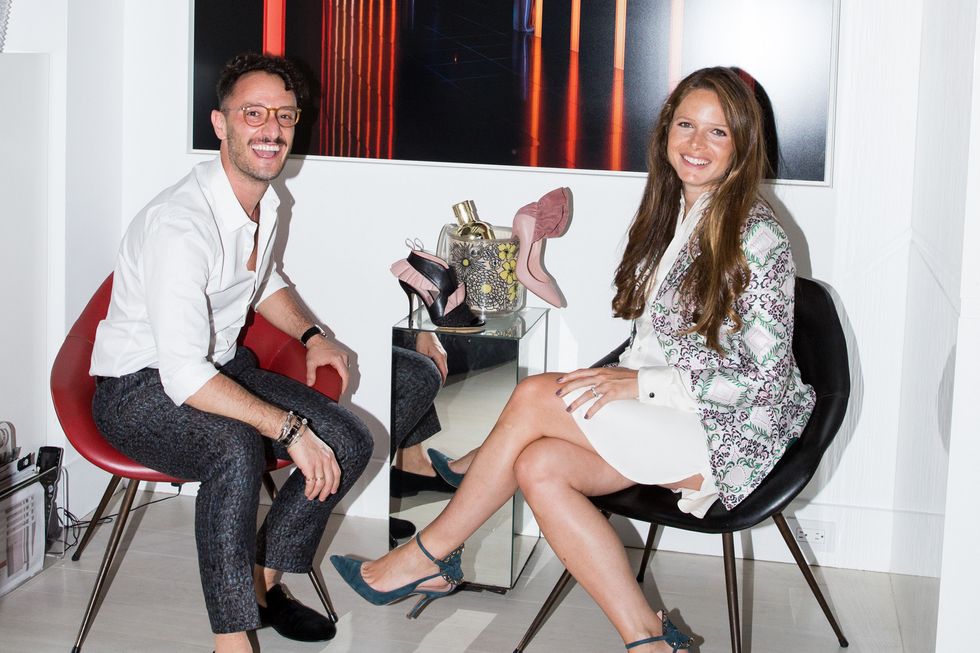 "When we were at Ralph Lauren, she'd tell me all the time, 'We should do something together—I think we'd be great partners,'
"
Giordano says. Hesitant to leave his role, he initially brushed the idea off, but eventually they both found themselves ready for a change and ventured out on their own.
"Over the years I'd gained a really good understanding of the footwear industry and what the consumer looks for in terms of pricing and aesthetics," Roy-Heckl says. "Especially when you're selling a $700, $800 price-point shoe. You're selling an emotion with it and a certain aspiration. Between that knowledge and Danilo's visual creativity, there's kind of a yin and a yang, and it works." As such, Giordano takes the lead on design as creative director, while Roy-Heckl handles the branding and business affairs.
"I'm a really romantic person, and I'm very inspired by the grace of women," Giordano says, adding that he looked to ballerinas and Tchaikovsky's
Swan Lake
for influences. He designed a custom
Dahlia Selva
heel to evoke the shape of a swan's neck, and the pleated suede ruffles adorning a handful of pairs are a nod to the classic ballerina tutu. In Italian,
dahlia
means "flower" and
selva
is an abbreviated way of saying "savage." This dichotomy is reflected in a debut collection that includes pink pumps and floral mules alongside studded black flats and a Chelsea boot. The leather is sourced from Naples, the heels are made in Bologna, and the shoes are assembled in Florence. All of the tutu-inspired ruffles are pleated and pulled by hand. "If you lay one out, it's two feet long," Roy-Heckl says.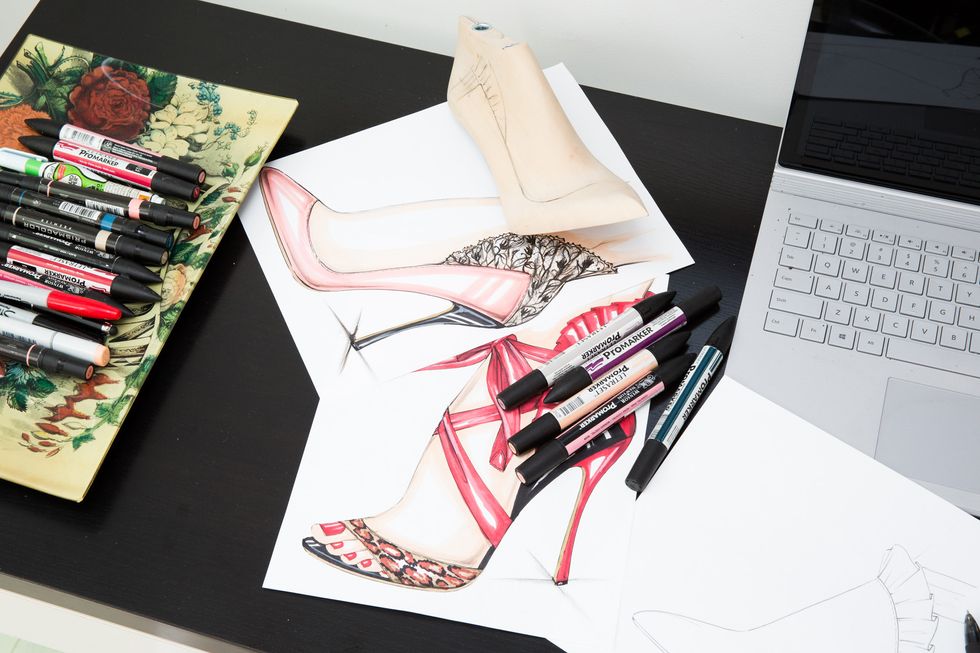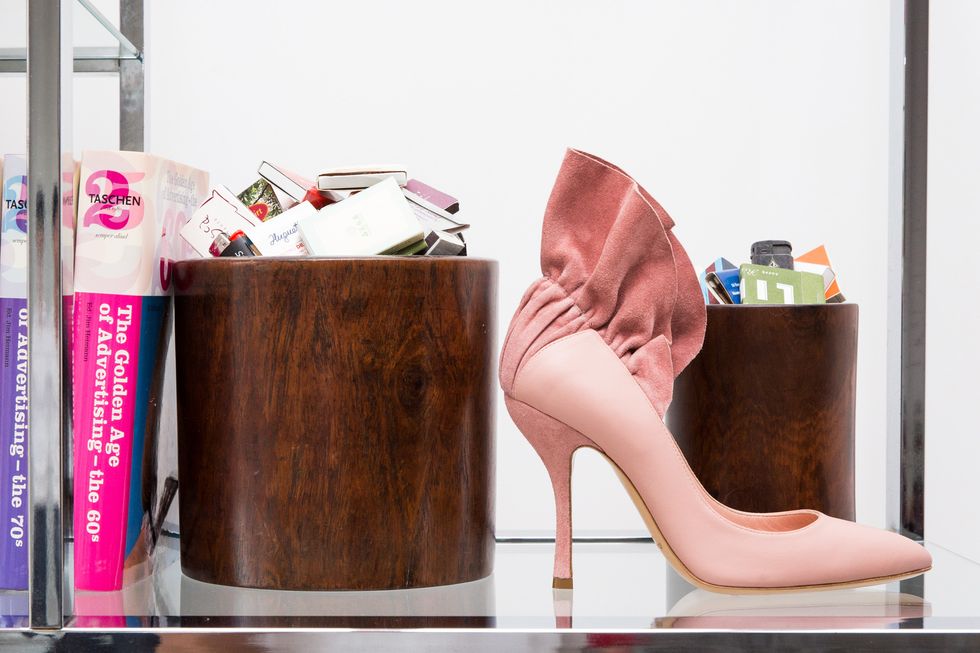 The decision not to make anything too simple right off the bat was deliberate. "When we talk to people about our shoes, they always say, 'You guys don't have a single plain pump?'" Roy Heckl says. "And I'm like, 'No—if a customer wants a plain pump, she's going to
Manolo
, she's going to Jimmy, she's going to
Christian
.' It was really important to us to develop an aesthetic that's clearly ours and has a clear point of view. Will we eventually make a pump? I'm sure; I hope so. I hope that one day the customer will come to us for a pump, too, because she wants to wear Dahlia Selva, you know?"
Their goal, Giordano says, is to one day be recognized as a top luxury footwear brand. And Roy-Heckle has another one. "I think the moment I'm looking forward to most is going out and seeing someone in our shoes. I can't wait to ride the subway and see someone next to me in Dahlia Selva shoes."
Want more stories like this?
We're Still Thinking About These Emerging New York Fashion Week Designers
Prepare to Start Seeing Tambonita's Eco-Friendly Handbags Everywhere
Batsheva Will Make You Want to Live in Prairie Dresses