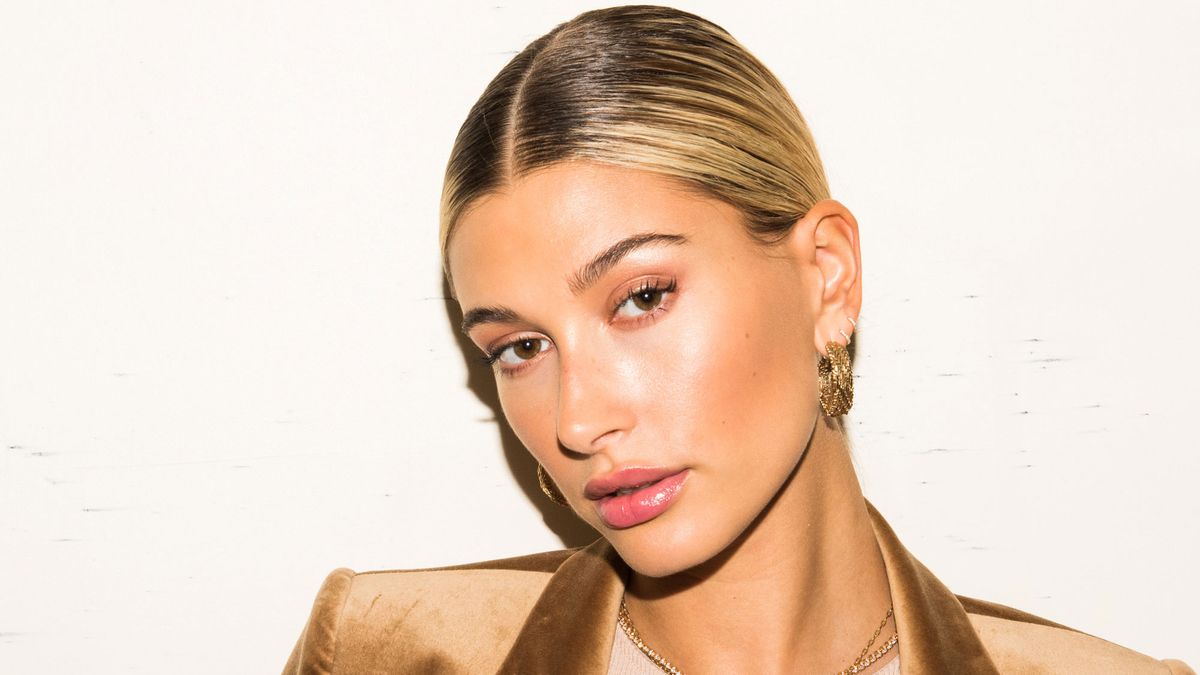 Celebrity
What We Talked to Hailey Baldwin About the Day Before Her Rumored Marriage
It had nothing to do with white gowns.
Last week,
Hailey Baldwin
had a lot of news. First, her announcement as a global ambassador for cult favorite beauty brand (and the first beauty product you ever bought off TV)
bareMinerals
. And second, a little event you might not have heard much about, related to marrying some pop singer in town hall in downtown New York. Not a big deal. Who is Justin Bieber?
Anyhow, even though we were literally hanging out with the model and most-followed member of the Baldwin dynasty on a couch at One Hotel Central Park the day before the alleged nuptials, we had zero idea that it was all about to happen. In an all-beige suit and crop top with her signature flawless bare-skin makeup (at the hands of a Coveteur favorite 
Nikki DeRoest
), Baldwin very casually sat back with a blanket wrapped around her and talked to us about everything from her favorite beauty products to her relationship with Jesus, including the most adventurous thing she did this summer (we'll give you one guess).
---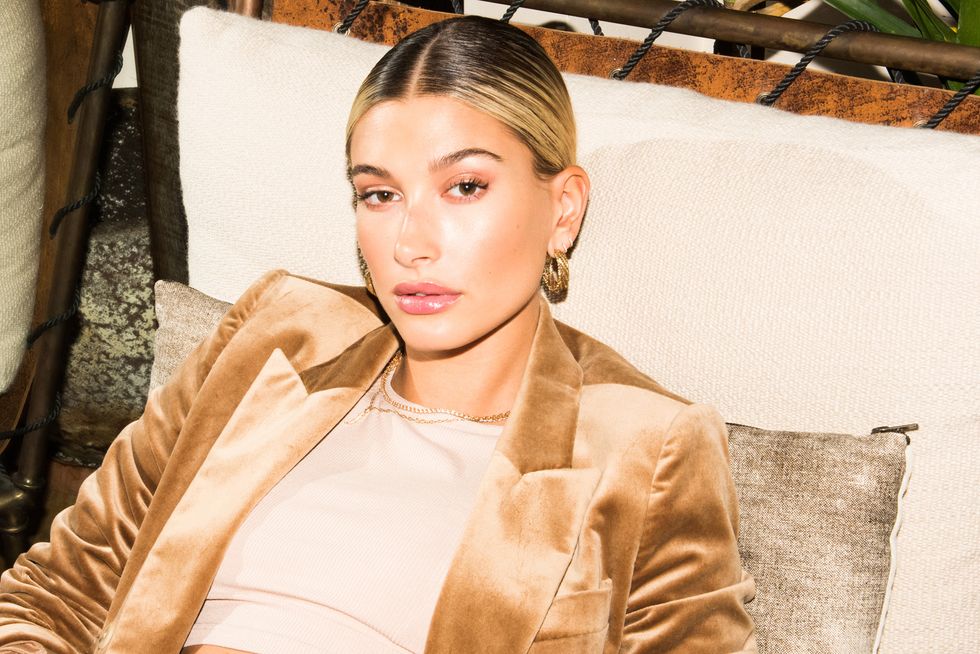 What's your beauty setup at home? Do you have a beauty closet?
"Honestly, it's just my bathroom. It's nothing crazy, there's no specific makeup lights. I'm just really simple, so it's all just in my bathroom. I keep things in makeup bags."
Is there one product you will turn back around for and go home if you forget it?
"I have to have a lip balm on me of some type. I like the
Glossier
ones. Have you ever tried the birthday-cake-flavored one? It smells so good."
What's the criteria for the products you use for beauty products?
"I like to keep things as natural as possible. I have a lot of really harsh things being put on my skin a lot, with makeup and the wear and tear of travel and all of that. So obviously that's why aligning with bareMinerals was really important to me in a lot of senses. That's what I lean toward more, is the natural side of beauty products. There's some beauty products where I have to have it, I don't care [what's on the ingredient label], but it's more so products like foundations and powders that I prefer to be more natural."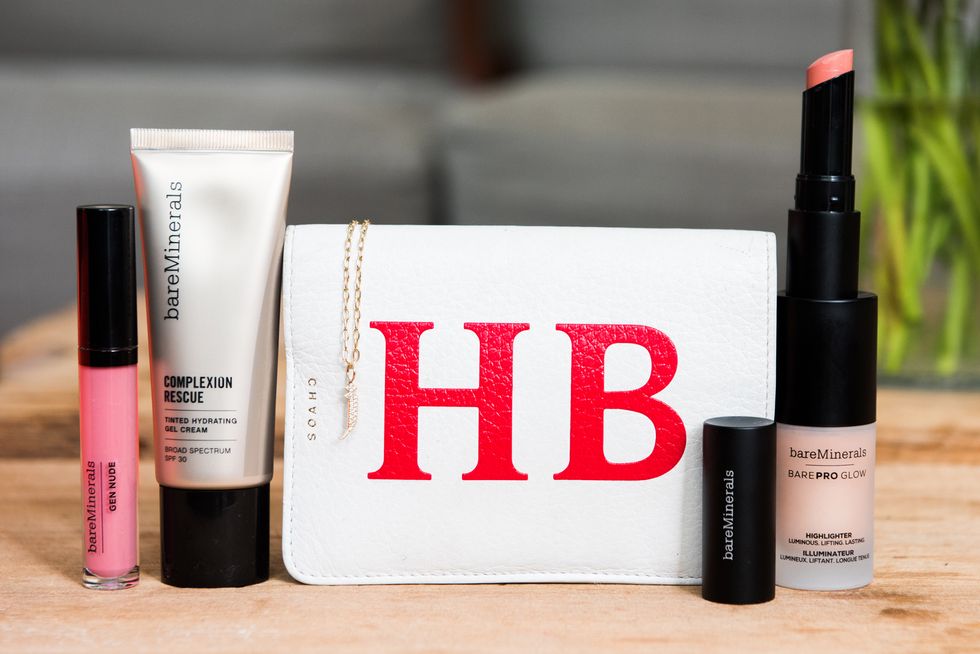 Any products that you're really picky about?
"I'm really picky about my brow gel. The
Anastasia
one is my favorite."
Did you have someone in your life who taught you about beauty?
"My grandma and my mom. My grandma was a makeup artist when she was younger. She was always super into her skin and beauty and makeup and lotions, and I think my mom got that from her, too. I've always learned all my stuff from them. Just watching how regimented they were; my mom always made sure we put lotion on out of the shower. My mom always used bareMinerals growing up, so I always learned from just watching."
What is the most adventurous thing you've done lately?
"My entire summer has been quite adventurous in life in general. I've been traveling all over. For me, being adventurous is flying by the seat of my pants, which isn't something I'm normally comfortable with, but I've been doing it for the last few months. Just traveling, and it's so fun to be able to pick up and do things. Well, I got engaged! I think that's probably the biggest OMG moment of the year for me, of my life. So that's probably top."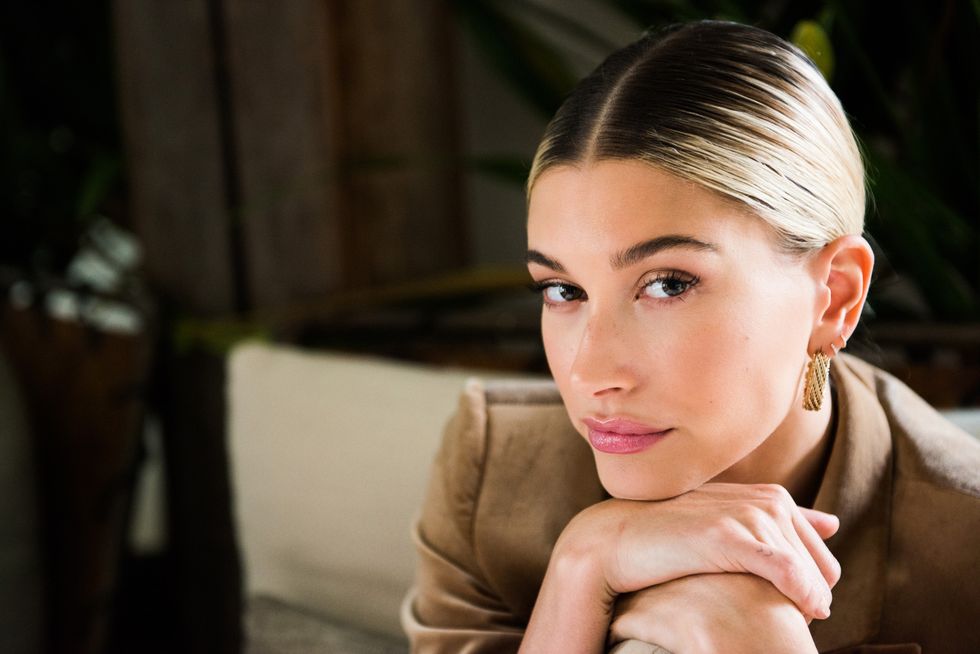 What is your fashion obsession for fall?
"Coats, I love coats. I'm a big coat girl. Layering, I love my hoodies under coats. I really like the new Miu Miu stuff, all those big, chunky letters and the big coats. I love a big, long sleeve. I'm all about fall fashion. Proportion is important to me. I like stuff oversized. So if I really like a jacket, but the sleeves are too short, it will make me turned off by it. Or if it fits oddly in certain spots, I get weirdly specific. I like things to be like if I stole it out of a boy
'
s closet."
With the success you've had, do you have certain practices that keep you grounded?
"Well, I'm Christian, and I go to church, and I was raised in church, so that's been a big part of my life and is still the biggest part of my life every day. I'm very committed to that, and I choose to walk that out every day. In moments of being overwhelmed or anxiety, I pray, and I'm in constant communication with God."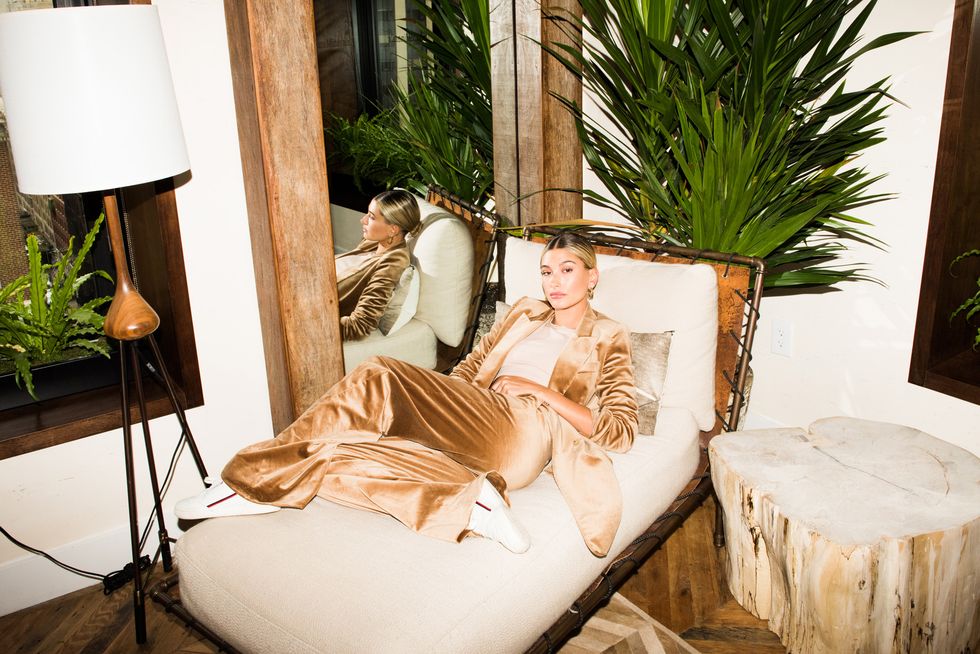 Do you have any big projects coming up?
"This one with bareMinerals is a huge one for me. My life has changed so much in the last six months, I'm trying to align myself with things that make sense for my life going forward, so taking it a day at a time. I think it's about finding things that can make a difference. Things that are family-oriented, that have the same kind of beliefs and standards that I do, and things that are fun and cool that I'm passionate about. I don't ever want to go forward in life and do things just to do things. Or do things for money. Or do things that don't actually make me happy. I think it's a big thing, you've got to love what you do."
What's the most fulfilling thing you do right now?
"Anything that can involve young people. I love to talk to girls my age and older and younger. My agency, IMG, did this fashion camp where I got to sit and talk to girls who are either interested in modeling or being a fashion designer, and it was so fun to see them have such intelligent questions and be so passionate about it. It makes me just want to work harder."
Want more stories like this?
What We Learned After 30 Minutes with Bella Hadid
How Kate McKinnon and Aidy Bryant Get Ready for the Emmys
Inside Jessica Hart's Closet with BMX Bikes and Bedazzled Platforms