Celebrity
Maggie Gyllenhaal on the Door that "Cracked Open" in Hollywood
How she's experienced sexism herself, and why she's determined to empower emerging female screenwriters in independent films.
Renée Rodenkirchen
"
Do you know how hard it was to get the money for that movie, which was about a 40-year-old woman and the consequences of what happens when you starve a woman's mind?"
Maggie Gyllenhaal
fervently questions when we talk about her newest Netflix film,
The Kindergarten Teacher
. We're sitting in the rosebud-wallpapered front hall of the Campbell House, a setting that has the old-world charm seemingly right out of a Virginia Woolf novel—befitting for reasons we'll get into in just a moment. Martha Wainwright is rehearsing upstairs for a private garden concert later in the evening. Gyllenhaal pauses to take in the melody echoing down the stairs before she tells me about her newest role as Independent Film Advisor for
Autograph Collection
's
Indie Film Project
Screenwriters in Residence program, which offers three emerging female screenwriters a room at any Autograph property around the world to get inspired and put their ideas to paper. Inspired by Virginia Woolf's
A Room of One's Own
—see how it came full circle?— Gyllenhaal opens up about her own personal challenges of being a woman in the film industry (even now) and why empowering young females is important.
---
There's such a craving for diversity in voice. How do you think the industry is facilitating that evolution?

"I think it's an amazing moment to be a woman—let me speak to that element in diversity of voice. I think, you know, a 10,000-year-old stone door somehow cracked open and light started pouring through it. I think that half the population has a visceral investment of keeping that door open, and I don't know what else to say. I think we're all working as hard as we can every day to do that."

What was it about these three screenwriters' work that struck a chord?

"This year we drew on Autograph's relationship with the Black List, and Franklin Leonard sent maybe 20 scripts. And why were these the ones that called me? To me, they felt like they had the— I don't know how to put it; they really represented in some way an actual human experience that I could relate to. There are some movies that make you feel comfortable and comfort you, and there are some movies that make you want to get out of your seat once they're finished and do something to change the state of the world. I'm much more interested in the second kind, and these all were in the second category."


Have you ever faced any challenges in your career because you're a woman?
"Yeah, sure, all the time! I mean, always. We're so used to it, we don't even notice it anymore. We just go, 'OK.' You know, I think of it in terms of Candy from
The Deuce
—she's a director of porn films in 1977, and when I play her, the tiny little inches that she has to move forward to maybe get a chance to express a little tiny bit of what she wants to express, the compromises she makes, the way she has to twist herself around, the way she has to bend over backward... I relate to all of it. Even though she lives a much more dramatic life than I do—a sex worker in the
'
70s in New York. I think we don't even notice the way that we compromise, the challenges that we come up against. We can't let it stop us, and we don't let it stop us.
"
The Kindergarten Teacher
, for example, it's a beautiful movie that's here [at TIFF]. Do you know how hard it was to get the money for that movie, which was about a 40-year-old woman and the consequences of what happens when you starve a woman's mind? I mean, in order to pay for that... It was nearly impossible.
Really?
"Of course, yes. I mean, are you really surprised?"
Actually, I'm not. It's as if you want to act surprised because you feel like you should...
"Yes, and everyone does."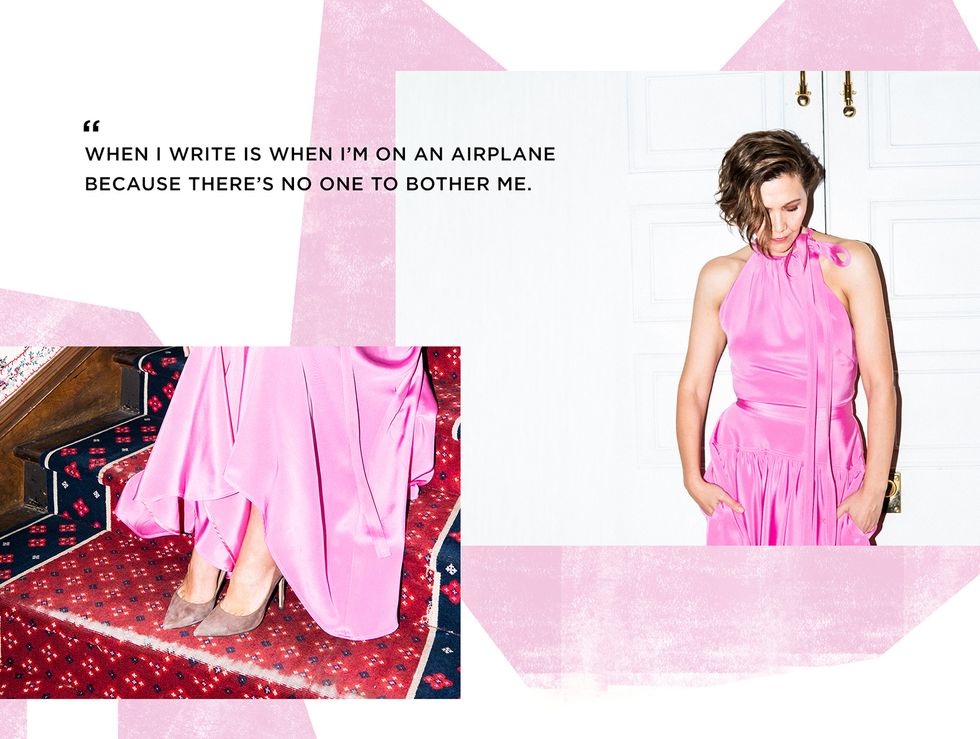 The Screenwriters in Residence program is offering a space for screenwriters to find inspiration. Do you have a sacred space of your own?

"It's interesting. I'm also a writer, and I'm adapting a book into a screenplay now. I have two small children, and I have another job as an actress, I have a marriage, I have a home I have to run; I have so many things. I find that when I'm working out a piece of the adaptation, it'll just be bouncing around in my mind all the time. I'll be taking my kids to school, I'll be cooking, I'll be taking a shower. And then, when I write is when I'm on an airplane because there's no one to bother me. Someone else comes over and asks if I'd like something to drink, of course, I can turn on my phone, but there's this small element of self-discipline required, and then that's really where I seem to get most of my writing done."