Inside a Designer's Airy East Village Loft Complete with a Trampoline
Eli Caner designs work uniforms you'll want to wear the next time you go out.
Interiors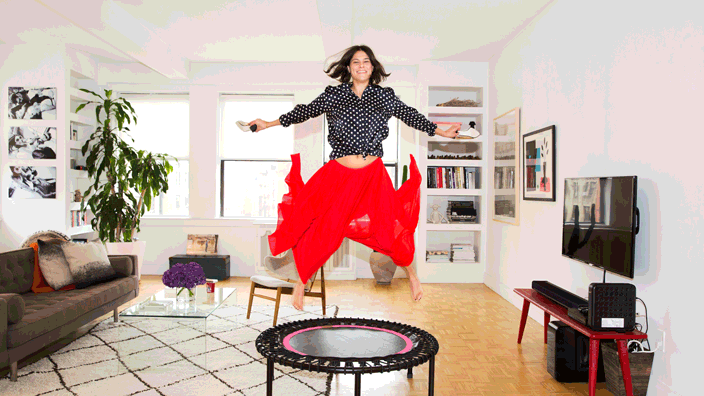 What's the first thing you notice when you walk into a hotel? Maybe it's the decor, or the ambiance, or even the warmth of the staff. For hospitality fashion designer Eli Caner, it's the uniforms. The founder of
Lady and Butler
has made a career out of creating upscale, bespoke clothing for service staff at some of the world's most elegant
hotels
,
restaurants
, and bars. "I want to do uniforms that help people, or make people happy to do their job," she explains when we stop by her sun-drenched East Village apartment. "I like to think that my uniforms are ready-to-wear collections—a lot of people want to wear them outside [of work]."
With her attention to detail and propensity towards functional designs, it only makes sense that her Manhattan home reflects that aesthetic. The
minimal loft
acts as both Caner's living and working space—meaning organization is key—but she's made room for plenty of collectibles from her various travels, especially to her home country of Spain. It's cozy without being cramped, and it seems like everything from the statues to her trampoline has a story. Essentially, it's the perfect escape from the bustling NYC streets outside. "It's special," she says. "It's the heart of New York, you know?"
Click through to learn more about how Caner got her business off the ground, her favorite places to shop for interiors, and how a self-professed beach girl survives in a city environment.
---