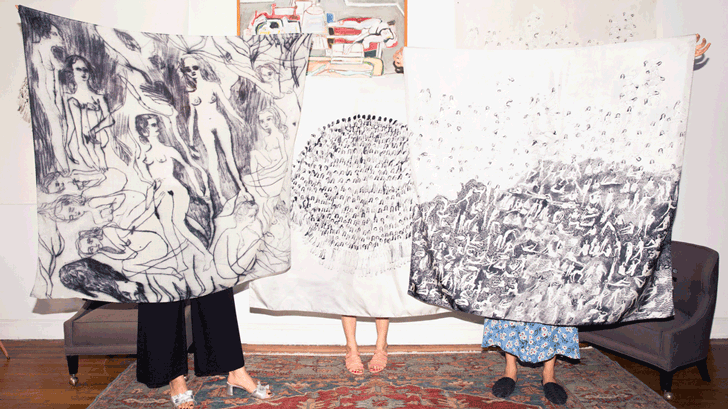 Designers
These Sisters Are Secretly Making Everything You Want to Wear
Lilly, Zoe, and Olivia Wendel are the undercover fashion family.
Alec Kugler
Fashion—like any other pop or creative industry, come to think of it—has a thing for big, shiny family legacies. You only need look to the Versaces and Ryan Murphy's fantastical American Crime Story ode to them to know that. But the evidence is ongoing—there's Ralph Lauren's incorporation of his own family, or simulacrum of his own family, in ad campaigns; modeling's ongoing supermodel DNA recycling project; the list goes on. "Family values" are one thing, but if the Kardashians tell us anything, it's that America can't look away when it comes to public family dynamics.

It's partly because these relationships are so lionized, I think, that I was so surprised to learn that a new favorite designer of mine, textile designer and artist Olivia Wendel, had two sisters in the industry. Of course, none of them were actually undercover, but that's what it felt like—if only because they weren't shouting about it on social media. And though, besides Olivia's namesake brand (which deserves a billboard or two), her sisters have jobs you might call "behind the scenes," they've been influencing how you dress without you even knowing it.


---
Lilly, who is the eldest, is the senior ready-to-wear designer at Proenza Schouler, where she's had varying roles for almost 10 years. In other words, her hands have been on every piece of Proenza you've lusted after for a long time. The other, Olivia's twin, Zoe, is the design director at accessories brand Loeffler Randall. So those mules you love and wear constantly? Yeah, she's responsible.

Of course, what makes the Wendel sisters the anti-Versace family probably has a lot to do with their childhoods. "We grew up in Bucks County, Pennsylvania, in a historic home surrounded by an enormous backyard," says Olivia. "Our parents collect antiques, so we were surrounded by folk art, Native American pottery, and even a collection of tin robots. We're all obsessed with animals, and at one point we had two dogs, two cats, several hamsters, a hedgehog, and a bunny…"


So it was hardly Calabasas, but the Wendels still enjoyed a substantial injection of fashion in their early years—it just wasn't of the Olivier Rousteing-designed variety. "My mom used to always dress us in matching outfits that were very girly and feminine; we basically looked like little dolls," laughs Zoe. "I was always a bit of a tomboy, so we begged to wear jeans. I'll always remember our first pair of jeans; they were lined with bright red flannel that we would roll up and cuff at the hem, and they had patches all over with cowboys and Western images. They were amazing."
The sisters were encouraged to pursue their creative impulses and each attended art or design school (they have an older brother, but—as far as I know—he's not in the industry). Lilly and Zoe entered as designers at Proenza Schouler and Opening Ceremony respectively, and so did Olivia initially (she interned at Suno and Proenza), but after getting an MFA in textile design, she had an eye on starting her own business, where her figurative art is translated into scarves that, honestly, could hang on your wall as easily as they could around your neck. "To me there is something so special about hand-painted designs. I wanted to translate my paintings directly into textiles, preserving the spontaneity and life of the original artwork," says Olivia. Thus far, her art features expressive drawings of women, mostly in big groups and nude. "The first collection was inspired by duality and opposites; that concept informed every decision, including the lack of color. I was thinking a lot about the experience of being a woman—for example,
Wood into Water
explores the freedom of being in the wilderness, whereas
The Performance
is about how we present ourselves to fit in in society." The scarves, which have the same collectability of, say, a woven Proenza Schouler dress, are pieces that you treasure.
And now? While Zoe and Lilly put their industry chops to use styling Olivia's lookbook, the sisters spend time the way any sisters do. "We try to see each other at least once a week," says Zoe. "We all like to attend the same yoga class on Wednesday mornings in SoHo. We usually grab a smoothie together after. We talk about all kinds of things; sometimes work and fashion, but often just sister gossip. We do tend to ask each other where we got whatever it is we're wearing or share about upcoming sample sales."

Mostly, though, while it's perhaps not as glamorous as a Ralph Lauren ad, the sisters are each others' greatest supports, in fashion and in life. "My sisters are two of the strongest, most creative, and most independent women I know," says Lilly. "They are so often my compass, stylistically and morally." For those of us outside the family, we can just feel lucky we can run our credit cards and purchase a little bit of that Wendel mentality in the form of their designs.