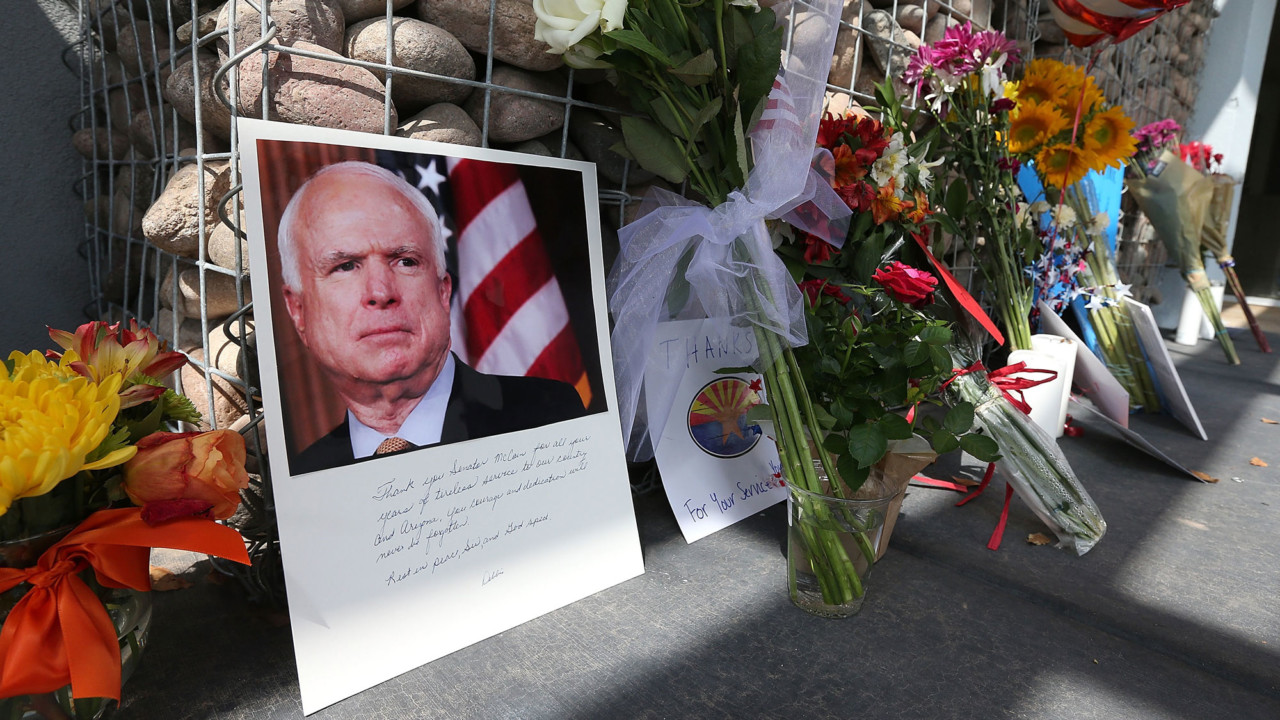 America Says Goodbye to John McCain
And six other pieces of news we're reading.
Senator John McCain was eulogized by former Vice President Joe Biden yesterday at a memorial in Phoenix that was attended by friends, family members, and fellow lawmakers. Donald Trump and Sarah Palin, McCain's former running mate, were not invited. An estimated 15,000 came out to pay their respects as he lay in state at the Arizona Capitol; today, the "maverick Republican" became the thirty-first person ever to lie in state in the U.S. Capitol. A full account of McCain's memorial is here.
Here's what else we're reading and thinking about this week:
McCain's death on Saturday inspired senators to question whether they should rename a Senate office building across from the Capitol after McCain. More importantly: The building is currently named for Richard B. Russell Jr., whom the Times called "a strident support[er] of racial segregation and white supremacy." Will it happen? Doesn't look like it. Read more here.
A whopping 173 out of 193 Democrats in the House sent Education Secretary Betsy DeVos a letter arguing that she shut down a federal grant program that would pay for guns for schools. It may sound like a plotline for Idiocracy 2, but it's real, and it's terrifying. Read more here.
In a story that places itself firmly in the running for the strangest thing we've read all week: Is Wall Street actually to blame for rampant Lyme disease? One journalist thinks so, and he did a serious deep dive. The takeaway: Perhaps. Read more here.
The ACLU is fighting for the NRA—though their method will include no firearms. It's a strange choice, and though the equal-rights group has historically maintained neutrality in the cases they take on, the backlash after this decision has been so fierce that it may be met with a closer look at their policies. The New York Civil Liberties Union chapter has already tapped out. Read more here.
In Dallas, a white former police officer was convicted of murder and sentenced to 15 years in prison after he shot and killed Jordan Edwards, an unarmed black 15-year-old, in April 2017. This is the first time a cop in Texas has been found guilty of murder while on duty since 1973. Four years ago, 18-year-old Michael Brown was killed in Ferguson, Missouri, by a police officer, and though cases similar to his have risen to prominence in the media in the years ensuing, murder convictions are rare (including for Brown's killer). Read more here.
The U.S. Justice Department sided with an anti-affirmative action group and against Harvard in a racial discrimination lawsuit that could have major consequences on college admissions policies. The Department of Justice alleges that Harvard's admissions use a "personal rating" for applicants, which could be skewed against Asian-Americans and may score "Asian-American applicants lower on the personal rating than white applicants." Read more here.
Photo: Getty
Want more stories like this?
Why Florida Is In the Political Spotlight—Again
The Aftermath of the Manafort and Cohen News
12 Truly Good Things That Have Happened Since Trump Was Elected