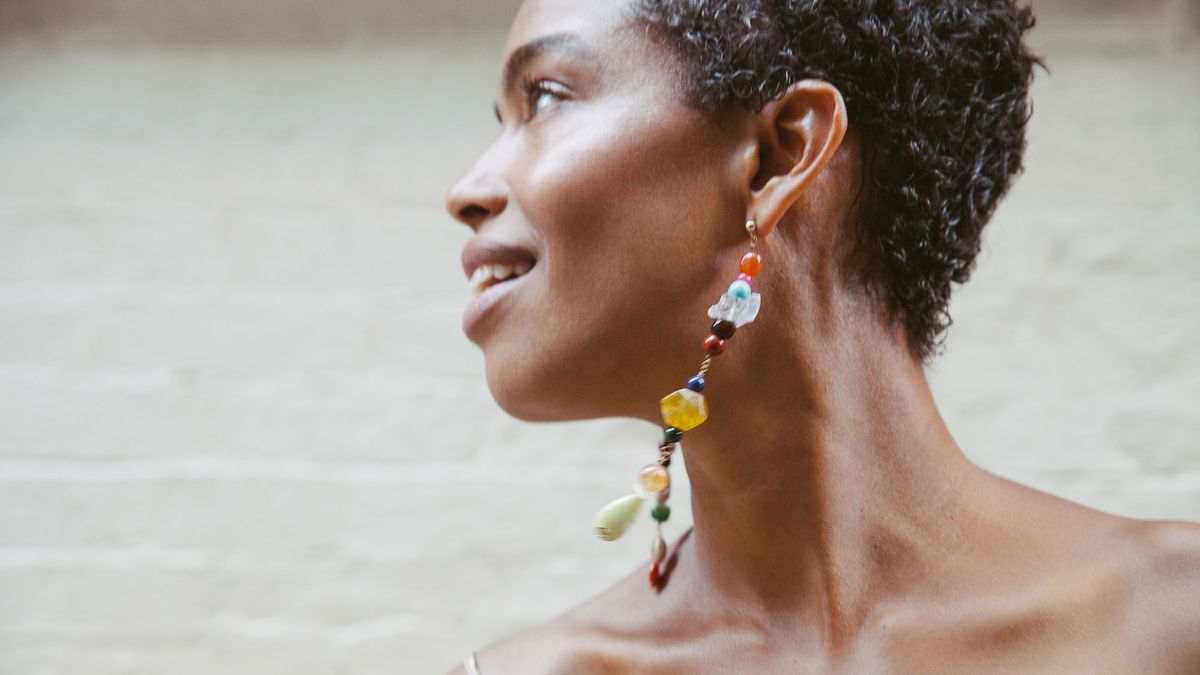 Designers
Founder Christina Tung is creating keepsakes for the digital age.
As much as we're fans of the dainty, barely-there jewelry that's dominated the fashion scene over the last few years, we're happy to see the recent revival of bold, craft-inspired pieces. Strike up a conversation with any sartorially inclined person, and you'll inevitably spot a plastic rainbow bracelet, a bedazzled
shell necklace
, or our newest designer obsession, a beaded
statement earring
.
SVNR
(pronounced "souvenir") is the brand on everyone's ears these days, and for good reason. Christina Tung, the House Of PR founder slash accessories maven, has managed to translate our renewed interest in craft and heirloom jewelry into modern, elegant must-haves.
The line began almost by accident, after Tung visited the NYC bead district over a rainy Memorial Day weekend. She made a few pairs at her Brooklyn apartment and gave them away to friends, who subsequently posted them to social media to much fanfare. "A bunch of people DM'd me right away," she says
when we stop by her showroom—coincidentally located just a stone's throw from Coveteur HQ.
Two weeks later, SVNR was born. "It's very unexpected, [and] everyone's been so encouraging." Unsurprising, given that we quickly go starry-eyed over the strands of shells, quartz, pearls, and porcelain beads, among other materials, which Tung sells as both pairs and singles. 
---
"
I've always had this theory," she explains as we lift the Shanghai style, named for where her maternal family hails from, to our ears, "things are things, and there's always going to be more. Some of them are prettier than others, but nothing means anything unless there's a sentimental connection. Whether it's your boyfriend's jeans or your grandmother's ring—something that evokes that feeling." The designer calls out millennials' recent obsession with
normcore
as more proof of this kind of nostalgia in fashion as of late. "What I feel is more interesting and means something to me is [when] an item was beloved by somebody. It's not just because it's really trendy or I got it on sale, but because there's a history there."
She motions to a pair of jade and mother-of-pearl earrings, the materials for which her grandparents collected years ago. "I love that something takes on a new life when it's given to a new person." Even the name, SVNR, takes what we consider as a typical souvenir—a small, inexpensive tchotchke—and turns it into a cherished keepsake.
Tung is also passionate about using recycled materials in her designs as much as possible, for a marriage of what she calls "ethics and aesthetics." "I feel really strongly about being as close to zero waste as possible. Keeping these items out of landfills for one more cycle, and being able to offer accessible prices without having to resort to fast fashion." While she admits to having a few Zara pieces in her wardrobe, like most people, she's committed to helping others slowly move towards a fully sustainable lifestyle.
Now, with the brand fast approaching cult-favorite status in just a few months, the question on everyone's mind is whether the designer is going to branch out into
necklaces
and bracelets. She's hesitant, wanting to focus instead on the environmental consciousness of the line itself, and potentially collaborating with artisans in other countries. With organizations like
Nest
facilitating those types of global relationships, Tung hints that home goods and even ready-to-wear could be on the horizon. "It's just earrings right now, but there's an opportunity to really go all the way with it. There's a dream. What's life without a little bit of a dream?"
Photos: Courtesy of Christina Tung at SVNR
Want more stories like this?
25 Colorful Statement Earrings to Amp Up Your Summer Wardrobe
The 5 Outfits We Always Pack for Summer Vacation
How to Style The Season's Next Big Fashion Trend