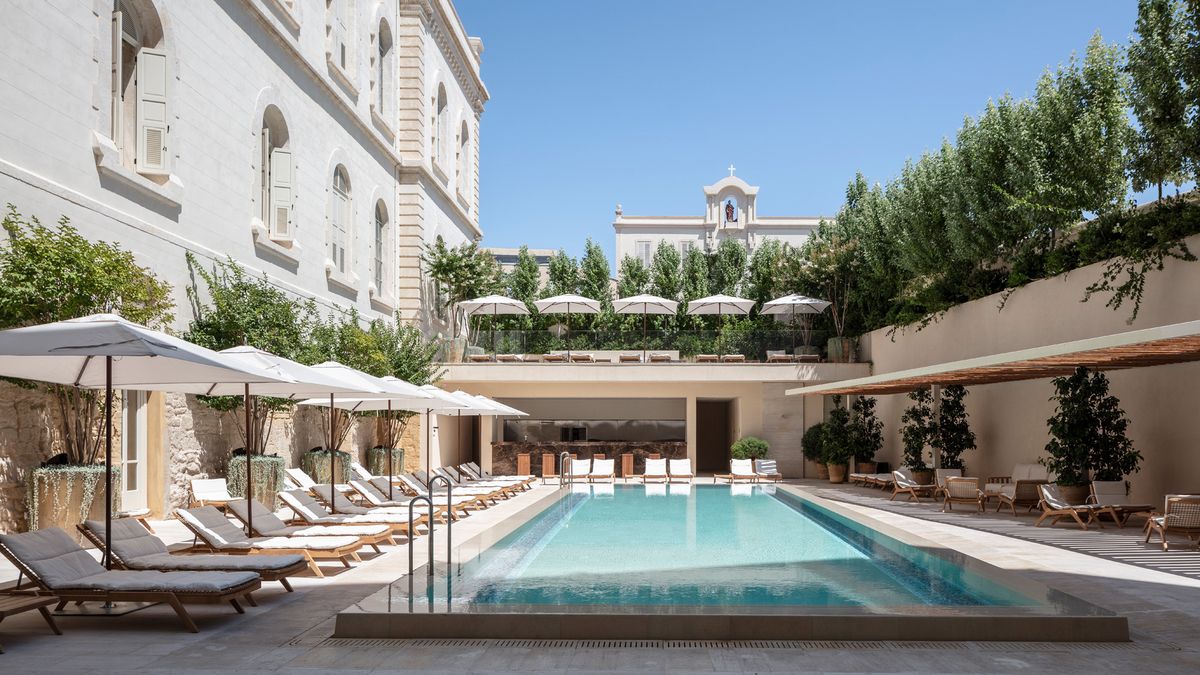 Travel
With a major style reboot and a slew of new hotels, the Mediterranean metropolis is ripe for a visit.
As of yet, there's no mathematical equation for determining the next "it" destination. Add a music festival, multiply by a few dozen Instagram-bait walls, and declare avo toast the official food of the region—it doesn't quite work like that. But if you were to take a cosmopolitan city with great food, a respected art scene, intertwined history, and combine it with a beachfront location (maybe even 13 beaches in total, let's just say), you'd most certainly have a winning combo. This is Tel Aviv.
The White City, as it's called for its over 4,000 examples of Bauhaus architecture, has hints of Paris's caf
é
culture, a bit of Sydney chill, and a dash of L.A. edge. And for anyone looking to soak up some of those Tel Avivian vibes, there's never been a better time to visit. On the fashion front, two of Israel's most legendary labels, Maskit and Ata, are back after being dormant for 20 and 30 years, respectively (more on this later). Add to that a tradition of farm-fresh eating, and some major hotel openings this year, and you have quite the destination coup.
From the fashion to the food to the art-filled lobbies, here's why the sartorially inclined will soon be descending upon Tel Aviv.
---
---
Satiate Your Sartorial Craving
---


One-of-a-kind boutiques, historic markets, and great walkability make Tel Aviv ideal for browsing. After checking out the country's comeback brands, be sure to wander the Neve Tzedek District, which is essentially Tel Aviv's version of SoHo. Then again, some "Los Angelviv" graffiti has been spotted in the area, so maybe an Abbot Kinney comparison is more fitting.



It's easy to be lured into this Neve Tzedek concept shop, and even easier to lose track of time as you wander from room to room in what was once an Ottoman-era house. You'll find fashion for women, men, and kids, plus stationery and home goods. The selection of international labels, like beloved Belgian brand Essentiel Antwerp, is on point.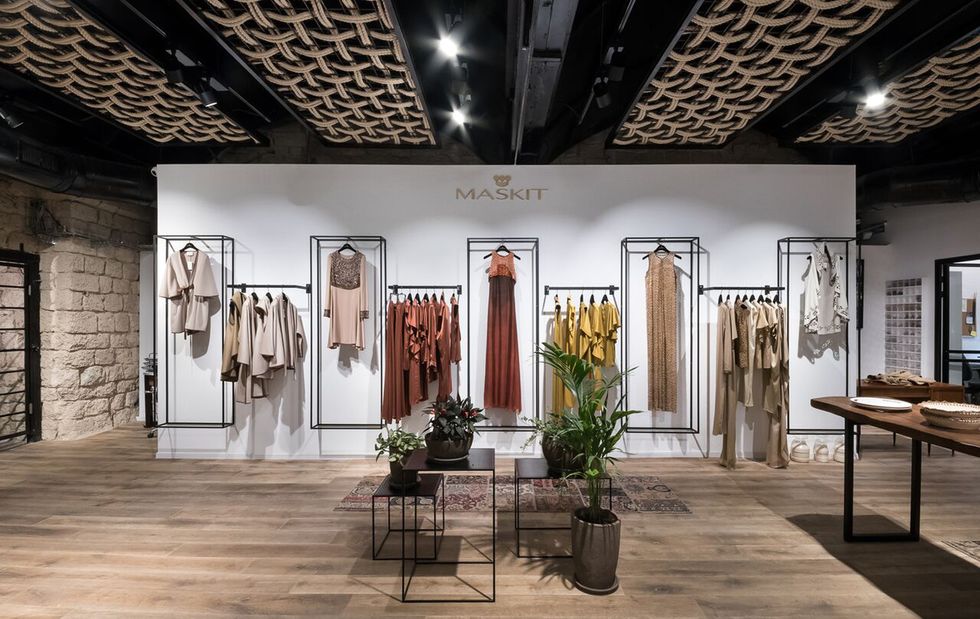 Photo: Amit Gosher
In 2014, Sharon Tal, previously of Lanvin and Alexander McQueen, helped resuscitate Israel's first major fashion house. Today you can visit the label's headquarters, which is also a shop and museum, in the Old Jaffa neighborhood. Try on capelet coats in desert shades and peruse through the label's historic sketches, photos, and vintage pieces artfully arranged on mannequins.


Jaffa Flea Market
Here you'll find souk-style stalls of antiques, textiles, and jewelry, as well as small shops with more contemporary goods. For dresses in quirky prints (flamingos, ice pops, even people), head to
Bobo
.
Another iconic label that's back, Ata returned just two years ago after going dark in the '80s. The Allenby Street store is filled with utilitarian-cool pieces, all cut from the quality Israeli textiles that made the brand famous in the first place. Come for the history, stay for the jumpsuits, smock dresses, and crisp button-down shirts.


Also in Jaffa, here's a bespoke perfumery that resembles an old-time apothecary. Sniff intoxicating scents, like black pepper, vetiver, neroli, and amber, and have owner Erez Rozen create your own personalized blend.
---
Now For the Food...
---


Any destination needs eateries worth traveling for, and Tel Aviv has them in za'atar-spiced spades. Plus, take one spin through Carmel Market to ogle the produce, and you'll see why farm-to-table eating is about as common here as a croque monsieur in Paris. Here are some exceptional spots, from the new to the classic.



Vegans and vegetarians won't have to scour the periphery of Tel Aviv's dining scene for a place to eat. This spot is not only vegan, it's also one of the most of-the-moment lunchtime caf

é

s in town. Decked in pink (à la Sketch in London), Bana opened last year, dazzling even the most die-hard carnivores with its meatless comfort food, including sloppy Joes and burgers.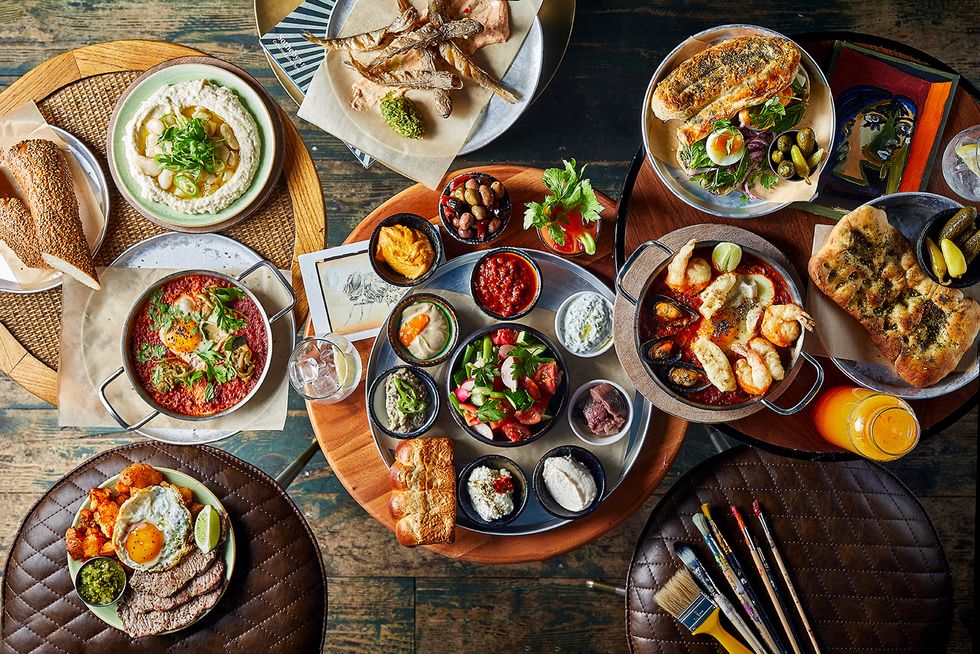 Photo: Afik Gabbai
Another newcomer, Beit Kandinof (which is right next to Maskit) is a multipurpose space that's a restaurant, bar, art gallery, and tattoo parlor. It's basically a one-stop shop…assuming you need eggplant tortellini, a negroni, a painting, and back ink in one fell swoop.


It's been around for a while, but the dishes remain creative at upscale dinner spot Messa. Here, chef Aviv Moshe takes the traditional dish shakshuka (poached eggs in a spicy tomato sauce) and makes it into sashimi by adding seared red tuna.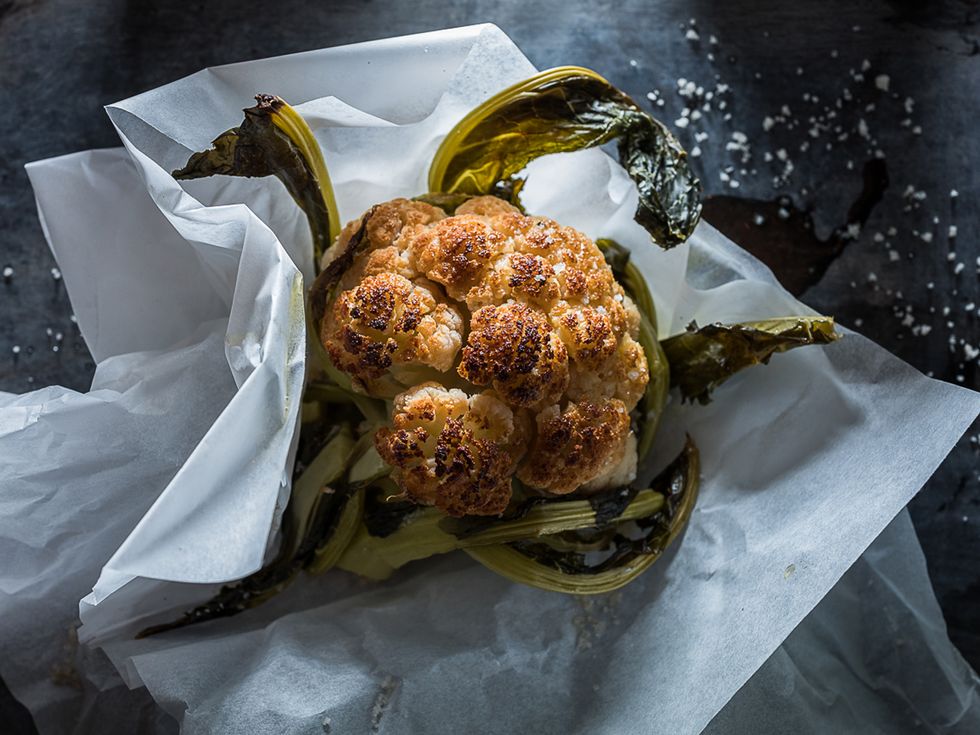 Photo: Courtesy of North Abraxas
Another standby, this buzzy caf
é
by celebrity chef Eyal Shani serves iconic Israeli dishes with ingredients so fresh, the menu changes twice a day. There's outdoor seating in front, but the people-watching is just as good inside, where everyone sits in a semicircle around the bar feasting on full heads of cauliflower, beetroot carpaccio with crème fraîche, and drinking grape soda that's mixed on the spot.
Of course, sampling the city's hummus is a must, and this is some of the best, as confirmed by Inbal Baum of the food-focused tour group
Delicious Israel
. If you flew the dozen or so hours to Israel just for the creamy chickpea goodness served here, scooped up by a piece of pita or a chunk of onion (as the locals do), it would all be worth it.
---
Where to Stay
---


Tel Aviv's design resurgence has taken form in more than just fabric. Among this trio of new hotels—all opened in the last six months—there's a reimagined Ottoman-era prison, a former sewing factory, and a 19th-century French hospital turned luxury lodge (clearly Tel Aviv enjoys a redesign).



Water lovers will flock to the Setai, which sits on the Mediterranean and has a sky-high pool overlooking Jaffa's ancient port. Between the rooms decked in Turkish rugs, the lavish breakfast spread (smoked salmon, butter kinafe, waffles, and pastries), and the spa with its indulgent Eastern practices (hammam scrubs and Ayurvedic scalp massages, to name two), you'd never guess at the property's, er, bleaker past. Originally a Crusader fortress and then a prison, the Setai today is more about serving up relaxation than serving time.



Formerly a sewing factory, Fabric is essentially Israel's answer to the Ace Hotel. Rooms feature work by local artists and some have balconies ideal for morning meditation or a few sun salutations. The first-floor bar, with its murals, hanging plants, and bearded bartenders, looks straight out of Brooklyn and feels fit for a gaggle of Pratt grads. Appropriately, this watering hole is called Bushwick.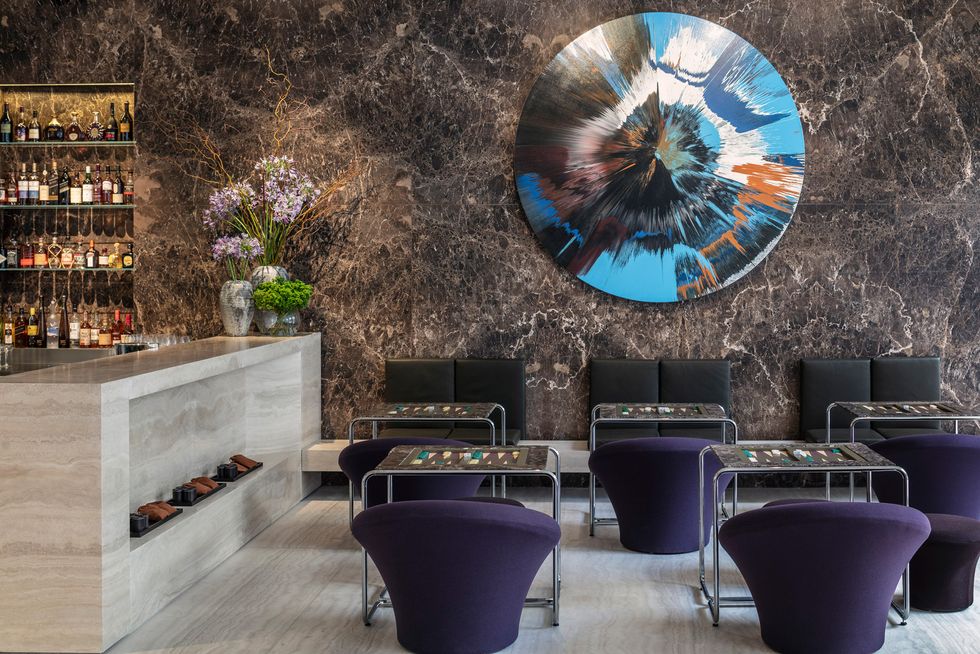 Photo: Courtesy of Amit Geron
The newest of the newcomers, the Jaffa, which officially opened its doors in August, comes by way of Aby Rosen and RFR Holding (the group behind the Gramercy Park Hotel and 11 Howard in NYC). A former hospital and monastery, the hotel melds the historic with the hip. Find proof of this in the lobby, where an exposed-stone wall from the Crusades shares space with Damien Hirst spin art, as well as the bar—a reinvented chapel (spot the portrait of Frank Sinatra as a movie priest) that's primed to become the city's most exclusive lounge. Another major highlight is the outdoor pool, which has its very own shawarma bar. Once a few influencers get their
'
grams on this place, we've got a hunch that shawarma will replace inflatable swans as the preferred poolside companion. Just wait.
Top photo: Courtesy of Amit Geron