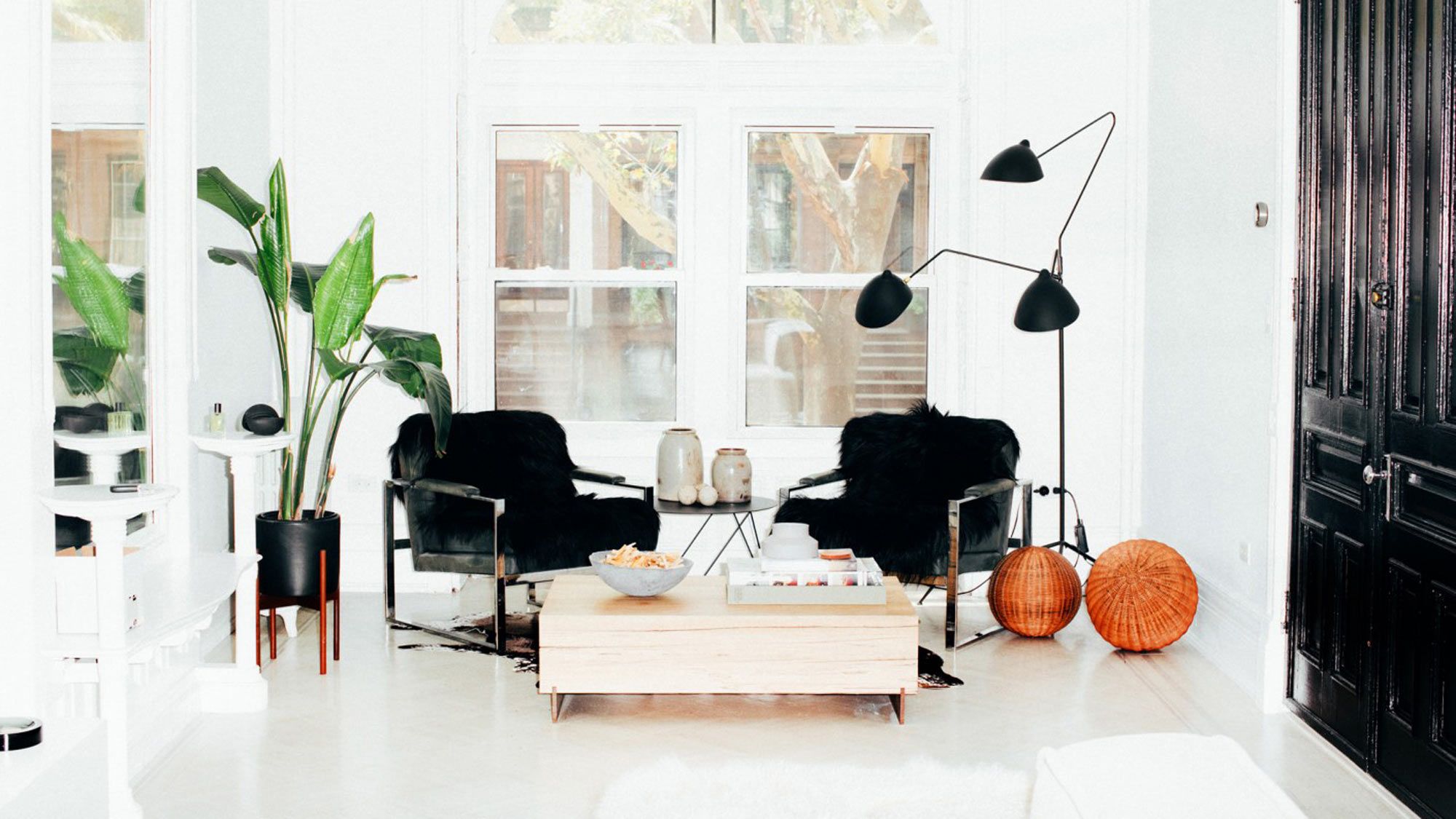 Interiors
Get your credit cards ready, guys.
Ben Ritter
Finding the *perfect* piece to add to your coffee table (we suggest the *cough* Coveteur Book *cough*—excuse the shameless plug) or bathroom vanity, or a tchotchke that feels more like a museum artifact than a hand-me-down, can be stressful when you
'
re on a mission to make your place look like it could be on Coveteur. Which is why we turned to a few well-trusted friends, Arielle Assouline-Lichten, Hannah Cecil Gurney, and Katharine Pooley—three interior design women with incredible eyes for everything worthy—for advice on how to get our apartments and homes looking perfect. Warning: You're going to want everything.
---
---
ARIELLE ASSOULINE-LICHTEN
Farrah Sit IDA Pendant Light
:
"Right now, I am loving
Farrah Sit
's IDA pendant light. The way the piece uses balance, weight, and light is so elegant. There is a playfulness to using neon in contrast with marble and brass which is really stunning and unexpected."
Giancarlo Valle Smile Chair
:
"I love
Giancarlo Valle
's Smile Chair! We were in a gallery show together where he showed the piece for the first time. I got to sit in the chair, so I know it's comfy. I love that he is reinventing upholstered pieces in this way that is fun but not kitsch."
Ben and Aja Blanc Meret Composition #1: 
"Ben and Aja's work is so visually satisfying—they create beautiful compositions, and I love the way they use materials as texture. Their new Meret Collection is stunning—I especially love the Meret Composition #1!"
Collier Webb Scallop Accent Light:
"You can work so hard on an interior and then forget the finishing touches that actually make the difference. Hardware is a perfect example of something small that completely changes the feel of the space. When decorating my house, I searched high and low for beautiful hardware, and UK-based Collier Webb makes such beautiful pieces. My son's underwater-themed bedroom has all of these gorgeous sea-themed handles that make the space feel so charming and sweet. Collier Webb also makes divine wall lights. I have seashells on my son's walls and awesome art-deco-inspired lights in my bathroom."
De Gournay Flamingos Wallpaper: 
"I am currently renovating my bathroom and am so excited to finally be able to use
de Gournay
's amazing Flamingos design. I have been dying to use the pattern in the bathroom for so long because it's so lively and fun. I had so much fun designing it. Inside the shower, the flamingos appear to be life-size. Also, the shower glass will be installed directly on top of the wallpaper, so it will have a waterproof finish."
Corallo Piazzato Piazzato Cerro
: 
"Another important design aspect to get right is the window treatments: They make a home feel cozy and private, but still allow light to come in. In my son's bedroom, I used the most incredible sheer I have ever seen. It's a sheer linen with a bright texture of tiny embroidered bobbles by Corallo Piazzato from
C&C Milano
. You get the pattern and texture, but all in a uniform cream color, which keeps it feeling elegant and understated."
The Porta Romana Duck Feet Lamps: 
"These table lamps by Porta Romana are very iconic and add a witty and unexpectedly humorous detail to a sophisticated scheme. When combined with a silk lampshade, they have a contemporary luxurious appeal with whimsy."
FBC's Aurora Coffee Table: 
"I love the bronze aurora coffee table by FBC London. It was inspired by the dry earth in South Africa, and as I am an avid traveler, the piece means a lot to me—I love it being the center of my living space."
The Modo Chandelier by Roll and Hill: 
"The Modo chandelier by Roll and Hill is a simple and architecturally purist chandelier. In bronze and smoked glass, it adds a masculine futuristic vibe to the classic drawing room interior."