How to Apply Self-Tanner Perfectly Every Time
Learn from my mistakes, and get your bronze on.
Skin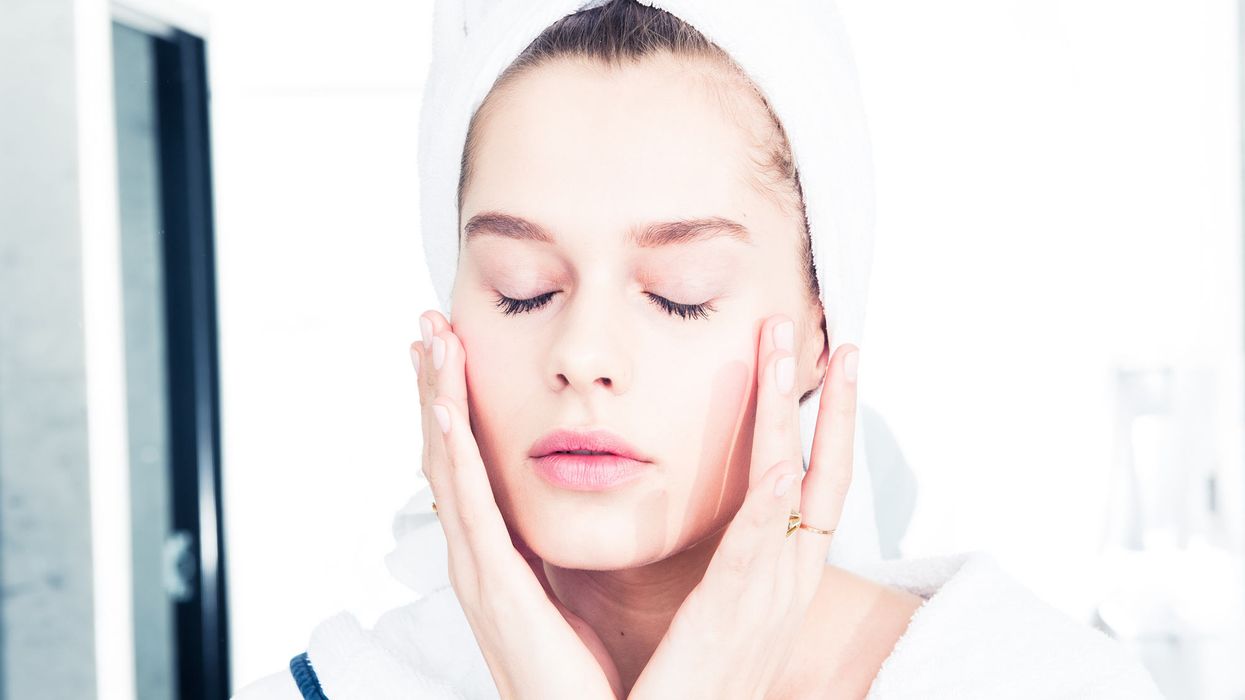 Using self-tanner is like elite-level gymnastics—it should only be attempted by people who have carefully honed their technique so as to avoid disaster. Sure, you won't wind up breaking your leg if you screw up the application, but that leg will be caked with the streaky, orange evidence of your mistakes. I, for one, have been making a conscious effort to improve my fake-bronzing skills over the past few years, mainly because I'm about to turn 29 (which means 30 is right around the corner) and my bouncy, youthful skin will soon turn into a mess of wrinkles if I keep sunbathing (don't worry; I use sunscreen!). Despite all that, I can't help but love a good tan. You know, a post-vacation glow that even makes strangers on the street jealous. That's my goal.

So this past weekend, I barricaded myself in my bathroom with St. Tropez Tanning Essentials Self Tan Express Bronzing Mousse (here are a few of my other favorite formulas) determined to emerge with a luscious golden bronze. Overall, I learned a lot, especially what not to do, and successfully fooled my coworkers into thinking that my tan was the result of a recent beach vacation. Check out my eight steps for achieving the perfect self-tan below!
 

1. Exfoliate like your life depends on it
First things first: You need to shed any dry skin before applying the first layer of tanner. Some people prefer to dry-brush, but I'm partial to a good body scrub (like this
Fresh Brown Sugar Body Polish
) and my trusty loofah. Your elbows, knees, and ankles tend to get darker if you don't exfoliate enough, so make sure to concentrate on those areas so your tan is even. 
2. Moisturize, and let it dry completely
After scrubbing myself down in the shower, I always apply a generous layer of moisturizer to banish dry skin. Your skin will drink up more tanning product than you want if it's left dry, and it'll end up uneven. I recommend using this
Bastide Miel de Lavande Hand & Body Lotion
. The scent is divine, and it will help eliminate that telltale fake tan smell. 
3. Wear a tanning mitt
A lot of brands sell their self-tanners with a mitt to protect your hands from getting stained. Use them! It also helps keep your application even. If your tanner didn't come with its own mitt, you can buy them individually from a bunch of different places, like this one from
Tarte
. 
4. Pay attention to your edges
If you're using self-tanner on your face—which I highly recommend doing, but with a specialty formula like this
TAN-LUXE THE FACE Illuminating Self-Tan Drops
—make sure to work it into your hairline. The first time I tried to give myself a face bronzing, I could see a clearly defined line after I pulled my hair into a ponytail. Not cute! 
5. Work quickly
Not to pressure you, but tanner does begin drying on application, and it's better to work quickly but *carefully* so that you can see any missing spots. Turn off your message alerts so you're not distracted, and take over the bathroom if you have to. Your tan will turn out more even, I swear. If you're nervous about getting it right, use a more gradual formula that builds over time, like this
Neutrogena Build-A-Tan Gradual Sunless Tan Lotion
. 
6. Use the same amount of product for each appendage
Oh man, I did NOT follow this rule my first go around. After looking at my legs side by side, I realized they were completely different degrees of tan. Think a lightly browned buttermilk biscuit vs. 2003 Paris Hilton after a weekend in Cabo. Pay attention to how much product you're using for all parts of your body (front and back, each arm, and your legs), or you can use a
Tan Towel
to take all the guesswork out of the equation. 
7. Stick to your birthday suit for a while
Remember, self-tanning is not a spur-of-the-moment activity. Indulge in some much-deserved pampering, and really let your tan dry, even if that means walking around your apartment naked for an hour. Yes, I wait at least an hour before putting on any type of clothing, and then I wear something I can easily wash and not worry about staining, like this super cute
Sunday Forever Warner Shorty Kimono
. 
8. Wash your hands
Even if you used a mitt! I tend to rub everything in with my bare hands after applying, just to double-check that I didn't leave a rogue blob behind my elbow or neck. The most obvious giveaway that your tan is fake is orange palms. Keep an ultra-luxe hand wash, like this
Aesop Reverence Aromatique Hand Wash
, by your sink to encourage a thorough cleanse. Now go enjoy your new tan! 
Want more stories like this?
How to Un-Botch a Fake Tan in 60 Seconds
The 13 Best Tanning Lotions for a Bronze Summer Glow
Non-Toxic Beauty Products That Give a Totally Safe Beachy Glow