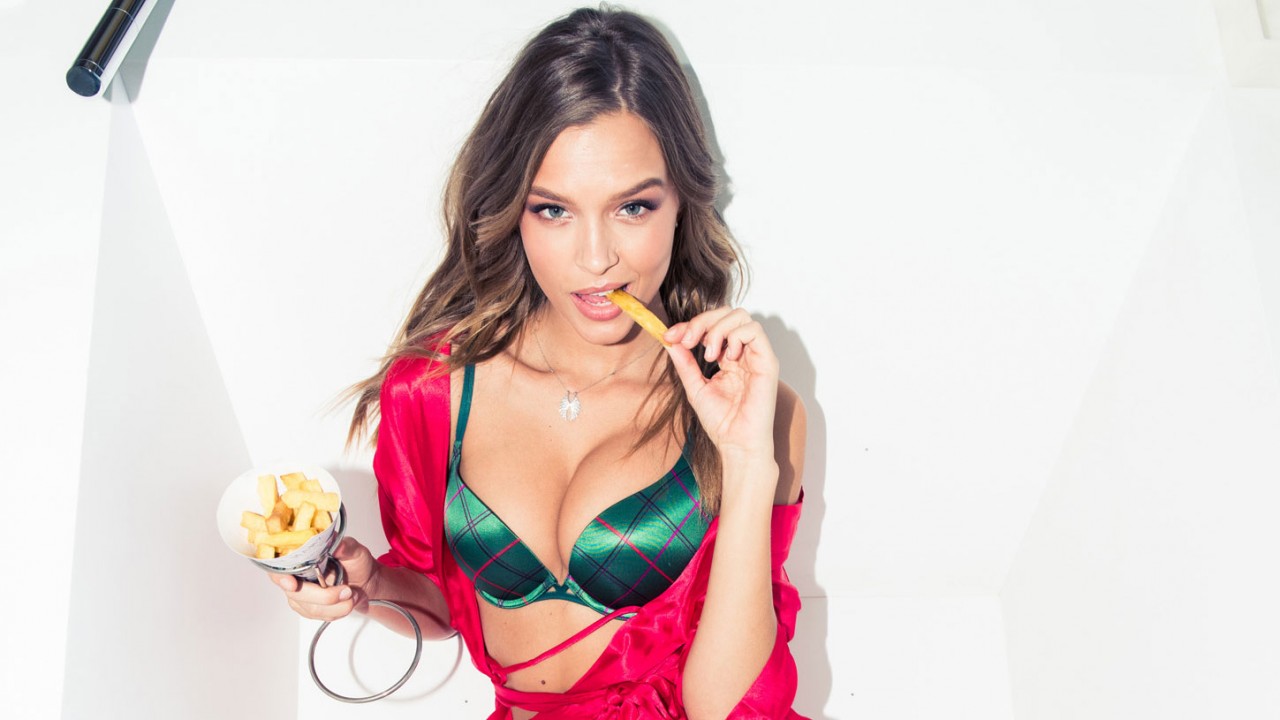 What Victoria's Secret Models Eat for Breakfast, Lunch, & Dinner
It isn't all about genetics.
There's nothing like spending a day with bronze-legged and six-pack-toting Victoria's Secret models to motivate you to put down the second bag of Boom Chicka Pop and reach for a veggie- and nutrient-loaded snack instead. Of course, there's genetics at play here, but these toned bods aren't fueled by processed sugars and unhealthy carbs. Herein, we gathered the best healthy-eating intel from years of hanging out with our island-hopping, lingerie-wearing friends.
---
BREAKFAST
---
"When I first wake up in the morning, I always have my lemon water. It just feel a little healthier than drinking regular water.
"I feel better when I have a lot of greens and drink juices. When I eat badly for a while, I need to do a Monday-Wednesday cleanse to be able to flush everything out and detox."
"Coffee in the morning is essential. I like tea too, but I do coffee in the morning—usually an almond latte. Then I get dressed and get going.
"I love to eat avocado and toast in the mornings with a little bit of chile and lemon."
"Eggs are always quick and easy. They are a good source of protein, and I normally scramble them with whatever veggies I find in the fridge."
---
LUNCH
---
"I love to make gazpacho. I eat it for lunch a lot. It's so easy to make and so delicious. I make it with a lot of olive oil and the best tomatoes I can find."
"I like butter lettuce with some avocado, tomatoes, feta cheese—extra feta cheese—and then a balsamic vinaigrette. Wait, add grilled chicken. Protein!"
---
SNACK
---
"I also love salty licorice, which is maybe not too healthy, but it's so good! I also love veggies with hummus or homemade thick tzatziki."
"Lately I haven't been so good with my water, but normally I try to drink at least five full bottles. If you go to the supermarket, buy the big bottles instead of the small ones. Then you'll carry it around, and you'll sip because you have it."
"My favorite snack is fresh fruits with yogurt and some nuts. When I crave something salty, I like seaweed chips—they're so addictive!"
---
DINNER
---
"One of my favorite dishes to make at home when I don't have much time or feel lazy is a mixed salad with lettuce, tomatoes, beets seasoned with olive oil, and apple cider vinegar, plus some canned Spanish tuna or mackerel and brown rice. Simple but delicious—I could have it every day!"
...room service order:
"I will order some delicious fish with veggies and maybe some fresh fruit."