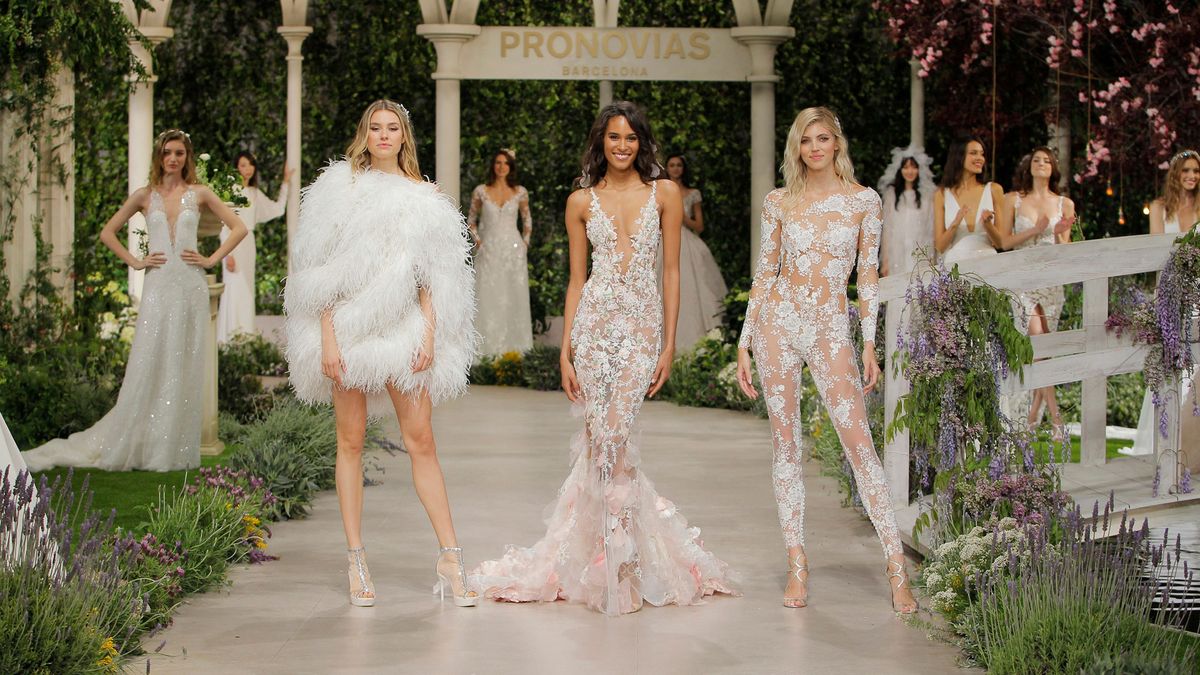 Photo: Courtesy of Pronovias
Weddings
Stop What You're Doing—We Found Your Dream Wedding Dress
Spanish brand Pronovias has a dress for *every* type of bride.
When
Pronovias
 artistic director Hervé Moreau told us that he designs "for everybody," it was among the few times we'd heard the claim and actually believed it. A lot of designers say this so as not to come off as exclusionary, when in fact many have a specific woman and aesthetic in mind when putting their pens to their sketch pads. And that's OK—a strong point of view that some love and others loathe is part of what makes fashion varied and interesting. It just so happens that Moreau's point of view has more of a universal appeal than most, as put forth by the Atelier Pronovias 2019 collection.
Presented during
Barcelona Bridal Fashion Week
and available in September, the dresses, Moreau notes, were inspired by French gardens, hence the show's theme, In Bloom. It included all the requisite bridal elements: satin
A-line princess gowns
; floral
embroidered sheaths
;
full tulle skirts
and mermaid silhouettes. But there were a lot of less obvious styles too, like a body-hugging
lace jumpsuit
and a
feather-trimmed silk skirt
paired with an off-the shoulder crop top. "The dresses are meant to represent all women, not only one type of woman,"Moreau says. In addition to the atelier line, Pronovias produces six other collections, inclusive of a wide range of sizes and price points.
Ahead, we break down the latest atelier collection by the type of bride-to-be they may appeal to. Or just the type of fashion lover—you don't have to be getting married, or even planning to, to appreciate them.
---
Your closet is filled with crisp, white button-downs, perfectly-tailored sheaths, and loafers without a scuff in sight. A ball gown is very much your speed.


You'll wear a suit to work…but with a crop top. Dresses that reflect the latest trends resonate with you most.


Your wardrobe is a sea of neutrals and smock dresses, and if you do get married, it'll be in an open field, not a chapel. You'll need something light and airy.


Your dream honeymoon destination is Monaco, and you dress for brunch like you're going to the Vanity Fair Oscar party. Only a showstopper will do.


Your family still isn't over that time you wore a mesh top to Thanksgiving dinner (in your defense, you wore it with a bra…that time), so you're not interested in just a dress—you're looking for a moment.