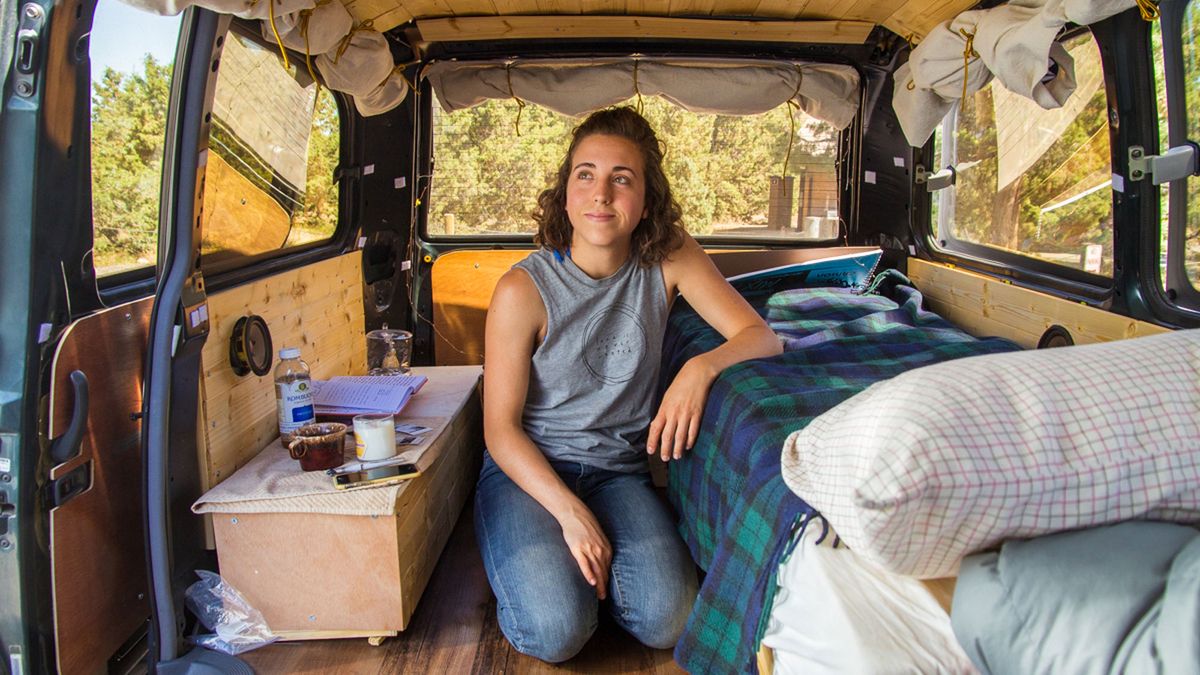 Travel
But I ended up learning a lot of life lessons.
Amanda Sandlin is an artist, writer, and climber living in Denver when she's not roaming about in her '97 Eurovan. She's the creator of the #atwildwoman and is currently working on 100 days of drawing female portraits. You can find her at amandasandlin.com and on Instagram @amandsandlin.
One year ago I emptied my savings account to buy and build out an awkward green '97 Toyota Previa named Penny. My plan was to travel indefinitely, keeping up with my freelance art and design business in libraries and coffee shops while I visited friends and explored the west. 
---
Newly single, I had just moved back from a year in New Zealand, and nowhere felt quite like home. I grew up traveling and have never lived anywhere longer than a few years. Maybe it's not everyone's first instinct to move into a van, but it made sense to me.
I had a friend who lived out of her Honda Element for a whole year, traveling around North America, climbing and meeting fellow
vanlifers
. It seemed dreamy, but I never thought I'd have the courage to do it on my own. I used to be afraid to simply walk out to my van in a Target parking lot in the middle of the night, let alone live in it.
Quick confession
: Another big reason I chose to live in my van was Instagram.
#Vanlife
, specifically. Go ahead, browse the hashtag if you don't already know it. You'll find photos of clean, stylish folks pouring coffee in the hippest of carafes; couples cuddling with their dogs while waiting out a drizzly day; a woman sitting in bed, working on a laptop with a sweeping view of the Pacific.
Photo: Courtesy of Kris Holbrook.
I had romantic expectations. I thought it would be not only adventurous—waking up and spending days in the most wild and stunning spots in North America—but also peaceful and free, like the Instagram photos. I thought my wood-paneled van would feel cozy, like a real home anywhere I wanted to be.

It sure was adventurous, but not how I expected. I spent more nights in Walmart parking lots than in the mountains. A weekly dip in the nearest body of water counted as a shower. Someone called the cops on me one morning as I made eggs out of the back of my van while parked in front of their Malibu beach house.


Every feeling—joy, loneliness, frustration—was magnified by my fleeting existence. It forced me to face myself, my fears, and judgments. There was literally nowhere else to hide. One morning I made a list of the ways I was feeling at the moment. I looked down and there, scratched out in black pen on the thin pages of my journal, was "self-loathing." It shocked me a bit. I dug in. A lot of healing came after that.

I was alone—no boyfriend, no dog—for eight months, traveling everywhere from Florida to Maine to British Columbia to Colorado. At first I was scared. I would stumble out of my van in the middle of the night, pepper spray and flashlight in hand, heart racing, and squat behind a bush to pee. Then I learned not to drink too much before bed. And the handiness of a pee jar. (Which broke. Twice. Once in public. I will save those stories for another time.)


I quickly realized that most people are actually good and it isn't as scary out there as the media make it seem. I learned how to not be afraid to be a woman alone in the world.

I discovered a lot about myself and the missing puzzle pieces to a more fulfilling life that I'd been avoiding since childhood, like community, working through the hard stuff with people I love, and the feeling of being supported and rooted, both physically and emotionally.

It wasn't all I thought it would be, and it definitely wasn't just like the photographs, but it gave me so much more than I ever could have asked for or expected.


For anyone considering van life, I would say do it. Make it your own. There are people who won't understand and will criticize. Go your own way. Figure it out for yourself. I will never tell someone not to do it, even if they have overly romantic expectations like I did.

Be prepared to grow. It isn't easy, but it's always worth it. You'll learn things about yourself and whoever you're traveling with that you never would've seen coming. Give yourself space to feel all of it. When it gets hard, try not to numb out. Be present. The adventure only really begins when you start to feel uncomfortable.

And just take my word for it, make sure your pee jar is plastic.


Photos: Courtesy of Kris Holbrook