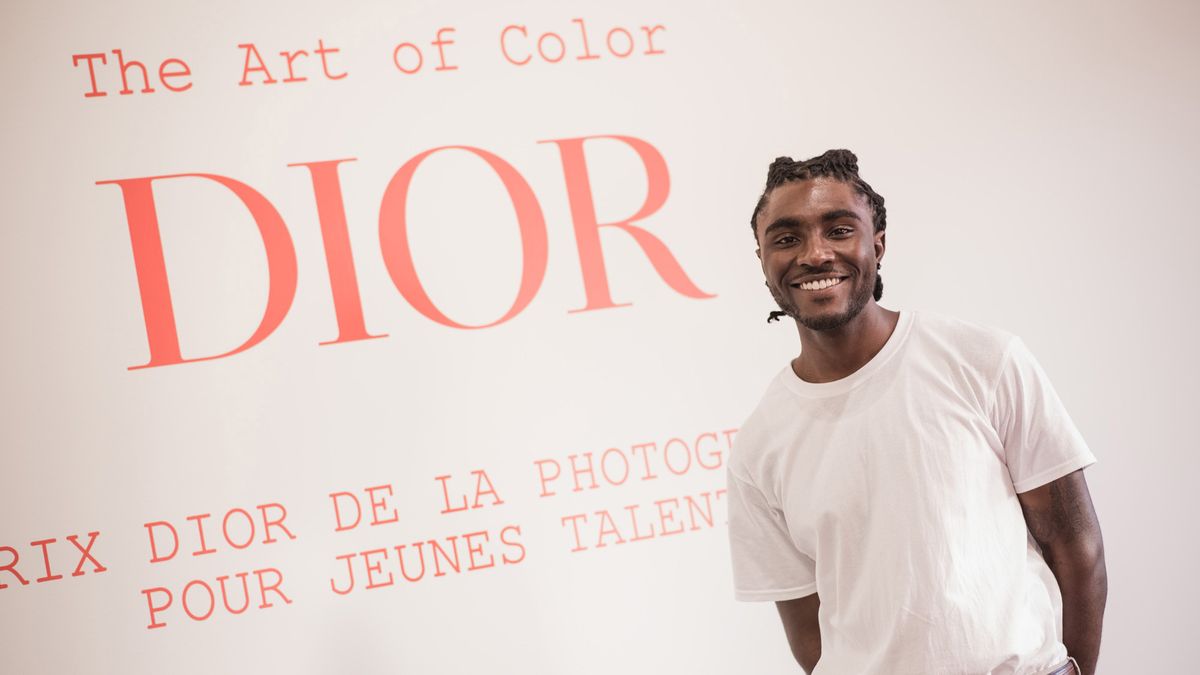 Culture
Meet up-and-comer Julien Tucker, who's even caught the eye of Dior Beauty.
When I was 22, I, like most people, had very few accolades to my name other than a college degree. And I certainly didn
'
t travel abroad to mingle with the most distinguished professionals in my field. Photographer
Julien Tucker
is not most 22-year-olds. In fact, when we caught up with him at the
Art of Color: Dior Beauty Photo Award for Emerging Talents Exhibition
in Arles, France, a few weeks ago, he was still a few days shy of his birthday, meaning that at 21, he was already presenting his work on the international stage. Impressive much?
Hosted by the
École Nationale Supérieure de la Photographie
and
The Luma Foundation
, the 
Dior Beauty
 event showcased up-and-coming stars in the photography world playing on color, femininity, and beauty with the theme of "Woman-Women Faces." The judges included none other than industry icons Peter Lindberg and Simon Baker.
"[Julien] was my favorite," said Lindberg. "I think it's one of the freshest—such an easy approach. He just took his camera and took a few friends."
Baker agreed. "It's really well done. You can see some references of Nan Goldin or intimate photography, but then he's made the story, he's engaged with the concept. He also made some of the clothes that the subjects are wearing, so he's bringing in creativity in many ways. It's a pretty sophisticated thing to do." I inquired what this type of international exposure could mean for such young creatives. "There are a lot of artists from China, from South Korea, and for them to be invited to come all the way here and see all of the things that are in the show is fantastic. It could be really life changing."
After toasting the honorees with plenty of champagne (we were in
France
after all), I caught up with the young New York native to learn all the details about his work, how he's continuing to combine his love of fashion and photography, and, of course, what's next for the rising star now that he's graduated from the International Center of Photography.
---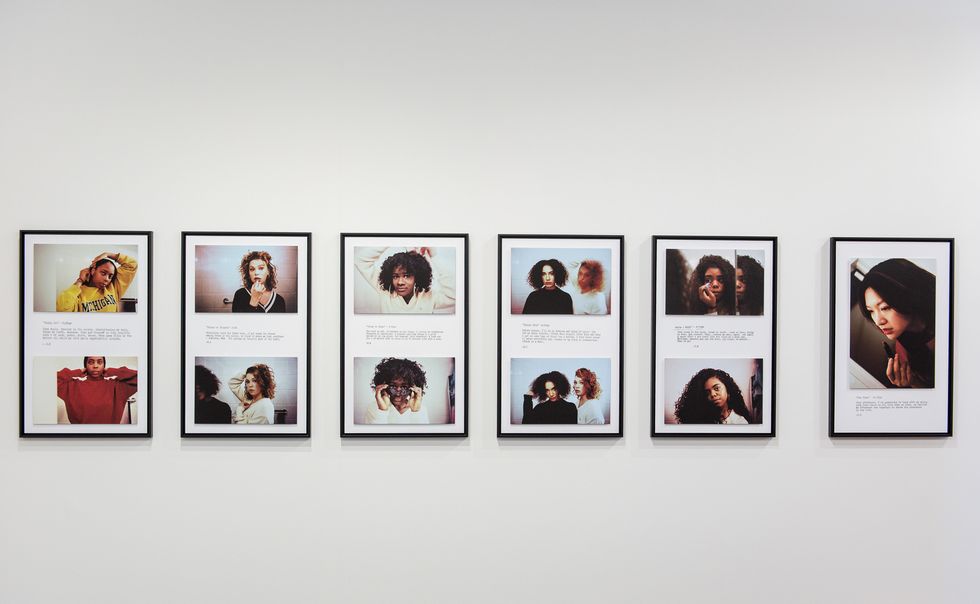 Women have such unique getting-ready routines; why were you inspired to capture it on film?

"The concept had came from when I used to do photobooth shoots in my bathroom. Everybody gets dressed in the mirror and makes faces. Because I'm a boy, I didn't want to place any judgment on how women should be portrayed or anything. I wanted to do something where it's relatable to everybody. When I thought about the color aspect, I wanted to get a range of every nationality, and also get as many different outfits as I can. I made the red sweatshirt; I made the black turtleneck on her. The timestamps came from this girl [I was shooting], and her ride was waiting outside and kept sending her texts. It was kind of funny—the whole time she [was] still doing makeup and getting dressed and it was real life, so it would be pretty cool if I got them to write their routine as text messages going out, you know? Going to dinner with friends; going to class. I used a legitimate typewriter."

Did you learn anything new seeing women vulnerable in front of the mirror?

[Laughs] "I definitely learned makeup routines. I learned why it takes so long for women to get dressed, because they pose and come up with one outfit and change and [say], 'I like this outfit, but maybe this sweatshirt doesn't fit with these pants.' So I definitely learned a lot just watching their process and how they apply their makeup and certain faces they make. It was great."


When did you first become interested in photography?

"Around 10th grade. I really liked this girl in my class. She would always carry around a camera, and [when] I asked her why, she was like, 'I'm in this photography class. You should take it.' On the first day, he showed us a bunch of old slides from Versailles and Karl Lagerfeld and the New School Photographers. They just really caught my eye, and I was interested in how fashion back in the day was a lot better than it is now, especially in the magazines. I was always into fashion, and once I was in the class I was like, 'Yeah, I should just start photographing my friends in the city.'"

What was your reaction when you found out you would be coming here to Arles?

"Oh, I cried. [laughs]. I was super shocked, because I was always a big fan of Dior Homme. I really didn't expect to win. Once they sent me all the logistics and stuff like that, that's when it really hit me. I called my mom and told her that I won, and I just started crying."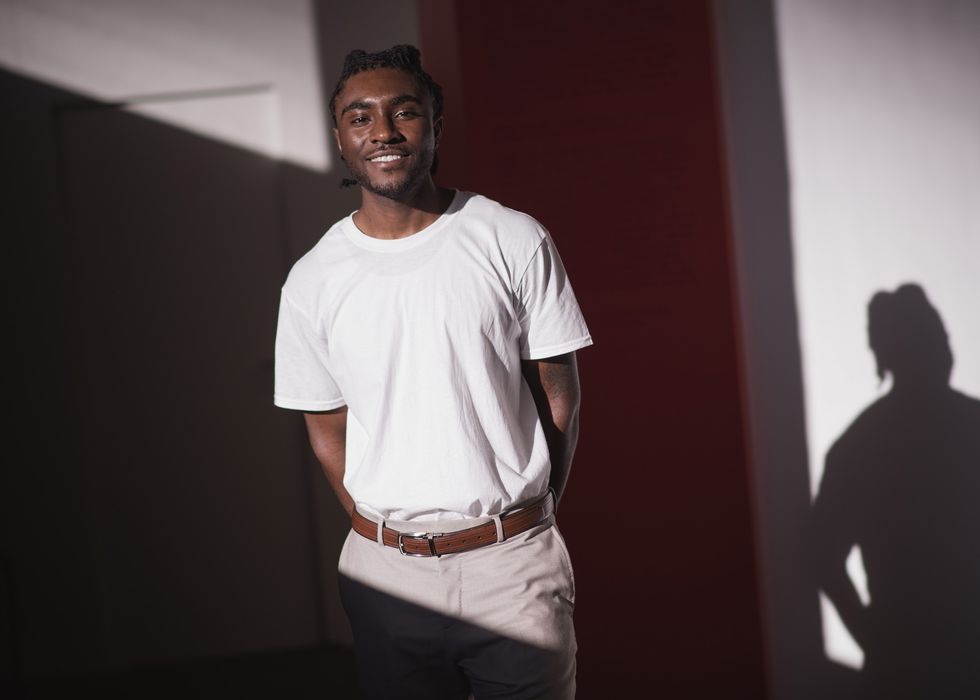 How would you describe your photography aesthetic?

"I shoot fashion in a documentary setting. I always want to shoot fashion to be more realistic, more lifelike. I don't want to create something that doesn't look like it belongs on the street, because fashion is everywhere. Fashion is everyday people just walking on the street; the janitors, the teachers, the garbage man. My aesthetic is something that's relatable to everybody."

Why do you think it's valuable for huge brands to use their leverage to shine the spotlight on young emerging artists?

"I think it's important because a lot of times young adults like me don't get a chance to even get in a conversation with high-end brands like Dior [Beauty]. So it's great to show the emerging talents of inner cities or young talents in general because we're really the next generation to come up and really put things in the media and magazines and movies. We make the style, we create everything."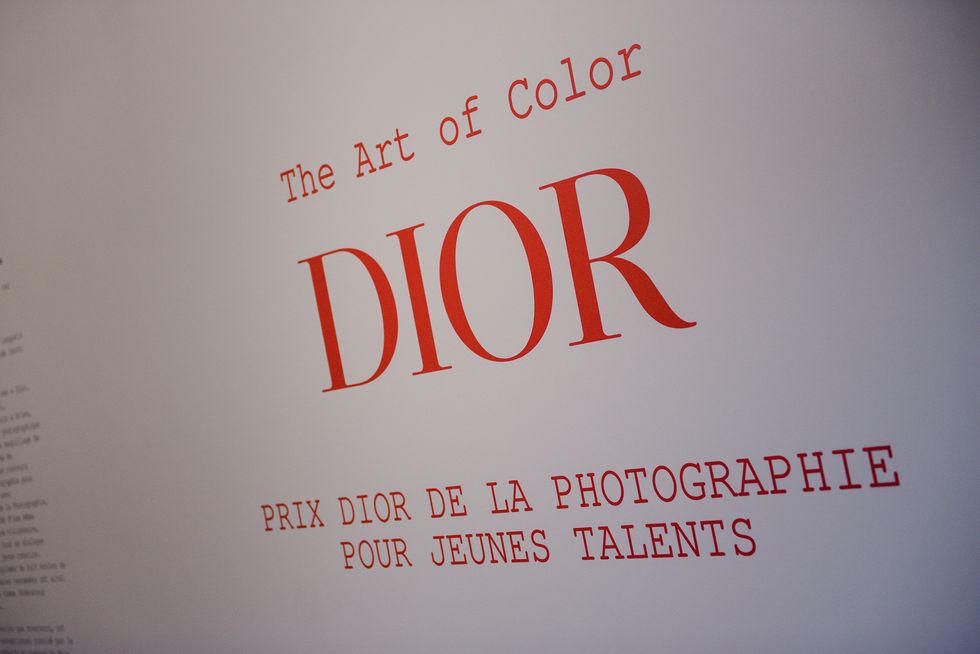 Obviously Simon and Peter are huge names in the photography world. Who else do you look to for inspiration?
"For inspiration in photography and just in general, I'm a big fan of Kanye West,
Pharrell
; they are artists that just do everything. For photography, Bruce Davidson is a huge inspiration to me just because he was a New York City photographer, and he had a very snapshot-ty, film [vibe.] He wasn't a fashion photographer, but his photography to me looked very fashionable. He was able to capture everyday people, real-life people, and I like that stuff. Versailles is another big photographer from France—his series 'A Night in Paris' was a big influence on me."
What do you have coming up that you're most excited about?
"My brand,
Henko 291
, is my fashion brand. Right now I'm preparing for a fall/winter 2019 collection. I kind of missed out on 2018, but we're making a lot of new releases. I just did a show in Long Island City, so right now I'm preparing for a 2019 release. I'm also putting together another lookbook magazine that I'm about to drop called
Blow
— that's what I'm looking forward to."
Photos: Francois Durand/Courtesy of Dior Beauty

Want more stories like this?
6 Nigerian Creatives Fueling Afromodernism
Everyone's Next Music Obsession Shares the Secret to French-Girl Cool
6 Rules for Turning Your Passion into a Successful Career in the Arts