Gucci Westman's Secrets Behind Her About-to-Be-Cult Makeup Line
And a peek inside her epic New York apartment.
Makeup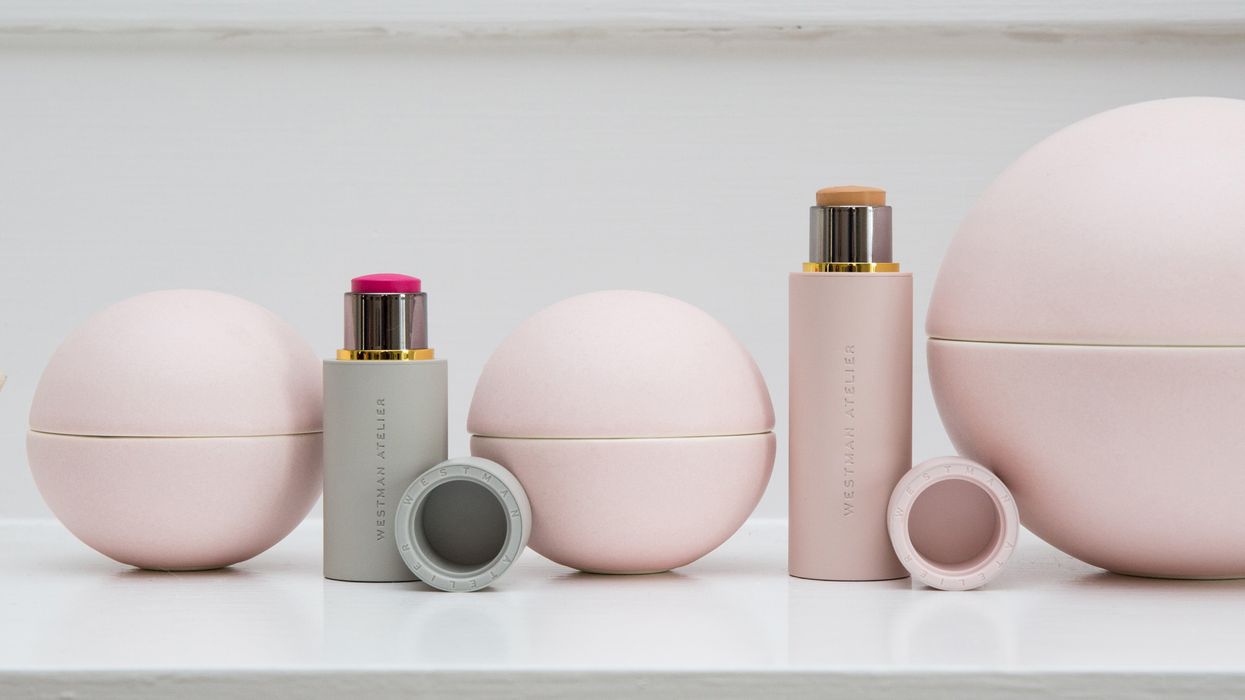 We've been waiting with bated breath for the launch of makeup artist
Gucci Westman
's own makeup line. Very,
very
good taste is a signature of Westman's: Her home on Central Park West (which she shares with husband and co-founder of Rag & Bone David Neville and their children) has romantic, old-world architecture mixed with current design favorites like JF Chen chairs and
Apparatus
lighting. Lit Cire Trudon candles are scattered in every room, and her Céline crossbody and white quilted CHANEL wallet sit on a leather-top desk overlooking an expansive view of the park. As we walk into her front door, homemade almond milk buzzes in the Vitamix in her kitchen, and her signature
gluten-free seed-heavy "bread" loaf
is almost ready to come out of the oven. Taste? Delicious. 
---
Her line,
Westman Atelier
, launched at Barneys last week, mostly consisting of stick cream formulas (the format of foundation with which she first learned to do makeup): 11 foundation shades with more to come, four blushes that you can also use on your lips, one white highlighter, and one tan contour color. The last two products are in compacts: a powder bronzer marked with the Westman Atelier logo, drawn by Westman herself, is the only non-cream product, and the Super Loaded Tinted Highlighter, which we bet will be the sold-out hero product as soon as people catch on.
"It's kind of a 4-in-1," says the former Revlon global artistic director of the tinted highlighter as she dabs the tawny cream on our cheekbones in the natural light of her apartment. "It's a highlight, a contour, a blush, and a bronzer all in one. You don't need a mirror. It's perfect for any time when you just need a
little bit
. We actually made it kind of as a mistake. We were shade matching, and they were so off. I was like, 'That's disgusting. That has nothing to do with the color.' I had been going for a transparent, pinky [shade]. And then I put it on, and I was like, 'It's major!'"
Westman, who is notorious for her beauty expertise far beyond makeup (backstage, editors ask the artist less about the show and more about her own skin-care discoveries such as her new Koyo Rantania Miracle K face-firming device from Japan pictured here), toiled over every other color in the line. "I do all shade matching on-site," she explains. "It's a nightmare, because [the lab tries] to send me shade matches, and I'm always like, 'I can't decide, I have to be there with a chemist and a mixer.' For example, shade matching five [foundations] takes an entire day. It's no joke."

Rather than organic or natural, Westman describes her line as clean—"It's a real extension of how I live my life, like 80/20," she says—so it's devoid of certain ingredients she personally finds problematic after years of experience, tackling both rosacea and skin cancer personally, and lots of research. The most impressive omission is silicone, which is almost impossible to formulate something lovely without, yet all 11 foundations are silicone-free.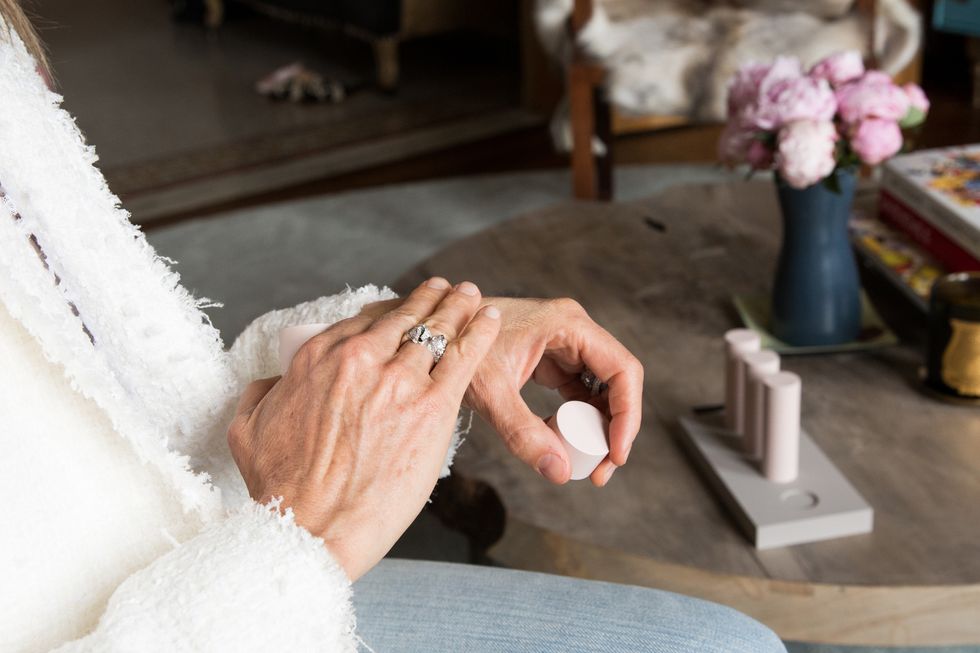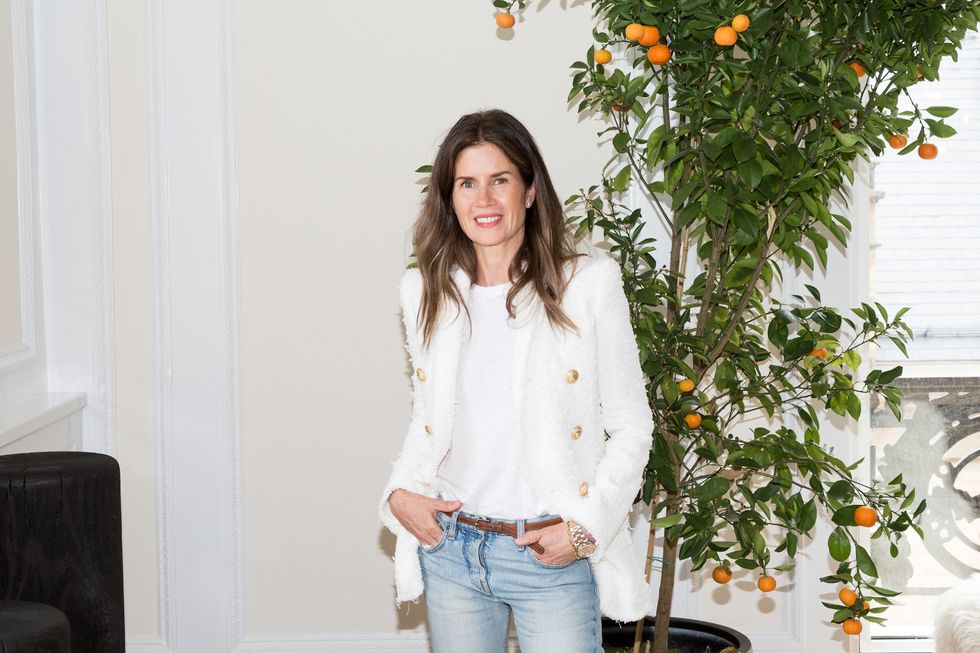 Jacket, CHANEL; jeans, The Row; belt and T-shirt, Rag & Bone.
"When I go into one of our labs, I'll touch something and be like, 'Oh my god, that's amazing.' And they'll be like, 'It's 99.9 percent silicone,'" she says, laughing. "Silicone is kind of like wheel bearings. It's what makes the slick, gorgeous texture that we've all become accustomed to because companies are just putting more and more of it [into their formulas] to outdo each other. I push [my chemists] hard, and we found really nice alternatives to replace the silicones."
While Westman Atelier brushes are on the horizon, she tells us, everything but the bronzer can be applied with your fingers—calling back to Westman's notoriously soft, light-handed esthetic as you can see from her
no-makeup runways looks
, in her worldwide editorials, and on celebrity clients like
Anne Hathaway
and
Jennifer Aniston
. "At the end of the day, I wanted these products to be so easy for anyone," she says. "Instead of being like, 'Oh my god, I messed it up. I have to spend ten more minutes,' I want products you can use on the train, in the car... Intuitive. You don't need a million products, to be honest. You don't."
Want more stories like this?
How Gucci Westman Became One of the Biggest Names in Beauty
3 Ways Celebrities Use Filler with No One Noticing
This Is How French Women Look So… French