3 Ballerina-Approved Snacks
Put down the Popchips.
Food
The 3:00 PM office slump is real. Almost as real as the early morning slept-through-your-alarm rush. And it's in these cases that our most well-intended food choices are disrupted, usually by the likes of buttery, sugar-topped croissants and packaged sodium-filled snacks. And if there's anyone who can pay testament to the fact that nutritionally poor food makes you feel, well, kind of shitty, it's
Jenelle Manzi,
dancer in the New York City Ballet company and newly minted baker of all things clean. After dealing with a whole slew of health problems, Manzi decided to take matters—specifically her nutrition—into her own hands. Which is how a full-time ballerina started cooking almost as frequently as dancing. It's no secret that ballet takes a lot and asks a lot of the human body. Taking that into account, Manzi created (and shared with us!) three of her favorite healthy (and
insanely
tasty) treats (to take you from breakfast all the way to dessert). We promise once you start munching on these, you'll never go back to the vending machine again.
---
---
Truffle Bites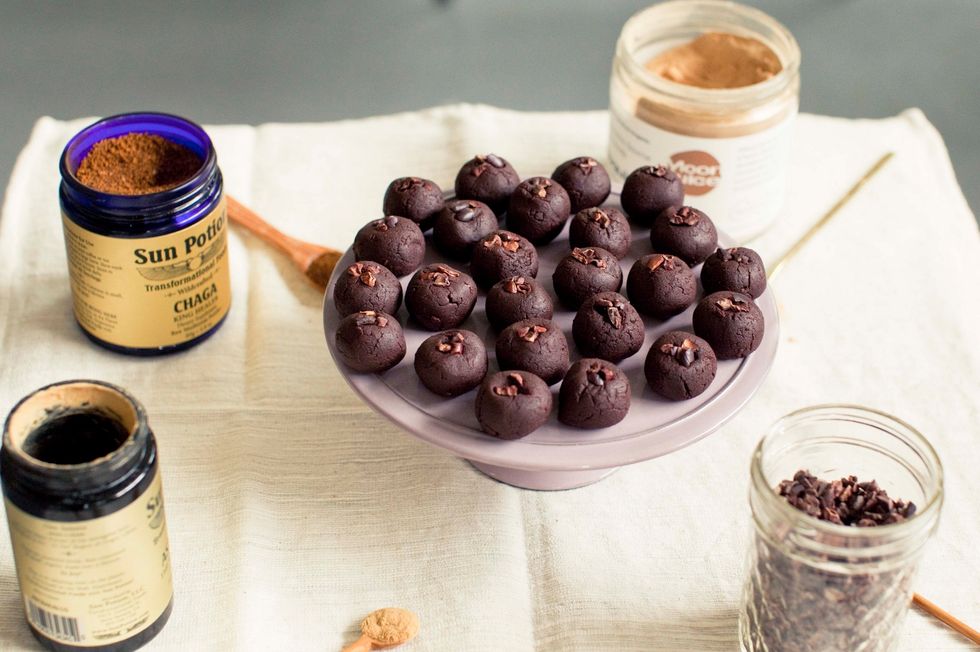 "These cacao truffle bites are indulgent little powerhouses filled with energy and immune-boosting nutrients. I've added small amounts of Chaga mushroom and Astragalus to give these treats an extra punch."


INGREDIENTS:
2 tbsp raw cacao butter
1/2 cup dates (pureed to make a paste)
2 tbsp coconut butter
1 1/2 cups raw cacao powder
2 tsp vanilla extract
1/4 tsp pink Himalayan salt
2-5 tsp Chaga mushroom powder (depending on preference)
2 tsp Astragalus powder
Cacao nibs for topping


Directions:

1. Prepare a baking sheet lined with parchment paper.

2. Make a paste out of dates in a high-speed blender (if they are dry, add a touch of warm water).

3. Combine all ingredients into the blender and mix until smooth

4. Roll the mixture into little balls with the palms of your hands and place on baking
sheet.

5. Top each with cacao nibs.

6. Try not to eat them all at once.


---
Blueberry Muffins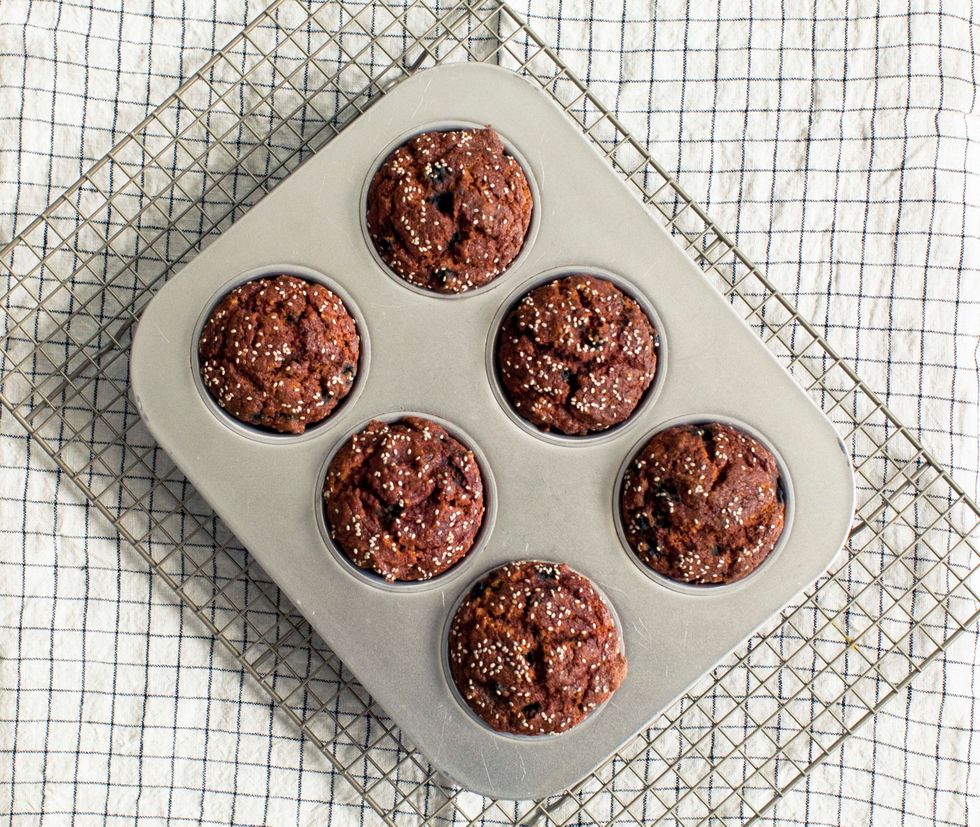 "After going gluten-free, finding a muffin that was nourishing and tasty was hard. These gluten-, dairy-, and refined-sugar-free muffins use a tummy-friendly flour blend and have the perfect balance of sweet and savory. The butternut squash helps make them fluffy and moist, while turmeric adds an anti-inflammatory kick."


DRY INGREDIENTS:
1/2 cup millet flour
1/4 cup chestnut flour
1/3 cup brown rice flour
1/3 cup white rice flour
1/3 cup almond meal
1.5 tbsp potato starch
1 tsp baking soda
1 tbsp turmeric
1 tsp cinnamon


WET INGREDIENTS:
3/4 cup butternut squash puree
2 eggs
1/2 cup dairy-free milk
1/2 cup maple syrup
1.5 tbsp coconut oil
1.5 tsp vanilla
1/2 tsp ground chia
1/2 cup frozen blueberries
Chia seeds for topping


Directions:

1. Set oven to 350°F and line muffin baking tin with paper.

2. Blend all dry ingredients together in a large bowl.

3. Whisk together the wet ingredients in a separate bowl.

4. Combine the wet ingredients with the dry ingredients and mix until combined, while also adding in the blueberries (best to not over-mix).

5. Spoon muffin mixture into prepared baking tin.

6. Sprinkle each muffin with chia seeds.

7. Bake for 20-28 minutes.


---
Superfood Bars
"These bars are chewy, crunchy, naturally sweet, a touch salty, and most importantly, nutrient-dense. My goal was to pack all of my favorite snacks into one convenient bar that is perfect for when you are on the go."


INGREDIENTS:
1 cup chopped almonds
3/4 cup chopped pecans
3/4 cup pumpkin seeds
1/2 cup puffed brown rice, lightly ground
1/2 cup puffed brown rice
1 tbsp flax meal
2/3 cup brown rice syrup
2 tbsp coconut butter
1-2 tbsp mesquite powder
1/4 tsp sea salt
1 tsp vanilla extract
1/3 cup chopped dried mulberries
3 tbsp cacao nibs


Directions:

1. Set oven to 350°F.

2. Prepare a square 9" glass baking dish lined with parchment paper.

3. Mix all of the dry ingredients together in a large bowl.

4. Using a double boiler or saucepan, warm and blend all of the wet ingredients together until they are smooth.

5. Spoon the caramel-like mixture over the dry ingredients and mix with your hands until fully combined.

6. Split into two batches and press each batch as flat as possible into the baking dish.

7. Bake for 10-12 minutes.

8. Let cool slightly and cut into rectangular bars.