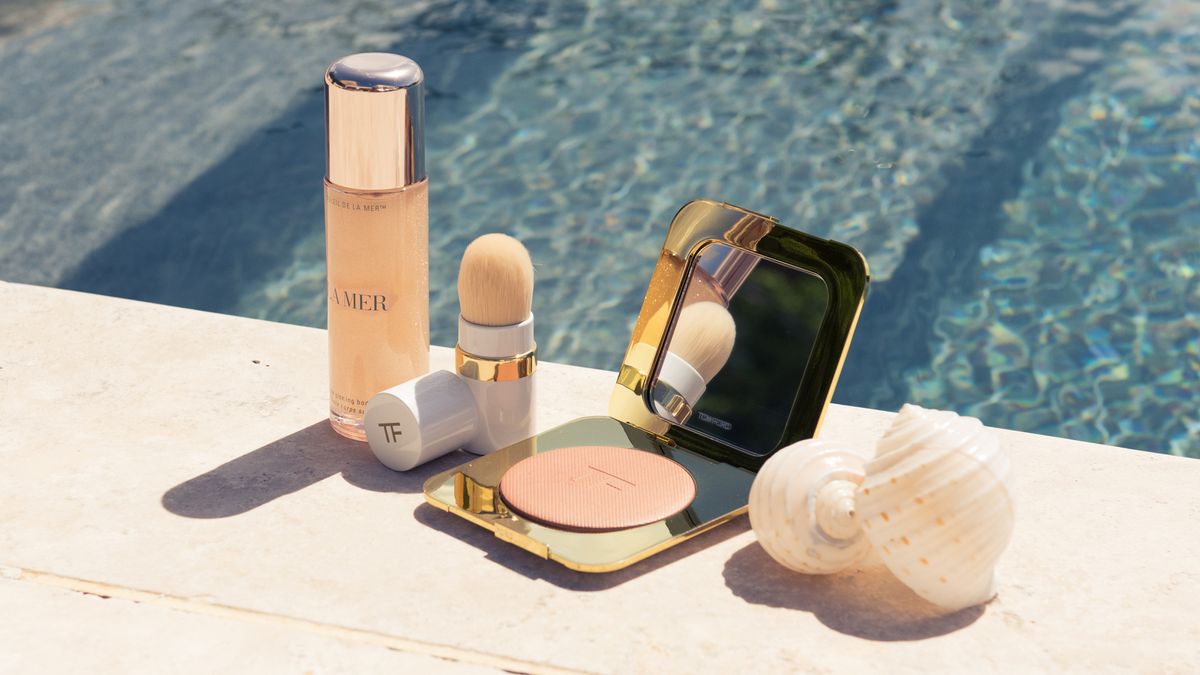 Beauty
Because when your makeup starts to melt, it's time to reassess.
We don't know how it happened, but the
4th of July
is here and summer is full steam ahead. While we'd like to lounge by the pool day in and day out, the reality is that we're still schlepping to and from work like we always do, only now with fewer layers of clothes and a lot more sweat. That means our
beauty routines
get an overhaul as well. The heavy moisturizer you counted on to get you through winter isn't going to suit your already
clogged pores
for the next few months. Same goes for makeup—a powder blush can melt, a
non-waterproof mascara
can run, and the wrong foundation… Don't even get us started. Check out the six products our editors are swapping out for summer.
---
I typically overlook primers since I don't wear foundation, but my usual cream bronzer doesn't hold up in the heat (it's coconut-oil-based). This new tinted primer and moisturizer came across my desk recently, and I was pleased to discover the formula is easily blendable and buildable without becoming streaky. And it isn't a self-tanner, so it won't stain your fingers. I use it under my eyes and around my lids to even out my sunglasses tan, as well as to contour my cheekbones. Best of all, it dries matte, so in my months-long battle with shine this summer, I finally have a slight upper hand.


When cold weather strikes, my lips are the first to take a hit, meaning dry, chapped, and angry. I quickly build up a Chapstick arsenal, and a trail follows me from the nightstand to the office. Now in the swing of warmer days, I noticed the thick texture doesn't quite suit the muggy temperatures. In comes Supergoop's Lip and Cheek Treat, serving major moisture, SPF, and a pop of color. Where have you been all my life?


The sweltering heat has finally hit NYC on full blast, so I'm swapping out my everyday Dior foundation for my NARS tinted moisturizer. It provides just enough coverage for a dewy, natural look, and helps even out my skin tone without looking or feeling heavy on my skin. You'll never have to worry about your skin feeling cakey or heavy with this stuff, and I love that it has SPF too. I've been using it for years.


The temperatures are in the high 90s, so I'm looking for beauty products that require almost zero effort before I venture out into the sticky NYC heat. I've loved The Multiple—a multi-purpose eye, lip, and cheek tint. I swipe it over my cheek and collarbones for a shimmery highlight, use my fingers to rub the remaining product on my eyelids, and dab a little onto my lips for an effortless pink pout. It gives my face that warm, summery glow that I usually only have after a week-long beach vacation.


The regular version of this mascara gives you long, spindly lashes that make people stop and ask you if you're using Latisse. This waterproof version does the same, but with extra staying power. And though I haven't been diving into any pools lately, by the time I get to the office, it looks like I've just been dunked—hence the switch to waterproof. Tip: To remove it, I always use an oil cleanser like
DHC Cleansing Oil
.