Maddie Hasson Is the Reason Impulse Is Your Next YouTube Binge Watch
After her character's traumatic event, she discovers she can teleport. It's a sci-fi even the sci-fi-averted will be obsessed with.
Celebrity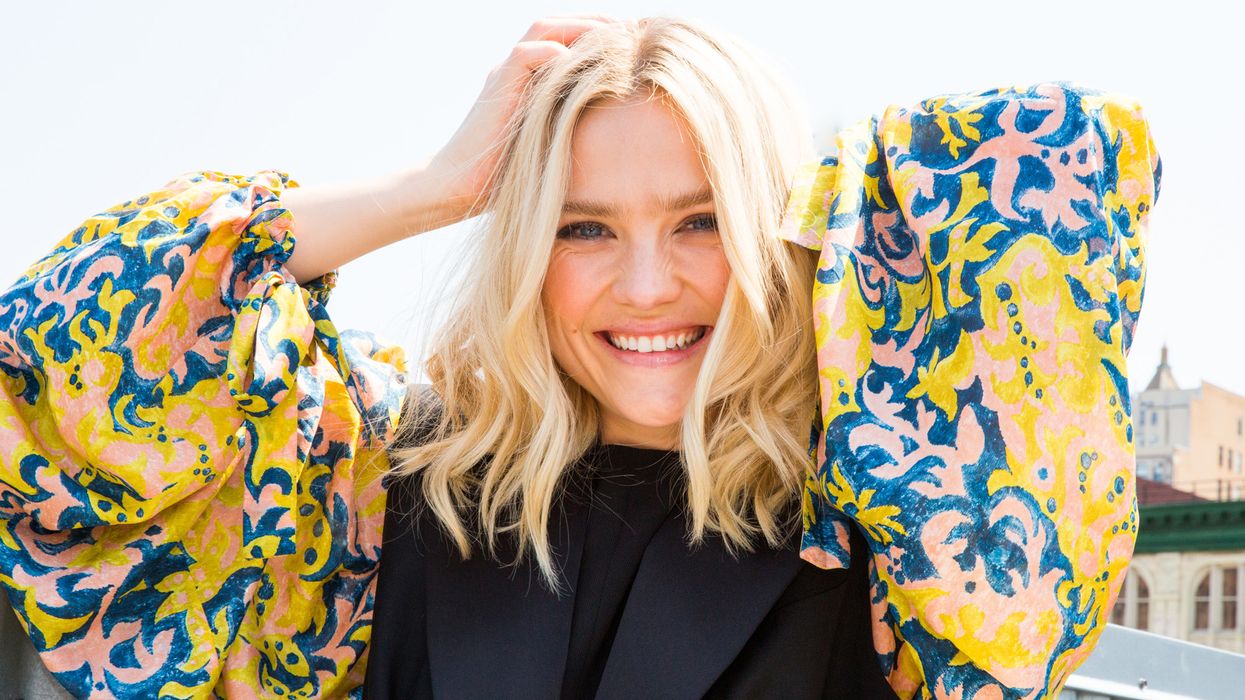 If you were taking a stroll by Broadway and Howard some odd days ago, you would have spotted a platinum blonde, Valentino frothy-red-gown-wearing Maddie Hasson twirling as she beelined for the pretzel stand on the other side of the crosswalk. We managed to lens a few shots before she downed the entire doughy knot. Did we mention this was ~after~ we snuck onto our Coveteur HQ rooftop for an impromptu photo shoot and got kicked off? Yeah, that happened. You know what, though, Hasson was just about up for anything we threw at her, as long as it ended in the right shot. That's something she has in common with her character Henry—a rebellious 16-year-old who discovers she can teleport during a traumatic assault—in YouTube's original series Impulse; she oozes confidence.

We sat down with Hasson to talk about the challenges of playing her destructive teleport scenes, the importance of exploring the assault throughout the series, and what she's binge-watching right now.

 
---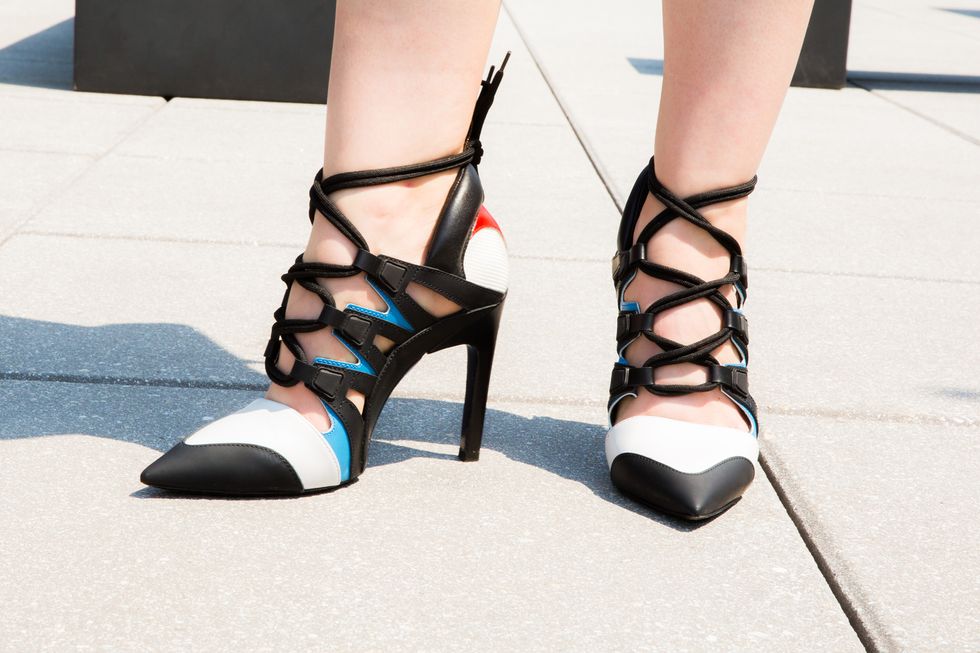 On what drew her to the role:
"I needed a job [
laughs
], so I auditioned for it. I'm not a big deal, you know what I mean? It's not like people send me scripts leisurely and are like, 'Here you go, just take it, we love you.' You have to work for it. I really love Henry. Henry was the thing that drew me to this, because she's such a real character. She's not any one particular thing for the sake of being it. She's not strong so she could seem like a badass; she's not likable for the sake of being likable. She's just a real, human character, and I love that about her."
How YouTube provided a space to take a risk:
"You know what, it was different than any other TV show I've done. Because I've done two other TV shows, both on big networks. It was different, because I think it
'
s quite new, and so they're interested in taking a lot of risks. They didn't try to tailor the show to fit YouTube's brand—they gave us a lot of freedom, which was very refreshing. We say 'fuck' a lot in the show, which not a lot of teen shows on networks get to. It's understandable, but we don't do that in our show at all."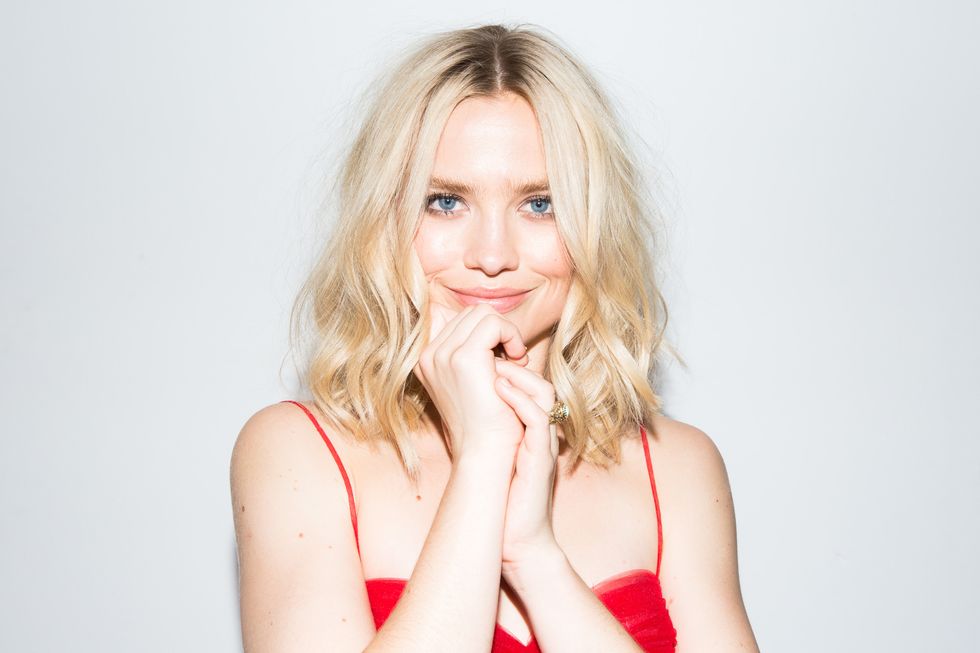 What it was like exploring the assault aspect of the show & how Henry found power in trauma:

"It was really painful. It was very difficult, but when Lauren said that she wanted to make assault a bigger part of Henry's story and [show how] this thing that happened to her really changes her, I was very interested in doing it because I felt that it was a worthwhile story to tell. So I met with a counselor that mostly meets with victims of assault, and I spoke to her at length, because Lauren and I both really wanted to get this particular thing right. We didn't want the assault in itself to be gratuitous in any way; we didn't want it to happen and to just pass over it. Because it happens when Henry learns that she can teleport, it's forever linked with that power from that moment on. And so it steers her journey of harnessing this new power, and it sort of mirrors her coming to terms with what happened to her."

It was also her greatest challenge:

"It was definitely the biggest challenge, because it's something that's really important to me. I know a lot of people personally, unfortunately, who have been assaulted. I wanted to make it as real as possible for them and for other people who have had to experience this horrible thing that is so real and so present in our society today. When you want to make something real, you have to really feel that pain and dig into it, but it was a worthwhile thing to do."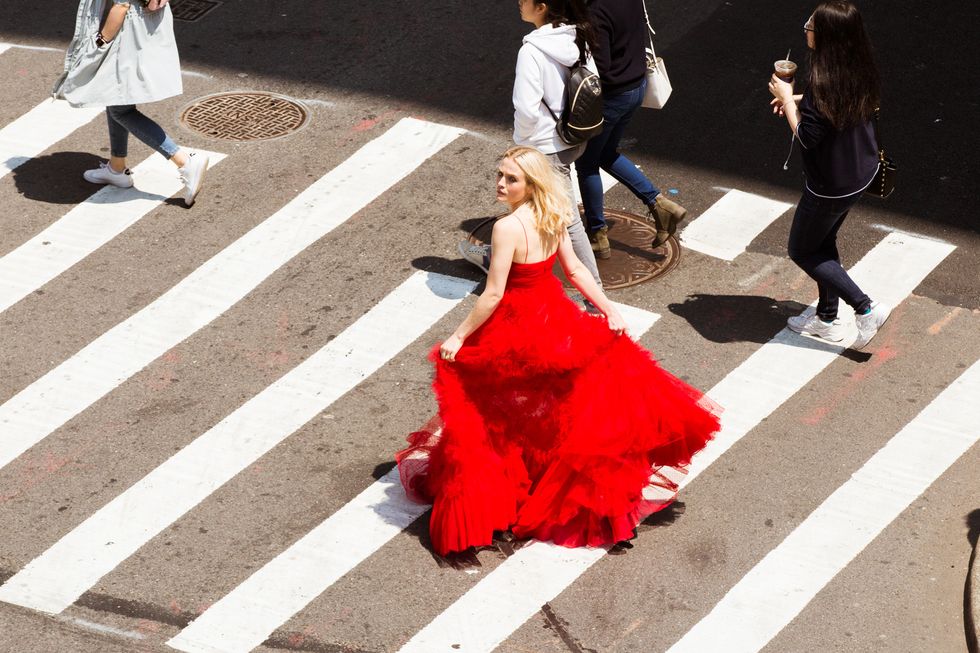 On these destructive teleporting scenes:

"When Henry first starts teleporting, Doug wanted it to be really messy and rough. He didn't want it to be like, boom, she has a superpower and is magical. He wanted it to be destructive. So Henry has these seizures in the first episode. She thinks that these kinds of seizures are unexplained. Then the seizures develop into teleporting after the assault. The seizures were difficult to tackle. It's a bit like dancing, I've realized. You're doing this very unnatural thing with your body, and you're doing it over and over and over. I used to be a dancer, so I equate this to dancing—you have to practice one move a thousand times, and it's not a normal thing to do with your body. We watched a lot of videos on YouTube to see people having seizures. I know somebody personally who has seizures, and I spoke to that person at length about what it looks like and feels like. We wanted it to be ugly, you know? We didn't want Henry to have pretty seizures."

The most surprising thing she learned about yourself through filming:

"By playing Henry, I learned that the most painful things you can do and the most difficult things you can do are the most worthwhile. It wasn't easy to play Henry. I like how strong she is, and I think something that I've learned from her is to be a little bit tougher. I've always been somebody who speaks my mind, but I think Henry has this confidence about her when she walks into a room. She has this wide stance. She has this walk that's so heavy in the front, and she has this wide stance, and the only time I feel that way is at the gym when I'm lifting some really intense weights."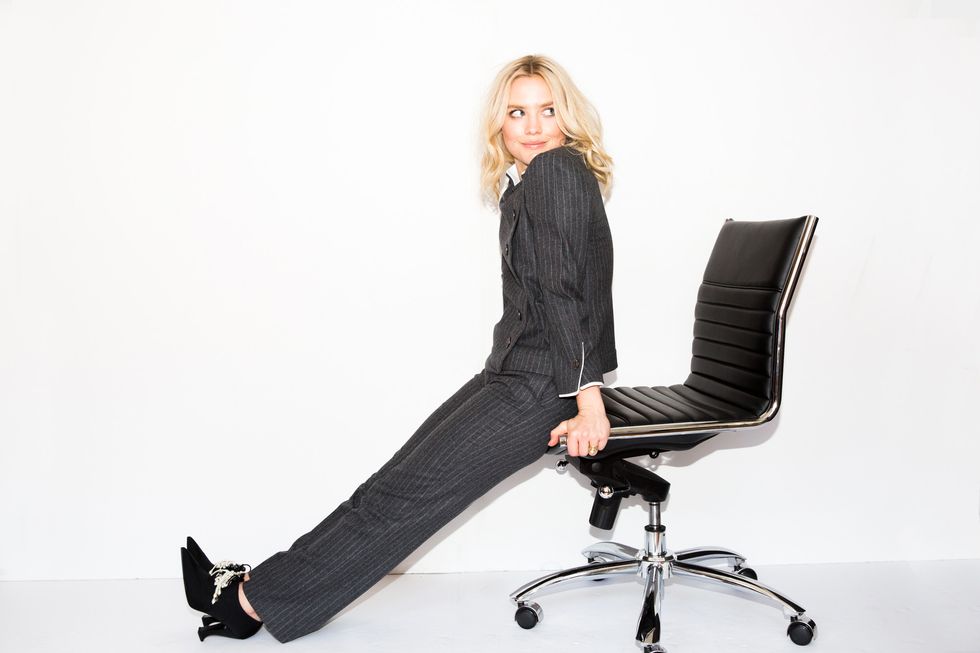 What

'

s on her gym playlist:
"It's so embarrassing, I don't even know. It's just the worst garbage. Just garbage music, I don't want to tell you [
laughs
]. The thing is, I just go to a mixed pop playlist, and I just listen straight through, and all the songs kind of sound similar to each other. That kind of playlist. But it works! It gets you through a run, but it's not anything cool."
How she chills out after an intense day of shooting:
"Watching TV helps. It's kind of hard. It's something that I'm still learning to do, so it's sort of a difficult question because I don't always accomplish chilling out. I don't always get there. I think your mind is stuck in that place for sometimes the rest of the evening. But watching TV really helps me chill out."
What she's binge-watching right now:
"I just binge-watched
Killing Eve
and
The Marvelous Mrs. Mazel
. I finished
Killing Eve
, and I was shell-shocked. I didn't know what to do with myself, so I had to start a new show. I'm lost."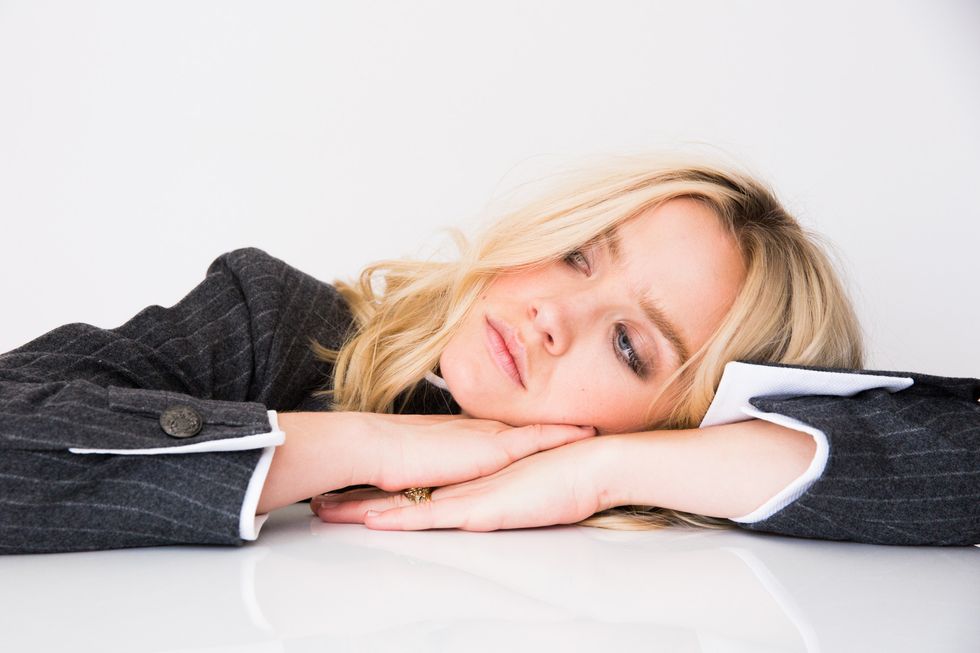 The YouTube videos that send her into a black hole:

"Oh my god, anything. I'll watch anything. It's hilarious. I'm just so easily entertained. We just got a new puppy, but before we decided we were going to get the puppy, my husband and I watched so many hours of Cesar Millan's dog training videos. One night I think we fell asleep watching them, it was that intense. And then we were like, 'Let's get a dog!' It's been hard [laughs]. Puppies are a little bit of a pain in the ass, I won't lie. But I love my dog."

If she was to have a superpower...

"I would probably choose to be invisible. That's been my go-to answer, but it's so emo. I'm really shy! I have such bad social anxiety, it's a curse. So I'd want to be invisible."

On holding out hope for sci-fi to come to life:

"I love sci-fi shows, and I want so badly for every single creature in every sci-fi show to be real. Maybe not some of the scary ones. I fell off a dock once when I was really little. I opened my eyes, and this was before I could swim, and I thought for sure that I saw a mermaid. Because I was a small child, and that's what you think when you're a small child. Ever since then I've held on to that hope, but I don't think that it's going to happen for me, unfortunately. Who knows?"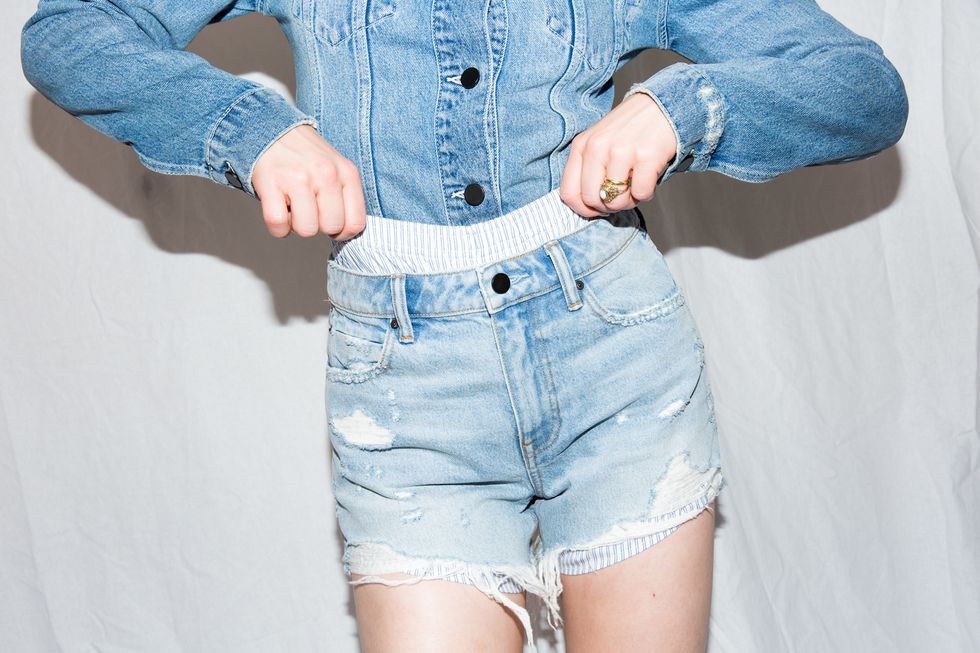 Her biggest indulgence:

"Chocolate. You know what's sad, I wish I didn't watch The Bachelor. But I do. I don't know, that's more of a guilty pleasure. It's like an embarrassing thing that I wish I didn't do, and I wish I were like, a better, cooler person [laughs]. But I watch it, and I have to hide it from people, and now I'm telling you."

If she were a contestant, her job title would be:

"I love it when I see a job title and it's like, 'Social Media Influencer.' I'm like, that's what you'll be after the show. Don't pretend you're there yet [laughs]. I hate that I watch it, but I love it so much. I saw this guy, and he was a professional cuddler or something along those lines, and I was like, 'That's not a real thing, but I'm into it.' So one of those. Something so, so weird that makes you question what a job is. What is the definition of a job after The Bachelor?"
Maddie is wearing Louis Vuitton (Look 1); Valentino (Look 2); CHANEL (Look 3); Alexander Wang (Look 4). Hairstylist, Meredith Hasson; Makeup artist, Kim Bower; Stylist, Molly Dickson.
Want more stories like this?