Shopping
Vuitton Favorite Aleali May on Her Career Coming Full Circle
Spolier alert, her first job was at Louis Vuitton.
Stephanie Mark
Ben Ritter
No matter how many times we come across
Aleali May
, her authenticity never ceases to stop us right in our tracks. May, being the queen of effortless street-chic, pairing a pair of Louis Vuitton Arc Lights with a dress fresh off the runway, solidifies her as our ultimate girl crush. And while our love for her was real from afar, it only grew when we had the chance to really get to know May on set while she modeled Vuitton's pre-fall 2018 collection. In between takes at the newest NYC hot spot, Peachy's, May gave us the scoop on how she got her start, how she stays sane, and her relationship with the storied brand.
---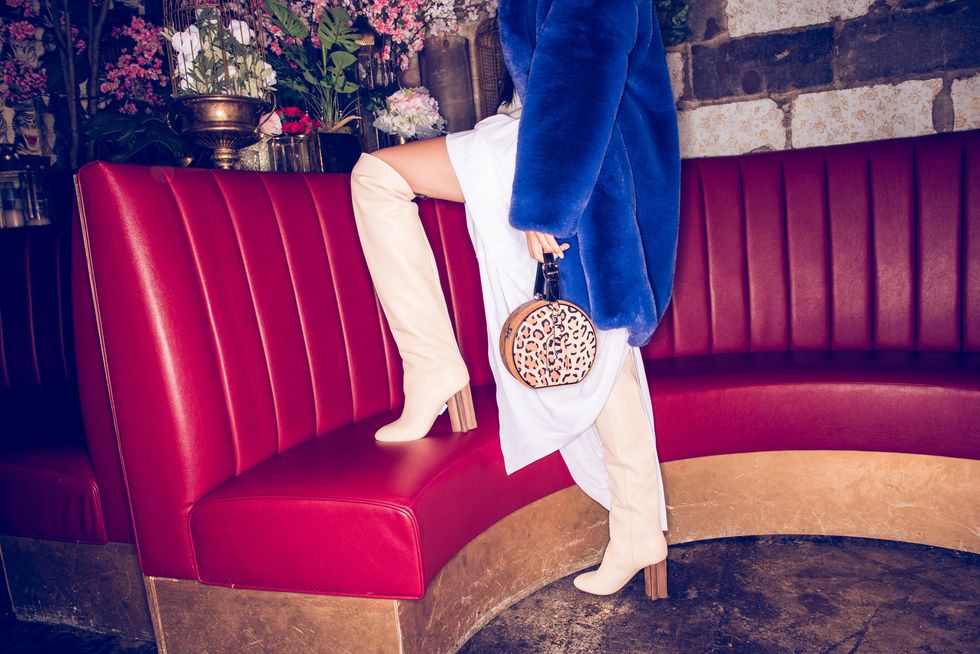 Louis Vuitton Straight Coat, $5,050
Louisvuitton.com
Louis Vuitton Letters Embroidered Hooded Sweatshirt, $1,730
Louisvuitton.com
Louis Vuitton Long Pleat Skirt, $3,150
Louisvuitton.com
Louis Vuitton Petite Boite Chapeau Wild, $4,450
Louisvuitton.com
Louis Vuitton Silhouette High Boot, $1,070
Louisvuitton.com
On her first interaction (and job!) with Louis Vuitton:
"Well, I was 19. I got my first job at Louis Vuitton in Chicago. I was working at American Apparel, because I had this idea that I just wanted to be on a pack of socks. That was my goal. L.A. girl vibes, L.A. goals. I was going to school in Chicago, college, and I walked into the Louis Vuitton store on Michigan Ave, and I was like, 'How do I get in here?' And I literally looked to the left, and I knew the security guard! And he was like, 'Oh, I'll let you know when they come in, so that would be a good time to turn in your r
é
sum
é
.' A few weeks passed, and I was on my way to class, and he texted me saying, 'Hey, they're in here, you should turn in your r
é
sum
é
.' So I was like, 'Class, or Louis Vuitton?' And I went back to my dorm and changed. I threw on a blazer with loafers."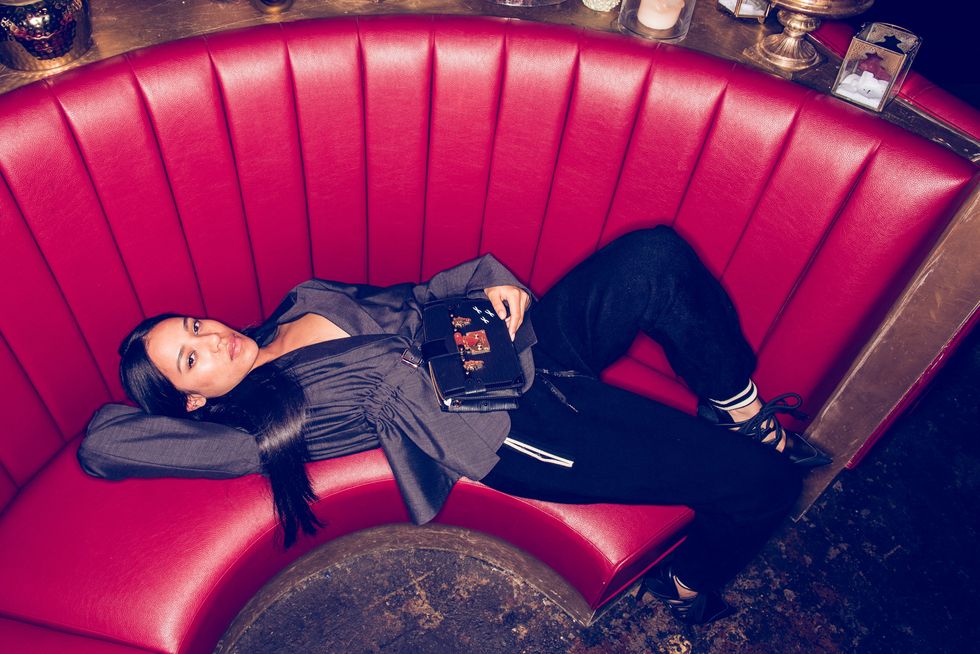 Louis Vuitton Belted Jacket, $3,750
Louisvuitton.com
Louis Vuitton Velvet Pant, $2,300
Louisvuitton.com
Louis Vuitton Streamline Pump, $1,491
Louisvuitton.com
Louis Vuitton Trunk Clutch, $3,300.00
Louisvuitton.com
On the importance of being prepared for an interview:

"I was actually on Wikipedia in the taxi ride over looking [it] up. I was like, I just need to show them. I went in there and said, 'Yeah, you know Louis Vuitton started in 1854 and blah blah blah.' And they were really impressed! They were like, 'How old are you?' I said 19, and they said, 'Wow, that's amazing.' They said, 'Let me introduce you to my boss,' right there on the spot."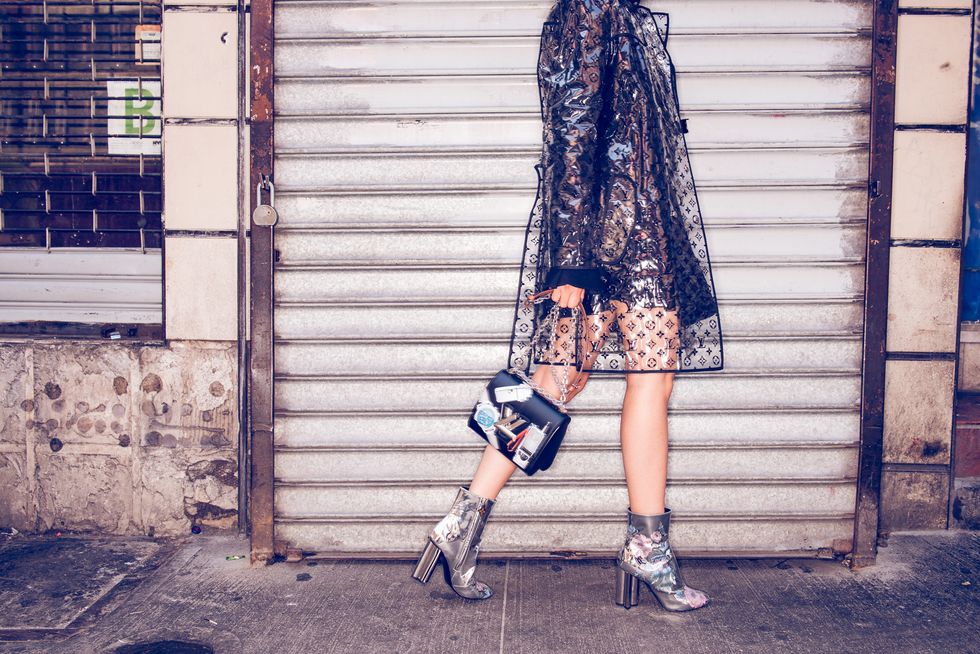 Louis Vuitton Monogram Rain Coat, $5,540
Louisvuitton.com
Louis Vuitton Stretch Wool Frill Sleeve Dress, $3,600
Louisvuitton.com
Louis Vuitton Silhouette Ankle Boot Argent, $1,491
Louisvuitton.com
Louis Vuitton Twist PM, $3,650
Louisvuitton.com
When you feel the feels at your first runway show:

"Honestly, I got chills. It was the whole environment, too. It was in the Louvre, and seconds before the show started, the rain started hitting the plastic [overhang]. And with the music, I was like, 'Oh my god, this is so beautiful!' From the runway to the music to the clothes to the model selection, it was very much like a Harry Potter wonderland. It was sick. Honestly, it was the best show. And it was the last show, too, so I was like, 'Best for last!'"


On how to indulge in NYC in between meetings:

"I love this new place called Bobwhite that makes chicken biscuits and mac & cheese; it's amazing. And they play the best music. But I'm always on the go here. I do like 11 Howard. I think just because there's a lot of young people in there, and you're just like, 'Hey, what's up, good morning!' And it's right next to Opening Ceremony and Rick Owens. Very big Soho vibes."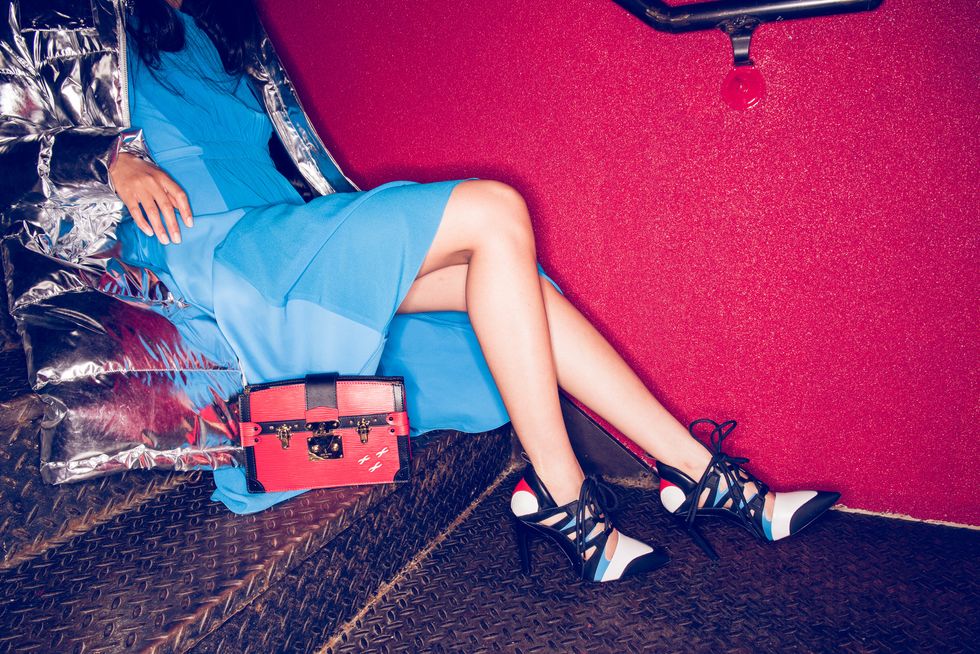 Louis Vuitton Metallic Long Down Coat, $4,300
Louisvuitton.com
Louis Vuitton Pleated Silk Dress, $4,050
Louisvuitton.com
Louis Vuitton Trunk Clutch, $3,300
Louisvuitton.com
Louis Vuitton Streamline Pump, $1,491
Louisvuitton.com
Her NYC vs. L.A. style:

"I feel like I can be more fashionable [in New York], and people don't really question it. When I dress in Rick [Owens] or something that's very avant garde, people in L.A. are like, 'You're so grunge, are you from New York?' And I'm like, 'No, I'm from L.A.!' But here, I go a little more avant garde, more black. I mean, I wear a lot of black in L.A., so people are always just like, 'You're so dark.' I'm like, 'It's mysterious!' Very Daria vibes."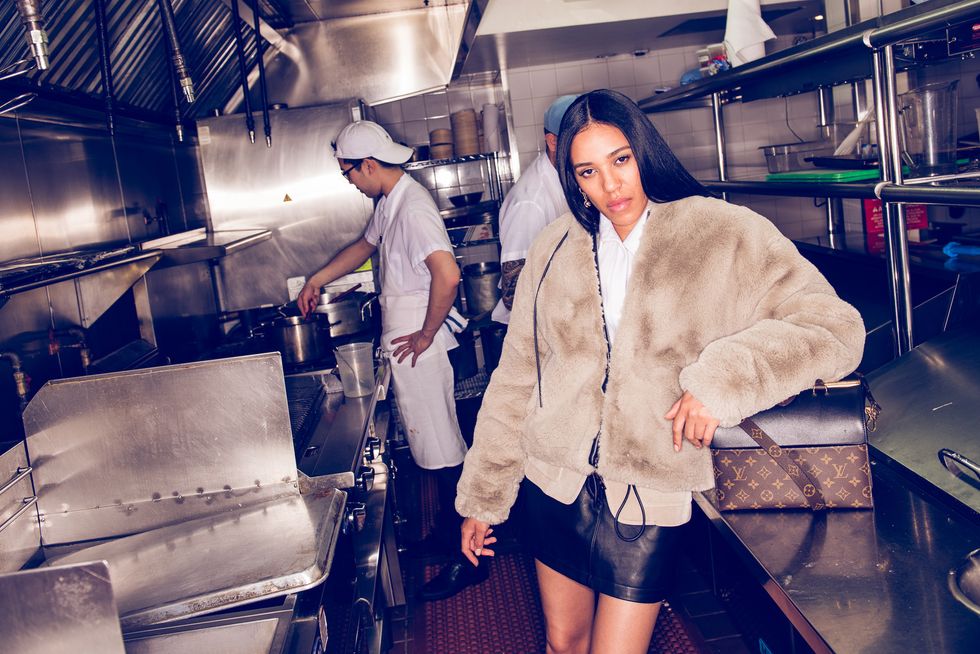 Louis Vuitton Oversized Hooded Jacket, Price Upon Request
Louisvuitton.com
Louis Vuitton Patch Pocket Jacket, Price Upon Request
Louisvuitton.com
Louis Vuitton Embroidered Blouse, Price Upon Request
Louisvuitton.com
Louis Vuitton Leather Mini Skirt, $2,590
Louisvuitton.com
Louis Vuitton White Silhouette Ankle Boot, $1,230
Louisvuitton.com
Louis Vuitton Speedy Doctor 25, $3,700
Louisvuitton.com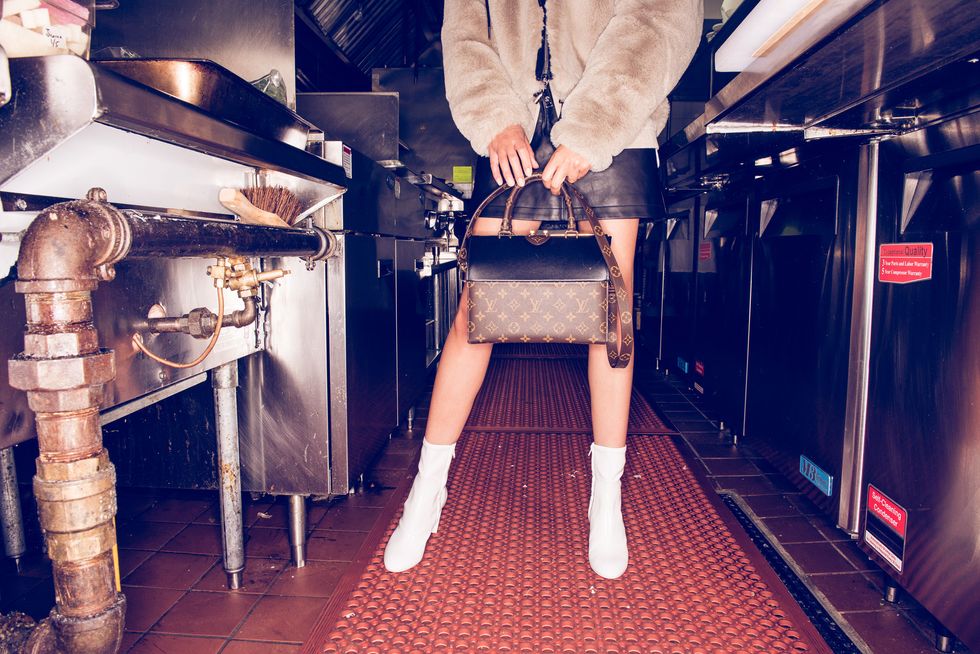 Louis Vuitton Oversized Hooded Jacket, Price Upon Request
Louisvuitton.com
Louis Vuitton Patch Pocket Jacket, Price Upon Request
Louisvuitton.com
Louis Vuitton Embroidered Blouse, Price Upon Request
Louisvuitton.com
Louis Vuitton Leather Mini Skirt, $2,590
Louisvuitton.com
Louis Vuitton White Silhouette Ankle Boot, $1,230
Louisvuitton.com
Louis Vuitton Speedy Doctor 25, $3,700
Louisvuitton.com
On her upcoming projects:

"I'm working with Jordan Women's. I recently came out with a Jordan in October, but now we introduced the women's line, which hasn't been done in 30 years. Highlighting and getting more silhouettes out, and representing the woman in streetwear. We do a lot of photo shoots, mostly in L.A. It has a lot to do with that, modeling. And also still styling."

The weirdest thing to slide into her DMs:

"I feel like it's always weird when people send me their mix tapes. I'm like, 'What am I going to do with this? I'm in fashion.'"