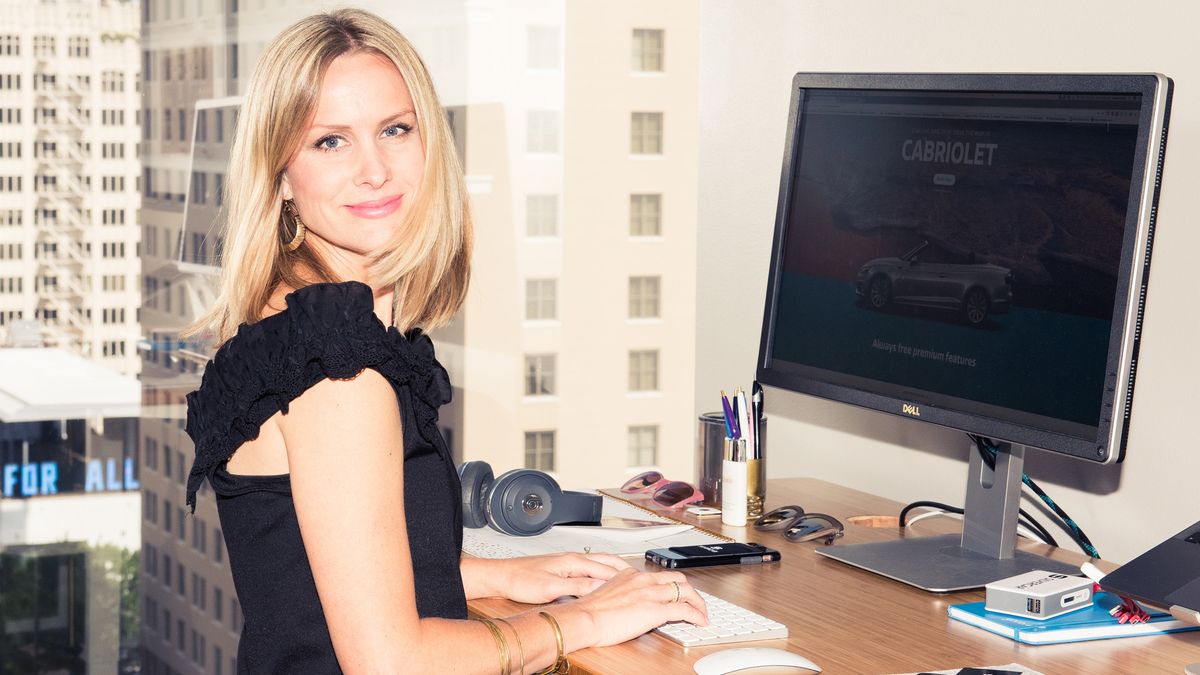 Career
Meet the Woman at the Helm of the Luxe Car Rental App Changing the Way You Travel
Amber Quist on why balance isn't always attainable, travel tips she swears by, and finding ways to get her time back. In collaboration with Silvercar.
Travel affords a plethora of enriching benefits: knowledge, culture, great food, discovery, shopping—the list could go on longer than a CVS receipt. But one thing that can sour any travel experience, whether it be a getaway for work or to visit loved ones, is dealing with long queues getting from place to place. Amber Quist knows the value of time-saving technology. A former Nike exec turned Chief Marketing Officer of the rapidly growing luxury car rental app 
Silvercar
, Quist is also a mother of two and married to a touring musician. She travels
a lot.
 And has a schedule that requires deft use of an iCal.
You could say her often hectic life is the driving force (pun intended) for her work. Silvercar's ethos comes from the desire to give you time 
back
by creating a seamless car rental system with no lineups or paperwork, and hook you up with some of the most luxurious cars on the market (think Audi A4s, Q5 SUVs, and A5 Cabriolets all in silver at over 20 locations). This means you spend less time figuring out
how
to get somewhere and more time where you need and
want
to be.
From her bright Austin HQ, Quist tells us why the notion of balance is actually unattainable (and that's OK!), the genius ways she's learned to gain back personal time, and what she always stashes in her glove box.
---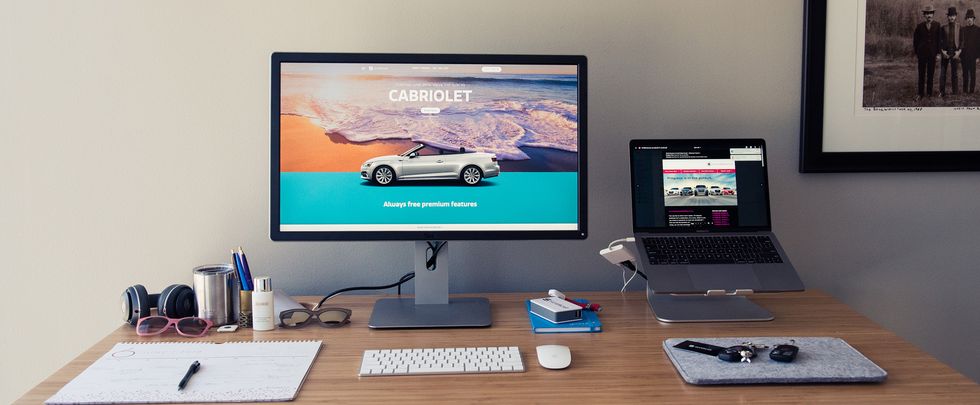 On her career path:

"As I look back at my career, one thing stands out, and that's being a part of and attracted to working for great brands built on the backbone of technology—and people that are challenging the status quo. At Silvercar, we've adopted the hashtag #discoversomethingbetter. That's been a theme for many of the brands with which I've been lucky enough to grow my career.

"I started my career at Nike in the Vision, Timing and Technology group. We were developing wearables with Apple and planned to launch Nike+ for the first time. It was at Nike [that] I acquired an appreciation for the value of robust brand connectivity, but I also saw technology's ability to shift the way people experience and consume products. This led me down the path of 10 years in Austin technology startups focused on social media and consumer-generated content. Being a part of the social media innovation wave was exciting, and I worked with some incredibly talented individuals in those years.

"But it was about three and a half years ago that I was approached to move into the mobility space. I took a marketing leadership role at another German automaker working for their car-sharing division. While that space was exciting, the mobility landscape moves fast, and what Silvercar was building became very interesting to me. I was introduced to the leadership team there and instantly wanted to work for this passionate group of individuals who had a keen grasp on the future of personal transportation."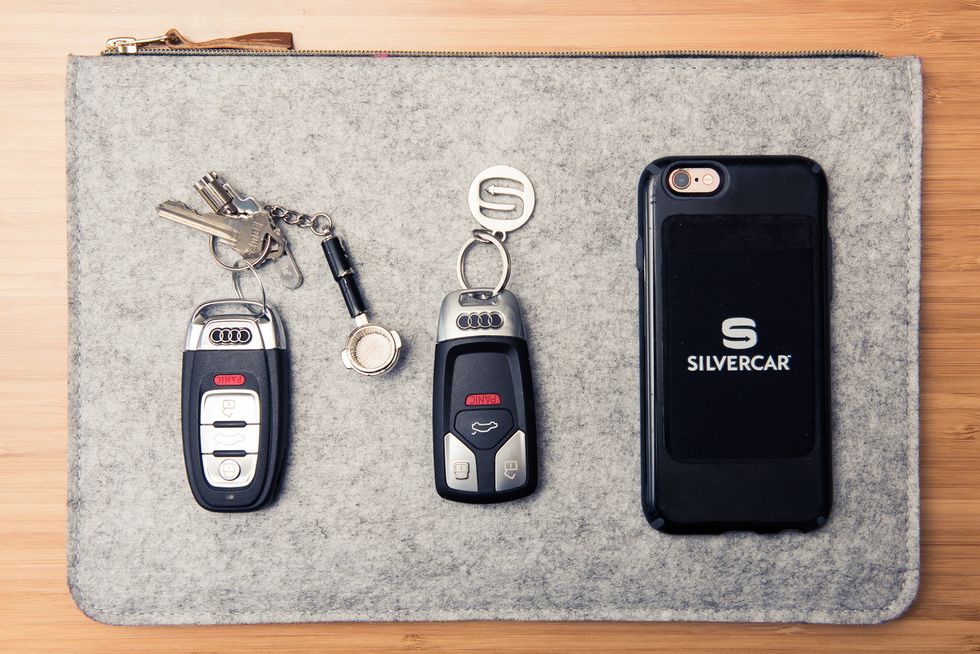 The elements that drew her to Silvercar:

"First, the leadership team is a group of smart, respectable individuals from diverse backgrounds who have been here from the start. They have a dynamic approach to leading organizations and tackling mobility challenges, and I knew I was going to grow a lot working for and beside them. Second, the team moves fast. Regardless of size, the ability to move quickly, be adaptable, and operate ahead of the curve is essential to me. Silvercar embodies those traits. Finally, there was a tremendous opportunity to elevate the brand to new levels. Silvercar already had a loyal, avid, almost cultlike fan base, which is rare in car rental. I knew with the support of the executive team and the backing of Audi that I had the opportunity to move the brand forward even faster."

Her typical day is also very relatable:

"There is no typical day at Silvercar or in the life of the Quist family. That said, what is consistent is a level of managed chaos. I have a husband who is the lead singer of a band and is on the road a lot, so there is a lot of single-parenting that happens. This singledom usually leads to a chaotic morning of getting kids off to school, followed by a day full of meetings, emails, and water-cooler conversations. And by water cooler, I mean bottles of Topo Chico. After work, I race back to pick up the kids just in time to get home, get food on the table, put the kids to bed, and go back online to catch up on anything that's happened since I left the office or in the world that day."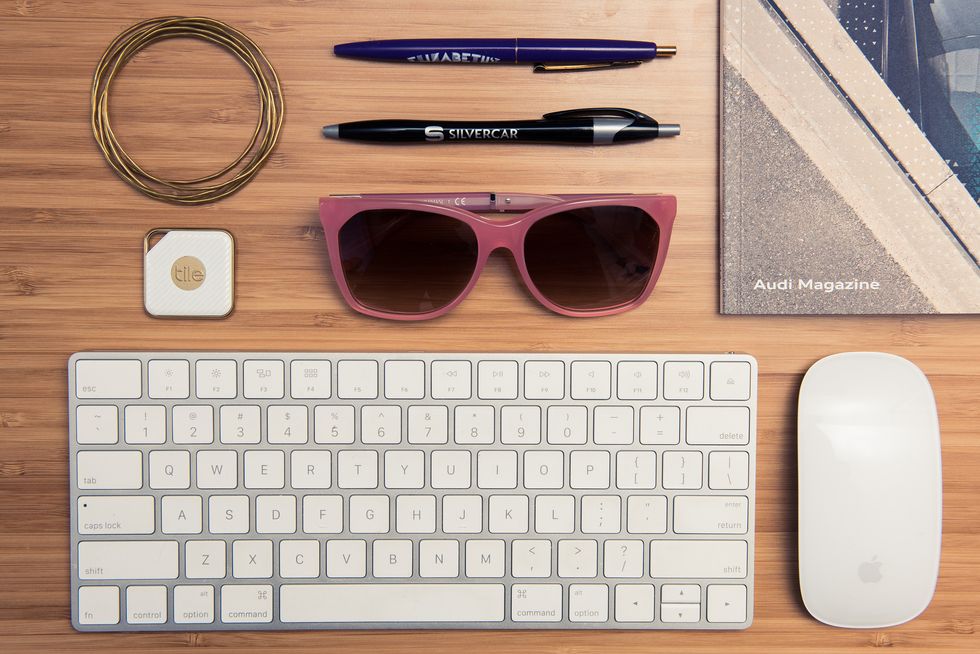 The first thing she does in the morning:

"Cuddle in bed with my kids. They wake me up every morning, and it is my most cherished part of every day. If my husband-slash-in-home barista is not traveling, the next thing I get is a pour-over cup of coffee—my second favorite part of the day."

The last thing she does before bed:

"Read. Whether it's a book or the news or both."

The best part of the job:

"The people, by far. If I didn't get to wake up and work with people who challenge me every day to be better and who I get to laugh with, it would all be for nothing. The travel perks aren't bad either."

The strangest thing you'll find in her car:

"Well, I'm embarrassed to say it—but it's practical—a travel potty. When you have two kids under the age of five, a 75-pound dog, and are traveling by yourself, sometimes the side of the road is a better option than trying to get both kids inside and hope the dog doesn't overheat. Hashtag balance."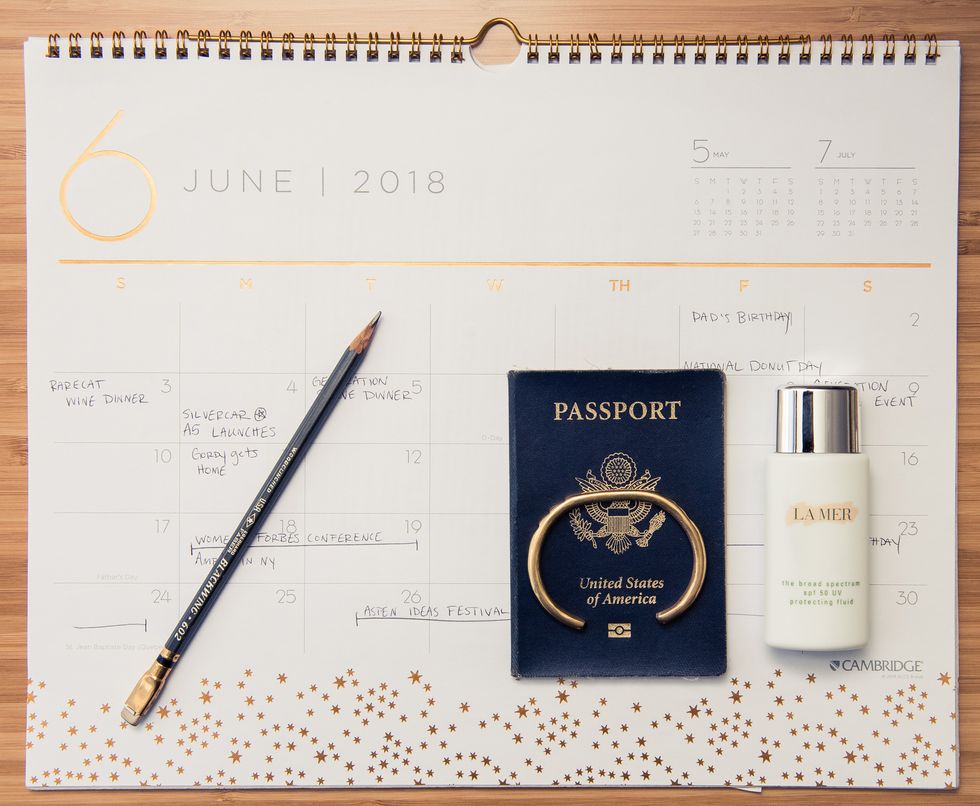 Her glove compartment essentials:

"My Le Specs sunglasses, hand sanitizer, Tide To Go pen, and a few little luxuries like my La Mer sunscreen."

Why the word "balance" makes her cringe:

"The book Lean In was published right around the time I had my first child. While that manifesto sparked a lot of positive discussions around women in the workforce, achieving balance, etc., for me it set unrealistic ideals for a working mom, who also has a husband that traveled significant parts of the year. So I shudder a little when people talk about balance and maintaining success at work and home. The reality is that more is not always better. When you are trying to take on just one more thing, you risk being over-tired, making bad decisions, and lacking creativity. For me, achieving the proverbial balance is more about choosing to lean out at the right times.

"Something a manager once told me, which I pass on to others, is: Keep the glass balls in the air, and let the rubber ones bounce. I'm far from being in perfect equilibrium, but I do continually challenge myself to allow the rubber balls to bounce."


How she finds time for family on the road and at the helm of Silvercar:

"I've made a conscious decision this year to invest in things that will allow me more quality time with my family. Part of this is exploring different apps that give me time back from activities like grocery shopping—yes, I am an Amazon and Instacart power user. I've also had to let go of my pride that I can 'do it all' and ask for help with my kids so that the time I do have with them is not spent in the car doing pickups, but instead spending quality time with them when I am home."

Time-saving tricks she's learned over the years:

"Amazon ranks at the top for many of my time-saving solutions. I used to even have diapers shipped to hotels when I was traveling with my kids. I also utilize Instacart a lot for grocery shopping. This past year I've been using and loving Rent the Runway Unlimited; I love feeling like although my time is limited, that I have a curated and limitless closet. My husband and I also live and die by Google Calendar. Evernote ranks as well—no matter where I am, it allows me to quickly jot down ideas that I can come back to and revisit later. And, of course, when I need a car on the road, I use Silvercar."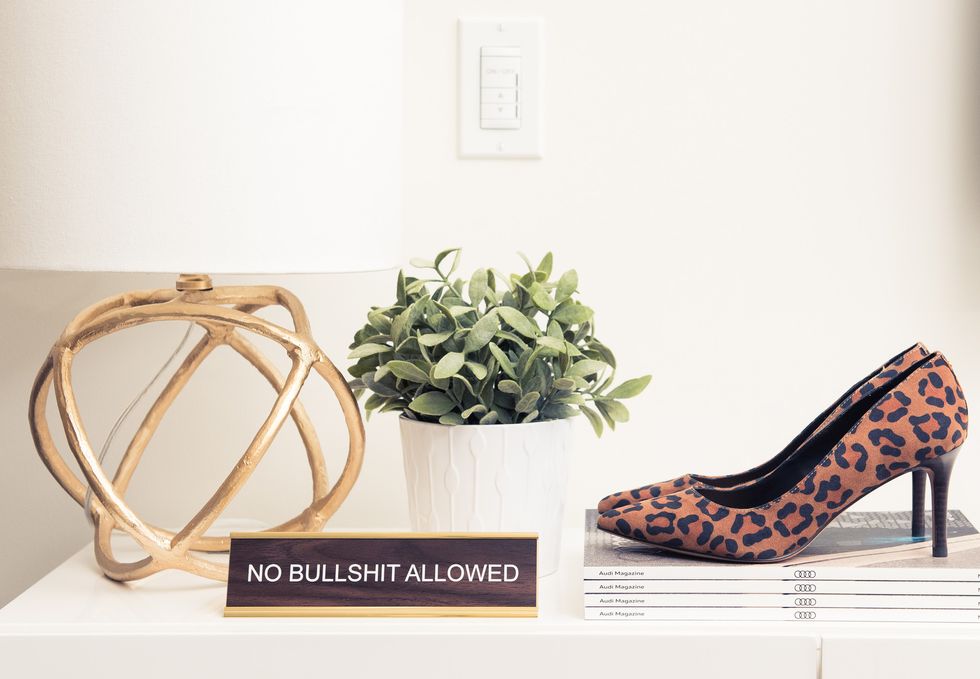 The perfect chill day:
"If not merely hanging with my kids, I would have to say participating in some of Austin's indulgences. A perfect 'me' day would be to treat myself to a massage at Austin's own 
Milk and Honey Spa
followed by a dinner at Tyson Cole's
Uchi
with my husband. Oh, and I'd throw in a nice bottle of
Caymus Cabernet Select
."
What makes Silvercar different:
"We are less about managing assets and more about delivering experiences. From the start, it has indeed been a customer-first approach that drives our decisions as a business: solving the problems of never knowing what kind of car you are going to get, and what we call 'the hassle' of car rental. We give people time back so that they spend less time
trying
to travel and more time enjoying the journey.
"Silvercar believes renting a car should be painless. Part of delivering a seamless experience is always knowing what you're going to get. So we offer only Audis—an A4, Q5, or now the A5 Cabriolet—all in, of course, silver. We deliver a seamless mobile experience, so you don't have to deal with lines or paperwork. And we provide several premium upgrades at no charge. Sirius XM Satellite Radio, Apple Carplay, and Android Auto, in-car 4G LTE Wifi, no outrageous prices on fuel, and the option to request Thule ski and surf racks and Peg Perego car seats at no cost are all a part of our efforts in delivering an exceptional customer experience."
Want more stories like this?
This Boutique Stocks Every Designer You'll Be Hearing About Next Year
Meet the Venture Capitalist Backing Your Favorite Brands
How Garmentory's Adele Tetangco Founded a Big Community for Shopping Small