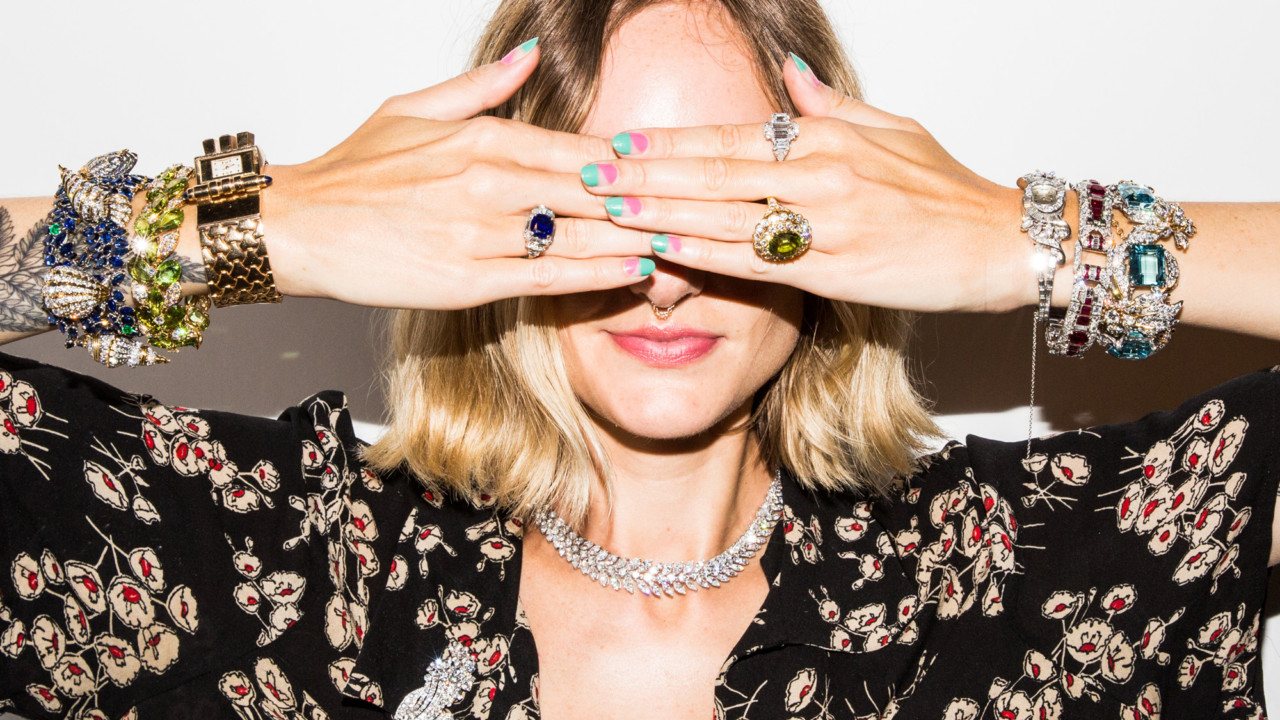 What It Feels Like to Wear Over $1 Million Worth of Jewelry
The Magnificent Jewels Rockefeller Collection is up for grabs today.
I have a serious thing for jewelry. I've worked in the industry before, ferrying rings and necklaces around NYC's diamond district for hours at a time, and I routinely stalk my Instagram explore page searching for new designers. Needless to say, I've come to appreciate a beautifully crafted sparkler. That's why, when I heard that Christie's auction house was preparing for a sale of a portion of Peggy and David Rockefeller's collection (yes, those Rockefellers), I knew I had to see the pieces for myself.
Cut to a muggy Friday morning, standing in the basement of Christie's midtown flagship, while a velvet tray of diamonds, sapphires, and rubies is slid across a table in my direction. My heart sputters as I take in every facet and carat of the selection in front of me. Gingerly, I scoop up a rectangular step-cut diamond engagement ring that David Rockefeller purchased from designer Raymond Yard in 1940, and slip it onto my finger. "He added the side diamonds in 1959," one of the staffers informs me as I snap some gratuitous photos to send to my boyfriend later. Of course he did, I think. This was totally meant to be the full 5.63 carats; as if I could comprehend the desire to improve a ring like this one. I inquire about the price it will go for at auction—a cool $80,000 to $120,000—before moving on to the other pieces.
I learn that David Rockefeller—who passed away last year at the age of 101—adored gifting his wife with jewelry, which explains why the collection is so impressive. As lifelong patrons of the arts, the couple developed relationships with some of the biggest jewelers of the 20th century, including Jean Schlumberger of Tiffany & Co., Cartier, Marcus & Co., and Van Cleef & Arpels, who designed the circular and marquise-cut diamond necklace I decide to pair with the ring. Said Rockefeller, "The love of beauty has, of course, been the primary motivation behind our collecting. Eventually all these objects which have brought so much pleasure to Peggy and me will go out into the world and will again be available to other caretakers who, hopefully, will derive the same satisfaction and joy from them as we have over the past several decades." After layering a spectacular set of diamond earrings (designer unknown) and a Marcus & Co. diamond brooch to complete my ensemble, I most definitely feel some semblance of elation.
For the next two hours, I stack my arms, ears, fingers, and neck with every combination of jewels I can manage. It's essentially a fashion girl's Disneyland, and I am Cinderella. When I grow teary-eyed over a magnificent peridot-and-diamond pendant, the staff informs me that it was Peggy's favorite. They present several photographs of her wearing it—dancing with her husband at a gala in New York; meeting President George H. W. Bush at the White House. You know, casual stuff. Despite looking like the textbook definition of *extra*, I can feel how sentimental these pieces were to Peggy, with many having been designed just for her, like the aquamarine "Leaves and Flowers" bracelet and sapphire "Sea Shells" bracelet by Jean Schlumberger for Tiffany & Co. So maybe we're on entirely different planets when it comes to fashion budgets, but I'm reminded that sometimes you just want to roll out of the house in your fanciest jewelry for all the world to see. Why be subtle when you can be fabulous?
Soon our time with the collection is up, and I begrudgingly slip off the final emerald brooch. The staff invites me to the auction on June 12, which is also open to the public. So if you're in the neighborhood and feel like glimpsing every speck of the full jewelry lot—the proceeds of which will go to 12 charities chosen by the family—be sure to stop by and feed your jewelry addiction. It's worth it, I promise.
Want more stories like this?
How to Buy a Diamond
18 Pieces of Jewelry We Want Right Now
An Antique Jewelry Collection That Broke Our Brains