Makeup
Katie Jane Hughes has been all over your feed.
Alec Kugler
The first time I met
Katie Jane Hughes
, she had just moved to New York City from the UK, and there were two things that stood out about her immediately: She is extremely friendly (she will instantly treat you as though you're practically sisters), and she hustles like no one I've seen in the industry. Without being buoyed by any celebrity clients (until a
very recent partnership
with
Rosie Huntington Whiteley
), Hughes has amassed an Instagram following of nearly 140,000 and has been tapped by brands like
Glossier to create campaign content
.
Her main Instagram franchise is close-ups of makeup looks she creates on herself, and her followers love the
"
real talk
"
vibe of her live videos and stories where she shows her
favorite products
and techniques—and is generally easygoing and sometimes goofy. She always has glowing skin, perfect lighting, and fabulous earrings. She is unapologetic and beautiful, but never so serious that she seems
mysterious
. Out of all the beauty experts on Instagram, Hughes is the only one that my own non-beauty-industry friends around the country ask me about repeatedly. Everyone wants to be friends with Katie Jane Hughes.
And without an exclusive contract, Hughes is one of the few Insta-famous artists whose recommendations I fully trust, so every five seconds during this shoot I had to stop and ask, "Wait, do you really like this?" And, with hardly a pause, Hughes would immediately come back with a complete expert review. All. Hustle. Here's some of what I learned below.
---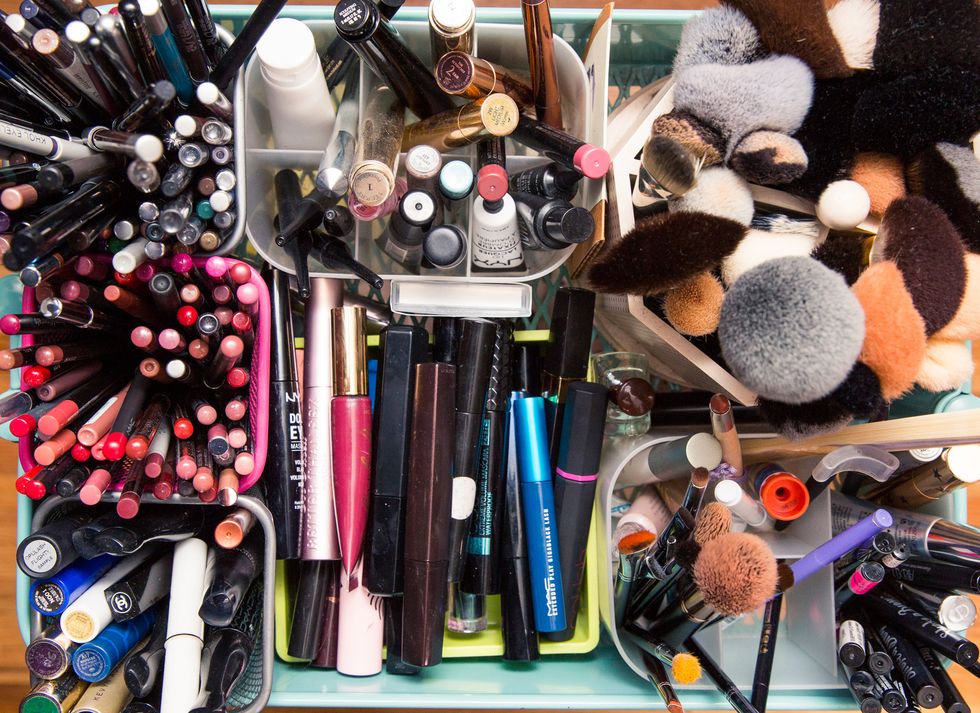 Tell me about this mini kit (pictured above)?
"This is a very, very condensed, curated version of my big kit. I would never take this to an editorial, but I would take it to a personal client or a celebrity client. It's a mix of high/low. There's a 
NYX blush palette; 'Sweet Cheeks'
is one of my favorite drugstore finds, because it's actually kind of a dupe for a really, really high-end alternative. I'm not gonna call out, because it is my favorite. Then a few of my favorite palettes, like the
Urban Decay Naked Heat
is a really, really great one."
Are there any products in here that you pretty much use every time?
"
Weleda Skin Food
; I prep most people's skin with that, no matter how dry or oily they are. I mix it between my fingers, use it on the high points first and, only with what's left on my fingertips, I'll put it through the T-zone. I like it for the finish that it gives. However, you have to be quite specific to what goes on top. So if I was to use Weleda Skin Food and then
Glossier Stretch Concealer
or
It Cosmetics CC Cream
, that would be just a whole shiny concoction. I'm only gonna use Weleda Skin Food when I use a more full-coverage complexion product over it. For photos, you want the skin to sort of have this light-reflecting bounce-back, but you also want this full-coverage nature, so somebody looks flawless. You get the best of both worlds by having that opaque and full-coverage concealer or foundation mixed with the dewiness from the Skin Food, which basically ends up sheering it down. It's kind of a trick."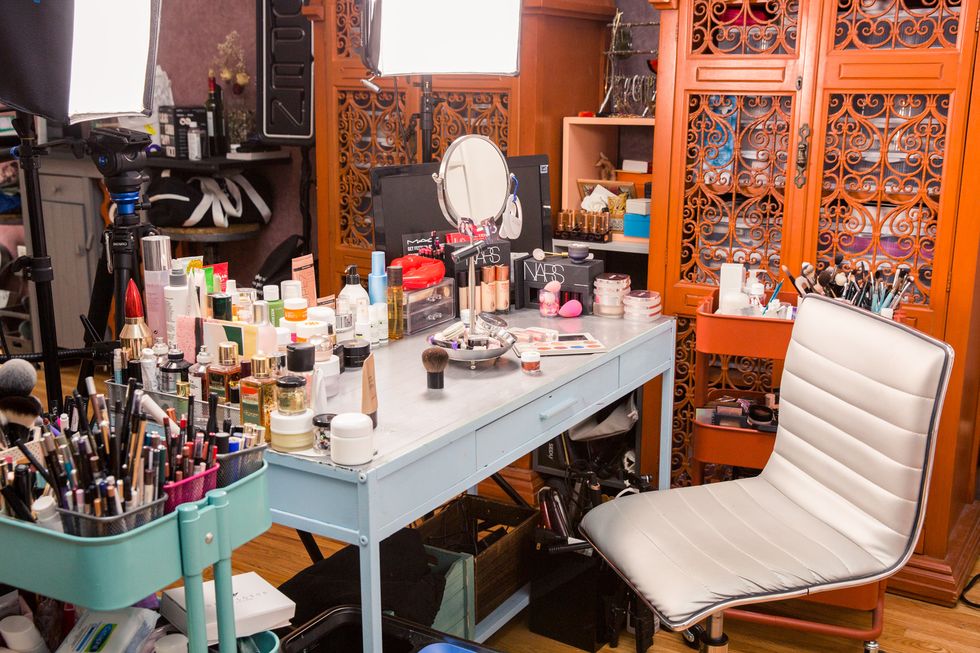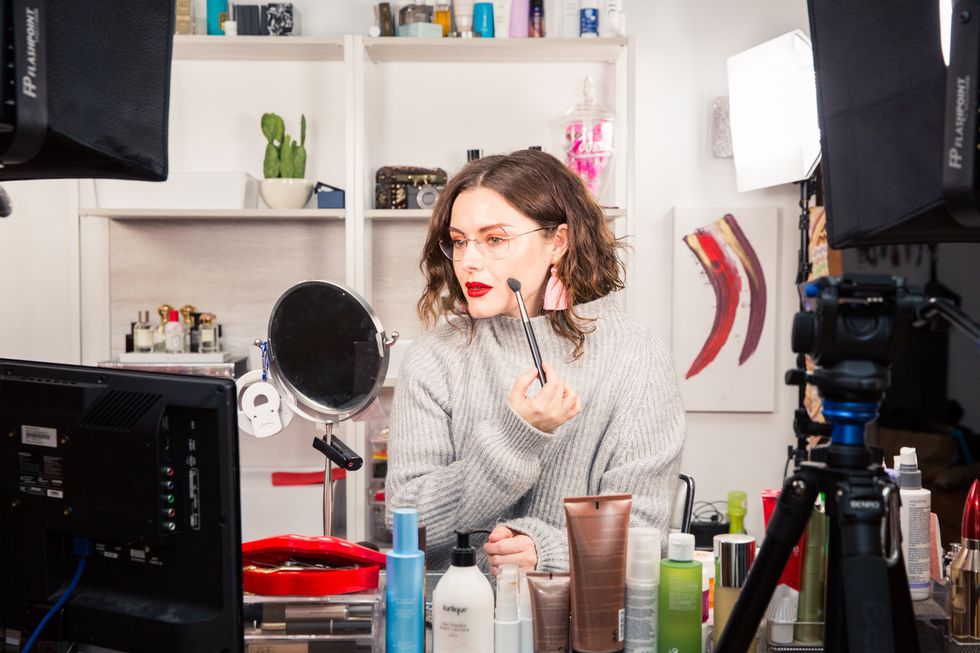 Anything else you use every time?
"Always
[Glossier] Haloscope
. Haloscope's my favorite highlighter, just because it looks like wet texture on the skin, and it's my favorite kind of highlight. I apply it with my fingers. These
[Charlotte] Tilbury [Instant] Look In A Palettes
are really handy, and I've got all three of them. There's a few blush shades, there's a few taupes, there's a highlighter and a bronzer in each one, and there's a black in one of them. I have a few favorite dense concealers. I really like
[Charlotte] Tilbury's Retoucher
. I also really, really love
Clé de Peau's concealer
and the
Wander Beauty concealer
. Foundations like
Surratt Surreal Skin
is one of my favorite foundations. I also use a lot of
NARS Powermatte lip pigment
and
eyeshadows
."
Let's talk about this setup here in your apartment:
"This is where I do makeup every day, and this is my little sanctuary. My little zen space. There's a lot in here; I don't use all of this. It's just out because there's stuff that I'm rotating out, and I'm trying things. So the things that I use all the time: I'm really, really, really into this
Caudalie serum, The Premier Cru
. It 'tautens' the skin and makes it feel like—I hate this word—'snatched.' I just don't think that I can do that word justice. I'm not cool enough. And then, I really, really love this
Ole Henriksen C-Rush face cream
. It's orange, and it smells like oranges, which is one of my favorite things. It sits under makeup really beautifully. And the eye cream that goes with it is really nice. But I also love this eye cream—this
Benefiance by Shiseido
. It's creamy and delicious. I like a really rich eye cream. I just really massage it in. You know what else I really am loving at the moment? Oh, I love this stuff. Oh my god. This
May Lindstrom Blue Cocoon
stuff. It's a smell that keeps on giving! It smells one way when you first smell it, and then it smells like something else afterwards! It's so amazing. I sleep in it."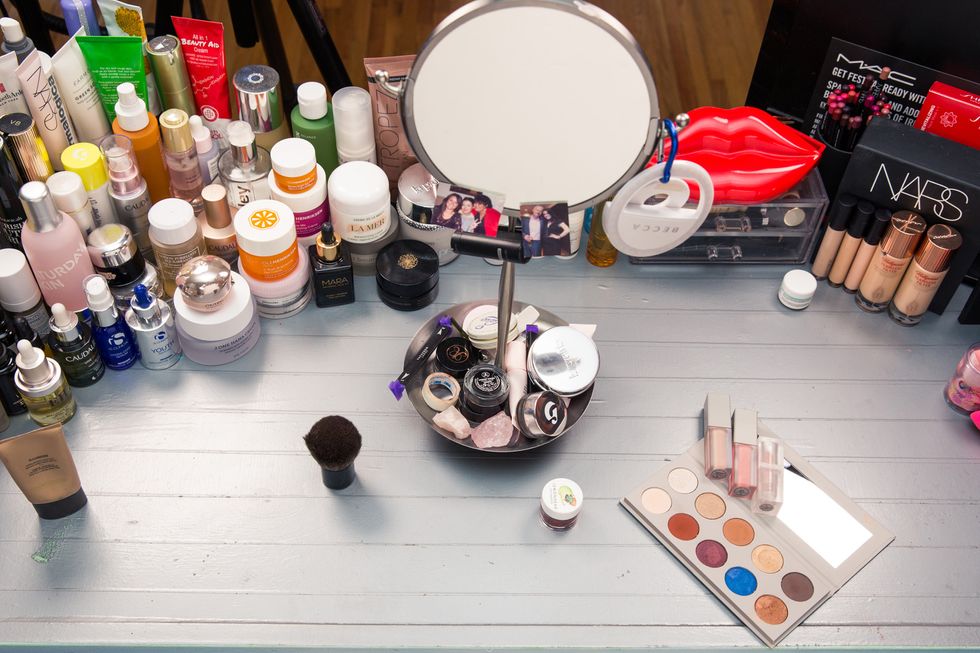 What's your process as products come in? How do you edit what ends up on this desk?
"If it's something I've seen on social, and I'm like, 'Oh my god! I have to try that,' I'll put it out on my desk. If it's something that I've never ever heard of, I'll put it to one side and I'll kind of do my research on it. Like SPF is always a replenishment situation for me. So is Weleda Skin Food; so is
Natura Bisse Diamond Mist
. I love that mist so much. It just looks so glowy. I think it's the glowiest mist out there, actually. One of them."
Tell me about what's in your carts:
"I have two carts here beside me. One is eyeshadow palettes in the bottom, highlighter and glowy products in the middle, and then brushes and tech tools and masks on the top, like the Clarisonic face brush. Then the other one is tools at the bottom—hair dryers, combs, lights, that kind of thing—and then there's more facial tools, wipes, nail polish remover, Q-tips, that kind of thing, and deodorant. Then on the top is just more brushes and all my sort of…too many pencils."
You use a lot of lip pencils?
"I use lip pencil [to fill my lip] more than I use lipstick, unless I'm using a liquid lipstick. Today I'm wearing
Bare Minerals in Wired
. They're really good though. They're creamy. They're not as matte."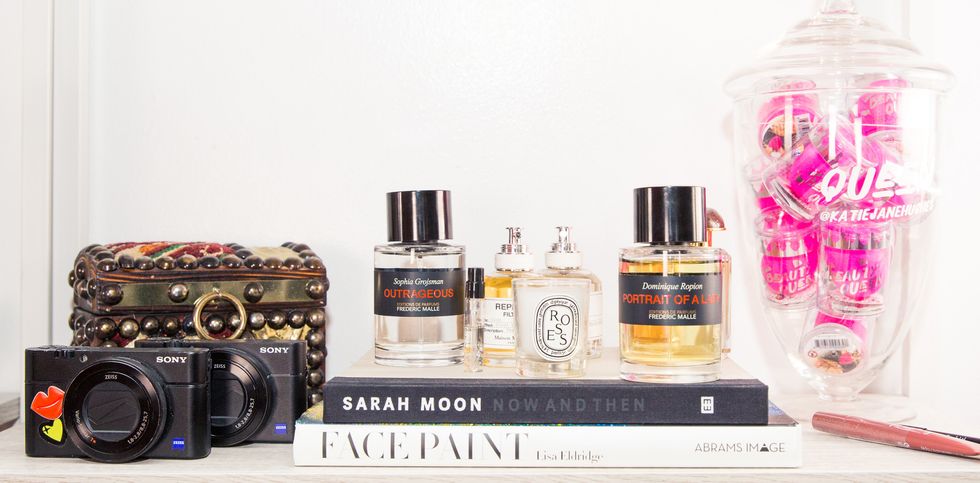 And this appears to be "earring land"...
"That box was actually a beauty mailer, it came filled with product, and I was like, 'Oh, I know what I'm gonna do with this!' Because all my jewelry was just spewed everywhere, all over the apartment. This was perfect. Earrings are a massive part of my look. I love a good tassle; I love a good vintage-y kind of piece; I love a good weird kind of graphic piece, like these. You know? I don't feel complete without my earrings on. I love tassels. I just love
Hart Hagerty
's because they're just so luxe. They're silk, and they're so light and also really affordable. Like $55 a pair. I am doing a collaboration with her soon."
Tell me your origin story. How you got into the business:
"I got into the biz when I was 22. I worked at Space NK, and wanted to do makeup, and that really gave me that good standard for good skin and proper skin prep and beautiful, elegant makeup. Space NK was really like my school. I worked with real people, and I met a bunch of makeup artists because they used to shop there, and I networked that way and assisted people. Then I just started to get on set and work my way up from there. Then I started to go out on my own, doing my own jobs and networking on the same level as me, like at the assistant level. The assistants would network with the assistant photographers, and vice versa, and then you all just worked together on your own personal projects."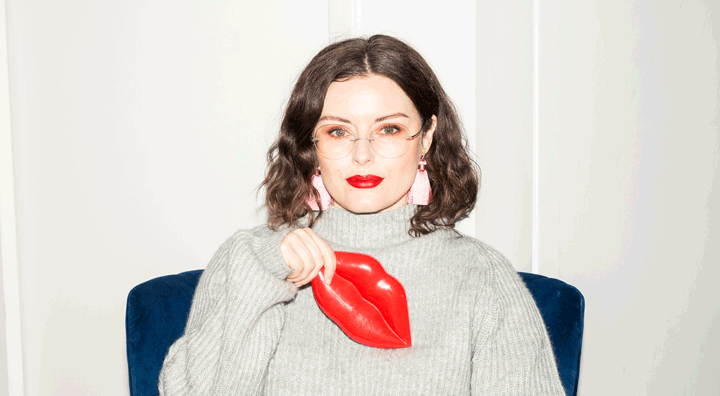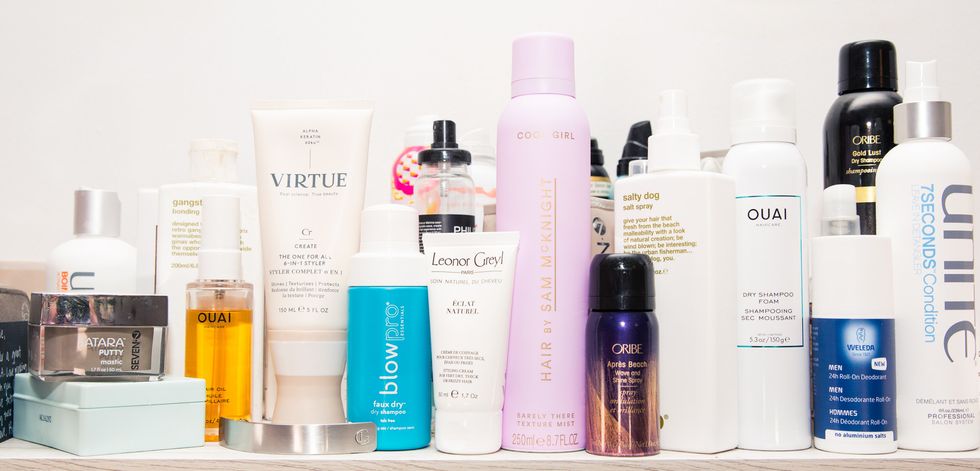 When you started really focusing on your social media, did you have a plan?
"It kind of happened by accident. I really came to the U.S. to rebrand myself as a makeup artist. I started posting these makeup selfies on myself. It was like, 'OK, I'm gonna just try something.' So I tried it, and my angle was to just do stuff that I would do on set on a model, but on a real woman—me. It just took off; people were really responding well to it. People were like, 'Oh my god. Thank you for showing us real skin.' Obviously, there was this wave of Instagram makeup, which is beautiful in its own right, and it's a whole other thing, but it's not obviously everyone's cup of tea, and neither is mine. My look isn't everyone's cup of tea."
Tell me what your DM life is like:
"That's funny. Well, I never don't reply to a DM. I'm always just hearting response, if it's not a question. If it's a question, I'll try really hard to answer it. I think very, very rarely I don't get to it. I did a story the other day where I screen-recorded how many DMs I get in a day. It was a 15-second thing; it was me scrolling, and it's probably 100 maybe, which I don't think is crazy, but it's also a lot. Like I wake up with about 25 DMs, and then about 20 in the one that says 'Requests to send you a message.' If I'm active on stories, then I get a lot more DMs. If I'm not that active on stories, I don't get any. So it's all like, 'what you give is what you get.'"
A lot of people find social media stressful. Do you feel any kind of mission to put positive things out there?
"I do. I really, really do. I feel like it's so important to be truthful. If there's a pimple on my chin, and it's not completely distracting to the makeup, I might not edit it off. Because people get spots, and people have texture on their skin. People have pores. People are human! At the end of the day, whatever makes you feel good is what you should do. I do think that people are getting so much more confident in themselves. I get so many DMs of people saying like, 'Oh my god! I never knew this would be a thing that I like, but I love it. Thank you so much for convincing me to try it!'"
Want more stories like this?
17 Best New Beauty Products That Launched in May
I Used a Jade Roller for 30 Days and It Changed My Whole Face
The Makeup Artist Who Broke Instagram with Her Dewy Highlighter Technique