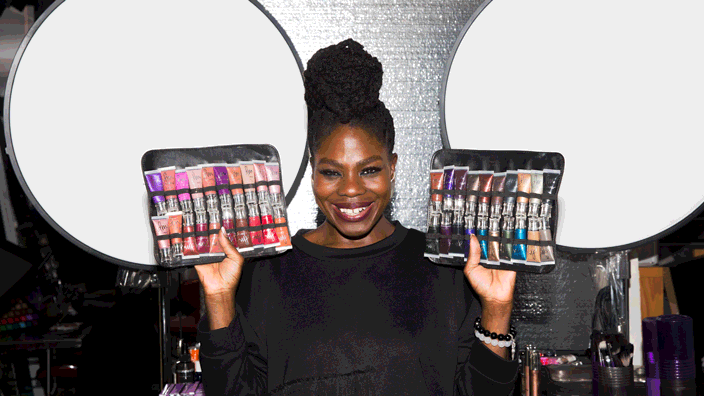 Makeup
Inside our visit with Danessa Myricks and her super pro makeup line.
Alec Kugler
What makes makeup artist Danessa Myricks a legend among other high-profile makeup artists is not only her enormous range of under-the-radar
eponymous products
that the best pros carry in their kits, but also her an surreal technique. Her
Instagram
—which has a 170K following and consists of Myrick
'
s own photography—shows models with otherworldly shine and
artistic eye looks
that are unusually distinct next to other viral makeup accounts. And when we visited her Brooklyn studio (which she shares with makeup artist Roque Cozzette of
Cozzette brushes
), we discovered that she has her own photo studio and a makeup table set up that begs comparisons to a Renaissance painter. Her table is a technicolor patchwork—mostly her own extremely concentrated products that come in powders, creams, pots, and even cushions. This is pro-
pro
-level stuff.
Like a true artist, Myricks has a "rule of three." "Even with
highlighter
, it's never like, 'Oh, let me take this one liquid highlighter.' I'm always gonna have two other things. Three is my number," says Myricks, who also helps develop new products behind the scenes for big name brands you can find at Sephora. "Three different textures, three different colors, three layers of something. It just makes it the most dimensional."
True to form, when I asked her to color-match me for her cult favorite Vision Cream Cover foundation (hey, when you're with the woman herself and under the best possible photo studio lighting situation, you ask), she can't name one. "Oh, I'm gonna send you number 3, 4, and 6," she says, laughing. "See? You asked me for one, and I gave you three."
See below for more about the "muagrapher" (a term she coined for makeup artist/photographers—it's even a hashtag).
---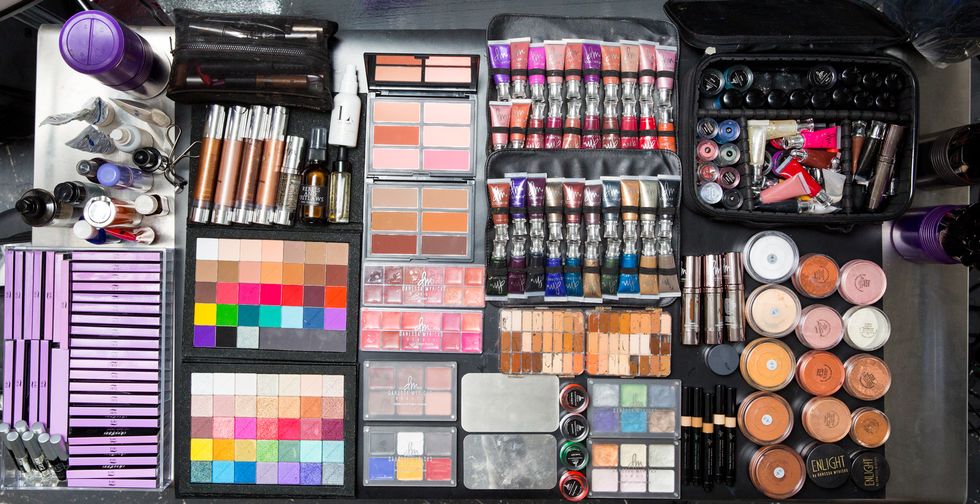 Is this table typically what your setup is for anyone who comes in? This is how you start?
"I just like to open up all the palettes right in the middle of the table, because I'm always mixing. I like to have everything out. I know there's some makeup artists that just like to take out a few things—that's like hell for me. I actually need to see all the colors and all the textures. It brings me to life, even if I'm not gonna use it. I kind of surround myself with color and leave a little spot in the middle for two palettes. One for skin, and one for color, and I just go to work. Dipping and squeezing."
What's usually your very first step?
"It's all about the skin care in the beginning—I love using oils. It makes all the products just look prettier, and the skin is really ready to accept the makeup. I love
LimeLight by Alcone Dew Date
. I brush it all over, just to make sure it's layered everywhere, and then I'll take my hand and work it into the skin. I love mixing it into the foundation, too, and it makes highlighters really dynamic. If you start the skin with oil, everything after that is going to be amplified that has any amount of pearl in it. If somebody has lots of fine lines, I'll use my
Smooth FX [Refining Gel]
. It also mattifies. Outside of that, I'll use things like
Embryolisse [Lait-Crème Concentrè]
. I think this is a kit staple for everyone. And it plays well with everything, so you don't have to worry about it not working with your foundation."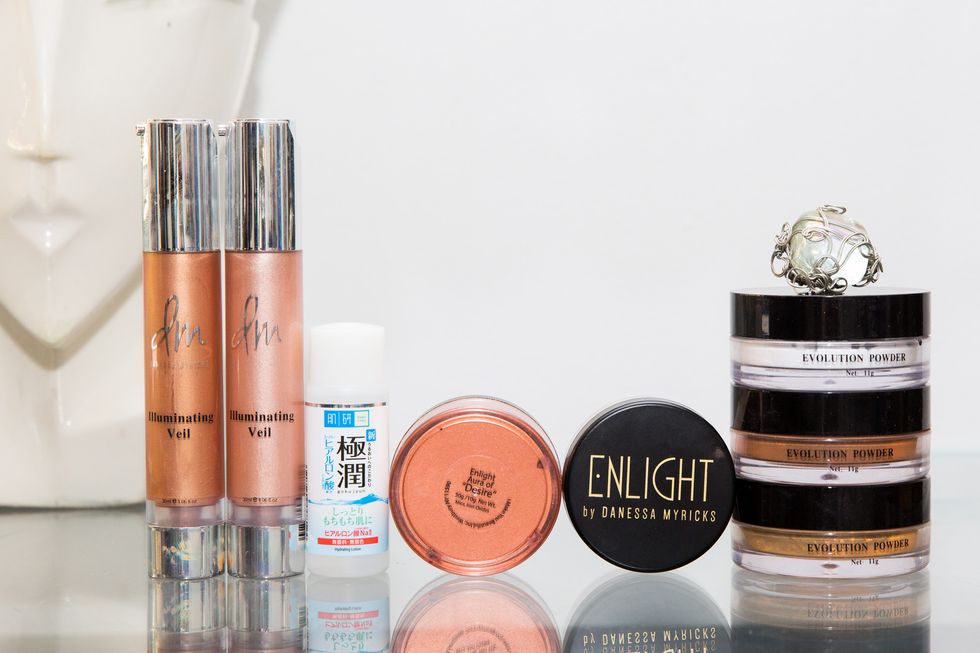 You're famous for your glowing skin and highlighters. What are your tricks there?
"I build luminosity from the bottom up. I'll start with my
Illuminating Veils
as an under-paint, even before foundation. I'm just creating the highlights, sculpting. Sometimes I'll do a full face underneath the foundation, with three different colors of highlight. Yes, I use three [
laughs
]. Then I move into the complexion. Of course, I'm gonna use my baby, my
Vision Cream Cover
. I've been doing makeup now for 18 years, so I've touched a lot of things. I've always loved creams. I notice that a lot of people use liquids because they're afraid of creams—some people have trouble blending it around because you have to warm it up. I wanted to have a product that feels like you had a beautiful cream full-coverage product that you've already warmed up. One drop can do somebody's whole face. I can take this, and it will last me the whole year. Yes, I made something that never runs out, which is the worst business plan [
laughs
]."
Is there ever a complexion for which you don't mix foundation? It's always custom?
"It's less about mixing to make a shade, and more about using multiple shades. For me, I see shapes. I'm using colors to create shape. Even if you are one beautiful tone, which is very few people on the planet, but even if you are, I just see the shape that I want your face to be, and in order to get to that shape, I need things that are lighter, things that are darker—I'm never actually matching a person. Usually, at the very least, I'm going to use two shades, because I need some kind of contrast for the shape. But usually I use three."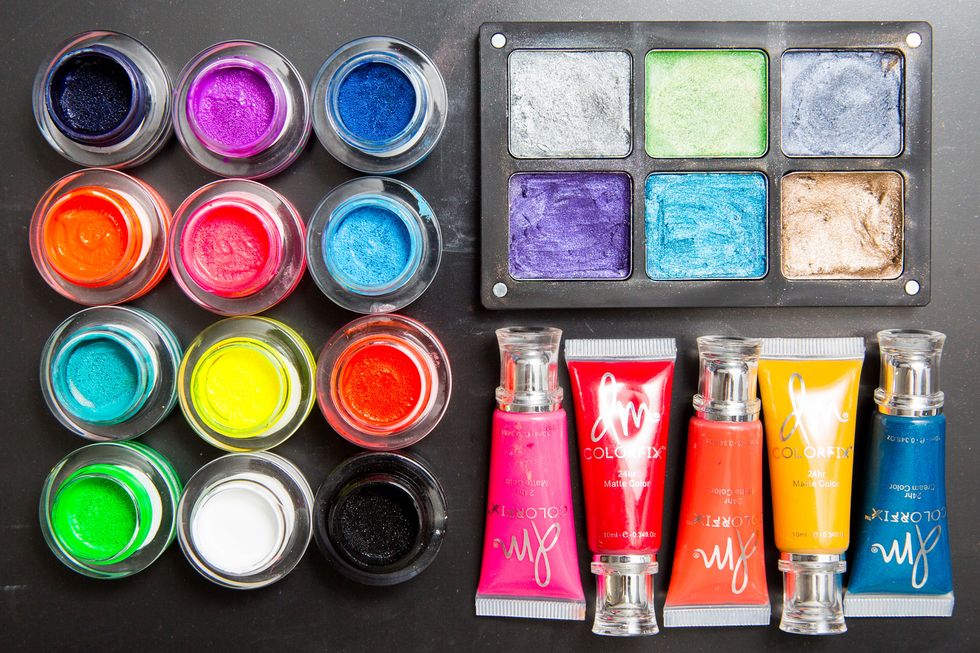 Do you like to use brushes?
"My fingers are really my favorite tool, to be honest. But in some areas on the face, like near the eyes, it's nicer for the client to have a brush. My favorite brushes look and perform like a finger. This is my favorite
brush by Cozzette
. The only time I use a sponge is to kind of sheer product out. I love
Alcone's sponge
, it's a yellow sponge with one side as a wedge. I'm obsessed with that sponge because it's really dense, so it works to really press the product into the skin. I get skeevy when I see things sitting on top of the skin. I also love the
black wedge sponge from Muse Beauty.Pro
."
So you have a million different highlighters!
"For me, if you take one shade of highlighter and just put it everywhere, you kinda go flat again. There's three different finishes in the Enlight collection: the basic formula, then you have a formula that has that microfine pigment mixed in with larger particles, and then you have the high shine. When you layer them, it's super duper magic. You work so hard on creating shape and dimension with your foundation and your powder, so you want to be able to maintain that in the highlight. So I even contour with the highlighting powder. I'll use a deeper one at the hollows of the cheek, something more golden and pink in the middle, and then put something very high-shine at the top. So you still have that shape. It just looks prettier."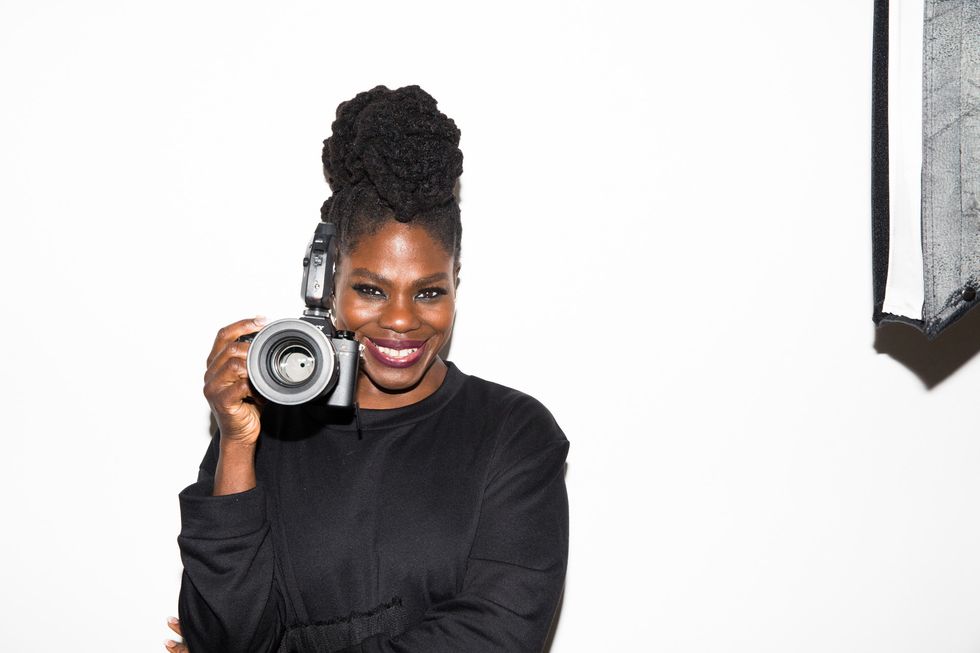 One of your greatest talents, obviously, is your understanding of color. Tell me what that experience is like in your head when you're creating a look:
"I don't know. It's hard to explain it because it's just there. It's like I just look at you and I know you're going to look amazing with deep bronzes, golden tones, purple would be really beautiful on you, greens... I just see it. I don't know. It's really weird. I played a lot with color as a child. Like watercolors, sketching, origami—I was obsessed with origami. When I think back, I'm like, 'I loved making shapes. I loved making clean lines.' It's really crazy. I didn't make the association until recently. But as an adult, I wasn't able to make the connection between those things and career. So I went very corporate, which is why I was very unhappy. But I think the thing that's most beautiful about my life right now is that I've found a way to bring everything full circle, together."
Want more stories like this?
Mario Dedivanovic's Huge Beauty Closet Is Practically a Sephora
The Makeup Artist Who Broke Instagram with Her Viral Highlighter Technique
What It's Like When You Build a Separate Mini House Just for Your Makeup