Career
Jean Atelier Is the Luxury Denim Brand All of Your Favorite Stars Are Wearing
They've already had requests for custom pairs from the likes of Lenny Kravitz, Steven Tyler, and Jane Fonda.
Tristan Kallas
If you've been paying mind to what the fashion crowd has been wearing as of late, you'll have noticed one particular pair of denim. They're straight-legged, high-rise, fold over ever-so-perfectly at the waist, and have been spotted on everyone from
Gigi Hadid
to
Rosie Huntington-Whiteley
,
Elsa Hosk
,
Sofia Richie
,
Jasmine Sanders
,
Kristen Noel Crawley
,
Olivia Culpo
—you get the point: basically every cool fashion girl. Said jeans are from new-er (they launched in
August of last year
) ready-to-wear brand Jean Atelier, and they're called
The Flip Jean
. We're kind of, sort of, obsessing over them, and think that you should be, too.
Behind the L.A.-based
denim-heavy brand
are longtime friends Jerome Dahan and Noam Hanoch. The two have
years
of experience in the denim world; they worked alongside one another for 10-plus years at Citizens of Humanity (founded by none other than Dahan himself), and prior to that Dahan also founded 7 for all Mankind. Hanoch had his own namesake label on the side, and upon finishing with that, the two friends launched Jean Atelier. The inspiration for the launch? They were tired of price-point-driven denim and had the urge to create a fashion-forward line that was both luxurious and high-quality. After all, what woman doesn't want to feel luxurious and absolutely amazing in her jeans?
Channeling the '70s and '80s for their designs, the brand released with a 40-piece collection that included jeans (of course), blouses, skirts, and jackets. Bodysuits, t-shirts, and halter tops have since been added. We sat down with the two founders one sunny afternoon in L.A. to discuss the Jean Atelier woman, the success of the brand, and how Jane Fonda and Lenny Kravitz are requesting custom pairs.
---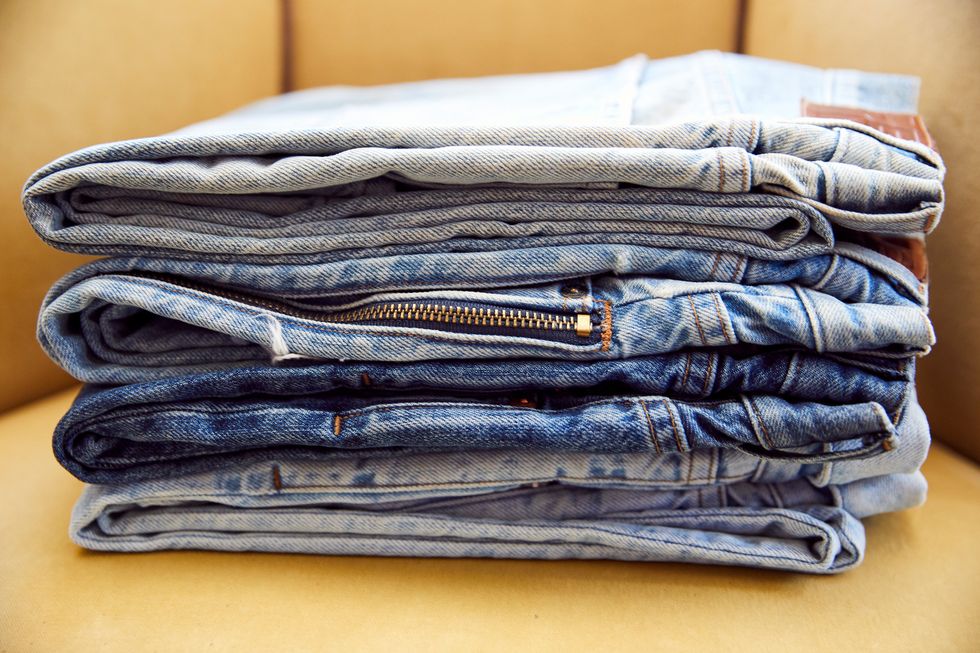 The main goal of the brand was to not be basic:

Jerome Dahan: "[It was about] having something in the market that was not just your basic jeans. That's why we started to design more of a fashion line. Noam left his dress line and I was, in a way, bored. At that moment, the market was much more [focused on] designer collections. It was important for us to have something different because you go to every denim company and you see the same type of jeans—that's not really exciting anymore, so we decided to make a collection, make something different.

"I was like, 'OK, people are working within price points, so there was nothing new.' You can do anything, but at the end of the day, product can speak for itself. [We launched with] around 40 pieces."

And the name is a combination of the two founders':

Noam Hanoch: "I wanted something that would combine both our names. 'Jean' is kind of Jerome and Noam, and it just made sense. It's simple [and] straightforward."

JD: "What's nice is that it's a jeans company, and you call it 'Jean.' People relate to it. Maybe they think it's French because 'Atelier' is French. It sounds good, Jean Atelier."
The Jean Atelier woman doesn't chase trends:

NH: "At the heart of it, it's a woman who really responds to quality and to a timeless aesthetic. They're women who are drawn to quality, which is the exact opposite of so much that is happening in fast fashion. Even in premium fashion, they are cutting corners in every way using cheaper fabrics, cheaper construction, cheaper everything to try and stay within that price point. It's largely dictated by the department stores. They're kind of stuck in it, and our woman, yes, she's going to pay a little more, but she's drawn to the quality and its timelessness. We're not chasing trends. It's more of an attraction to a certain kind of quality."

The two men work together to create their dream products:

JD: "It's a collaboration from both of us. Noam is really skilled in design and fashion, and he comes up with a lot of ideas. He comes up with the idea, we talk about the style…"

NH: "Then the shape and the fabrication."

JD: "I work a lot with the fabrication, the washes, and Noam does a lot of the fashion. He sketches all day long, and then basically, we say, 'This is good, this is no good.'"

NH: "It's really putting the two together to get the final look. You need the technical expertise as well as the more artistic side to come up with something that's the perfect product at the end."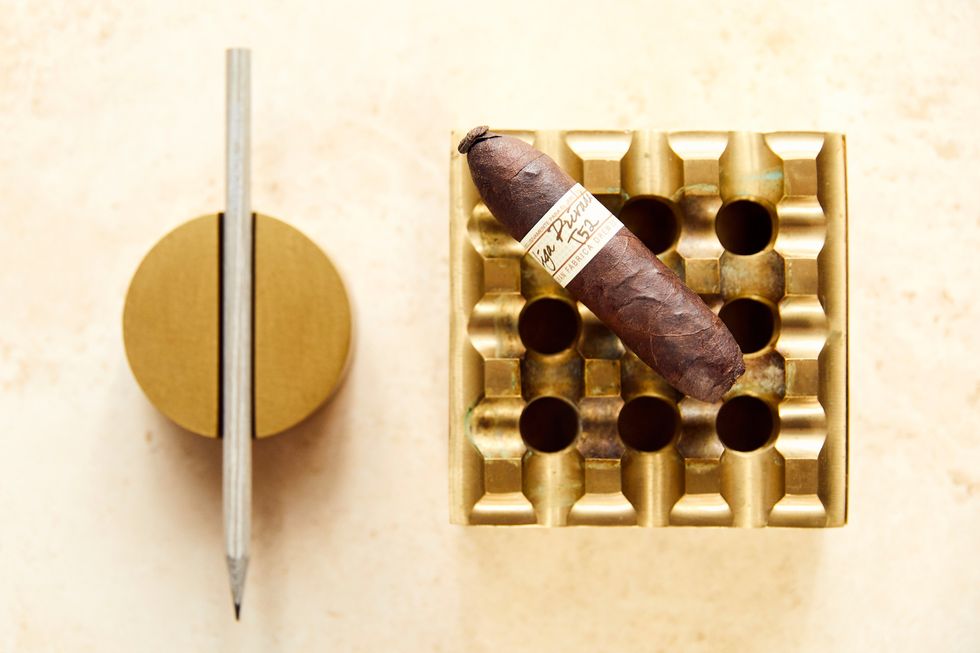 The response has been so good, they almost can't believe it:
JD:
"Well, we have the
Flip jeans
—they really did a lot for us. We have the
Paper Bag jeans
that are a really, really good seller. We have a '70s story that we did for spring—a collection of mixed denim, mixed colors of denim. With most of the product, whatever we ship is selling out, so that's a really good thing for us. Eighty percent of collection is selling out right now. I've never experienced that myself. I did other brands where I experienced really strong sell-throughs in categories, but to have a new collection and have it be 80 percent sold out, it's crazy. It's really, really nice."
NH:
"People are really responding to the novelty aspect of it, and with much less regard to the price point, which is kind of what we thought was going to happen all along. [We figured] if we can connect emotionally, once people understand what they're getting, the price becomes less of an issue."
JD:
"Also, we manufacture everything in the States, and in the past year and a half people are manufacturing from Hong Kong and China because of the price point. I've always made my jeans in the States, always in the U.S., and I'm not going to go to another country. Even if I have to pay more here—if the labor is more expensive, the labor is more expensive. You can do a nice quality product."
Hence why they're already well into planning next season:
JD:
"We just got some jeans back for the spring that are amazing. I almost don't want to share, but I can tell you that we are working on the '70s, '80s, and '90s. Those are going to be the three stories that we have in the collection. When I say '70s, '80s, and '90s, it's only the inspiration—it's going to be very modernized. We have a story for the '80s that's going to be so strong. I'm so excited—I just got the sample this morning. The last collection was so nice, you say, 'How are you going to make another collection nicer?' Then you're looking at the new collection, and you say, 'I'm so bored of the last collection because the new one is so nice.'"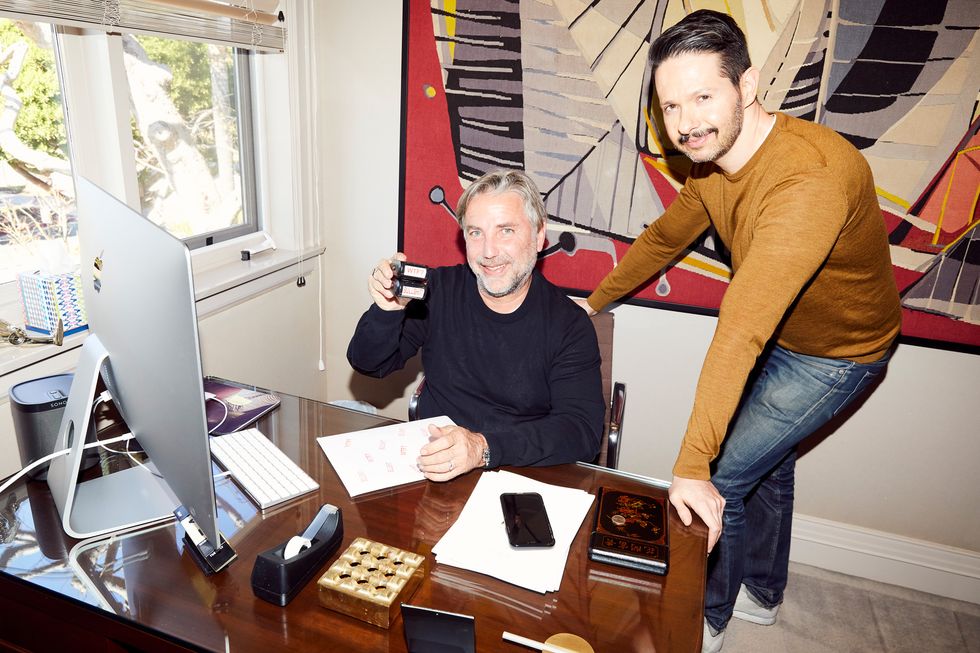 And there's a reason they're turning to those eras:
JD:
"First, it's because I grew up between the '70s, '80s, and '90s. Fashion is going back to those years a lot. Noam and I talk a lot about the '60s, also. The '60s are more of the shape and fit than the color. I mean, I love the '60s—it's something that always inspires me."
NH:
"I think you always have to go back and try to recreate your childhood in one way or another. From images or colors—things that you can remember from growing up. Everyone does it in a weird way, no matter what generation you're from. You remember those years as being very ideal."
JD:
"Jean Atelier is a line with not one piece of stretch. We don't do stretch denim because all the direction is '80s and '90s, and the fits were different at that time. They were rigid fabrics that were very stiff. It's not the leggings that people are going to wear for the next five, eight years. It's not about leggings anymore."
And good news, custom denim may be in their future:
NH:
"We have some requests."
JD:
"Lenny Kravitz. Steven Tyler. Jane Fonda."
NH:
"It's very cool that the people who inspire us are inspired by what we do. But we're so small right now it's very hard for us to do custom."
Want more stories like this?
Tammy Brook Carves Out Career Roadmaps for Clients like Pusha T & Travis Scott
Meet the Agency Founder Connecting Baron Von Fancy with Louis Vuitton
Hildy Kuryk on What She Learned from Barack Obama & Vogue