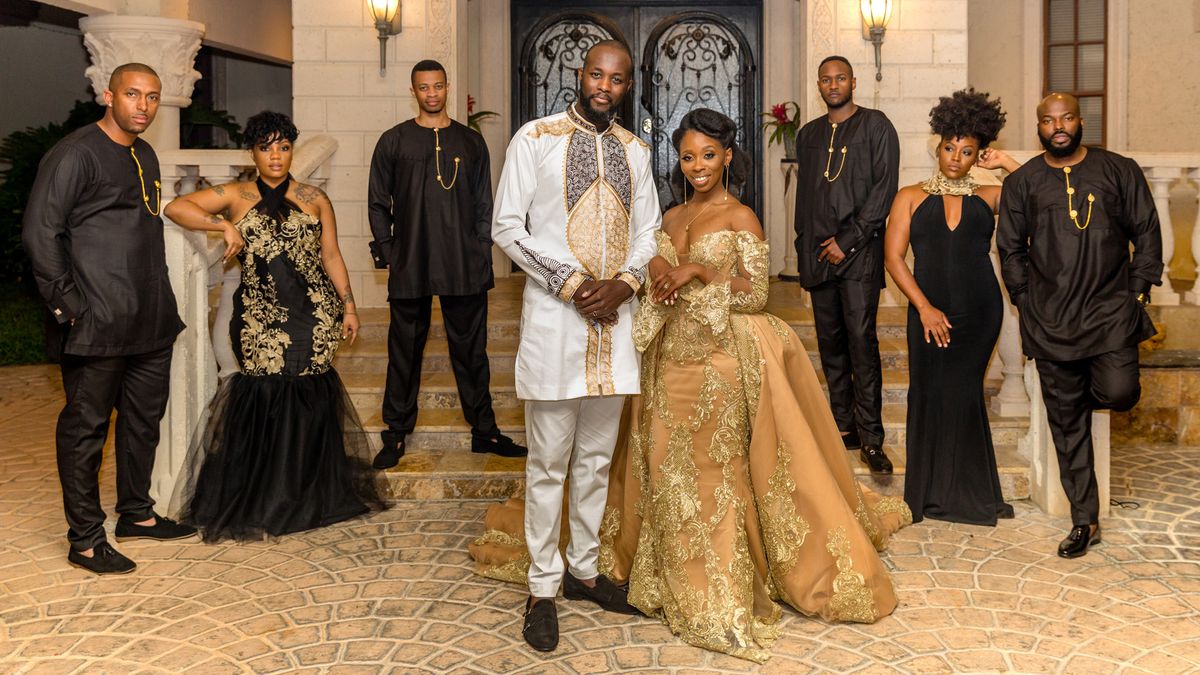 Weddings
Costume Designer Ayanna J. Kimani Had *Two* Gorgeous Wedding Ceremonies—You Need to See Them Both
The Cov alum behind Insecure's wardrobe celebrated with a traditional Kenyan wedding and a NYE party in Miami.
What's better than one wedding? Two!
Insecure
's costume designer, Ayanna James Kimani, met her husband, James, two years ago in Kenya. Late last year the two went back to tie the knot in Nairobi for the first of their two celebrations. Their take on a traditional Kikuyu ceremony (her husband belongs to the Kikuyu tribe) included touches of the bride's Jamaican background. The second celebration was a firework-punctuated NYE party in Miami. You'll want to keep scrolling!
---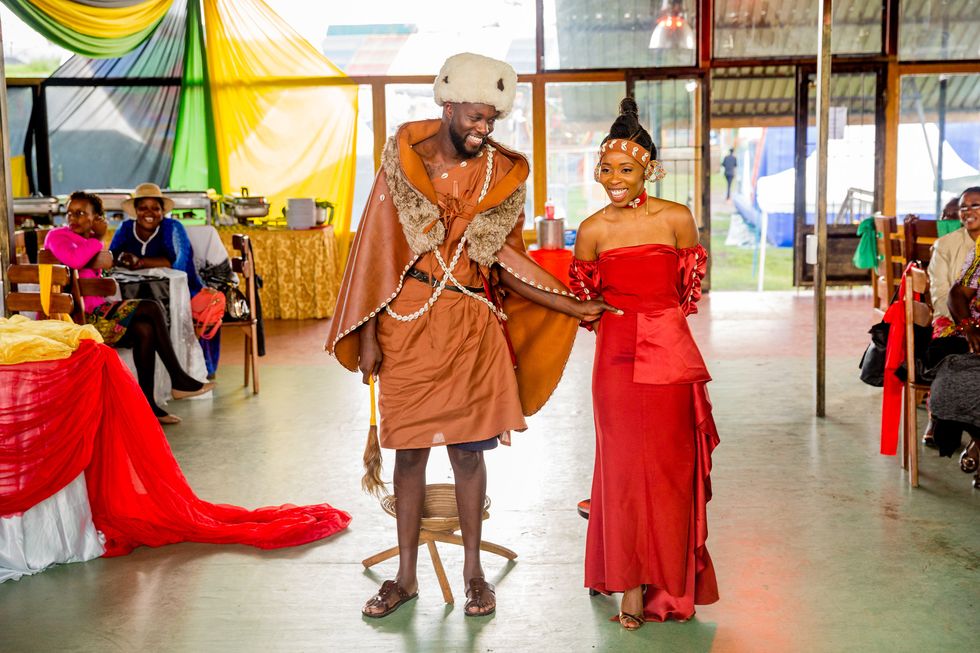 "My husband and I decided to have two weddings to honor both sides of our families. James is Kenyan and belongs to the Kikuyu tribe, and I'm Jamaican. We had the traditional Ngurario and Ruracio. Both my husband and I decided we would dress traditionally, so I asked on Twitter where to find a good seamstress in Nairobi. I found a young lady who worked with her mom out of their garage in their beautiful home. James went to someone who specialized in traditional Kikuyu garb in Nairobi. Both ceremonies normally take several weeks to complete ,but we had to condense it into one. On day one we did the negotiations. Then…"


The Celebration of Ngurario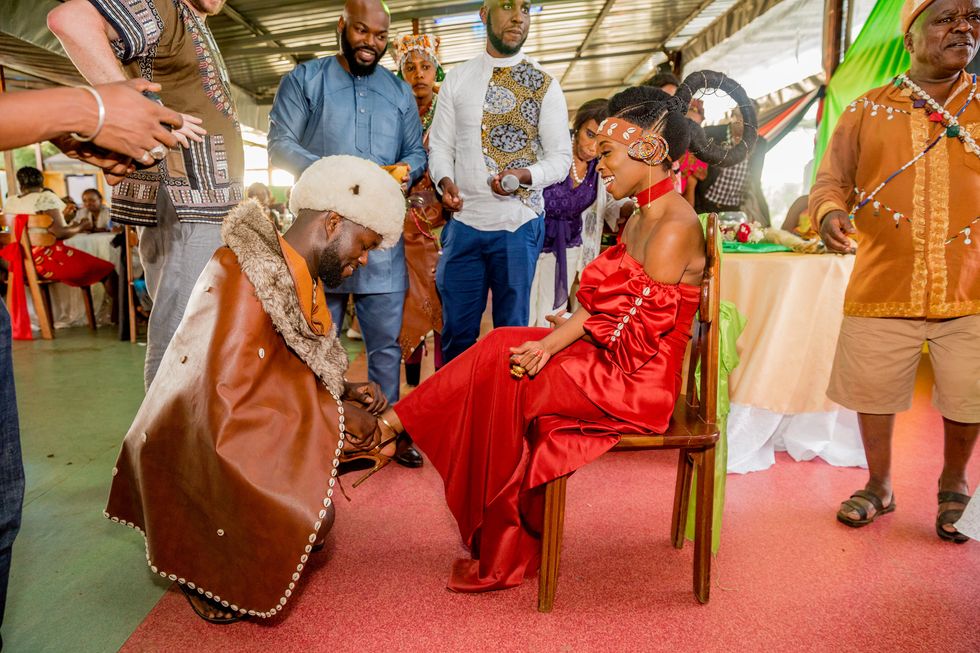 "After the two families have agreed on a dowry price, we're officially allowed to be married. We combined a few of the ceremonies into one. My side has to bring out a few of my ninjas to see if my husband-to-be knows his wife. We wrapped my people in the traditional Kenyan cloth, Lesso, while James and his boys had to try to pick me out of the lineup.

"If he guesses incorrectly, he has to pay a fine. I wasn't in the group, and he guessed right. I was brought out to a ton of singing and dancing, and right as we met, it started to downpour rain. I knew it was a blessing.

"Then we had to do a series of rituals, which include feeding each other and our families. Then WE PARTY! (But it had to be over by sunset, womp.)

"My dad gifted us a honeymoon weekend stay at the renovated property Sovereign Suites which was where we originally intended to have the Ngurario. I'm a bit relieved we didn't have it there, because it was such a beautiful location—and we appreciated having it all to ourselves."


Part Two: The Miami Party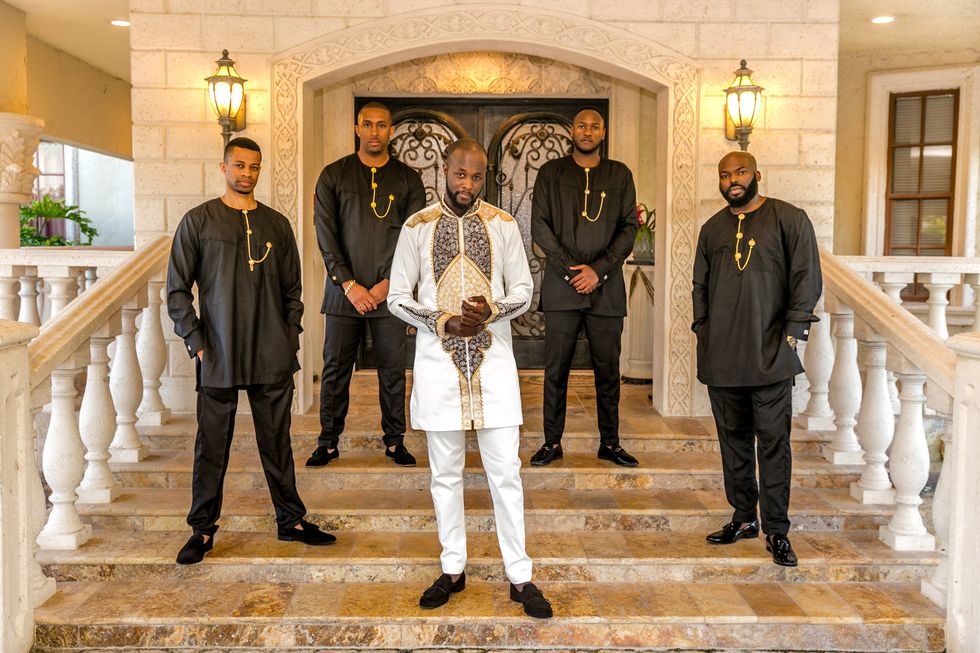 "A month later we were back in Miami for part two! The color palette was gold, black, and cream. I ended up designing and planning my own wedding with my cousins after firing my wedding planner. I had about three and a half weeks to pull this off. It wasn't traditional at all."


The Vibe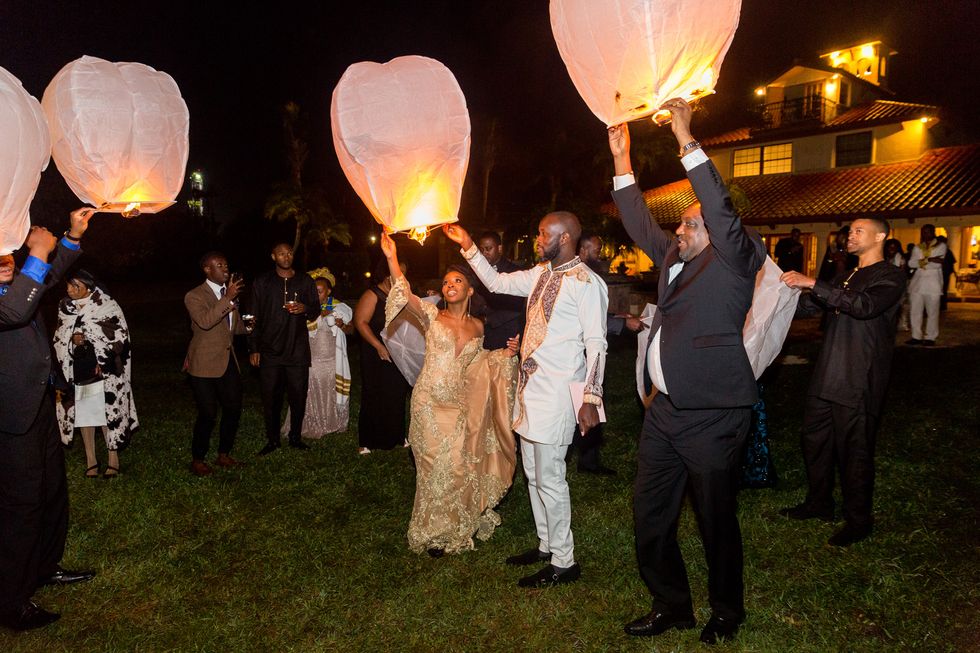 "The wedding party walked down the aisle to 'I Can't Wait' by Outkast and Sleepy Brown. My college friend DJ Rtistic is the best DJ in the world and spun all of my favorite college classics while my guests ate a mixture of Kenyan & Jamaican bitings."


The Food & Drink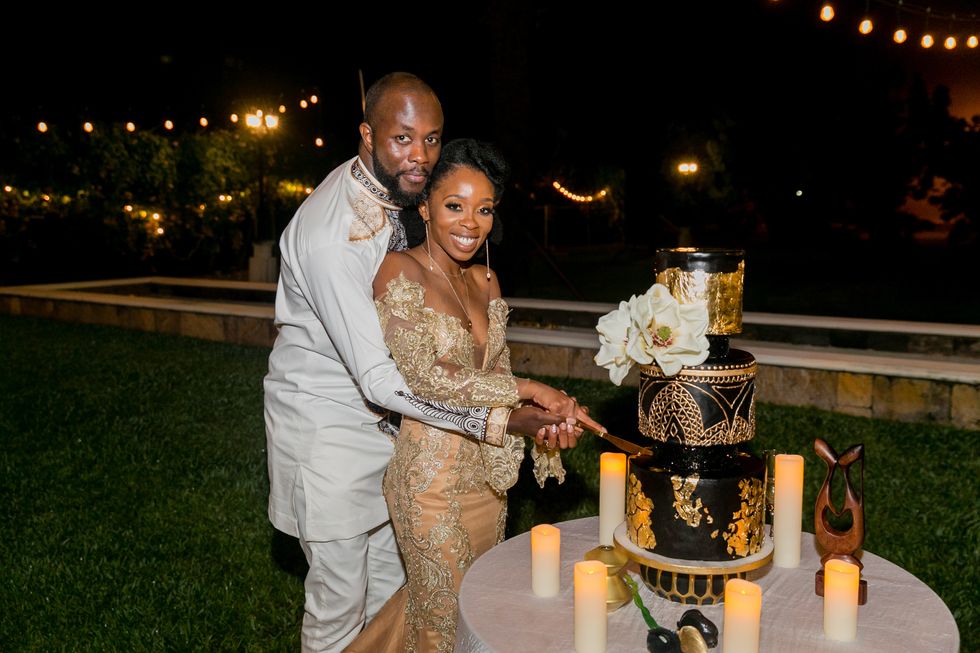 "The His & Her drink menu consisted of Rum Punch & Kenyan Dawa. I had about three dozen sculptures from one of our trips to Ghana and used them as decor on the tables along with calla lilies, gold eucalyptus plants, and black hydrangeas."


The Dress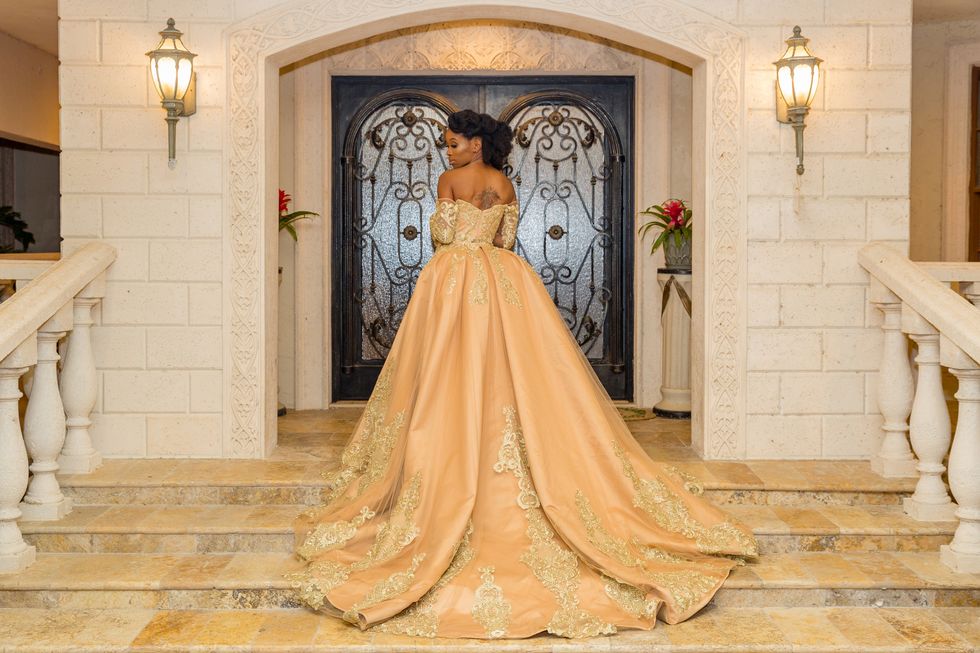 "My dress was a custom build by Andrea Iyamah. She flew in the day before to personally fit me because it was the first time she got to design a gold wedding gown."


The Venue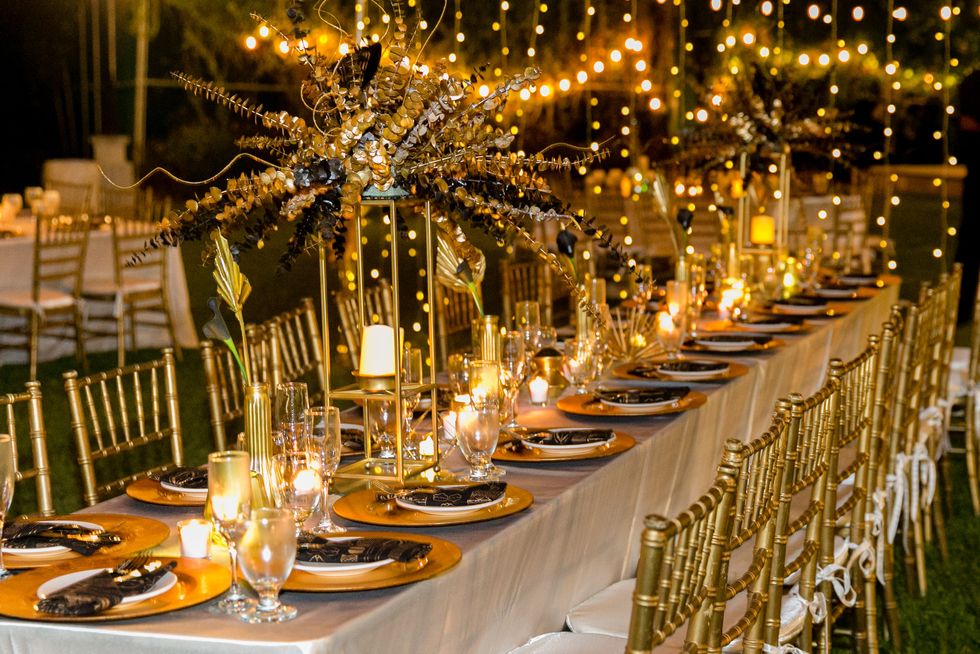 "Villa Toscana is located in South Miami. The NYE wedding took place at about 7:00 PM in a quiet secret garden on the estate. We rang in the New Year with fireworks and old-school jams.

"I was so relieved and proud of my husband and I for pulling these weddings off. I'll look back on these photos with so much pride and joy."



Photos: Cendino Temé