WWWRN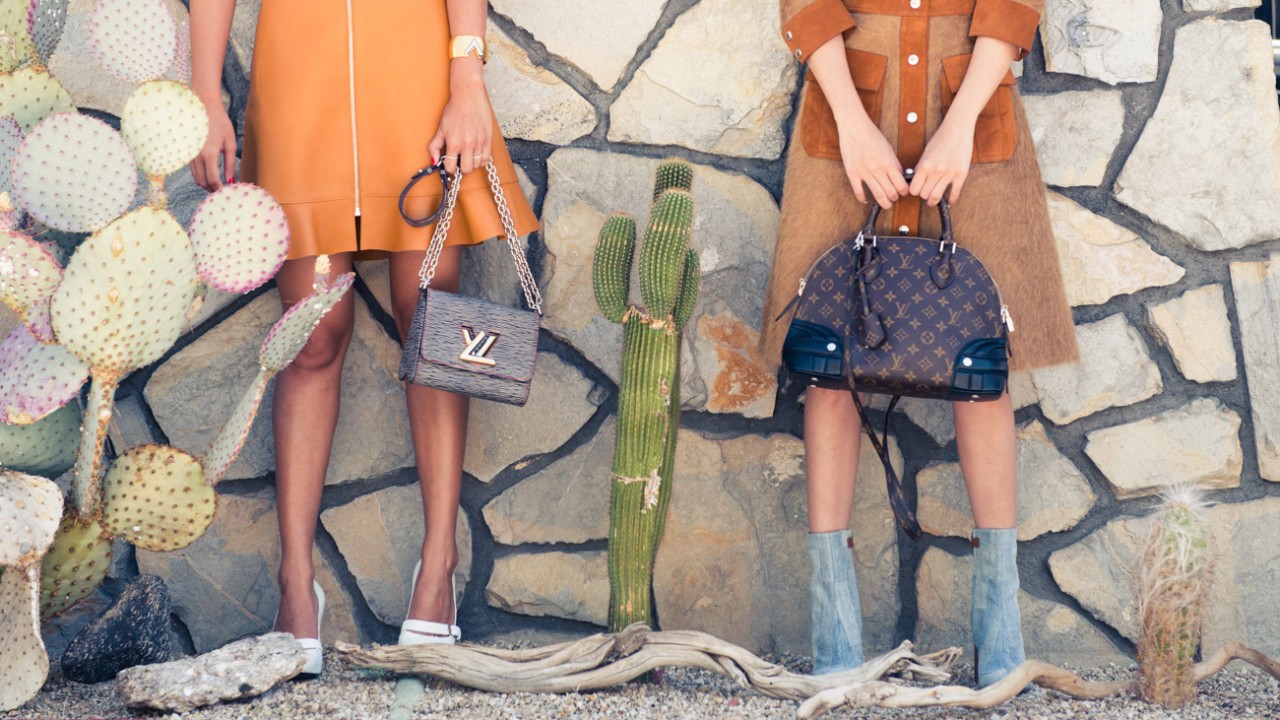 18 Things We're Buying After Spotting Them at Coachella
They involve absolutely no flower crowns or fringe.
Saying the words "Coachella style" will, without a doubt, evoke many eye rolls. The festival has long been defined by over-the-top outfits people would never wear anywhere else, paired with flower crowns, which we've decided need to go away forever. But then there are icons like Beyoncé, who hit us with a yellow hoodie and denim cut-offs; Rihanna, who somehow outdoes herself every year (often in the most amazing Y/Project); and Cardi B, whose TLC-inspired look last weekend was the Coachella moment we didn't know we needed. If we were headed to Coachella, we'd want to do them proud—maybe with a throwback '90s moment complete with cherry-patterned sweatshirts and bucket hats, or our interpretation of '70s style with rompers and combat boots. With that being said, here are the 18 pieces we'd wear in the desert. 
---
Tara Gonzalez
Assistant Editor
1. Drop Dead Romper: The style at Coachella can be cringe-worthy because it's often a sad interpretation of '70s Woodstock. So if I were to go, I'd take the more authentic route with one of my all-time favorite indie brands, Sugarhigh Lovestoned, whose name alone gives you an idea of what they're all about. All their pieces are designed from a tiny house in Hawaii, and the dreamy lifestyle comes across in every piece. Everything actually feels like it was hand-delivered from a time machine, especially this insanely amazing romper.
2. Rosebud Earring: One of the things I genuinely appreciate about festival style is the jewelry! As Cardi B would say, everyone comes through dripping in layers and gold and diamonds. I'd definitely get another piercing for the occasion, and I can't think of a better piece then this Carbon & Hyde rosebud earring. I'm thinking rose gold would be a nice contrast to my other gold studs.
3. Dr. Marten's Jadon: I've never been to Coachella, but I've been to Governor's Ball every year, and one of the biggest mistakes I made was wearing open-toed shoes. That is an absolute no at festivals. I've sworn to wear Dr. Martens to every music festival from now on. They look good with everything, can withstand anything, and the platform on the Jadon would give me some extra height to look over the crowds.
---
Noah Lehava
Senior Editor: Health and Wellness
1. Tohum Large Puka Shell Necklace: Technically I didn't see this necklace at Coachella, but ever since I got it in my hands, nay, neck, I haven't taken it off. It's my adult and upgraded version of the puka shell necklaces I used to bring back from every tropical vacation as a teen.
2. Dior Club 1 Visor: Seriously, this needs no explanation! I guess extra sun protection is a bonus.
3. Jacquemus Pinhao Ribbed Cotton Top: Not to sound basic, but I'd wear denim shorts to any outdoor concert. What isn't basic, though: this top.
---
Jodi Taylor
Associate Editor
1. Jean Atelier Flip Top Boyfriend Jeans: My love for these jeans (and this brand) is nothing new, but all of this denim festival wear has me obsessing over them all over again. I truly believe you can never have too many pairs of boyfriend jeans, and the flip detailing on these makes them the perfect match for all the simple tube tops I'll be wearing this summer.
2. 8 Other Reasons Halter Top: Almost every single person at Coachella was wearing this brand (don't believe me: click here), and I'll admit that I have now fallen for it. I'm now convinced that I can't get through the summer without this piece in my wardrobe.
3. Puma Prevail OG: OK, so maybe I didn't see a single person wearing these at Coachella, but that doesn't mean I want them any less. It's time to add some Puma to my life.
---
Hannah Baxter
Assistant Editor
1. Sugarhigh Lovestoned Drop Dead Coveralls: I live for coveralls of any kind, but this pair from Sugarhigh Lovestoned oozes festival vibes to me. You'll catch me wearing them all summer long, preferably over a bikini on my way to the beach. So cute!
2. KatKim Diamond Thread Ear Pin: The jewelry at Coachella is always next-level, and since my ears are already pretty stacked, I think a true statement earring is the perfect addition. You can never have too many diamonds, right?
3. Acne Till Boot: As much as I'd love to wear my favorite sandals out in Palm Springs, I'd rather avoid destroying them in the inevitable mud puddles. Enter these Acne boots to the rescue. Durable *and* stylish, check.
---
Brooke Bunce
Social Media Manager
1. Kara Iridescent Leather Ring Crossbody Bag in Galaxy Navy: Number one rule of a festival: Carry as little with you as possible. (Among tons of other number-one rules.) But you know what else is a rule of festival fashion? Go wild with trends that you'd definitely be too scared to try IRL. As such, I'm all about a bag that's shimmery, encased in plastic (because festivals get messy), and the perfect size for carrying hand sanitizer.
2. FILA Blue Baxter Bucket Hat: Love it or hate it, I adore a solid bucket hat. It's also an amazing multi-tasker: It's cute, it shields you from the sun, and it covers up hair that's accumulated more grease than I'd probably like.
3. Champion + HVN Cherry Tee: As soon as I saw Slick Woods sporting this cherry-topped tee from HVN and Champion's collab, I knew I had to wear it everywhere. It's simple but sweet: exactly like an easy summer afternoon should be.
---
Samantha Sutton
Editor
1. Zimmermann Lumino Daisy Broderie Anglaise Cotton-Voile Dress: White-colored anything seems like an interesting choice for the dusty desert, but even so, there was no shortage of white, breezy sundresses at Coachella's biggest events. It reminded me that summer will be here before we know it, so I'd better snag myself something similar, ASAP.
2. Prada Quilted Leather Belt Bag: Fanny pack, belt bags—whatever you want to call 'em, I'm all for some hands-free fun while carrying around the essentials. Plus, this Prada option is a tad more elevated than the one my mom used to carry back in the day.
3. Topshop Bandeau Top: Ugh, OK, fine! The '90s girl in me has finally been convinced to embrace the tube top again. Are you happy, Coachella?!
Want more stories like this?
These Are the 7 Biggest Trends for Spring
This Is the Next Big Piece of Logomania You Need—And It's Almost All Sold Out
These 10 Matching Sets Are the Easiest Things to Wear This Spring
Part of the series:
WWWRN