WWWRN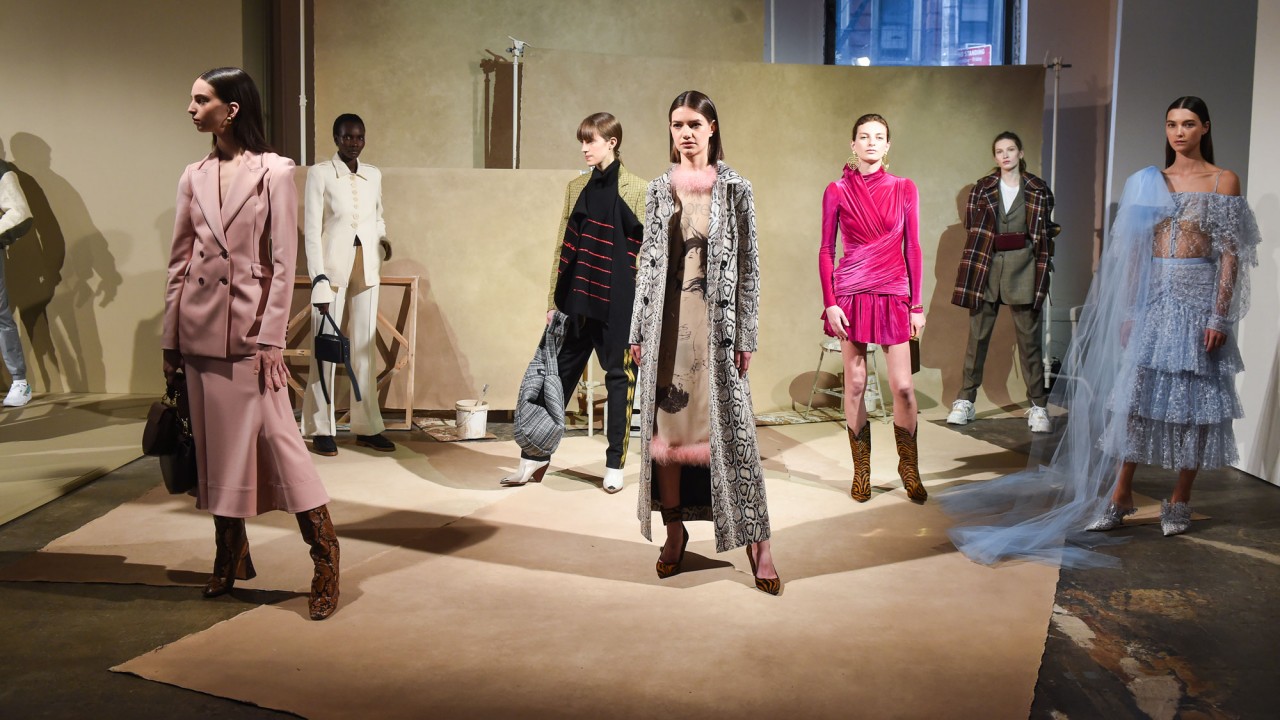 These Are the 7 Biggest Trends for Spring
They involve cowboy boots, peasant dresses, and really big hats. In collaboration with MATCHESFASHION.COM.
Fashion is known to run on its own schedule by presenting seasons ahead, and has a way of making us want coats when we should be wearing culottes. Which was definitely the case of MATCHESFASHION.COM, who had their live presentation for FW18 last Thursday. There was lots of everything you would expect: animal-print cowboy boots (two spring trends in one), lots of yellow everything (it's the next millennial pink), blazers and pant-suiting galore (thank you, Hillary), thigh-high boots worn with cocktail dresses (a match made in heaven), and every pattern worn at once (maximalism is back with a vengeance, if you haven't already heard). There was also some very fancy blue marbled cheese that resembled a mosaic, toast that looked more like a salad with piles of lettuce, and even a chocolate bar, where you could break chocolate statues with a little chocolate hammer. It was glorious in every way and made us excited about the colder months for the first time since approximately last week, when we swore off dreary weather forever.
That being said, we are looking forward to buying clothing for fall/winter again because it involves buying, well, clothing. But for now, the sun is finally here to stay (fingers crossed), and we're currently investing in anything that involves bright colors or exposes all the skin we almost forgot we had (midriff! arms! legs! literally any one of our ligaments!). Luckily, Natalie Kingham, Fashion and Buying Director at MATCHESFASHION.COM, knows what our wish list looks like before we even do (it's kind of her job) and gave us tips on what to buy this spring season.
---
Nostalgic (not feminine) Florals...
Florals for spring can be groundbreaking...if you do them the right way. Think more '70s flower power, and less girly, pink rose patterns. Kingham is particularly excited about "Richard Quinn, and his use of florals that feel very nostalgic. His clothes can be worn in [a] very elegant, couture way."
---
...Layered Over Bodysuits & Leggings
Florals can look elegant, but they can also look badass. Kingham wants you to consider "layering them over your bodysuit and leggings—they somehow look more modern!"
---
Sequins that don't look like they belong on a prom dress
If you'd mentioned sequins to me a couple of years ago, I would have thought about almost every prom dress I've ever seen. But it's 2018, and everyone's gone rogue, and there are no rules anymore—thanks mostly in part to Gucci and Alessandro Michele. Kingham sees sequins everywhere this spring: "Sequins!! With lots of use of strong color! Really bold woman and great party clothing."
---
Wearing seashells everywhere with anything, anywhere
If you haven't seen someone wearing gold hoops with a seashell dangling from it, you may want to get your eye prescription checked. Shells have been everywhere (especially in everyone's ears) ever since Rosie Assoulin put them all over handbags and accessories last September. It's the best way to go to the beach without having to go anywhere at all.
---
Putting lots of things on top of your head
With La Bomba, Jacquemus made everyone want to wear an impractical oversized straw hat that was as long as their torso. Then there was Meghan Markle, whose hats have been getting larger and larger ever since, you know, she became engaged to a royal. Good news is that buying a head adornment (bedazzled barrettes, Gucci headbands, a classic straw hat) will be an investment that pays off all year long. According to Kingham, "Hats will continue into the winter as well. A lot of attention to the head recently, and it'll kick off this summer with headbands and big straw hats and will continue for the rest of the year. We haven't seen the comeback of the hat in a really long time."
---
Dressing like it's the 19th century
Forget the '90s, and think about the 1900s instead. High necks! Billowy sleeves! Tiered ruffles! Essentially a look for churning butter in...but make it fashion.
---
Embracing the Wild Wild West
Part of the series:
WWWRN