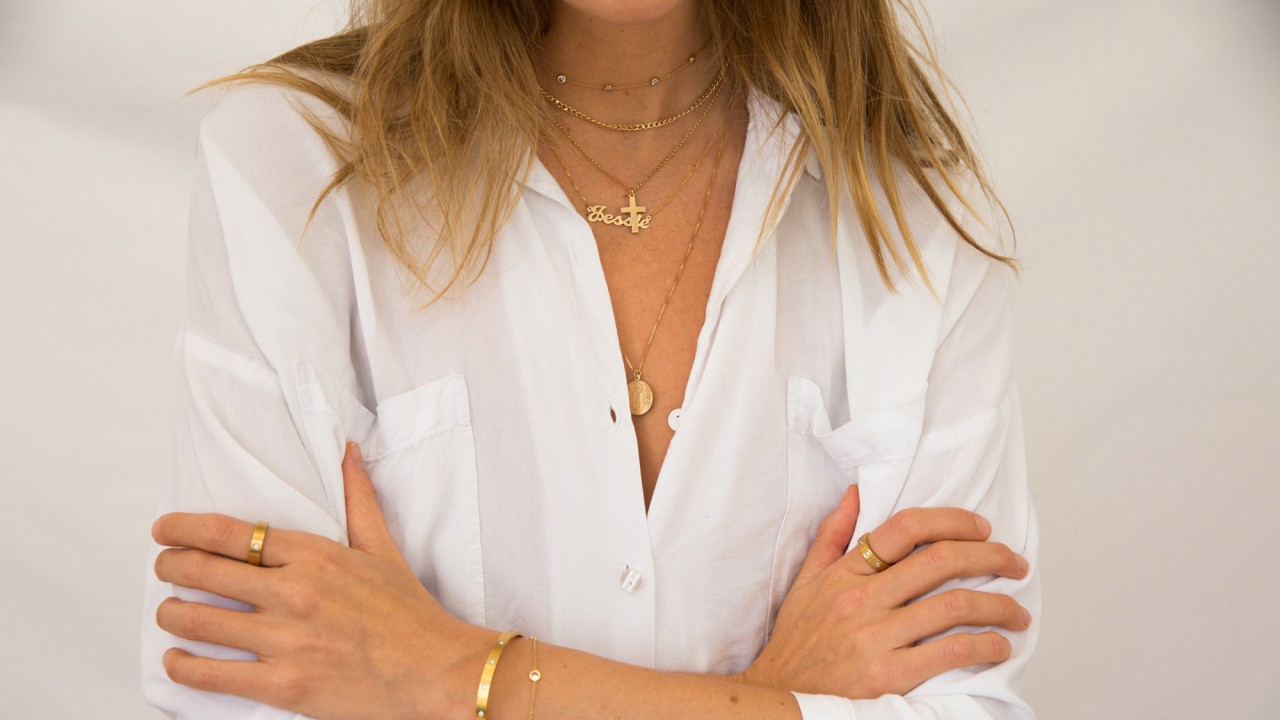 Kendall Jenner's Favorite Necklaces Are Surprisingly Affordable
And here's how to style them.
We've noticed a lot of girls wearing cross necklaces lately—some adorned with saint charms—and we've also observed that in many cases, this accessory is owned in multiples. Though by no means a new trend, Kendall Jenner and Bagatiba likely have something to do with the recent uptick in these necklaces' popularity.
When we spoke to Bagatiba founder and creative director Jessie Andrews, she noted that while Kardashian-Jenner press never hurts (after Kendall wore her D2C Necklace it went on to become a bestseller, worn by just about every It girl, Victoria's Secret model, and Instagram influencer from NYC to L.A.), she also attributes the success to creating "affordable, good-quality pieces for girls...who don't want to spend a ton on jewelry, but love trendy stuff." She's one of those girls. 
Andrews' other Bagatiba pieces are popular too, and the brand's price point makes buying more than one and layering them attainable. (I can attest to this.) Layering is also the preferred styling method of Bagatiba's celebrity fans. Here, Andrews shares eight tips for emulating the look.
Wear only one choker at a time…
JA: "Over the years, there's always been those trends where there's tons of chokers on. But I feel like they kinda get lost. So when I layer, I try to stick to one choker."
...and instead of tightening it, wear it at the longest length, on your collarbone
JA: "All my chokers are adjustable! So they're 11–12 inches, and then they have a three-inch extension, depending on how high you want to wear the choker. I usually wear mine at the longest length, so it's just on my collarbone; I'm not too big on a tight choker. Then I'll put two or three 18- to 22-inch necklaces. That's my go-to for layering."
A no-fail combo is large hoops with a long necklace (or a bare neck)
JA: "I'll just do one long, 20-inch or 22-inch necklace, if I'm wearing a hoop or something. But my style now is pretty much either layered necklaces and a small hoop, or a huge hoop and a bare neck."
"Less is more" doesn't have to be boring
JA: "I'm always about less is more. The jewelry can't overpower you. If you've got huge hoops and tons of necklaces, and rings and bracelets— it's just too much. I either go with like, a hoop and then a ring and a bracelet or something, or just layered necklaces with a small hoop and a ring. Just to not overdo it!"
Switch it up with square shapes
JA: "I usually put together a Vintage Square Choker— it's kind of like a classic-looking square. It reminds me of the '80s a little, I don't know why! It's squares fit together on a chain. I usually wear that with a cross necklace. A popular combo that everybody always buys is the Vintage Square Choker, and the Vintage D3C necklace. It's a longer necklace with a bunch of charms on it."
Just wear one statement necklace
Find you a necklace that can do both
JA: "But a lot of people wear this D2C Necklace every way you can think of— alone, layered— and on every kind of style or girl."
Never turn down a big hoop, especially if you can fit your hands in them