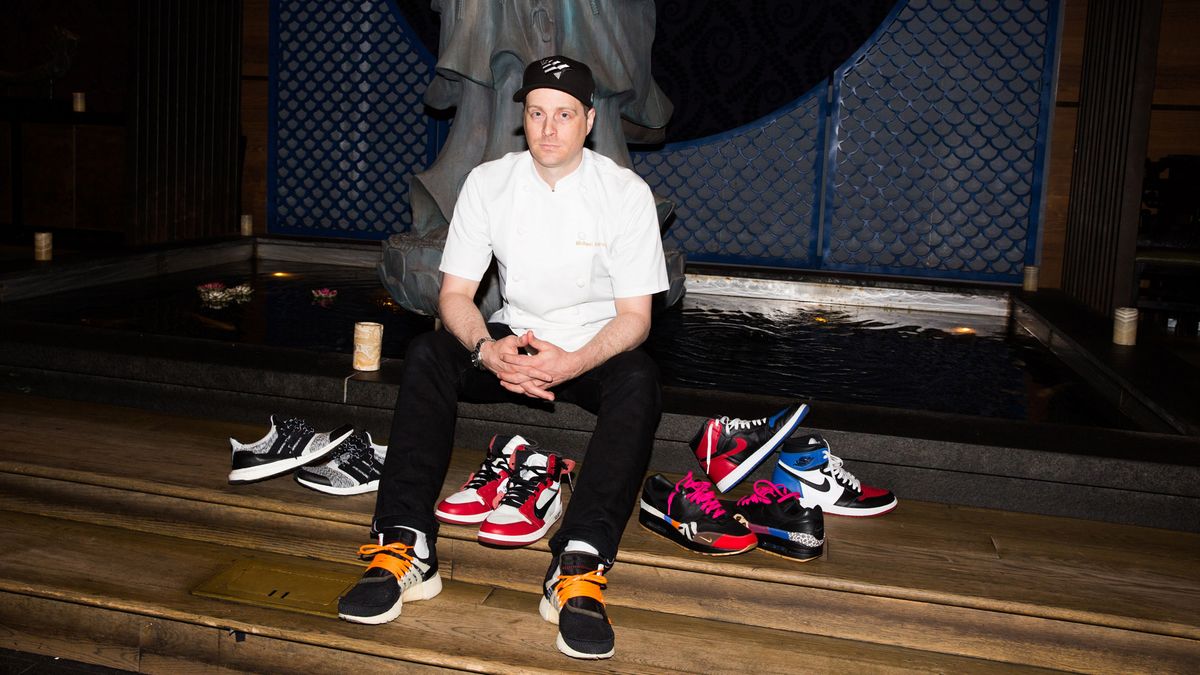 Hat, Paper Planes; Sneakers, Off-White x Nike Presto
Food
24 Hours with the Tao Chef Who Wears Off-White x Nike in the Kitchen
Introducing Michael Armstrong—aka Chef Mike—the most stylish chef in NYC.
Alec Kugler
Monique Kamargo
The first time I met Michael Armstrong—or Chef Mike, as he's know to many and was introduced to me—I was having dinner at Tao Downtown in NYC with my friend, Cov alum Mike Camargo. He strolled up to the table in a head-to-toe chef's outfit and a pair of perfectly worn-in Jordan 1s—not your typical executive chef attire. Camargo explained to me that Chef Mike is "the man" at both Tao and Bodega Negra (located inside The Dream Hotel). He's even responsible for that highly Instagrammed dessert at Bodega—you know, the one where the chocolate dome melts to reveal a drool-worthy chocolate cake?
After some quick food talk, the discussion turned to sneakers. Turns out, Chef Mike is not only talented in the kitchen, but also a sneaker connoisseur. His love for sneakers began in NYC in 2006, when he picked up a pair of "fire-red Jordan 3s." A year later he moved to Vegas after landing a job with the Tao Group, and he's been wearing sneakers in the kitchen ever since. "It's a huge property, [and] I was literally running around all day, so I started wearing sneakers," he says. "Being a sneakerhead and working in the kitchen, you wear a chef's coat and chef pants every day. Rocking different sneakers is my outlet to my personality."
Dying to see his collection (which is between 150 and 200 pairs), we headed to his Brooklyn apartment. After poking around the gold mine that is Chef Mike's closet, we found ourselves out for a morning walk with his wife and two dogs. Fun fact: The two met at Tao (workplace romance!), and she manages Vandal in Lower Manhattan. Along the way, he agreed to make us one of his famed Spotify playlists (he oversees the music at his restaurants—more on that later). Check out "Chef Coveteur" below.
---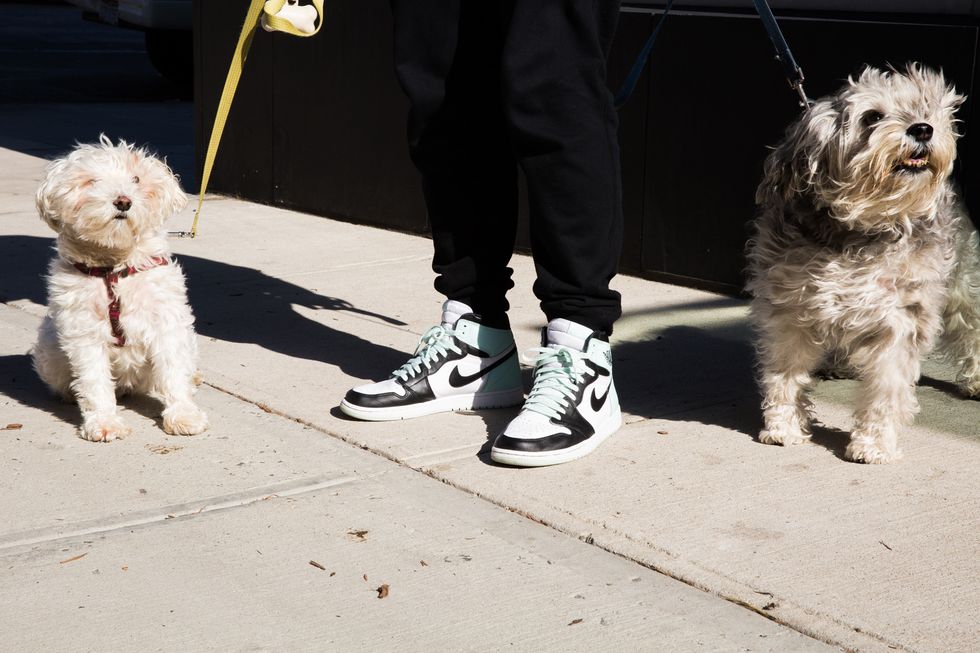 9:00 AM: "First thing I do is take the dogs out. I can't do anything before that [laughs]. They're miniature schnauzers, Carter and Sophia. Sophia's the white one, and she's the girl. We were originally only going to get her, and I was like, 'You know what? We should really get two. We're both working a lot, so when we're not at home they have each other to play with.' So we got the second one, Carter. He's named after Jay-Z."
11:00 AM: "Right now, [my first stop] is Tao Downtown. Since we're getting ready [to open in] Chicago, I'm working through all the recipes, making all the sauces, and prepping with the guys that work there—making sure things are in line and working on the standards and the signature stuff that we know we're going to take. I'm also working to develop some new dishes that can be exclusive to the Chicago menu.
"I wear a lot of [adidas] Ultra Boosts and Nike running shoes in the kitchen. Some Jordans. It's funny because people always say, 'Oh, you're going to get those dirty.' At the end of the day, they're made to be worn. Whatever value on the resale market they might have doesn't matter because I'm not going to get rid of them. It's definitely a fun element to be wearing exclusive, really expensive limited sneakers. People are going out of their way to spend three paychecks on their shoes, and I'm wearing them in the kitchen. I think there's some kind of parody in that. That being said, I have a couple of Jordan 1s that are all satin, [and] I would never wear them in the kitchen 'cause they're satin. Those are special-occasion Christmas shoes [laughs]."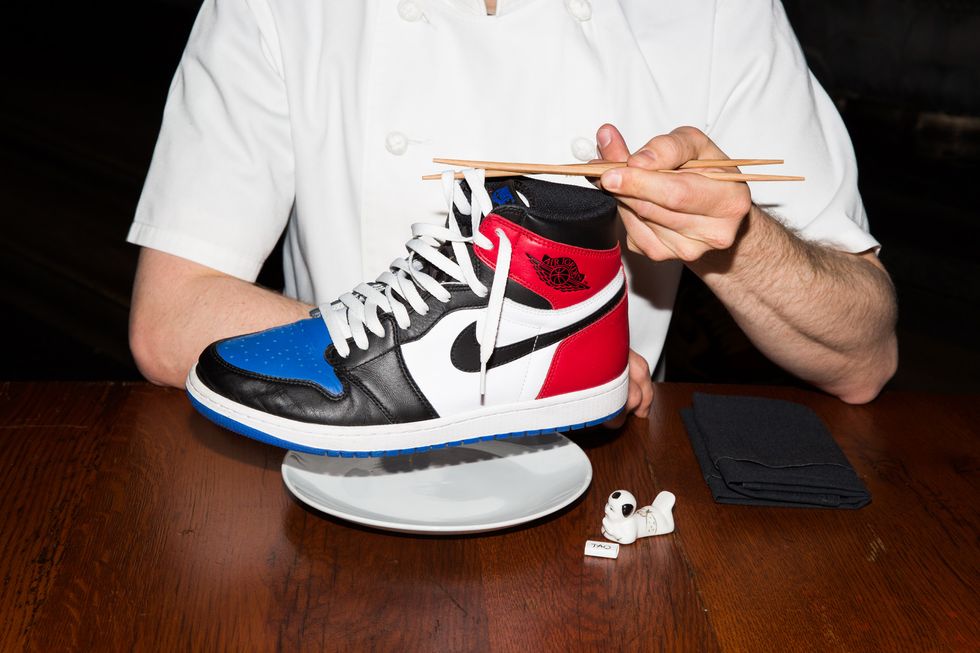 5:00 PM: "I stay at Tao through dinner service helping expedite. Right now, I'm kind of an extra guy there [because I'm moving to Chicago, so] I float around the stations, work with the cooks, watch the food go out. Then I've been leaving at 10:00 PM and popping over next door."
10:00 PM: "I'll have a drink at the bar and eat some tacos [at Bodega Negra in the Dream Downtown]. We recently hired a new chef for Dream and Bodega, and he's only been there about a month. Since it's next door, I pop in and check in with him [throughout the night as well], helping him with a few things. We're working on a few menu changes for Bodega. I'm still involved in the food and whatnot for the restaurant specifically.
"When we first opened, like a lot of things, there were too many opinions, and the music was all over the place. We were using services that curated playlists based on your recommendations, and there were some nights that ended up being a lot of old-school hip-hop and the energy was better in the room. It fit the clientele and vibe of the restaurant. I'm really passionate about music, and I wanted to have control of that. It got to a point where nobody was taking ownership of it, and so myself and Matt, one of my friends that worked there, were like, 'OK, we're taking over the programming.' I got a couple iPads and started putting together playlists on Spotify, and it took off from there. We have a couple of playlists; one [for the day] that's a little bit laid-back, and then the late-night one, which is more upbeat. I've shared it with a bunch of people. I have a friend who has a bar in Texas, and they'll throw on the playlist sometimes. We started with around 200 songs, and now we're at almost 400 on each one."