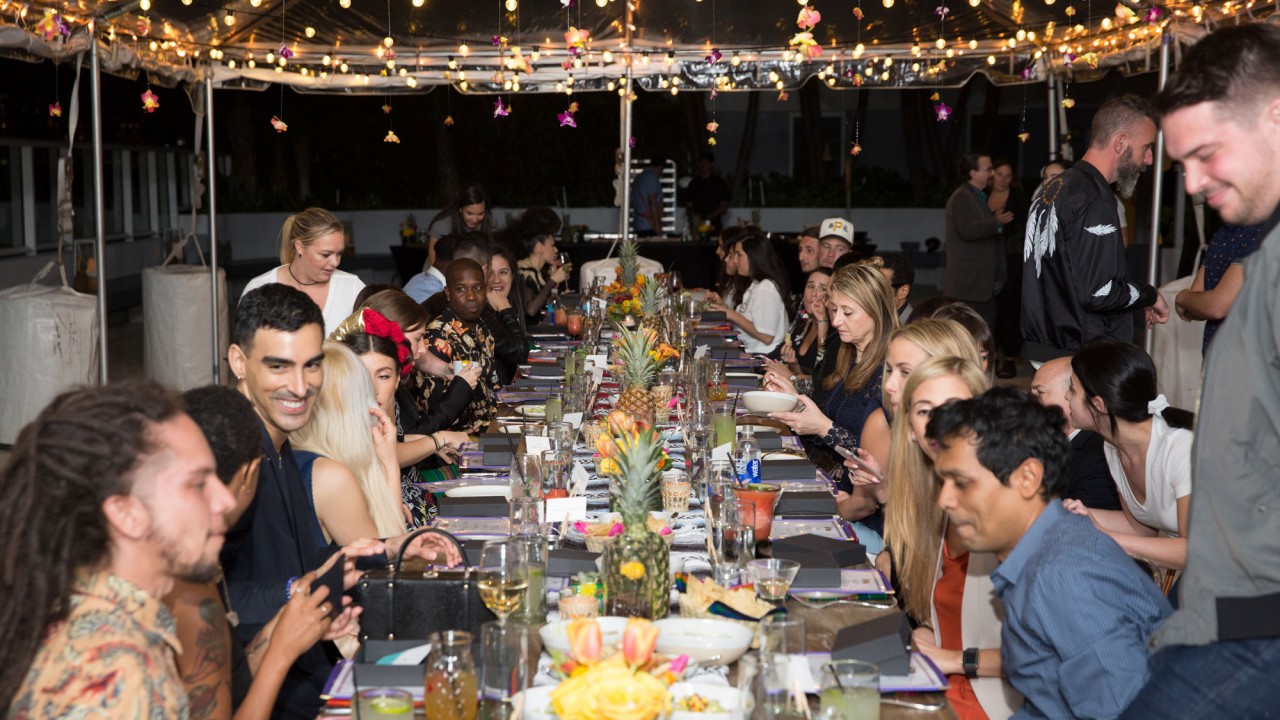 What It's Like to Attend W Hotel's New Invite-Only Dinner Party for Creatives
It's where the best conversations happen. In collaboration with W Hotels.
In the name of breaking the proverbial ice, we love to ask the question: What's your dream dinner party guest list? You'd be surprised how much you can learn about a person based on who they'd love to converse with over a branzino and glass of merlot. But when it came to asking ourselves what a dream dinner party would look like, W Hotels answered it for us. You see, they launched their Insider Collective dinner series, an invite-only event which brings together influential people to eat delicious meals and create a connection between the hotel and the local community. They let us put together our dream dinner party IRL to kick things off.
Picture this: all of South Florida's creatives in fashion, photography, and design, dining on Mexican fare from the soon-to-be-opened El Vez, set on the backdrop of the brand-spankin'-new $55 million renovation of W Hotel Fort Lauderdale. The likes of Andrea and Amy Fernandez (jewelry designers of Aman Jewels), Miami Dolphins' Reshad Jones, and stylist Lara Estefan Coppola schmoozed the night away. We eavesdropped and interrupted for some one-on-one time with a few of them before everyone grabbed their Haerfest hand-painted passport cases by Logan Real and called it a night.
Andrea and Amy Fernandez
Designers, Aman Jewels
Favorite place to travel for inspiration:
Amy: "Amalfi Coast. Its colors, textures, and nature; the sea, flowers, and porcelain goods are a primary source of inspiration for Aman Jewels' collections."
Andrea: "For me, it's Mexico City. The juxtaposition of urbanism and traditional architecture, the vibrant colors, and the fearless women."
What's your secret talent?
Amy: "Cooking without recipes. Everything turns out delicious!"
Andrea: "Writing fiction."
Lara Estefan Coppola
Stylist
How do you describe Florida style?
"Forever Gianni!"
What is your dream room service order?
"Is there really anything better than a room service burger?"
Three words to describe W Hotels:
"Chic, stylish, and beautiful!"
How do you describe Florida style?
"Floridian style is going through an evolution, and it's chameleonic. If you are close to the beach during the day, expect flip-flops and t-shirts. As you dig deeper into the different cities, there's an eclectic elegance, and yet, when the night comes, expect lots of glamour."
How do you describe the connection between travel and creativity?
"Travel is the biggest fuel for creativity; it opens up your mind to all the possibilities of life. There's nothing more enriching than exposing yourself to different colors, smells, and ideas. It forces you to step out of your comfort zone and imagine new possibilities."
Aja Butler Burns
Jewelry Designer
Favorite taboo dinner party topic?
"I usually end up talking about becoming vegan. I don't like to bring the mood down, but I'm also super passionate about it, so I try to read the room."
Favorite thing to do during a hotel staycation?
"Get a massage! And lounge in the cushy robes."
How do you describe the connection between travel and creativity?
"I often travel alone, and when I do, I'm inspired by my own independence to survive on my own. I feel anything is possible."
What's your dream travel destination?
"Japan. I went 11 years ago, when I was in college, and can't remember much about it. I'd love to revisit."
Favorite thing to do during a hotel staycation?
"Lay in bed. I travel so much, when I'm at a hotel, I like to reap the benefits: bath, room service, the works."