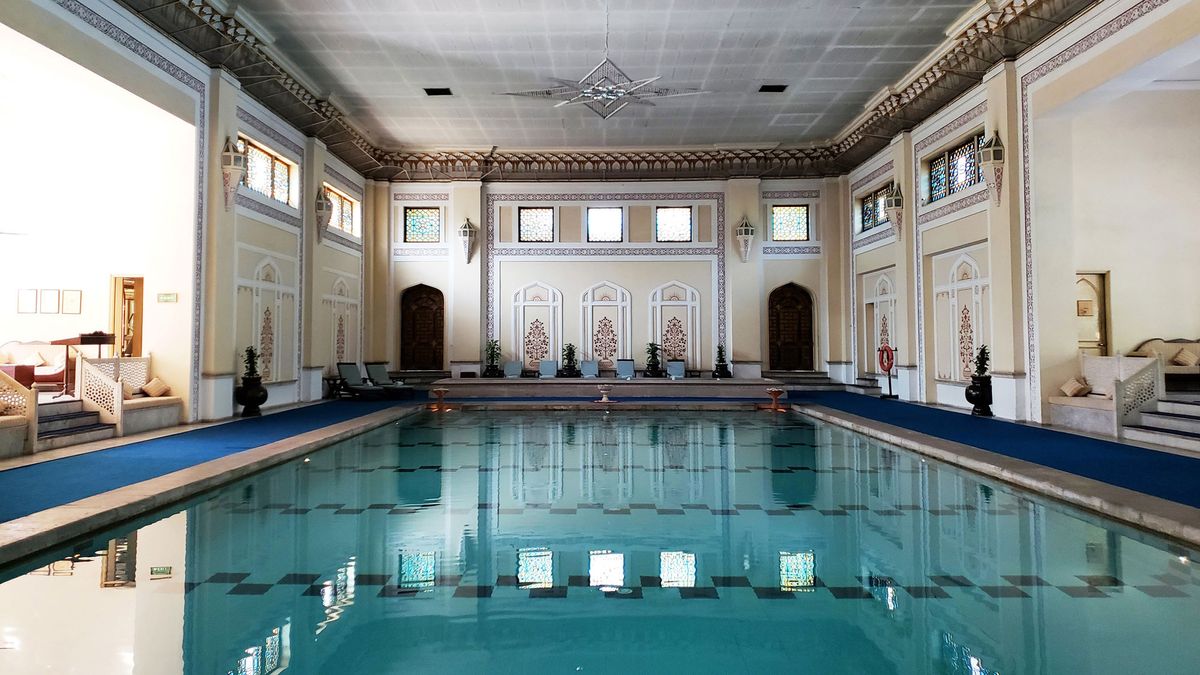 Interiors
Inside an Indian Palace Where You'll Eat Off of Real Gold
Peacocks roam and flute players hymn in garden courtyards of Rambagh Palace. Yeah, it's heaven.
Noah Lehava
Close your eyes. Squeeze those eyelids tight until they're crinkly. What do you see when you picture heaven? Golden-hour-washed arches lining marble hallways, red and white striped jumbo umbrellas (something Dr. Seuss dreamt of, I'm sure) to dine under, peacocks spreading their plumes at every corner, perhaps? Now open them. Board a flight to Jaipur, Rajasthan, in India, and make your way to Taj Rambagh Palace, because this place, my friends, is heaven incarnate.
Built in 1835, the palace was the residence of the Maharaja of Jaipur and his royal family, until 1957 when it was converted and restored into the Taj Hotel Group's 78-suite property. The grounds are impeccable with deep pink bougainvilleas and Mughal star-shaped shrubs, and birds literally dance through the air as you walk by. Inside, hand-carved marble latticework and ornate Rajasthani wallpaper lead you to the suites, each of which is infinitely different than the next. Mine featured a two-story all-white marble bathroom and a cozy alcove for morning tea.
As for dining, how about enjoying tali off of real gold-plated flatware in the 18th-century royal dining room, Suvarna Mahal, a garden-fresh lunch in a jasmine-flower-draped gazebo, or enjoying a cocktail in a mother-of-pearl chair in the dark and moody Oriental room? Yeah, it's good, guys. There's so much over-the-top luxury, you're going to have to click through the below and see more for yourself.
---