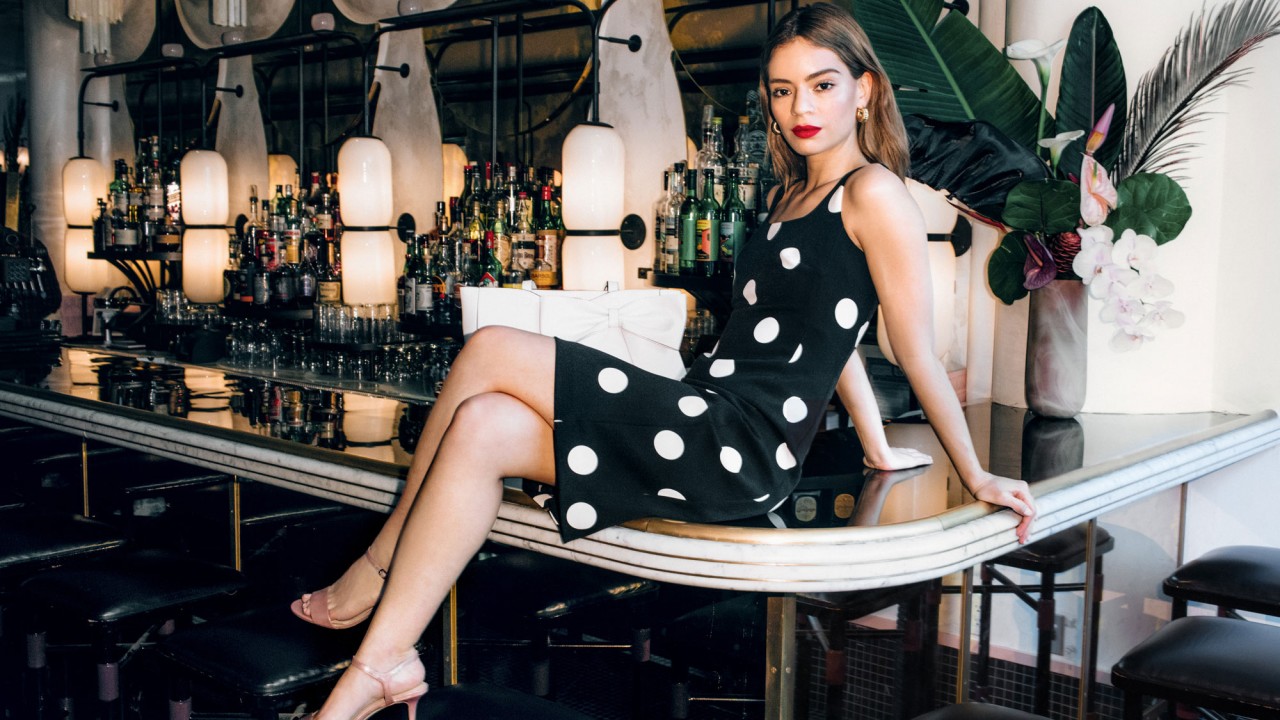 The French Girl's Guide to Fashion, Beauty, and Wellness
Leave it to Coco Baudelle to inspire our next trip to Paris.
In collaboration with Karl Lagerfeld Paris.
No matter how hard we try, it still seems like we're always chasing the certain je ne sais quoi of the quintessential French girl. You know the one—she has that perfectly tousled hair, always in a chic but never overdone outfit, and knows exactly where to go for an incredible cup of coffee (or champagne, depending on how you're feeling). But the beauty of living in New York is that there are always people and places to help you replicate a leisurely afternoon wandering the streets of Paris without ever leaving your neighborhood.
To get the intel on creating the ideal Parisian day, we decided to consult actress, screenwriter, and model Coco Baudelle, an impossibly cool New Yorker who, since moving to the city from Montreal, has mastered the art of channeling her inner Parisian girl (no doubt she's taken after her mom, who's French). Of course, the day wouldn't be complete without a few outfits by the iconic Karl Lagerfeld Paris, meaning there was plenty of minimalist shift dresses, to-die-for sandals, and the perfect lowkey jeans-and-a-tee combo that we need in our closets immediately.
"There's always been an aspect of romance in how I dress," says Baudelle, after slipping into a polished, polka dot dress for a round of afternoon drinks at Elsa in Brooklyn. "The pieces I obsess about always have this nostalgia, whether it's for an era or colors and shapes that were present at a different time of my life. Right now, I look at photos of my mom dressed up at a restaurant [before I was born] and that's how I want to dress. [Wearing this] feels like an homage to Paris." We inquire how all French women seem to possess that certain au courant style. "The French woman transcends fashion," she explains. "[She] is not only beautiful, but also liberated. She understands that a woman can be attractive without being too sexy, and strong without feeling bad about it." We'll happily clink champagne glasses to that.
Although Baudelle is, in fact, Canadian, we have to inquire how she's managed to perfect the style and attitude of the French. "It's this idea that French girls are effortlessly beautiful, in simple clothes, [and] almost no makeup," she explains as we wander to Veniero's bakery in the East Village for a coffee and some sweet treats. "It's a mystery here in America, because we live in a culture where beauty has become an art. Without makeup or styled hair we often feel incomplete, so when we see a French girl floating around with [tousled] hair and a candid joie de vivre, it's fascinating."
After diving into her favorite dessert—a strawberry shortcake topped with enough whipped cream to satisfy even Marie Antoinette herself—we begin to understand why our French counterparts might feel so carefree: there's never a wrong time to treat yourself, or prioritize your own personal wellness—in whatever form that takes—above everything else. Baudelle, embodying Parisian chic in a pair of relaxed blue jeans and knit tee accented with pearls, agrees. "I've come to realize that the most important part of wellness, beyond eating well and exercising, is good mental health," she says. "Surrounding yourself with people who nurture you, appreciate you and take care of you. Doing things you are passionate about, [and] giving back—those are the things that keep me driven, focused and peaceful."
"Without makeup or styled hair we often feel incomplete, so when we see a French girl floating around with tousled hair and a candid joie de vivre, it's fascinating."
After our blissful afternoon eating and drinking our way through the city, we join Baudelle back at her apartment to relax, play with her adorable dog, Frank, and listen to records, an activity she says is a favorite when she has visitors. "I would go buy flowers and get some natural wine to drink with my friends later at night," she says when we ask what the ideal end of her day looks like. And in case they want to have a French-inspired night on the town, she finally reveals her go-to beauty look to pair with a modern floral mini-dress from Karl Lagerfeld Paris."I always take care of my skin first, and then add something fun if I feel like it. Dewy skin is my favorite. I like to look like a fresh flower." Effortless and chic, of course.