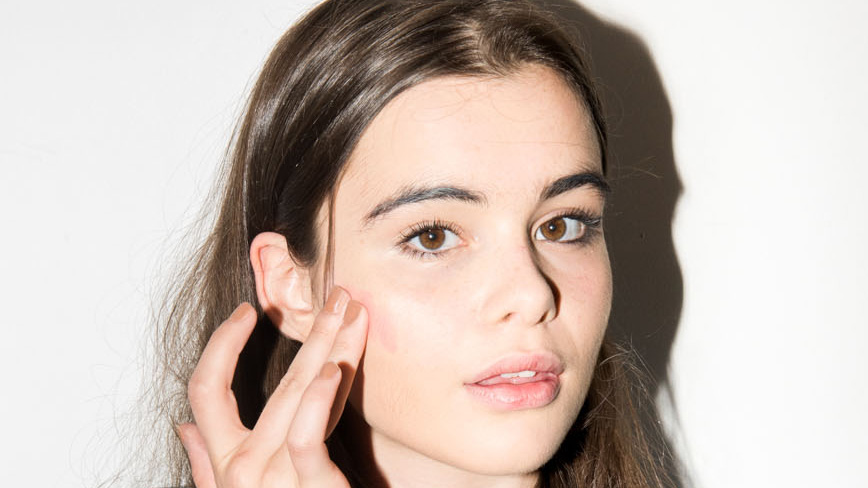 16 Ways to Get Glowy Makeup
We asked three of the most perfectly dewy makeup artists we know.
There are upsides to increasing temps, including that sumptuous glowy skin that humidity can bestow upon us. But that dewiness is not always in our control: Sometimes the AC saps us dry, and other times a muggy day makes us look like we're in the middle of a boxing workout. We asked three makeup artists their glowy makeup tricks to make skin look hot, hot, hot. But not, you know, too hot.
1. Prep with Serum & Primer. "For warm temperatures, a sheer application of serum like Chanel Blue Serum or Dr. Jart+ Ceramidin Liquid for oily skin, or a jelly pack like J.One Jelly Pack for dry skin, is key. Use an anti-shine primer like Dermalogica Hydrablur Primer on the front of your forehead, sides, and around [your] nose and mouth before foundation."
2. Highlight Before Foundation. "Apply a liquid or cream highlighter before complexion for that natural, glowy look. Yves Saint Laurent Touche Éclat Glow Shot Liquid Highlighters are in heavy rotation for my kit at the moment."
3. Bronze Yourself. "Give a natural sun-kissed glow by buffing in Giorgio Armani Maestro Liquid Summer Bronzer or Chanel Soleil Tan de Chanel around the hairline, cheekbones, down the bridge of the nose, and chin. Optional: I love to add a gel blush and am currently obsessed with Glossier Cloud Paint in Beam on the apples of the cheeks. For a more youthful flush, place the color higher on the cheeks."
4. Now Use a Cushion Compact. "The cooling, lightweight tint with [a] cushion compact that is my favorite foundation for humid summer days is AmorePacific Color Control Cushion Compact SPF 50. Feels like nothing on the skin, but you can build coverage to give a flawless, glowy complexion."
5. "Powder" without Powder. "Murad MattEffect Blotting Perfector is my new favorite product. It comes in a cushion compact and is amazing to set and take shine away without disturbing makeup. Perfect for touch-ups."
6. Top It Off with a Touch More Highlighter. "Tom Ford Skin Illuminating Powder Duo in Moodlight to complete the look and diffuse. This soft, candlelit glow looks perfect on the tops of the cheekbones, nose, and Cupid's bow."
7. Then Powder, Only If You Must. "If needed, powder strategically like the center of forehead, between brows, sides of nose, around the mouth. Laura Mercier Translucent Loose Setting Powder never disappoints for this."
1. Exfoliate, Then Hydrate Strategically. "Your skin can't glow if there's dead skin cells on the surface. I love Dr. Dennis Gross Alpha Beta Peel Pads or Skyn Iceland Nordic Skin Peel with Alpha Beta Complex. Use moisturizer that's hydrating but not overly rich, let it sink in, then see if you need to use an oil-control primer anywhere, especially in the T-zone. But consider where your skin is usually naturally hydrated with oils, like where your skin glows right after you wake up—don't matte those areas as much."
2. Switch Your Concealer. "You can keep your complexion routine the same, except you want a slightly drier concealer in areas where you get more oily through the day. I love NARS Soft Matte Complete Concealer for this. Key: Just use it only where you need it."
3. Use a Lower-Wattage Highlighter. "Highlighters like Glossier Haloscope and RMS Living Luminizer have texture that looks most healthy and natural and stays throughout the day. After your complexion product, use your fingertips to press the highlighter into the high points of your face, gently blending at the edges to make sure you have no hard lines."
4. Blot on the Road. "I love Tatcha Blotting Papers or MAC Next to Nothing Face Powder. It's probably the best face powder ever created, as it looks like an Instagram filter on your skin."
5. Refresh at Work. "If the AC is drying you out or before you go out after work, mist your skin with spray like Wei Beauty Golden Root Multi-Action Anti Pollution Mist, as this will refresh everything and create a dewy effect. Pop a little bit more concealer where you feel like you need it."
1. Start with a Mattifying Moisturizer. "These are hard to find, but the best one is La Mer The New Moisturizing Matte Lotion. This will actually hydrate your skin and control shine so that skin looks balanced once your glowy makeup goes on."
2. Surprisingly, Use Full Coverage Foundation. "There are tons of super sheer coverups, but then you have to put a lot on to make any difference. Instead, use just a little of a full-coverage liquid foundation, like the new CoverGirl Vitalist Healthy Elixir Foundation. Tap a bit under your eyes, on your nose, cheeks, chin, or wherever you need it most, then use a foundation brush like the Sigma F50 Duo Fibre Brush to blend."
3. Let it Set. "Don't powder right away. Wait for your skin to absorb the additional moisture or for the foundation to dry. Speed up the process with blotting papers, which will both press in the makeup for a smoother texture and remove excess oil. My favorite blot papers are Chanel Papier Matifiant de Chanel."
4. Powder Wisely. "There's usually no need to apply powder everywhere. The goal is to shine strategically. Keep highlighter mostly across your cheekbones, on your eyes, and the center of your lips. I use MAC Blot Powders on clients to simply get rid of excess shine in the T-zone and on the sides of the nose."