What It's Like to Have Rihanna Shave Your Head
The G-Star ambassador also reveals what it's like to have Pharrell be your mentor.
Beauty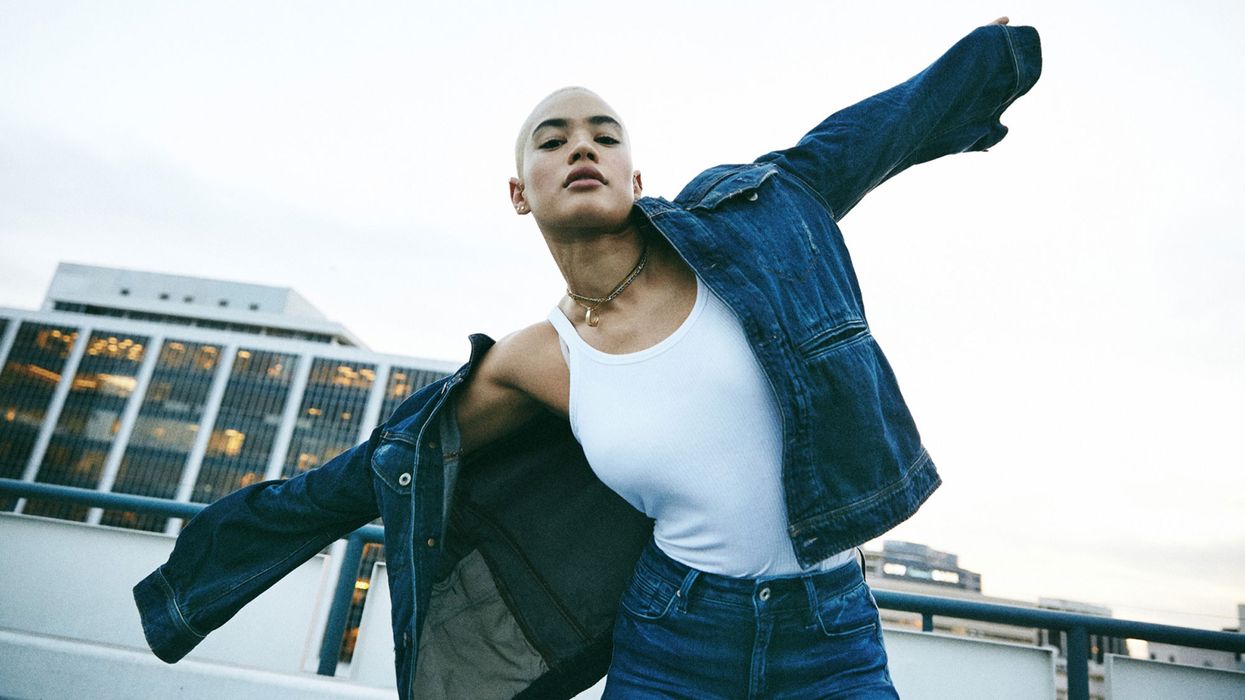 For most people, the idea of shaving your head is, in a word, terrifying. However, breakout dancer and Pharrell muse Mette Towley is in no way most people. First, she's refreshingly down-to-earth after skyrocketing to fame since starring in N.E.R.D's "Lemon" music video, and second, it was none other than Rihanna herself who first gave her the buzz. "To be honest, I wasn't afraid of it," Towley reveals when she calls from Los Angeles, where she is busy both preparing for her summer tour with the N.E.R.D and working with G-Star as a new ambassador for the brand. "Obviously, it was incredible to have her shave my head because she's such a prolific, powerful female figure, and I've looked up to her for many years and watched her career really just blossom into what it is."
We have to know if there was ever any hesitation to work on the video after they told her she'd need to abandon her curls. "I was like, 'Yes, are you kidding me!?' I wasn't nervous about it." And what about when she heard that Riri would be the one holding the clippers? "She was a very sweet, gentle person," says Towley. "She combed out my roots before she actually shaved my head so she wouldn't tug on my scalp. That was a really kind gesture. Just that simple consideration made that whole experience really easeful." We got the whole scoop on her experience working with Pharrell, the trick to keeping her still-curly hair manageable, and the four products she always has with her on set when she's performing. Plus, check out the exclusive video from G-Star of Towley dancing in the epic new jeans campaign.
---
How long have you been a dancer?
"I've been dancing and performing my whole life, since I can remember. My family was always super supportive of self-expression, and I just learned really young that was something that made me feel really good and empowered. I just kept doing it. I really took it seriously when I got to college and realized it was something I wanted to do professionally."
Tell me about your creative relationship with Pharrell and the impact he's had on your career:
"Pharrell is an incredible mentor. I've been working with him as a dancer for four years. Specifically with the N.E.R.D project, he really opened the doors of his studio to me to come in when they were creating the album and listen to the music and have a free space to dance. Even in the early morning session, there was incredible energy in that room. He's super supportive of my performance, and being in that space where you're watching one of the most incredible creatives in the world work, but then also [have him] support you to engage in that process, even just by being in the room... I think he really understands that presence is powerful."
What was it like working with him on that album?
"I wasn't playing any instruments, but a couple times he would say, 'I need someone to sing on this part, so Mette, go in the studio and say this line.' I think that that type of trust was created through our working environment over the last three years. Every performance where he had dancers, I was committed to being there and performing my absolute best. It's a really amazing evolution of that to then being in a space where he and N.E.R.D are creating this new album that has an incredible socio-political message, and being able to be free to have conversations about the lyrics, and obviously what an honor to be asked to go into the booth to lay a couple vocal tracks as a background vocalist. It's incredible to have that space with someone that I admire."
Do you plan on keeping your buzz from the video?
"Yes! I'm really looking forward to going on tour this summer with N.E.R.D, and my shaved-head look is a part of that character that I've gotten to work on and create with them. I'm really excited to be onstage and be performing that with them for the fans and bring 'Lemon' to life as well as the other songs on the album with that look."
When did you decide to bleach your hair?
"I bleached it in January on a whim. I had never dyed [my hair] prior to that. One day I was at CVS, and I saw this bleaching kit, and I just picked it up and brought it home and bleached my hair. I do it myself. It's really fun because it's a different shade of blond every time. I'm really careful with it because those are chemicals that you're putting on your scalp. I try not to do any damage. I had curly hair for so long—it was a part of my image as a dancer in L.A., and I thank my curls because it got me the Pharrell job initially, but now I'm so excited to experiment with expressing myself with my hair."
Is the blond here to stay?
"For about three days—and this was where my at-home dyeing techniques went a little wrong—I did this shade of blue. I went from blonde to this shade of blue, and it turned into this interesting aqua, like this punk-rock kid. Imagine a seventh-grader who got a bleach kit from CVS and some Manic Panic and attempted to do it themselves. That was really fun for like three days [laughs] but I like blond better."
What's the weirdest beauty trick that you've learned on set?
"I used to use lotion for my curls. I actually still use lotion on my hair. I usually shave my head at a 1, but when it's blond, sometimes I'll do a level 2 or 3 just so that blond really pops out. But my hair is curly still, and it starts to fray up a little bit, and what I really like to do if I don't have gel—which I usually don't—I'll wet my hair and put lotion on my hands and brush my hair down from my crown to my hairline on my forehead, and it kind of gives this cool sleek gel effect. It doesn't last long, but it gets the job done for me [laughs]. Or even a conditioner will give my hair that beautiful sleek effect, and I'll just run my hands through it."
What's your makeup look of choice when you're performing?
"I love a dewy face, strong brow, and to look fresh. I like to enhance my cheekbones, freckles, my full lips, my unruly, bushy brows. Those are things that I really love and embrace and show off. I always have a brow brush with me or a brow gel. I like to have a little bit of highlighter for my cheekbones. Rosewater spray gives me this beautiful dewy effect. I use a little bit of concealer depending on how much water I've been drinking and how much sleep I've had. I think the time we're in is really amazing because more people are starting to look at themselves in the mirror and really celebrate the unique qualities. When you look at beauty campaigns, you see so many different kinds of people and variations of beautiful, and to know that that spectrum is just growing and becoming more inclusive—it's just a really inspiring thing."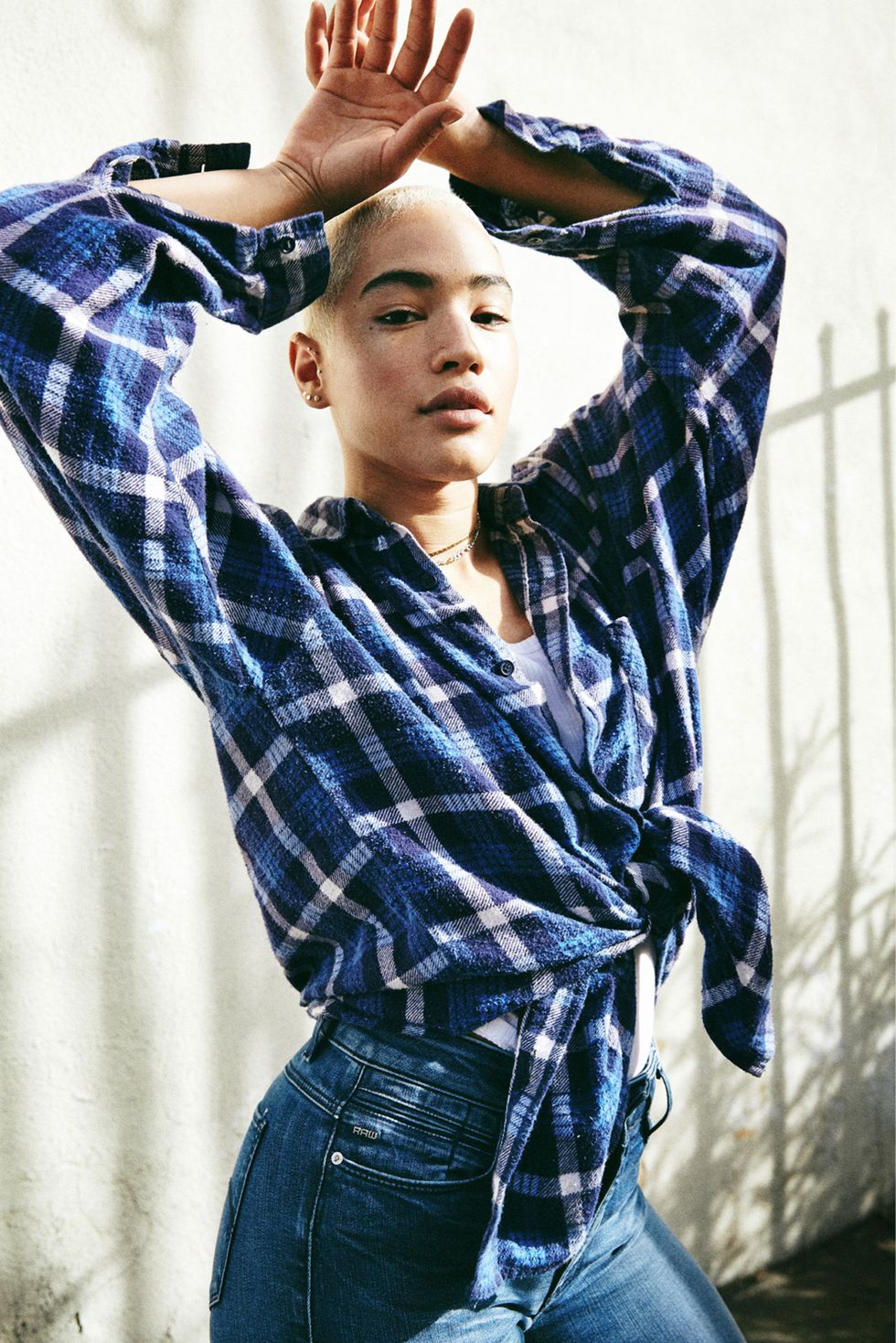 Tell me about your relationship with G Star. How does the brand coincide with your personal style?
"I recently got the opportunity to work with them on a campaign for the new denim that celebrates the female form. I'm always celebrating my skin and finding silhouettes that complement me in different ways, [and] one thing I love about G-Star is that they're so innovative and they really open up the boundaries for women's fashion. When I go into a G-Star store, I can find a baggier denim in the women's section and more form-fitting denim. Whether I'm going to a casting or we're rehearsing or shooting or even time off with my friends, I'm never married to a particular silhouette. G-Star really gets that. When we were shooting together, they were really honing in on me being able to just express myself."
What do you prefer to eat before you have a long shoot or a full day of dancing?
"Water, water, water! Being dehydrated can make you lose focus when you're in a long rehearsal. Also a lot of protein—it's essential for keeping your joints and muscle tissues healthy as you're dancing on concrete or doing whatever you have to do throughout the day. I go for a protein bar with a bit of fiber in it, and I put a little electrolyte powder in my water to keep me going. I really enjoy having a tea, which helps my body digest before a shoot and feel revived the next morning. It's nice to feel like you're giving your body everything it needs so it can really serve you. You have to think about that as a dancer. It's really important that that relationship between you and your body is a sound one. Because it's an exchange, you know? The more you ask of your body, the more it's going to need that care."
How do you think the dance world has evolved in the past few years?
"I'm really excited that dancers are taking ownership of the dance industry. Social media has shifted the way we audition and get jobs, especially in Los Angeles and in the commercial world. You can take ownership of your professional identity. You can push yourself into different job spaces that you may not have had access to just from posting a class video. The way that we share dance with the world has changed, and I think it's for the better. Dancers are really inspiring people to become dancers with us and to enjoy music in new ways. Dance has this incredible way of bringing music to life, and we can take ownership of that in new ways. That's really cool."
Photos and video: Courtesy of G-Star
Want more stories like this?
How This R&B Singer Keeps Her Skin So Perfect
The Secret to Chloe Nørgaard's Rainbow Hair
This Model Loves Her Crooked Teeth and No, She Won't Fix Them