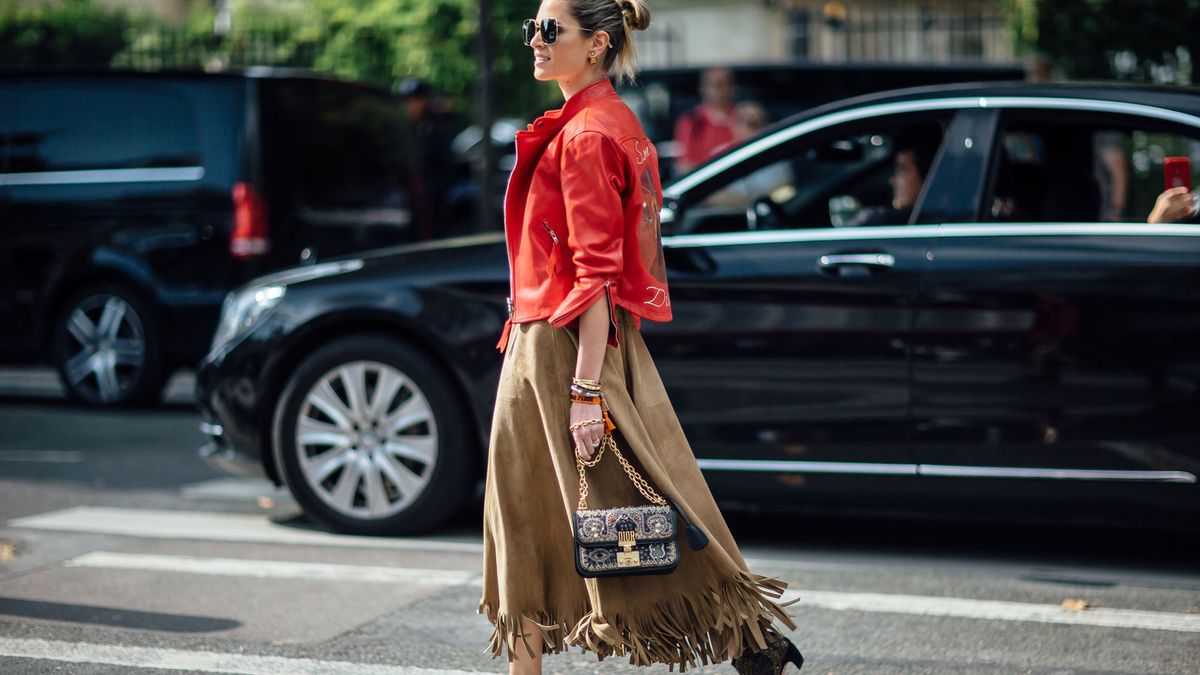 Fashion
How to scroll into Spring.
Paige Campbell Linden
I think I've lost my closet. Or maybe it's just that my room has become my closet and it's impossible to differentiate the two. You see, right now, everything I own is currently sprawled out on my floor (this includes winter outfits, spring outfits, and about ten notebooks). I'm not proud of this but it's also become unavoidable at this point. 
The chaos of Fashion Month, traveling for work, and being in the process of moving to a new apartment with my boyfriend are my top three excuses for living in a pile of filth clothing. My fourth excuse is that I've forgotten what spring feels like (it started in NYC with a snowstorm) and am having trouble deciding what I need to store, what should be readily accessible, and what I should add to my wardrobe.  
Luckily, Instagram is jogging my memory about the types of pieces I'll *hopefully* be in soon. Skirts without tights! Shoes without socks! Glorious exposed arms and legs and shoulders and toes! If you're up against the elements like we are in the Northeast, here's how to shop the best spring outfits without ever leaving your couch. 
---
Where to find the perfect white blouse:
Courtyard LA
Nothing says spring like a perfect crisp white blouse. This one checks all the it's finally spring!!! boxes with a wrap silhouette, puffed sleeves, and a deep V.
The best place to start collecting Spring dresses:
The Corner Store
The Corner Store is one of my favorite vintage shops on Instagram. I actually have my push notifications turned on for it because I want to make sure I don't miss my chance to buy a single thing they post. I bought the dress in the above photo (I'm actually wearing it now as I type) and have never received so many compliments. Needless to say I'm on the insta prowl for my next spring dress and I know for a fact it'll come from here.
For the occasional cold day/cold night:
Equihua Official
The dip in temperature on a brisk spring night feels nice, but it'll be even better with a blanket jacket—a floral one, of course, to stay on brand.
For the occasional extra hot day:
Haight Swimwear
The random days when there's an extreme increase in temperature can be great, especially if they lead to impromptu beach trips.
How to find your next favorite pair of vintage jeans:
Duo NYC Vintage Levi's
Few things are more liberating than throwing on a great pair of jeans, a top, and nothing else. 
The shoes that you will inevitably wear with everything:
Nicole Saldana
Nicole Saldana, take all of my money (but please send me these shoes and every other pair you make.)
Jewelry that'll feel as dreamy as the weather:
Lucia Zolea Vintage creations
Lucia Zolea is one of my favorite late-night Instagram discoveries. I also recommend putting on push notifications for this one so you can be alerted to the next dreamy, one-of-a-kind, handmade vintage earring drop.
What to do now that the sun is a thing again:
Giant Vintage sunglasses
The bag that'll take you from the office to a picnic:
Aurore Van Milhem Gabie Bag
Essentially French girl chic in bag form.
Totes for oranges:
Lisa Says Gah
Whenever Spring rolls around I suddenly decide I must subsist on salads, watermelon, and orange slices. According to the FW18 runway oranges are also a new accessory trend, which means I'll need a great woven or see through tote from Lisa Says Gah.
That extra logo piece:
Treasures of NYC