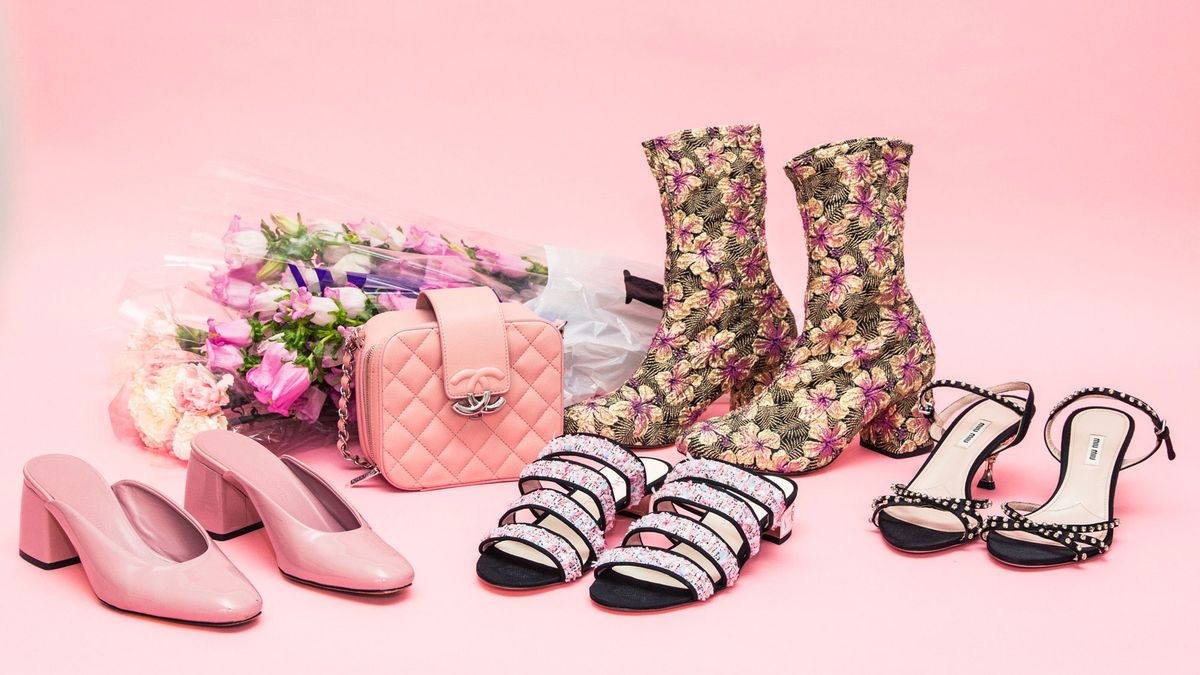 Trends
Get prepared to just be extra.
Alec Kugler
Laurel Pantin
Styling Assistant
Tara Gonzalez
When it's cold out, reaching for a pair of sunglasses or a cute bag somehow becomes the last priority of any outfit. (It's cold! We're trying to be practical and bundled up.) But spring is coming, and the on-trend accessories this year are extra as hell in the best way possible. Lilac worn with pink worn with yellow. Purses with sequined flowers and cherries. Logos on everything that logos could possibly be put on. Let's just say there is a lot more to look forward to this season than the weather. Here are the 10 trends we're excited to see everywhere this spring.
---
Wear actual flowers from the corner deli IN your shoes and/or clothing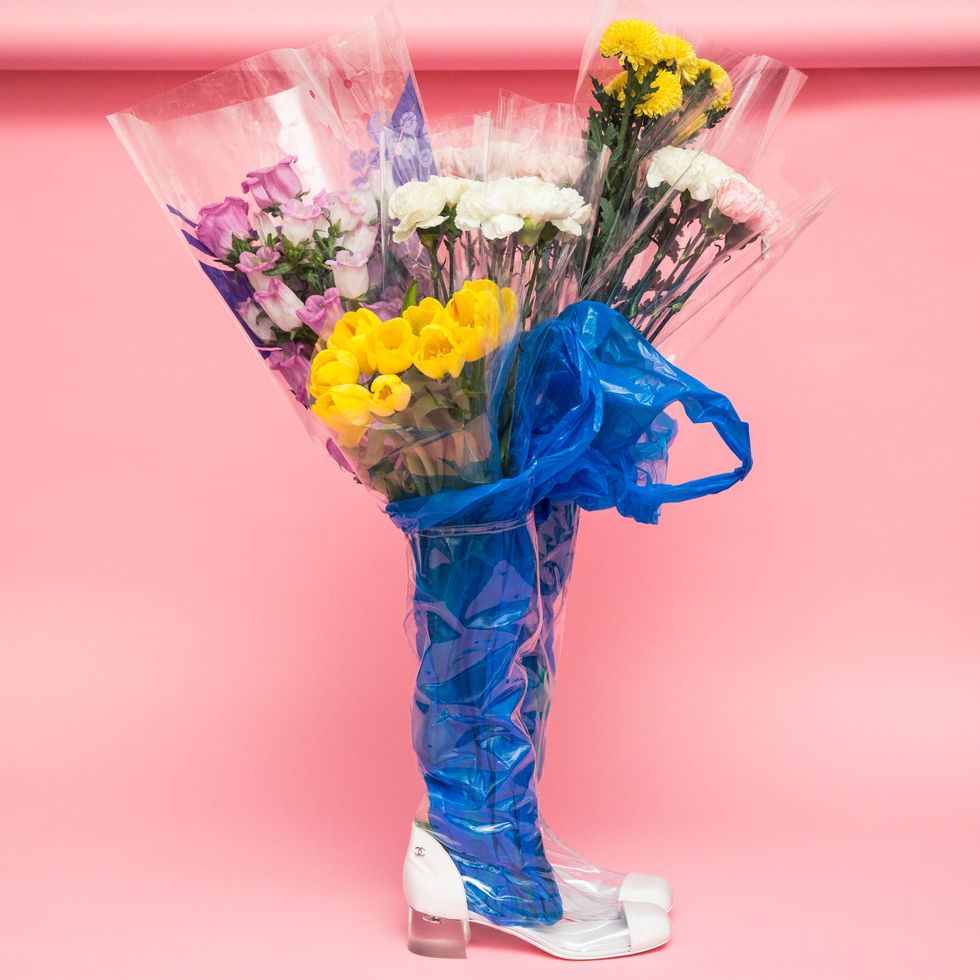 Credits: Boots, CHANEL.

Florals for spring? Groundbreaking. But actually they can be, if you wear them on your body instead of on your clothing. No patterns, no embroidery, just actual bodega flowers stuffed into the side of your PVC boots (preferably CHANEL), the pockets of your dress shirt, or wrapped in a thin white dress sheet a la Gigi Hadid at the Moschino SS18 show.
The sun is finally out—so wear it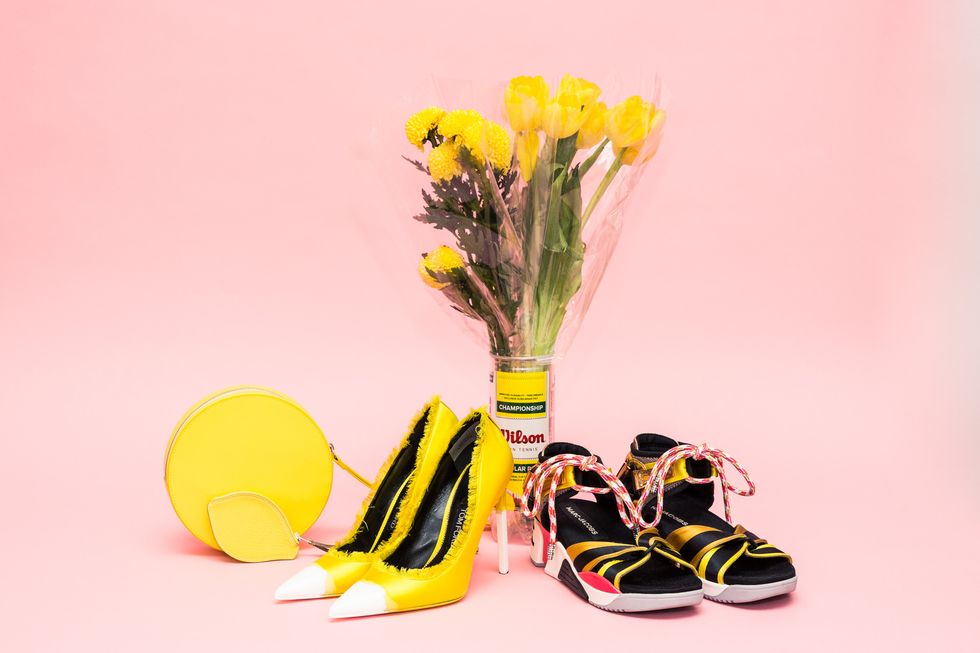 Credits: Bag, Building Block; Lemon coin purse, Hermès; Heels, Tom Ford; Sandals, Marc Jacobs.

There was a time when yellow was just a color you looked at but didn't wear. It makes sense. Yellow is loud and bright and has the tendency to bring to mind your favorite emoji or Big Bird. Blame it on the millennial pink fatigue or on everyone's anticipation of sunshine in light of the recent crazy climate (thunder snow?! HOW!), but we've been seeing it everywhere. If you're unsure how to wear it, a yellow citrus-shaped coin purse or a pair of sunny Tom Ford pumps is a great way to start—it'll add a nice pop of color to an all-black outfit or be the lemon on top of a maximalist rainbow #ootd.
Wearing barely any sandals at all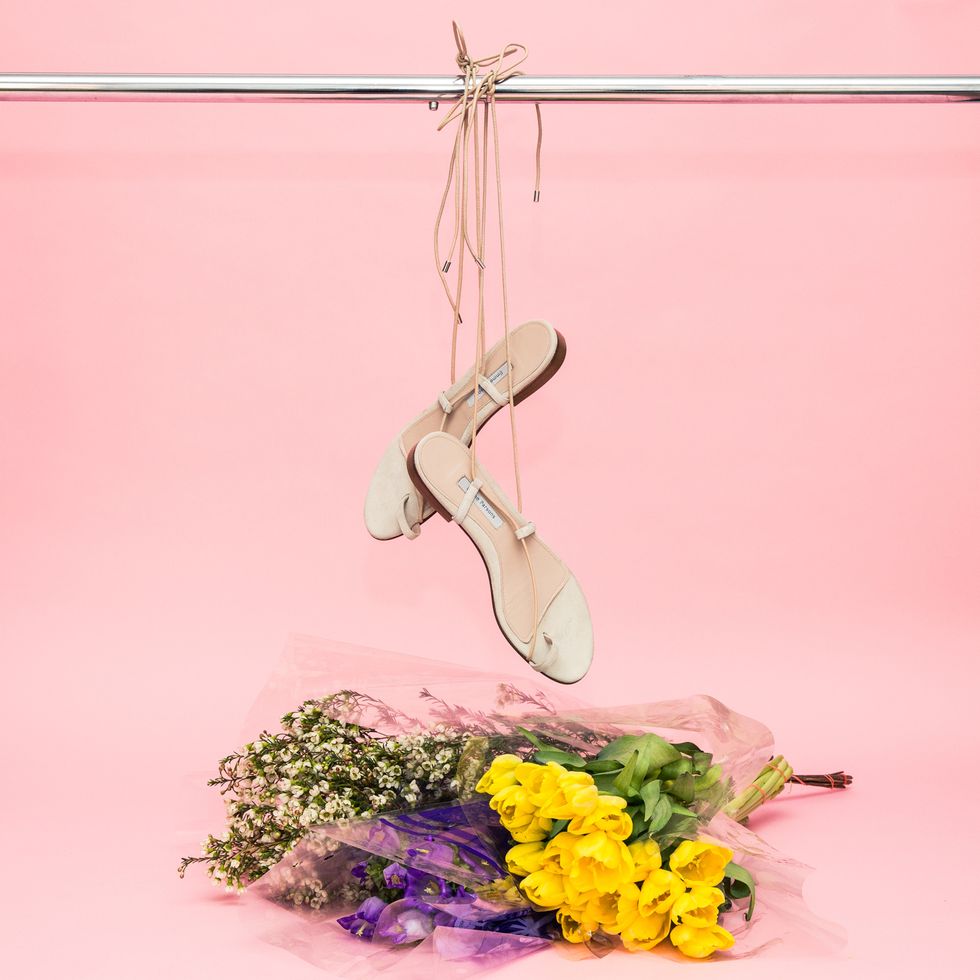 Credit: Sandals, Emme Parsons.

Do it because Phoebe Philo would have wanted you to. There has definitely been a shift away from minimalism in the past year, but Philo's departure from Céline has a lot of us mourning and cherishing all of the incredible style moments she created with so little—color, material, complexity. Something tells us she'd be all about these sandals that are nothing more than string and a little bit of sole.
There's a straw bag 2.0
Credits: Red Basket, Amélie Pichard; Wedges, Michael Michael Kors, Sneakers, Hermès; Woven Tote, Loeffler Randall.

Jane Birkin, Alexa Chung, and any French girl (or any girl who has a certain je ne se quois) owns a straw bag. They all vary in size and shape, but for the most part they look the same and have populated our Instagram feeds for the better half of the past two summers. If you like the look but don't want to look like everyone else, consider getting one in red or buying a pair of hand-woven sneakers, heels, or totes instead.
Logos aren't embarrassing anymore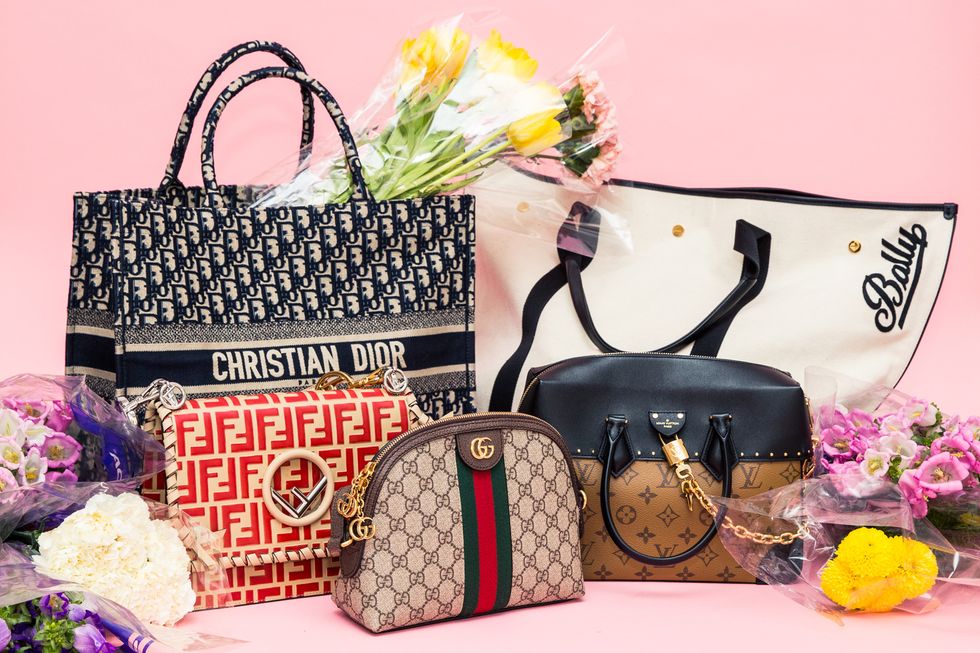 Credits: Clockwise from top left: Dior; Bally; Louis Vuitton; Gucci; Fendi.

After the era of Paris Hilton's "that's hot" and Juicy Couture tracksuits (particularly those bedazzled on the butt with words like "bling"), people were a little tired of name brands or at least of their logos. But just like every other trend, that of the logo is cyclical, and you'd be hard-pressed to find someone who wouldn't gladly accept a monogrammed Louis Vuitton bag or one that proudly screams Gucci, Gucci, Gucci.
Ditch the white sneakers in favor of the chunkier alternative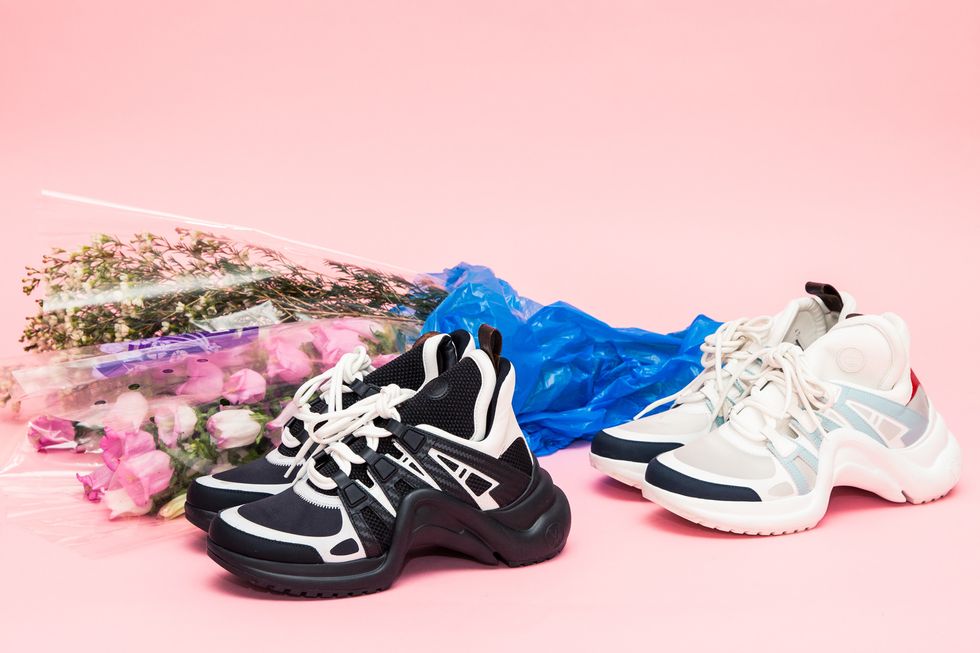 Credits: Sneakers, Louis Vuitton.

They've been called "ugly," and they've been called "dad shoes." But it's hard to deny how cool they look regardless of how clucky and out-there they are. As you know, normcore is out, so trade in your Stan Smiths or AF1s for a pair of these amazing Louis Vuitton ones. They go with nothing and somehow everything at the same time.
Become a cowboy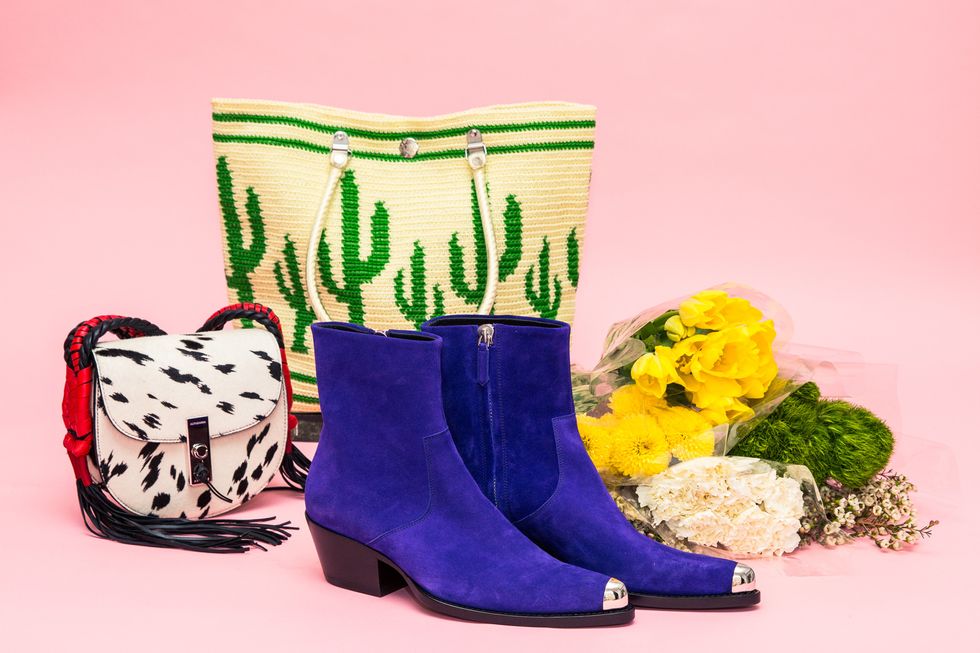 Credits: Boots, Calvin Klein 205W39NYC; Satchel, Altuzarra; Tote, Skipping Girl.

The world is kind of like the Wild West right now, so why not dress the part? Throw on a pair of cowboy boots, embrace the fringe, and bring your succulents with you everywhere.
Make sure everything you wear is as extra as possible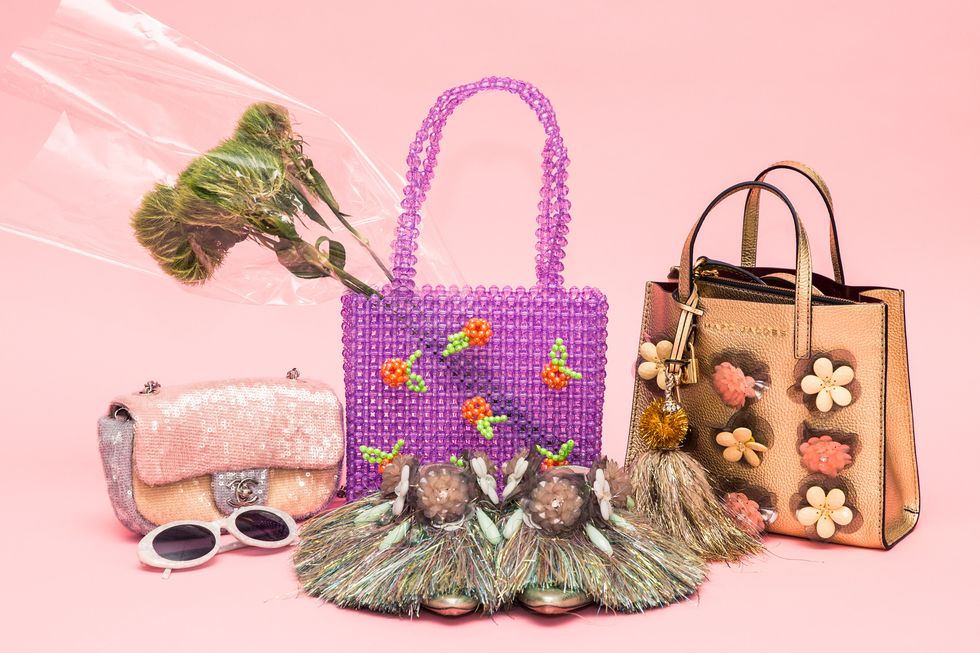 Credits: Clockwise from top left; Sunglasses, Roberi and Fraud; Bag, CHANEL; Purple Tote, Susan Alexandra; Tote and Mules, Marc Jacobs.

Maximalism is back, and that means all of your accessories should be doing *the most.* Flowers that (literally) pop? Yes. Beaded fruit? Yes. Sequins and fringe in every and any color possible? Yes, yes, annnnnnd yes. Embrace the extra.
When you can't wear fluffy jackets anymore, you can always wear a fluffy bag
Credits: (From L to R) Brother Vellies, Sandy Liang, KARA.

If there is a part of the bitter never-ending winter that's hard to part with, it's the jackets, the coats—the shearling and the fluff. What's better than a really good, really fluffy coat? A fluffy bag! It's like a coat you can hold no matter the temperature. You can also wear it on your back, in your hands, or thrown over your shoulder with a studded strap.
Pink isn't going anywhere—but make room for lilac as well