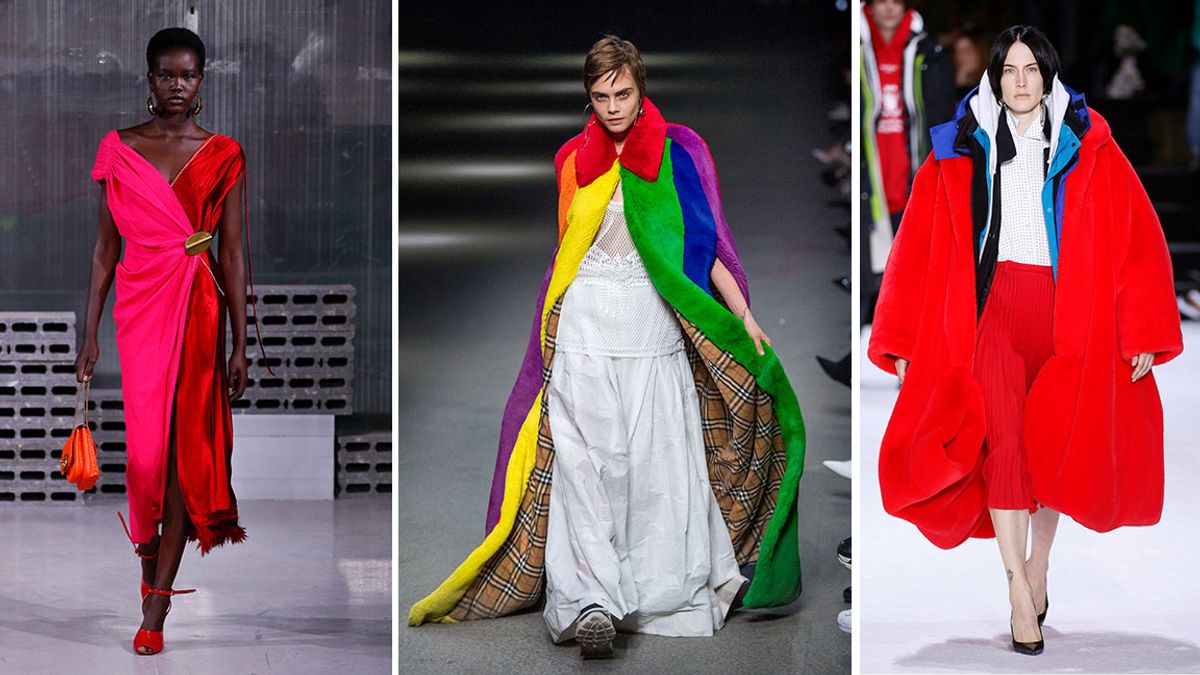 Trends
In 2018 flaming hot Cheetos, double dresses, and dragons are in.
It's the first day of spring, and if you're anything like me, you're doing everything but cleaning out your closet. I'll get to it...eventually. Instead of focusing on getting rid of clothing, I'd rather reminisce about fashion month and all of the trends and snacks I need to start investing in now.
If you'd like to join me in avoiding that pile of chunky sweaters (and empty water bottles...and random receipts from three months ago...and probably my missing iPhone charger) sitting alongside the bed, here are 10 fashion trends to think about. They're bound to be everywhere this year and can also be found anywhere—from Fifth Avenue to your local bodega.
---
Dressing for the extreme weather you don't really want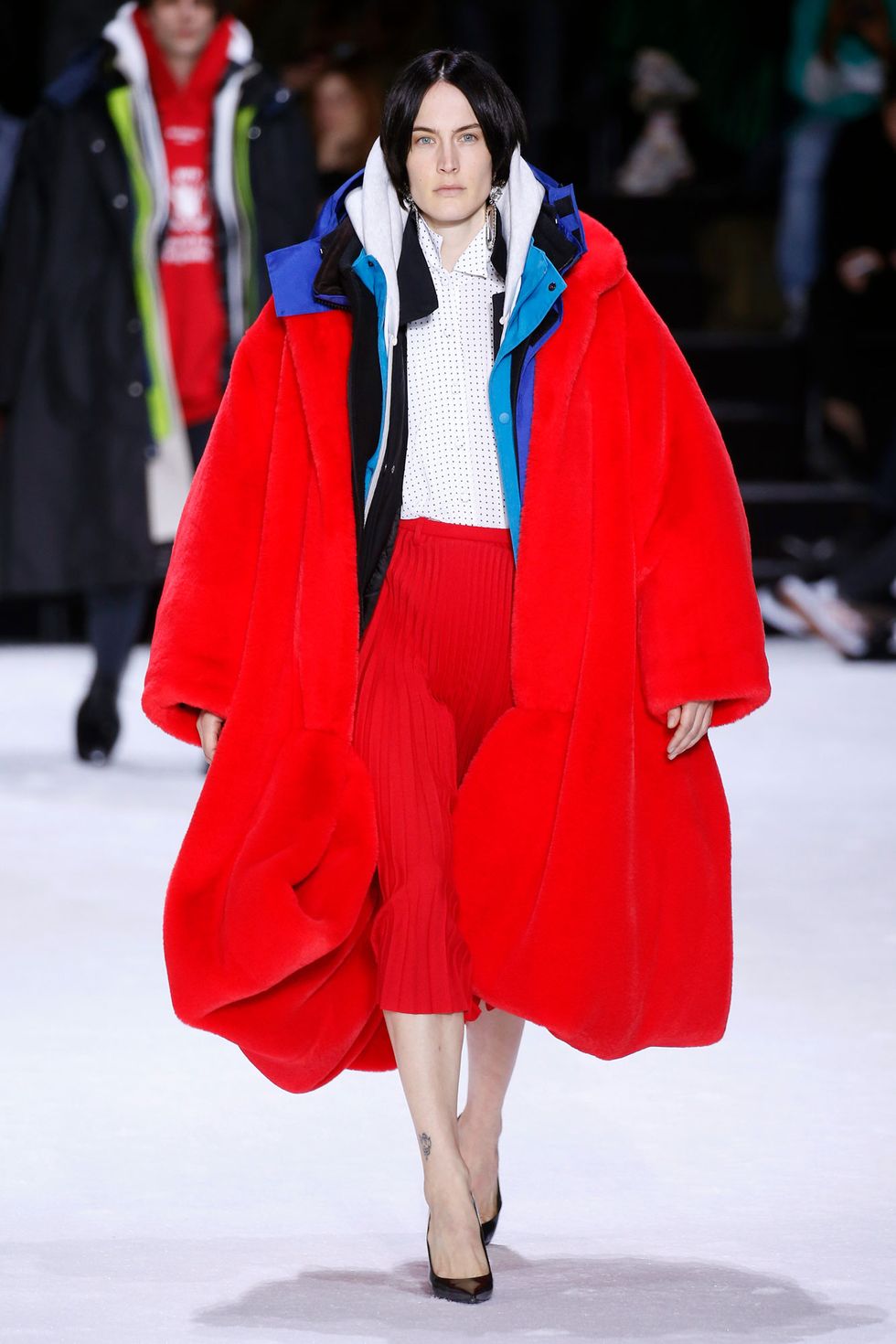 Photo: Getty
Extreme winter weather is a buzzkill—we know—but instead of dressing for the temperature you want (crop tops, mini dresses, and shoes that let your toes peek through), consider just embracing the chill. Wear ski masks like they did at Calvin Klein, drown in layers of oversized scarves like Versace, channel Jil Sander by wearing your duvet out of the bedroom, embody Balenciaga by layering every jacket you own at once, or just invest in an incredibly chic Moncler puffer coat that's large enough to live in.
Leaning into your favorite fantasy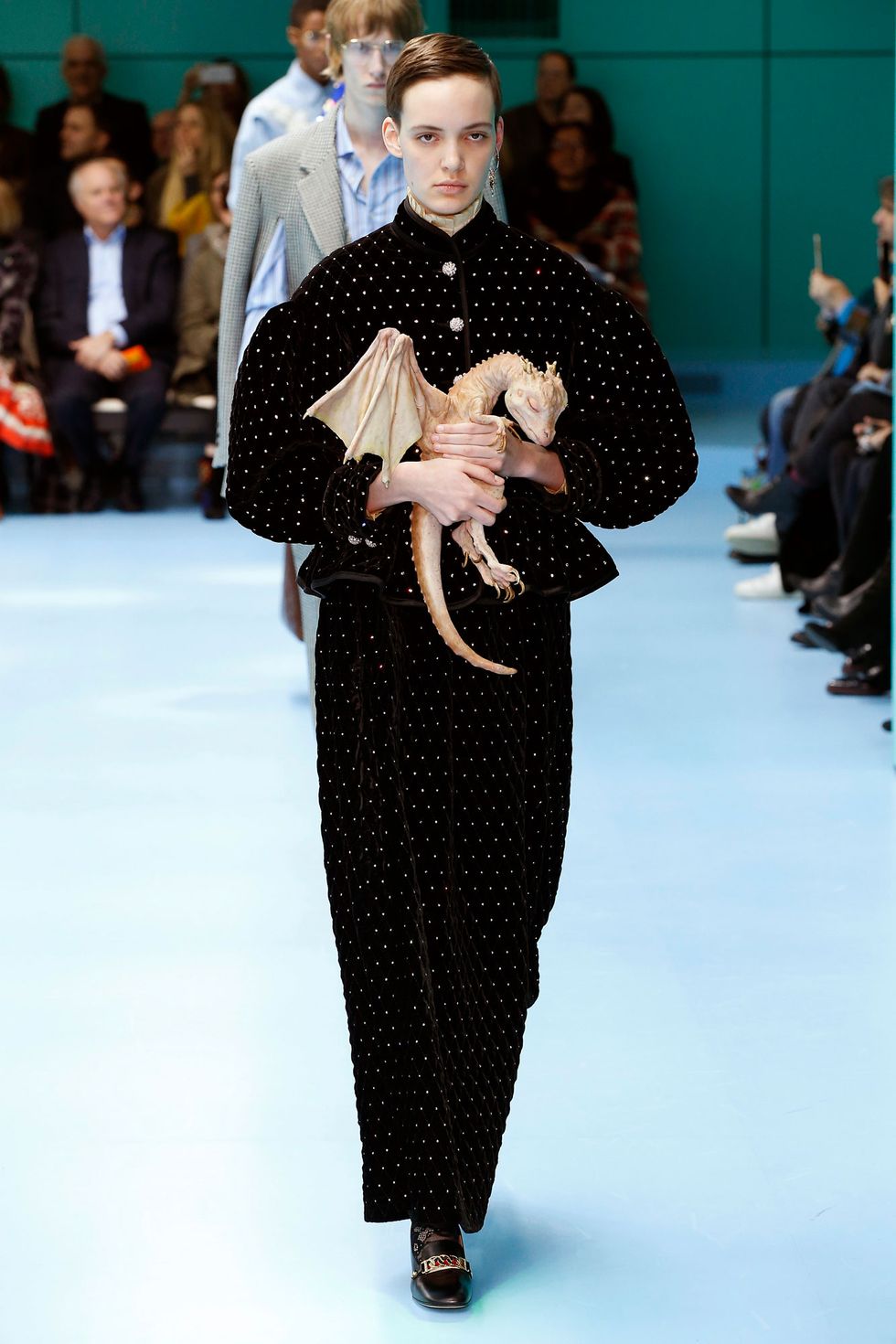 Photo: Getty
This one sounds scandalous but is actually pretty wholesome. Right before fashion month started, an incredible Instagram account was born, Gryffindior, and it is exactly what it sounds like: Dior outfits photoshopped on the likes of Hermione, Harry Potter, and Draco Malfoy. It unexpectedly foreshadowed the fall 2018 runways' obsession with alternate realities and fantasies. There were drones carrying handbags at Dolce & Gabbana and models cradling baby dragons at Gucci. If you've ever wanted to dress like an extra from Blade Runner or Star Trek, now's the only time you can do so in Prada.
Shining bright like a diamond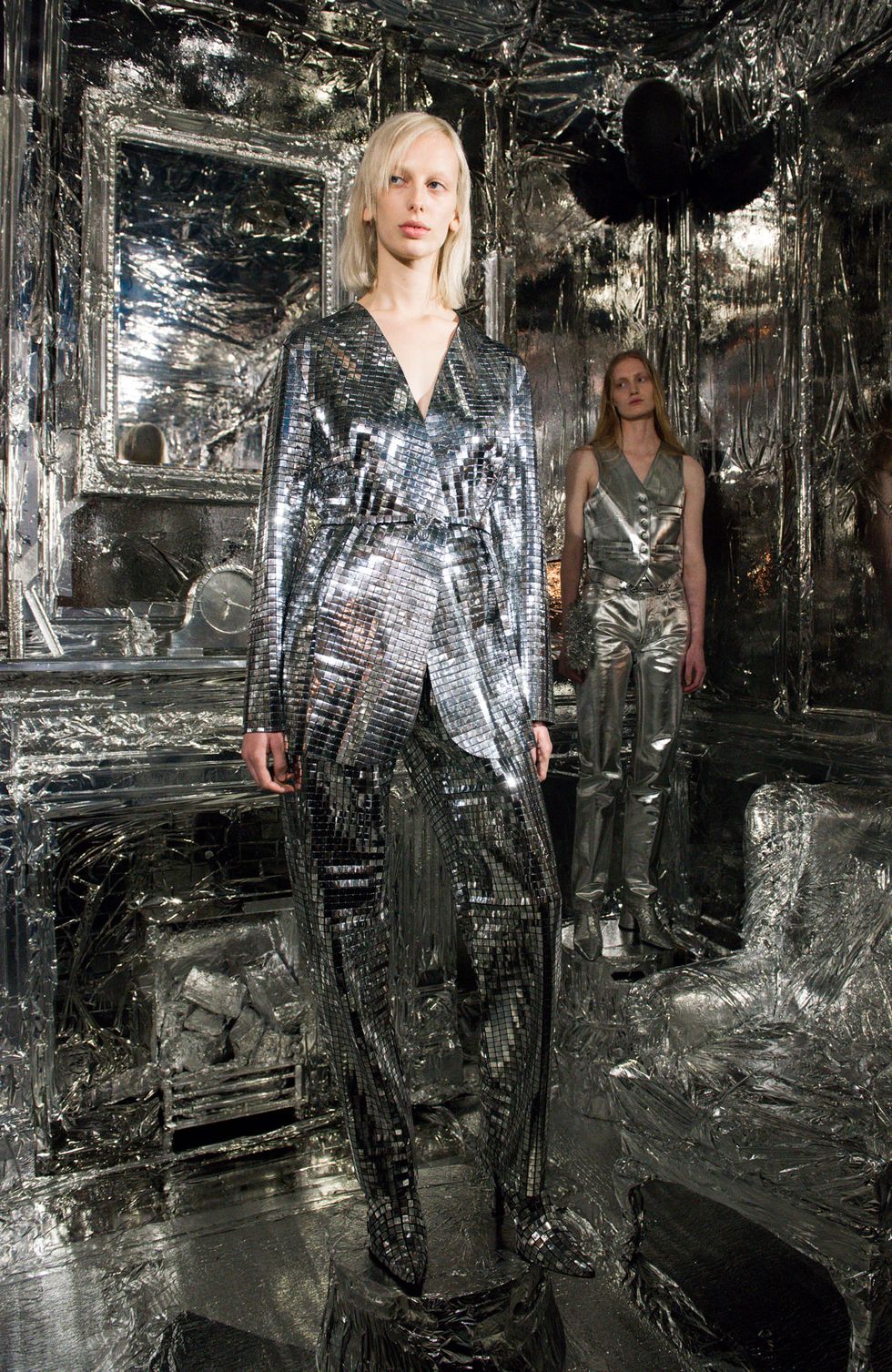 Photo: Getty
Fair warning: This will be the first of two Rihanna references (but what is a fashion article without multiple mentions of @badgalriri?). Her "Diamonds" lyric rings very true when it comes to all the shine we saw this past season. It no longer matters if you're wearing a lot of gold, a little bit of silver, or mixed metals. Just add in a little shimmer somewhere, and you'll be good. CHANEL paired elegant all-black-suited outfits with shiny knee-highs, whereas MM6 Maison Margiela, never one to tone it down, went all out with the aluminum.
Taking up tea time
Photo: Getty
Food was big at NYFW, and no snack went unrepresented, although there was a clear favorite. Flaming Hot Cheetos had their moment, but the more cliché and fashion-friendly scones, tea, and miniature pastries definitely came out triumphant. They were everywhere—at Miaou, Saks Potts, and Cinq a Sept. (Maybe we have Meghan Markle to thank for the tea time obsession and the dressing that comes along with it?) Opera gloves, oversized headwear (Marc Jacobs), and pillbox hats (Moschino) were all popular. But what's the harm in looking more British? None, if you ask us. 
Being the opposite of discreet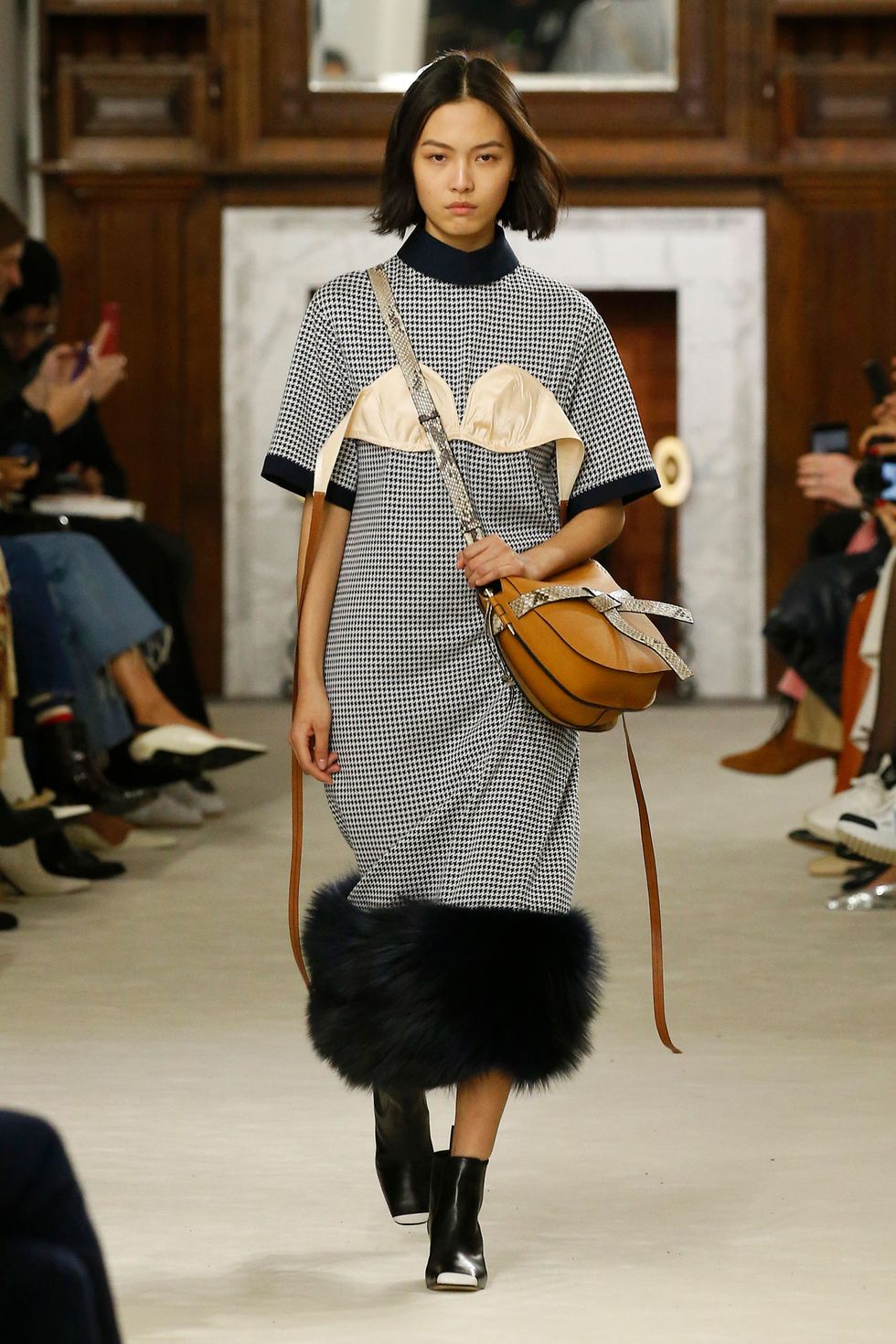 Photo: Getty
Wear entirely see-through dresses! Paint a suggestive scene on your shirt! Layer bras on top of your shirts, and cut out the rest of your outfit! In a year as crazy as 2018, anything goes.
Becoming a hybrid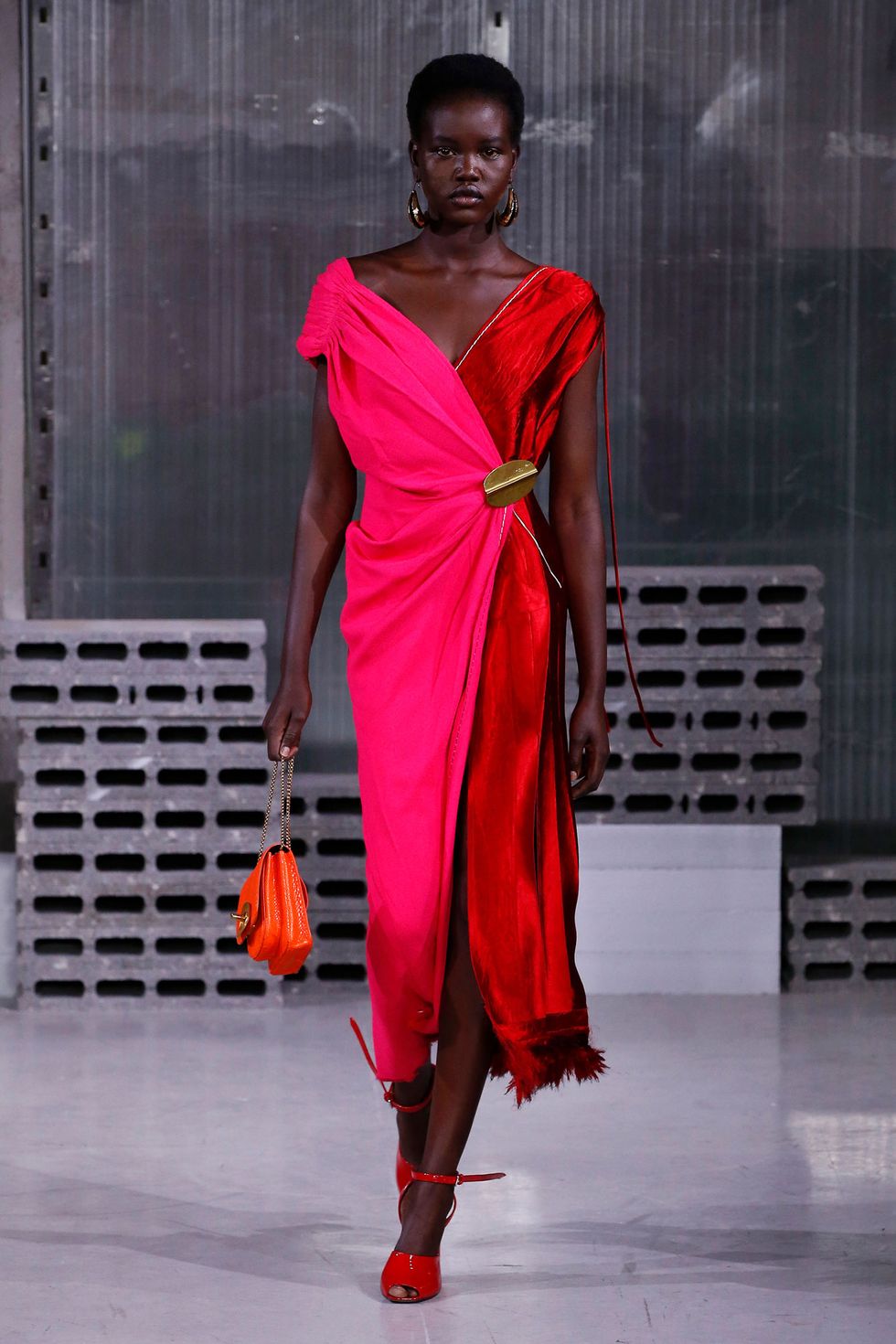 Photo: Getty
The past few years have seen a steady incline of the multi-hyphenate, the triple slash, the girl who has not just one career title but two or three or four. It isn't enough to just do one job….or to wear just one dress. Be a hybrid of all your favorite things. A gym rat/cowboy combo that tucks sweatpants into Western boots, or just a girl who can't choose between patterns and solids. The options are limitless when you don't really have to choose.
Investing in sneaky pockets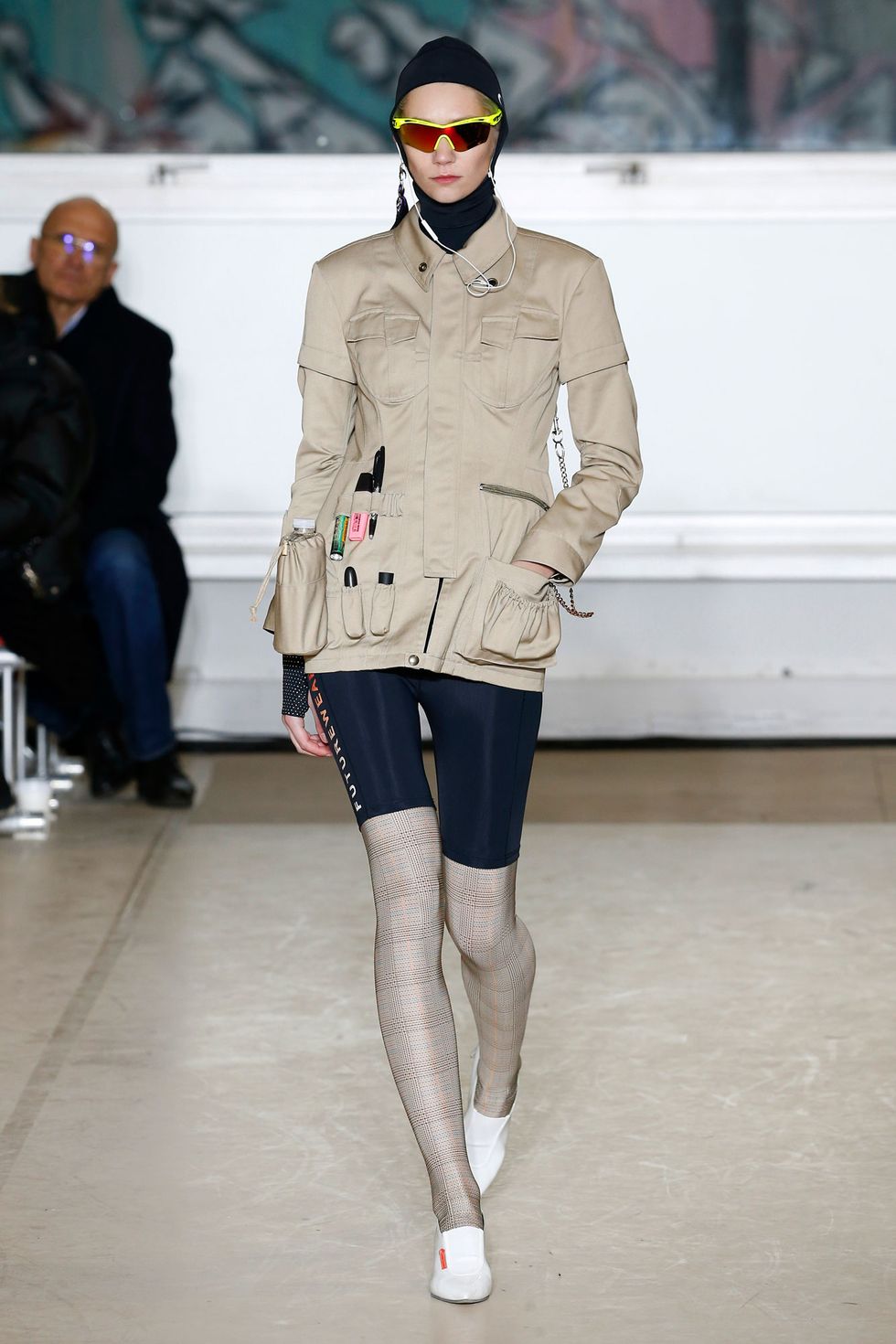 Photo: Getty
Need to go out but want to take your snacks with you? Chromat has a pocket for that. Want to take the office on the go? Marine Serre has a coat to strap in your highlighters, pens, and other desk accessories. Unless you want to look like the Calvin Klein models holding huge boxes of popcorn (chic, but maybe not the most practical), get yourself a piece with some sneaky pockets, and take everything you love with you on the go.
Making Fran Drescher proud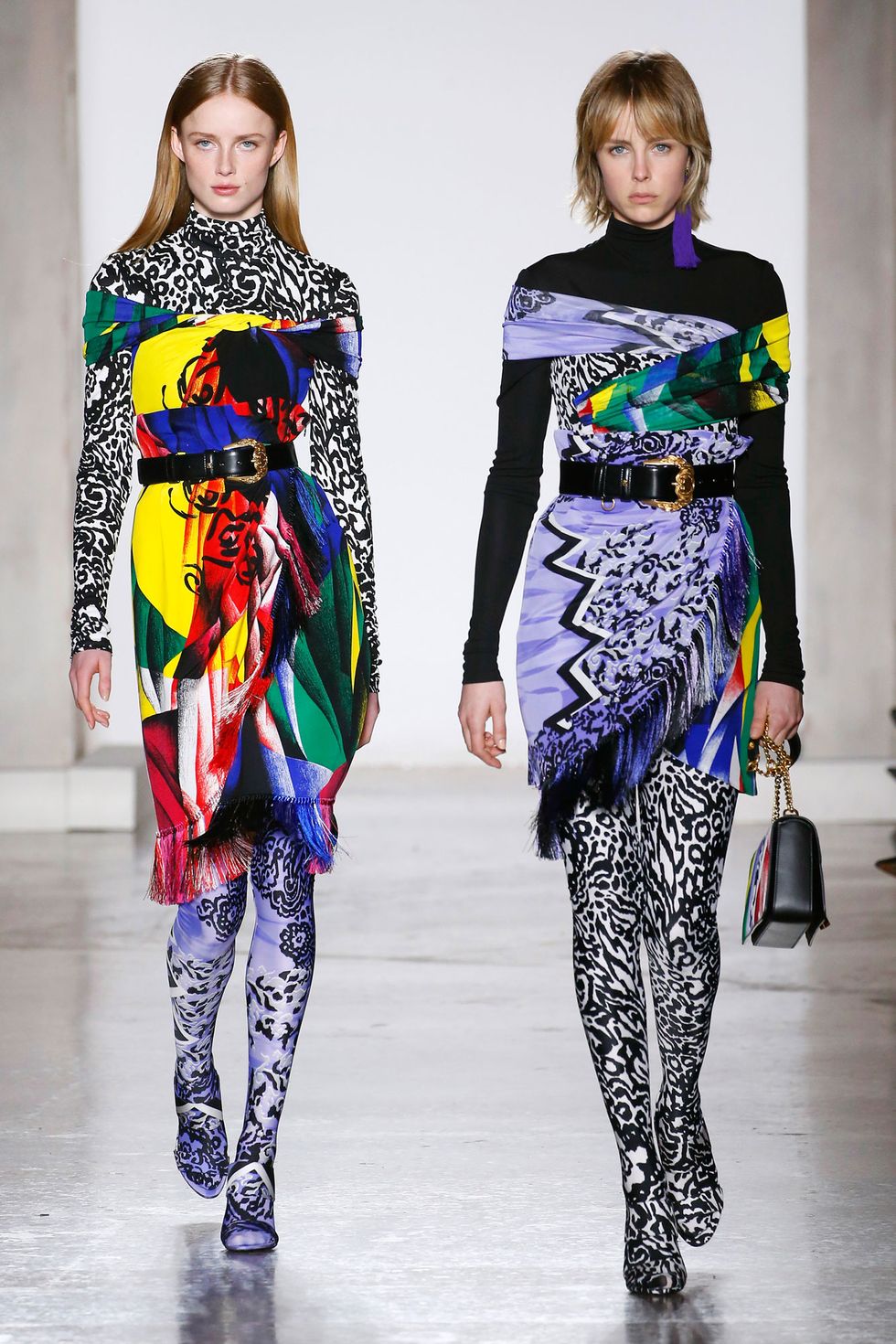 Photo: Getty
Wear every single animal print in every single color. Bonus points if you pair it with a totally unrelated pattern–like abstract shapes or florals. If Fran Drescher would wear it, so should you.
Pull a Rihanna, and walk out of places with the things you think you deserve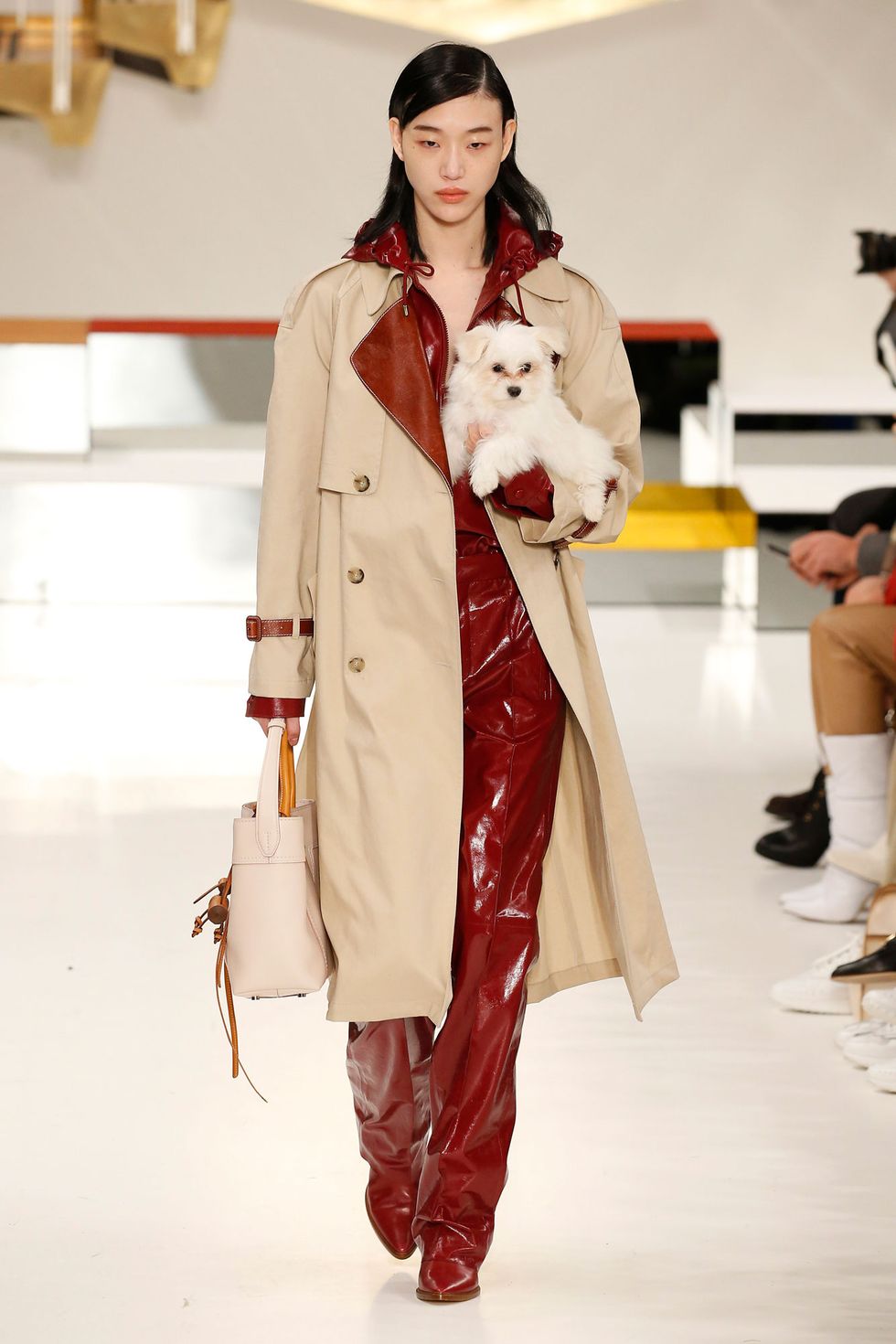 Photo: Getty
Time for that second Rihanna reference! You know how she just generally walks around like she owns the place? Like when she walks into a restaurant, eats dinner, and leaves with a wine glass like it's hers (to be fair, if Rihanna touched any of my silverware, I'd gift it to her anyway)? Do the same with Chinese takeout or a puppy from a pet store.
At the end of the day, just have fun with it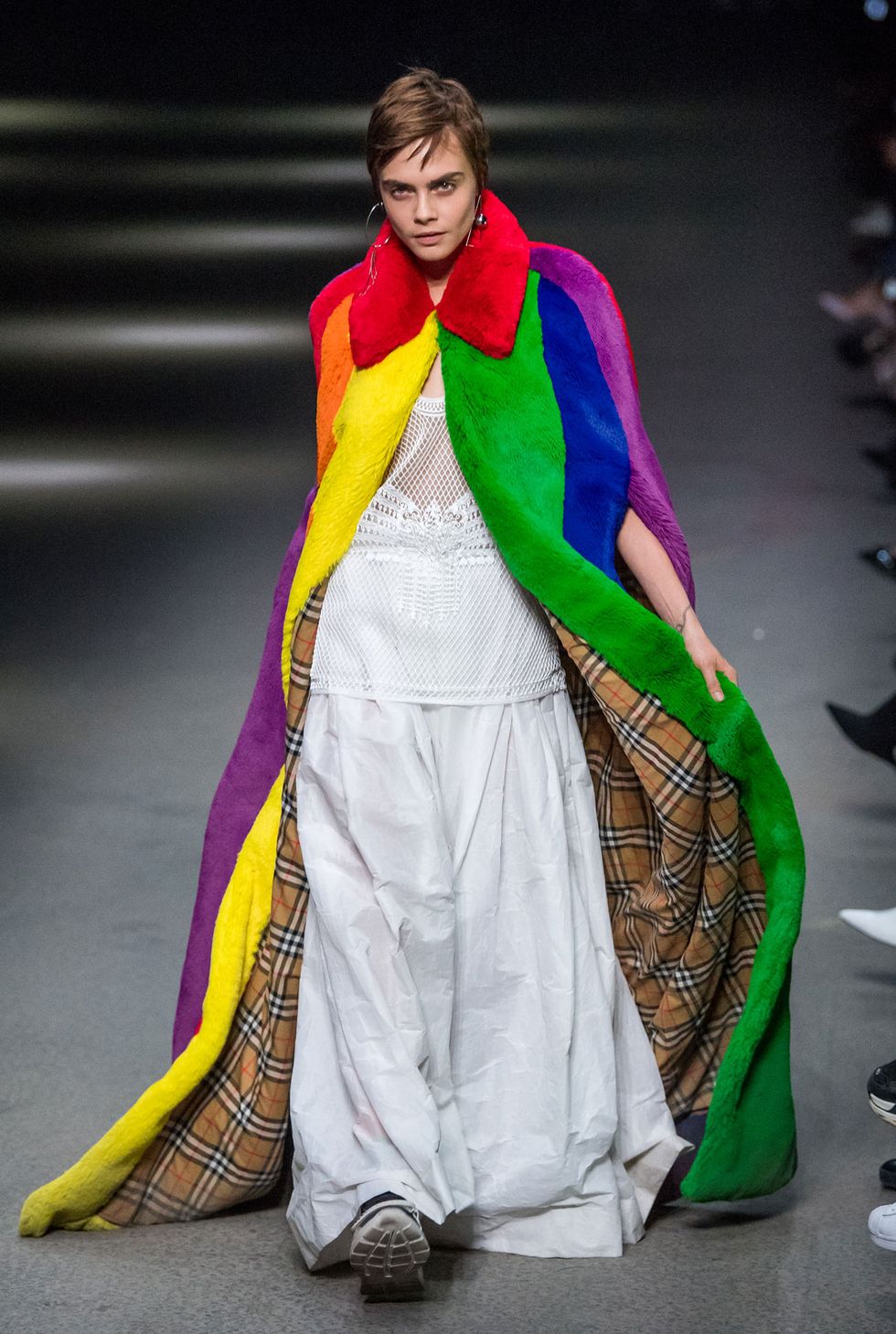 Photo: Getty