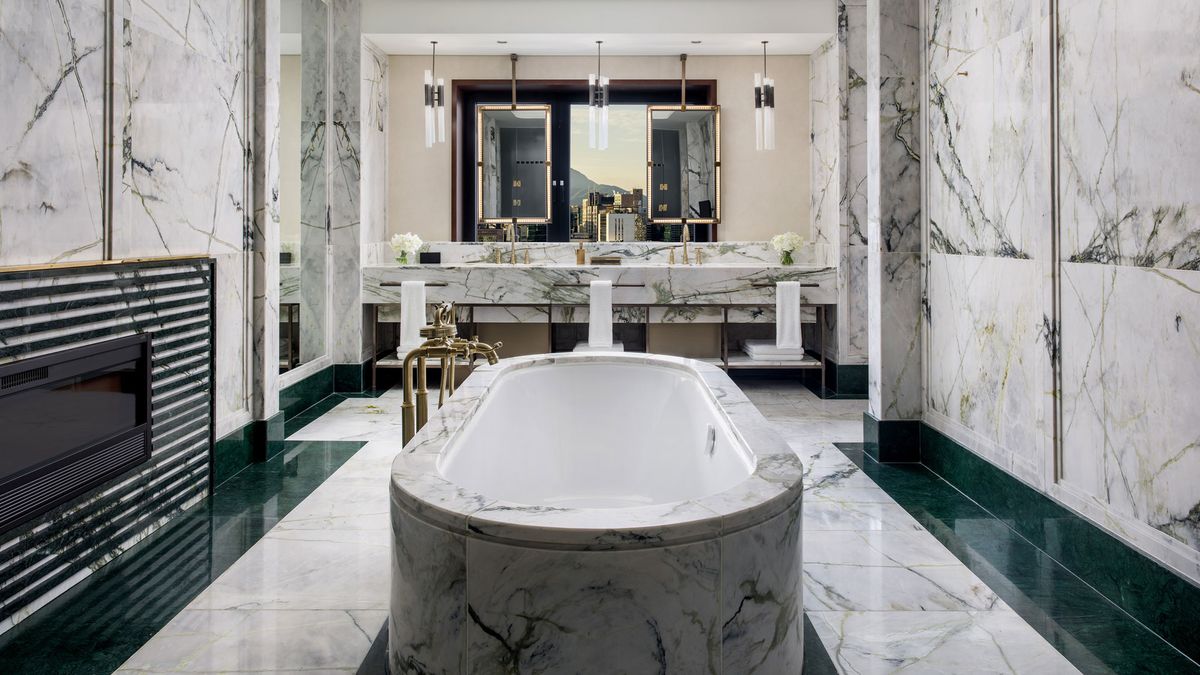 Travel
Your guide to the beauty capital of the world.
When Dreams Become Reality would be the most accurate title for a book based on my trip to Seoul. The South Korean city is home to a myriad of my favorite things: fancy hotels, amazing shopping, delicious BBQ (probably the most exciting, if I'm being honest), and dizzying access to the best Korean beauty—spas, skin-care stores, makeup boutiques…all of it. I've spent the better part of the past few months telling everyone that they *have to* go, for the aforementioned reasons and more. And whether you want to throw financial caution to the wind (presidential suites and facials!) or stick to a budget (subway rides and flea market shopping!), here are all the things to do in Seoul.
---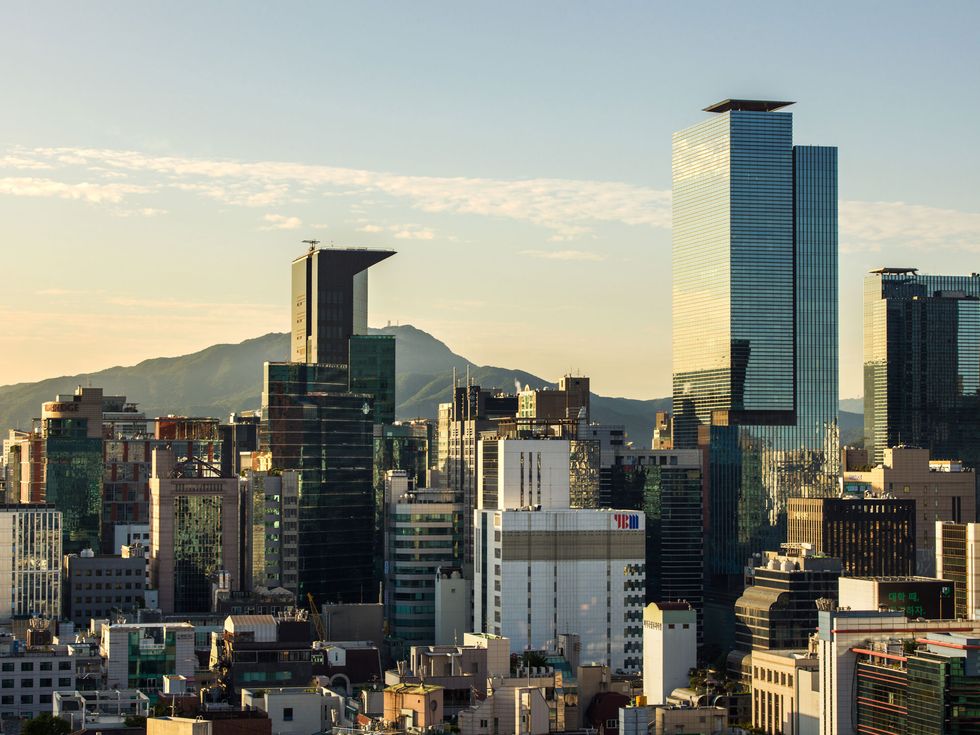 Flying first class on Korean Air is a vacation in and of itself. In addition to the traditional bells and whistles of upgraded seating (endless champagne, fully reclinable seats, your own personal alcove), long-haul flights on the airline include access to a cocktail lounge and Gianfranco Ferre pajamas for when you're ready to turn down. Plus, they serve bibimbap!
First-class flight from NYC to Seoul: $18,000
Seoul Metropolitan Subway
Once you arrive in Seoul, the fastest and often most convenient way to get around is by subway. If you're picturing a system similar to the MTA in New York, don't. Subways in Seoul are efficient, clean, and inexpensive.
Base fare: $1.25
You likely aren't flying across the globe to stay in your hotel all day, but no one could judge you for wanting to post up here 24/7. This is the French brand's first property in Korea and features a luxury Darphin Spa, six restaurants (one, Lab XXIV from celebrity chef Edward Kwon), and a serious art collection (like Frank Stella, Jasper Johns, and Roy Lichtenstein serious). The Presidential Suite is otherworldly: two bars, a formal dining room, a roof deck, and a walk-in closet. When we shared a picture of the suite's bathroom on Instagram, a liking frenzy ensued.
Presidential Suite at Le Meridien Seoul: $18,690/night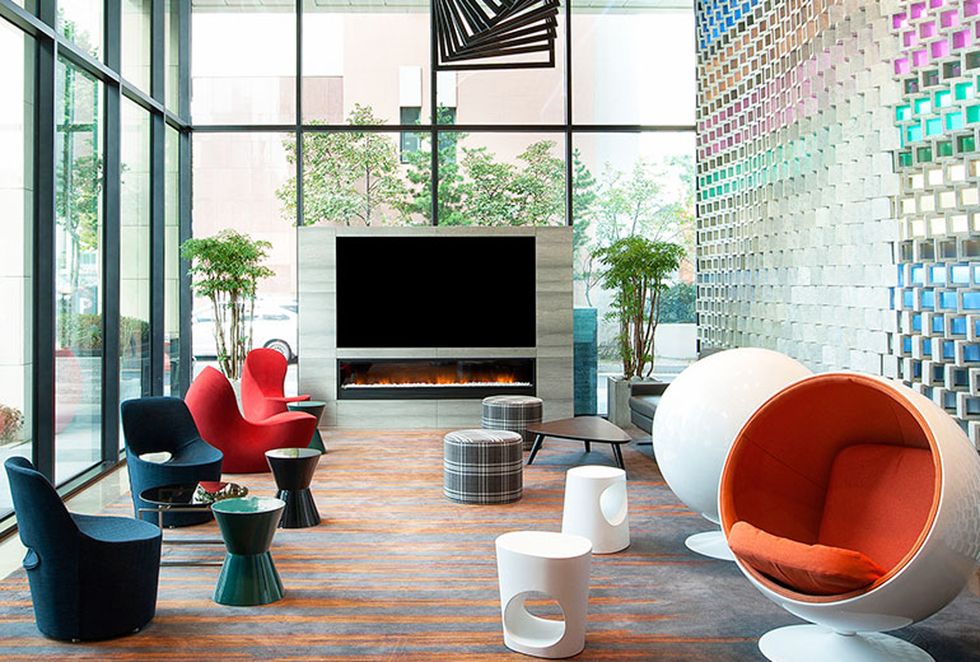 This centrally located hotel has everything you need to rest and recharge between outings, including comfortable rooms, an excellent breakfast buffet, a gym, and a bar that's open until 2:00 AM. Small touches amplify the experience; there's a map in every room with running routes along the Han River and nearby parks, a concierge on hand to get you a car to the airport at any time, and cards in the lobby with popular attractions listed in English and Korean, which come in handy when giving directions to cab drivers or asking locals to pint you in the right direction.
Standard room at Aloft Seoul Gangnam: $92/night
---
Where to Eat
---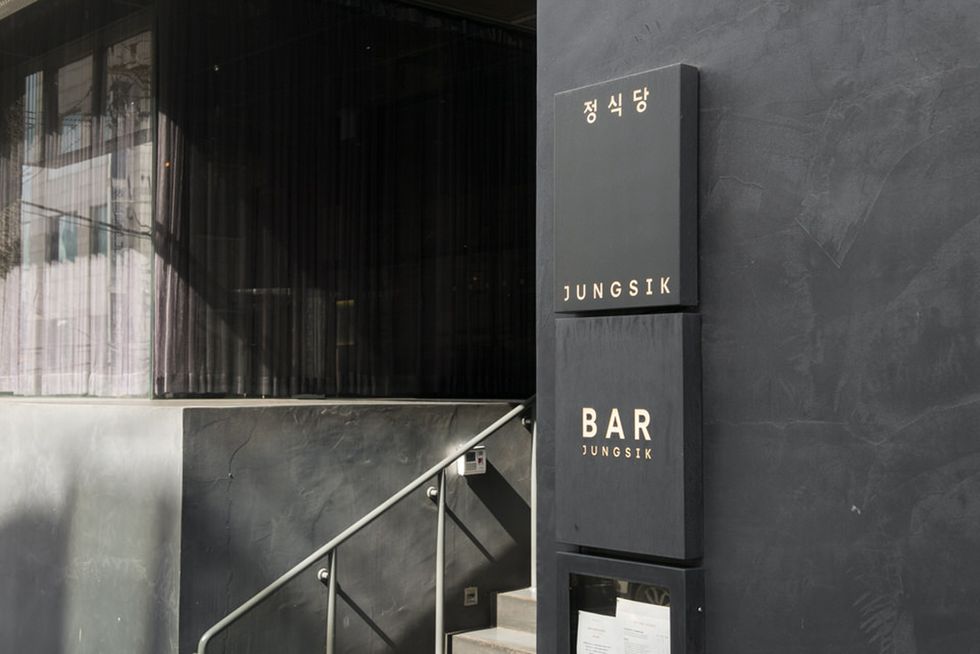 Chef and owner Jungsik Yim studied in NYC and Spain before opening his namesake restaurant in 2009, where traditional Korean dishes are given a modern twist. Yin's takes on sea urchin, scallops, and galbi (Korean short ribs) have garnered Jungsik two Michelin stars, and many credit the chef with introducing modern fine dining to South Korea. 
Jungsik eight-course tasting menu with wine pairing: $300
Sutbul Mapo Galbi
Think of the most delicious Korean BBQ you've had in K-Town (in NYC, L.A., or elsewhere), and multiply that deliciousness by fifteen. That's what you can expect from most BBQ restaurants in Seoul. There are tons of spots to choose from (and honestly, most of them are great), but we're partial to Sutbul Mapo Galbi, which specializes in beef and pork grilled at the table, served with traditional sides like kimchi, rice, lettuce wraps, and marinated cucumbers. Plus, they're open 24/7.
Dinner at Sutbul Mapo Galbi: $25
---
Where to Experience K-Beauty
---
Peach & Lily founder Alicia Yoon swears by this spa, which is all you need to know to book an appointment. Shangpree specializes in facials and body treatments, one of the most popular being the S-Power facial. Expect a thorough cleansing, two rich masks, and several serums chosen for your skin type massaged into your face. The resulting glow is unreal.
S-Energy Facial at Shangpree: $215
Myeong-dong
If there's such a thing as a cool touristy neighborhood, this is it. Every store here is brimming with K-beauty finds, from sheet masks and moisturizers to makeup and essence. Masks start at $.50 each, and most stores give out tons of free samples with every purchase. If you plan to visit here, be sure to pack an extra carry-on.
Pack of 10 Face Masks: $5
---
Where to Shop
---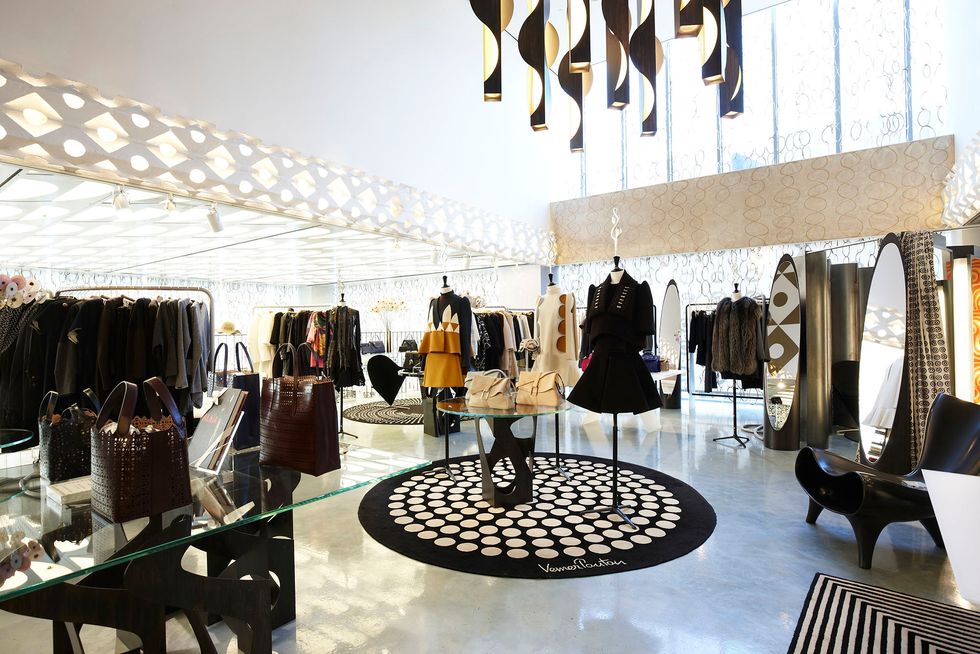 Bless the folks at Le Meridien for putting 10 Corso Como on our radar. The Seoul outpost of the Italian concept shop features a bookstore, a café, and racks on racks of great finds from Alaia Missoni, Lowe, Mark Cross, and more.
Pleated Alaia dress: $2,188