Surprise! You Might Need Sunscreen to Protect You from Your Computer
The skin-care breakthrough everyone will be talking about this summer.
Skin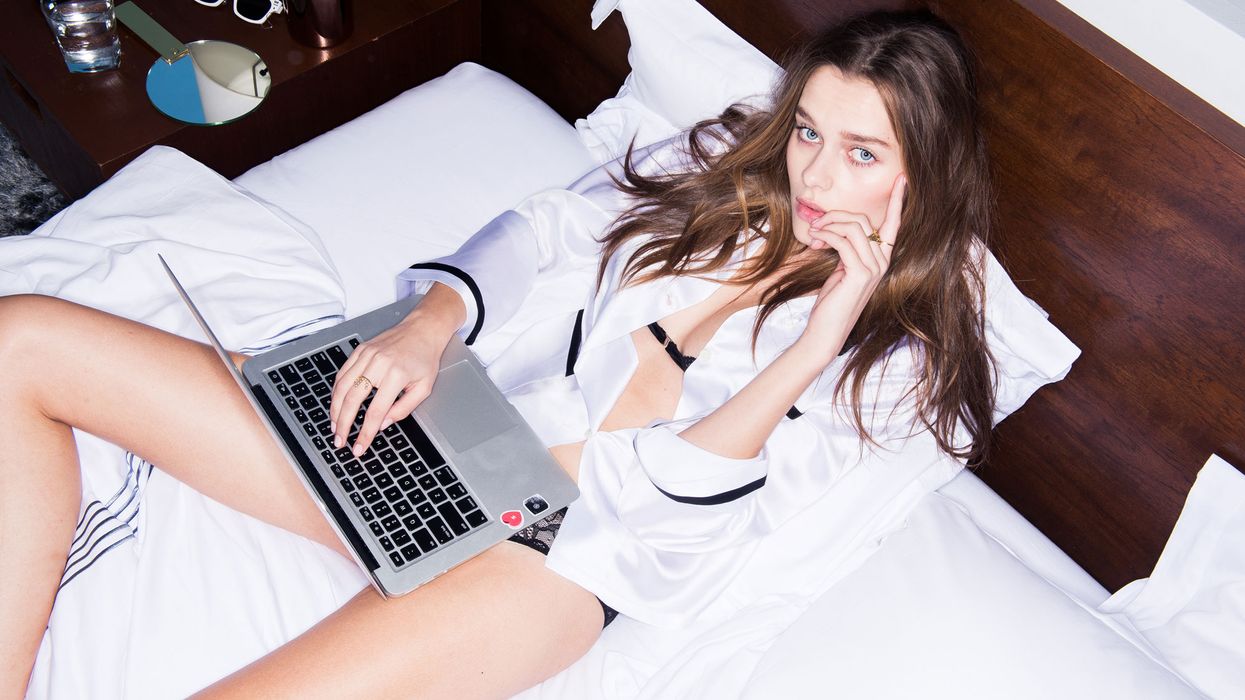 The recent buzz in skin care has taken a strong shift toward indoor lights—lightbulbs and computer screens—and how it might be quietly ruining your skin. You already know that staying out of the sun and wearing a broad-spectrum sunscreen are the gold standards for protecting skin from wrinkle- and spot-causing UV rays. But experts are asking if the light we're exposed to while scrolling Instagram, watching a movie, or reading under a lamp is similar to what we get on the beach. New studies on the potential hazards of infrared, along with the blue glow emitted from our device screens and light bulbs, show that exposure really may lead to skin damage and accelerated aging. "There is controversial data suggesting that various forms of indoor light may actually be harmful to the skin," explains Joshua Zeichner, a New York City dermatologist. (Yikes! Are we not safe anywhere?!) Below, we break down the different forms of indoor light, their harm potential, and a new generation of sunscreens that promise to save us all.
---
IS INDOOR LIGHT AGING YOU?
"We have known for some time that ultraviolet light [from the sun] is definitely damaging to the skin, so for years we've been protecting against that," says Elizabeth Hale, a New York City dermatologist. "So the question is, well, what if it's not just UV light, what about longer infrared spectrum [which can come from the sun or devices], what about visible light that we're exposed to every day and even indoors?"
WHAT IS VISIBLE LIGHT?
HEV or high-energy visible light is the blue glow you see emanating from your smartphone, tablet, computer, or television screen. The issue, dermatologists say, is that HEV exposure can speed up the aging process, leaving us with premature wrinkling and dark spots. (Note: HEV is not associated with the development of skin cancer.) The good news, Zeichner says, is the amount of HEV shed from our gadgets is most likely minimal, making it unlikely that a few emails are going to wreak havoc on your complexion. In fact, it would take 13 hours in front of a computer screen to equal the amount of HEV that is generated by the sun in 15 minutes.
To practice caution with your devices, though, Zeichner advises avoiding close contact with your face and wearing a headset or using Bluetooth. Perhaps the bigger concern is the HEV generated by LED and compact fluorescent bulbs (those spiral-y ones) likely found inside your home or office. To compare it to your computer, one hour of exposure to an LED bulb is equal to 15 minutes of sunlight. "This radiation could aggravate symptoms in people who already suffer from skin conditions that make them exceptionally sensitive to light," explains Macrene Alexiades, a New York City dermatologist and associate clinical professor at Yale University. The bottom line, says Zeichner: "This is a reality of the society we live in, and short of walking around in the dark, HEV light is unavoidable."
WHAT IS INFRARED?
IR stands for Infrared light—the red part of the visible spectrum that we can't see with our eyes. While it does come directly from the sun, it can also be felt as heat from your oven, an overheated laptop, or a television remote control. So how risky is it? "Infrared has been associated both with the development of premature aging as well as skin pigmentation and worsening of melasma," explains Zeichner. While it can be difficult, it's wise to minimize your exposure to heat energy if you are prone to hyperpigmentation. Adds Hale, "We do know to some degree that infrared light can generate mutations in the skin. We don't know yet exactly what type of mutations and what those mutations lead to, but for those reasons it seems like a good idea to protect our skin from infrared light."
THE NEW WAVE OF SUNSCREENS
So what can you do to protect your skin from HEV and IR wavelengths? A fresh crop of sunscreens emerging on the shelves promise to shield against them with a variety of antioxidants. The new Unseen Sunscreen SPF 40 by SuperGoop contains the typical chemical filters: Avobenzone, Homosalate, Octinoxate, and Octisalate, along with antioxidants red algae and frankincense. According to Sofia Gracia, SuperGoop's director of product development, red algae works by absorbing and neutralizing blue light while also helping to protect against infrared radiation. Frankincense was chosen for its anti-inflammatory actions, she says: "When applied topically, it reduces the severity of reddening induced by IR radiation." Coola's Sun Silk Drops are blended with knotgrass extract, an antioxidant which the company claims helps ward off infrared rays, Liposhield HEV Melanin alleges to protect against the effects of HEV, and jasminum sambac leaf cell extract and mangosteen are included to shield skin from ultraviolet, infrared, and blue light. Farmacy Green Screen SPF 30 is made from mineral actives titanium dioxide and zinc oxide and boosted with chokeberry and marigold extracts. The company declined to comment on their formulation for this story.
Unsurprisingly, the dermatology community is not entirely convinced these formulas are the answer. "These products are marketing towards new buzz items," says Alexiades, concluding, "There is legitimacy to trying to develop proper protocols and systems for testing sunscreens for these wavelengths, but until the FDA validates a method for measuring blockage of these types of light, companies should not make such claims." Perhaps Hale's advice is the best we can do right now: "Until we can really quantify how much exposure we get, and if these ingredients actually block that exposure, and if [the exposure is] even damaging—and those are three big ifs—at the very least we want to use antioxidants so we have a layer of defense against whatever stressors are coming our way."
Photo: Shot on site at 6 Columbus, a Sixty Hotel.  On Solveig: Pajamas, Morgan Lane; Bra, Fleur du Mal; Bra, Fleur du Mal; Underwear, Fleur du Mal; Rings, Azlee, Baker & Black.
Want more stories like this?
How to Protect Yourself from the Sun in 60 Seconds
Can Wearing SPF Actually *Reverse* Skin Damage
Worried about Toxic Sunscreen?