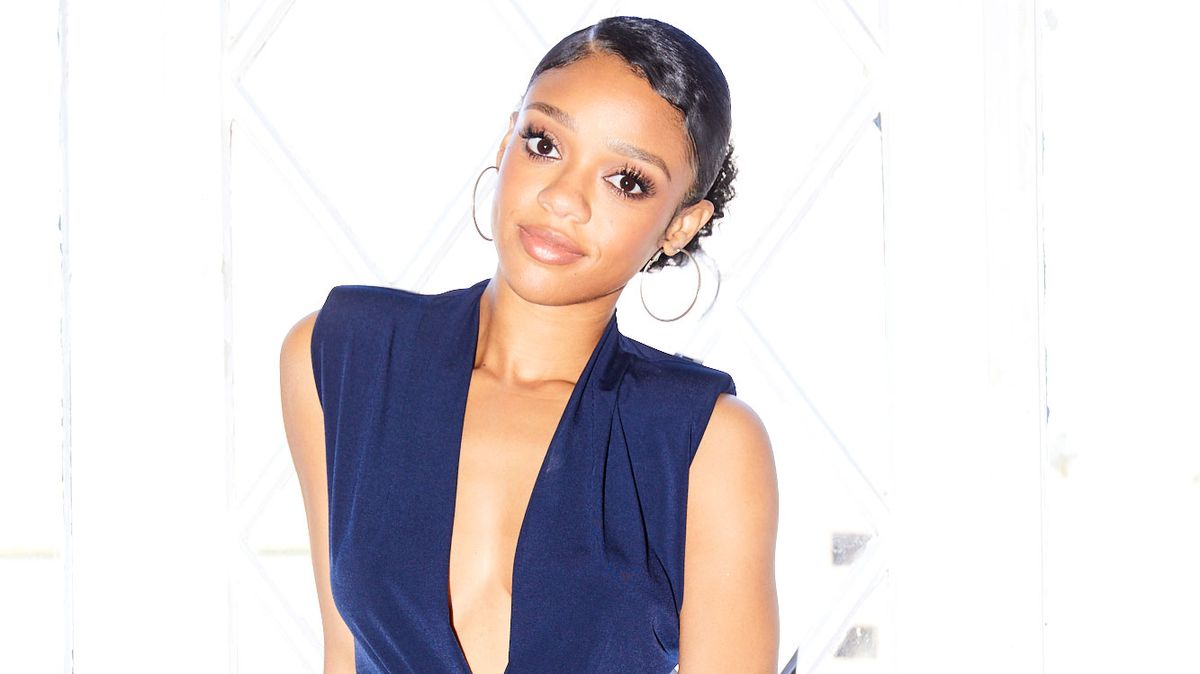 Celebrity
The actress talks taking time off and why it's important to see educated, successful black women—with natural hair—on TV.
Tristan Kallas
There's nothing like a good comeback story, and Tiffany Boone has one of the best. It starts with a girl standing onstage—"I fell in love with acting when I performed in my first play at age eight," Boone tells us—and has a major plot twist when that same girl, now an adult, decides she needs a break. Boone ended up stepping away from the industry for a bit, taking some time to recharge, until she landed the role of Jerrika on the hit Showtime series The Chi.
"I really can't say what made me make that final decision to give it one more try," she tells us when asked about that period of her life. "There was just a voice inside that told me I wasn't done yet. And then came The Chi."
The Chi, created by talented Chicago native Lena Waithe, has been praised for depicting a more realistic and authentic side of the city—one that's not normally seen on TV or the news. It's even been picked up for a second season, but not, as Boone promises, before a finale where "viewers can expect to get a lot of their questions from the season answered" and "brand-new questions will be posed."
So as things wind down, and before we start missing our Sunday night staple, we took some time to get to know Boone better. How has being on the show changed her? What's it like working with Lena? And what inspired her decision to stick with her natural hair, both off- and on-screen? The actress shares all that and more—after striking some poses at Bowery Bungalow—ahead.
---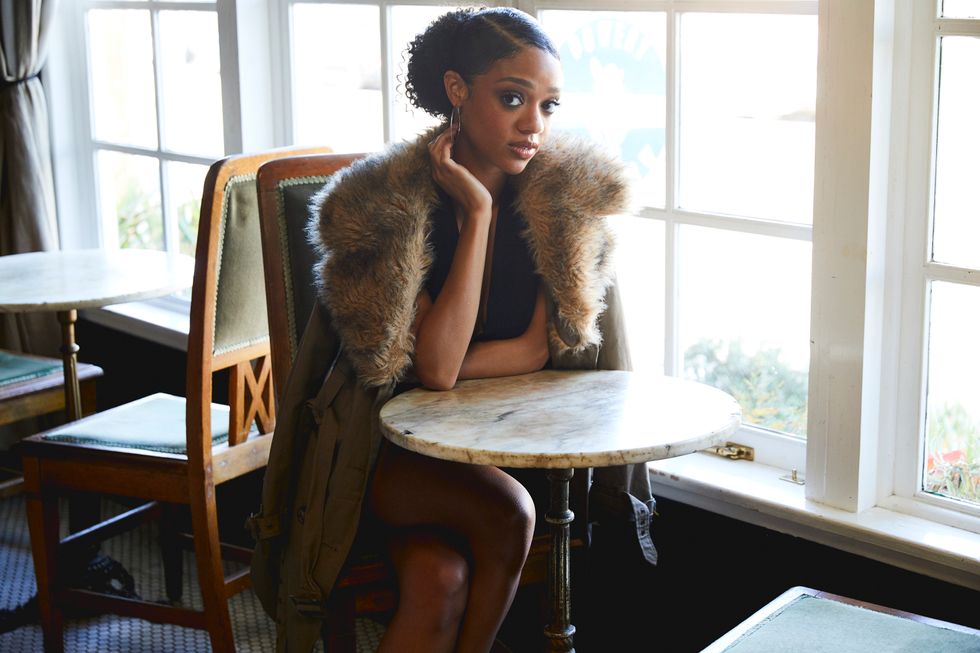 What originally inspired you to pursue acting?
"A Different World was, and still is, my favorite TV show. Jasmine Guy as Whitley Gilbert was so impactful on me because she was a tour de force on that show. She was hilarious, beautiful, sexy, grounded—just everything! As a little girl, it felt like I was seeing my future self on screen, and that is so powerful."
Has being on The Chi changed you at all?
"The show has definitely changed me. It's the first project that I've been part of that has a black creator and predominantly black cast. There's a pride in that which I've never felt before now. It challenges me to push beyond what's comfortable for me and to use my voice and talents to speak for my people. We're creating work that shares the truth of a community that's underserved and rarely heard."
What's the best part about working with Lena Waithe?
"Lena uses her unique experiences to tell specific yet universal stories. It's a blessing to be a part of what I think will be a long legacy."
Are there similarities between you and your character, Jerrika? What do you admire about her?
"I wanted to play Jerrika because she felt very close to me, personally—I saw myself, my mom, my girlfriends in Jerrika. I see our strength, dedication, and the depth of our love in Jerrika. I admire her for all of those things. I wouldn't make all of the same decisions as her, but I understand why she makes her decisions. She makes me love and appreciate myself even more."
Jerrika and her boyfriend, Brandon, have had their ups and downs on the show, but are they ultimately meant to be together?
"Jerrika and Brandon come from very different backgrounds, yet, their spirits connect despite all the things that try to separate them. I think it will be up to the writers if they are made for each other, and I think the characters are still trying to figure that out, but I love that they fight for each other through all of the challenges. My favorite thing about them is the pure joy they bring each other in their best moments."
Has there ever been a TV couple you've rooted for or felt invested in?
"Back to A Different World, Whitley and Dwayne are my absolute favorite TV couple of all time. I still watch episodes of the show and root for them. Beth and Randall from This Is Us are my current obsession; they are what Brandon and Jerrika can be in 10 years."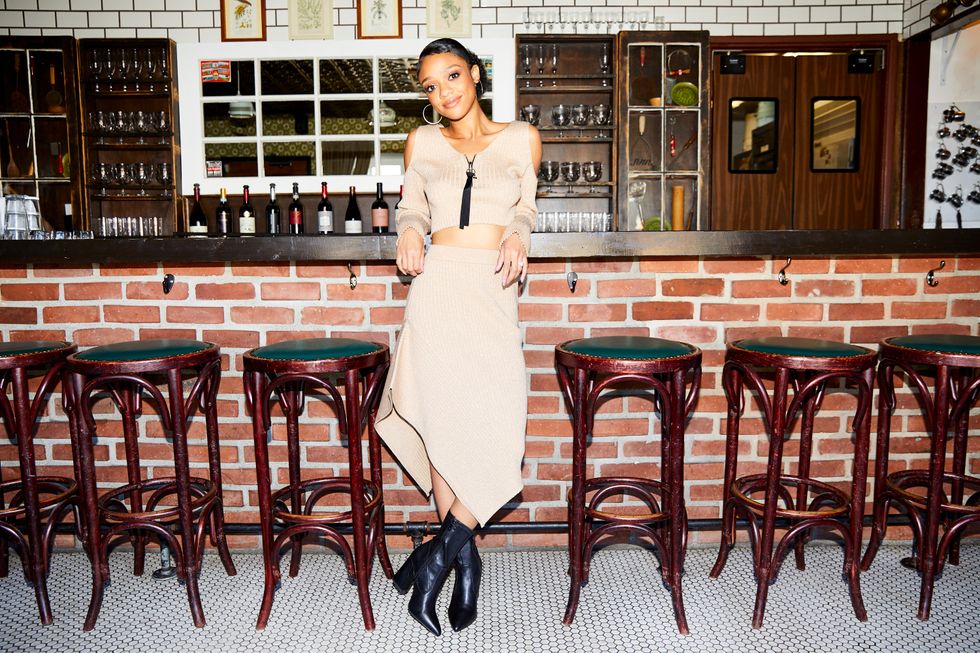 You've spoken a lot about how you wear your natural hair, both in real life and on the show. What inspired you to make that decision, and why was it important for you to commit to it on-screen?
"In my personal life, wearing my natural hair felt like a proclamation of loving myself exactly how I was made. For Jerrika, the creative team and I decided that it was important to show an educated, successful, loving, loved black woman with natural hair. It's not seen enough, so we felt that we needed to show that representation."
You're also passionate about youth arts education. Why are the arts so important?
"I was introduced to the arts when I was very young. I think it helped to heal the trauma of my father's death, and gave me an outlet for my feelings. Art saves lives, and if it can be introduced into a child's life early on, it can keep them on the right path for the rest of their lives."
Do you believe in fate at all?
"I think if we are aligned and in tune with who we are and our true purpose, and if we are open to listening, the Universe, God, whatever you want to call Her, will place us where we need to be and tell us what we need to know."
Want more stories like this?
Lucy Hale Says She Sometimes Thinks About Giving Up Acting
Meet the Woman Who Plans on Writing the Next Black Panther
There's 1 Major Benefit to Cutting Off Your Hair