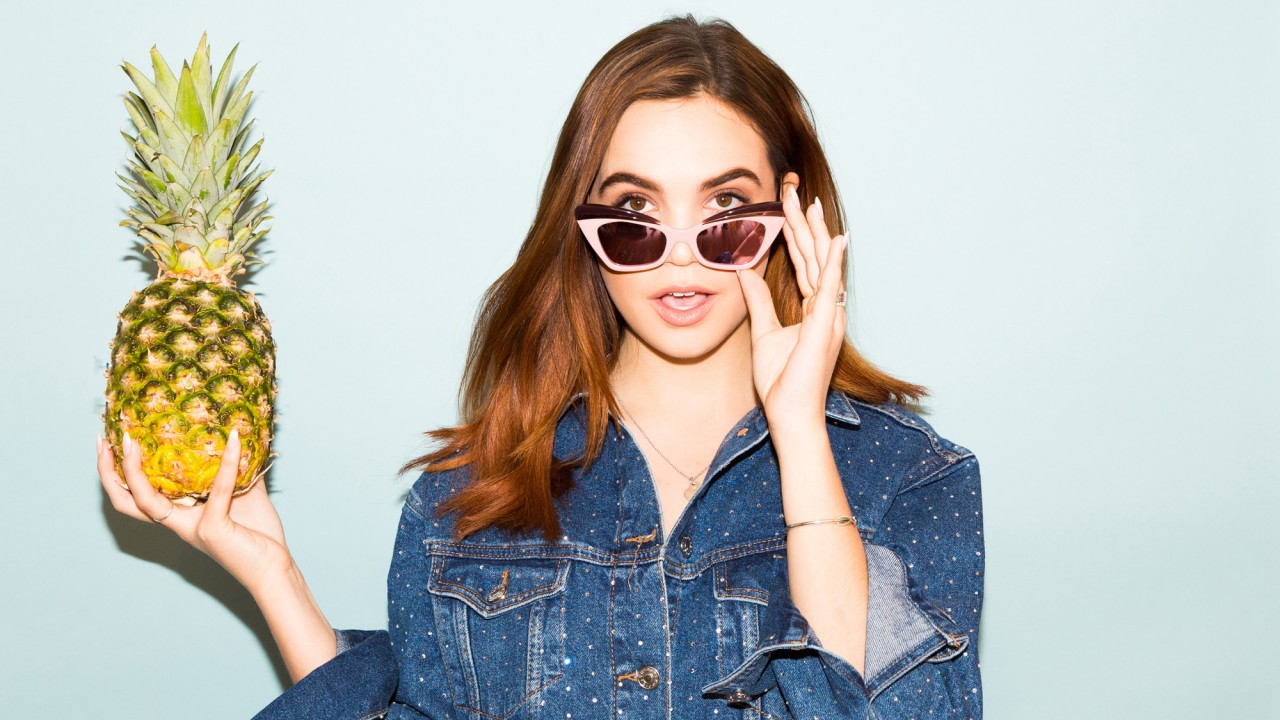 Bailee Madison Is Way More Than the Former Child Star You've Seen in Everything
She's all grown up, producing, designing, writing books, and starring in The Strangers: Prey at Night.
Green tea, vitamins, and doing what she loves—that's apparently what keeps Bailee Madison up and running as she navigates some very busy days. To put it simply—and without exaggeration—the girl is doing it all: acting in both movies and on TV, designing clothes, co-writing books, and occasionally working behind the camera (she's already held the title of producer and has future plans to direct).
I have secondhand exhaustion just thinking about all this multi-threat does, but as she walks into Coveteur HQ, Madison is as bubbly as ever. She's giggly and is a pro at striking a pose…all while holding conversations with everyone in the room and proving to be mature beyond her years.
It's hard to believe Madison is just 18—both when you remember her as a child star, and when you list all that she's done and is doing. But what exactly is she doing? And what's next? Bailee ran down the list—after getting silly with a pineapple during our shoot.
I feel like everyone watched you grow up on-screen.

"People say that all the time! There was a tweet sent to me once like, 'I swear I could watch a movie and a young, fetus Bailee Madison is going to pop out of any tree.' I laughed so hard. People were very nice to me when I was younger, and I will always be very grateful for what I was able to do when I was a little kid with like, no front teeth and the biggest cheeks and a lisp. There's a photo from every stage of my life on the internet that I'll never be able to take down. The baby photos that you try and hide, [and say] to your parents, 'Don't bring these out when I have my friends over'—anyone can Google them. It's really embarrassing, but really fun. The internet never dies!"
Can you tell me about The Strangers: Prey at Night? It looks so scary!

"Honestly, it's a project that I'm so proud of and will go down in history as one of my most cherished experiences. In this film, you'll be fighting with us. You'll be as invested as these characters are in these situations. It's what movies can be sometimes, which is a ride."
Did you do your own stunts?

"I was able to do 99 percent of my stunts, and I had an amazing stunt team and stunt coordinator, Cal Johnson, who's in Baby Driver and did the first Strangers. I looked him dead in the eye, and I was like, 'I want to do this.' Johannes [Roberts], our director, would come up and be like, 'So we're going to have a car break the wall, but you have to fall off the couch before it breaks, otherwise you're going to get hit.' [We would have] to time it out, so that I was off that couch a second before the car hit. It was really fun. I loved every second."
Acting is your main gig, but since you've been doing it so long, do you ever consider other careers?

"Acting's my first love and will always be. It's the way that I've grown up. It's my world. It's been my school, in a way. That's where I've met my people and my friends, and graduated to different stages in my career. I'll always, always love it. But I guess you really can't know. Right now, I love being in front of the camera, but five years from now, maybe I'll want to be behind the camera completely. I know that's one day where I feel like it will take me, directing and giving back what I've been so blessed to be able to learn. You have to have fun, and the moment that you're not having fun, you just shouldn't do it anymore. It's like any job—people change their jobs when they're 40. They're like, 'This is not what makes me happy!' Life is too short."
You also have a book out, Losing Brave, which is about a girl trying to find out what happened to her missing sister. How did that idea come about?

"Originally, it came from a couple of dreams Stefne [Miller, the co-writer] had, and started off as a very witty, offbeat coming-of-age novel. Then the conversation became broader and started to become, 'Well, let's write this to adapt it into a screenplay one day, or a movie, or a mini series. Bailee, what have you not done yet that you would really love to do?' I said, 'I've never done a psychological thriller.' So we started toying with that idea."
Are you going to continue writing?

"I hope so! It's something that I love. Stefne and I have been able to grow as not just friends, but as a working partnership, so she and I are having conversations right now with what we can do, either within the book world or in more my field of work. The hope of writing is very much still alive."
You also are involved in fashion as well, with a Nowadays collaboration. Was designing something you always wanted to do?

"Always, always. I have been sketching outfits ever since I was younger. I feel like if you're a little girl and you love fashion, it starts from the moment that you're born; you start putting things together, running around in fairy outfits. That was a true dream come true."
Are you inspired by other people's style?

"Absolutely. It's so bizarre—before you even have a conversation with someone, you immediately are drawn to their appearance, or what they're dressed like, you know what I mean? To me, a person's shoe could speak a thousand words, and it could help you know what that person's vibe is and how they're feeling that day. I'm constantly looking at things online. I have so many Pinterest boards that literally say, 'How I should be dressing,' or 'Get it together,' that are just awesome people looking really great. I'm always inspired by people's style. We live in a day and age where anything can go; it's your style now. It's what makes you feel great, and I think that's a really positive light to be shined on the fashion industry, too."
Want more stories like this?
Sophie Turner Is Making a Major Career Move Following Game of Thrones
Actress Sofia Carson Once Had a Crazy Run-In with Prince Harry
Katherine McNamara's Dream Superpower Isn't One You Hear Very Often