All I Want to Do Is Wear Timothée Chalamet's Face on My Body
And I'm pretty sure you feel the same way.
Celebrity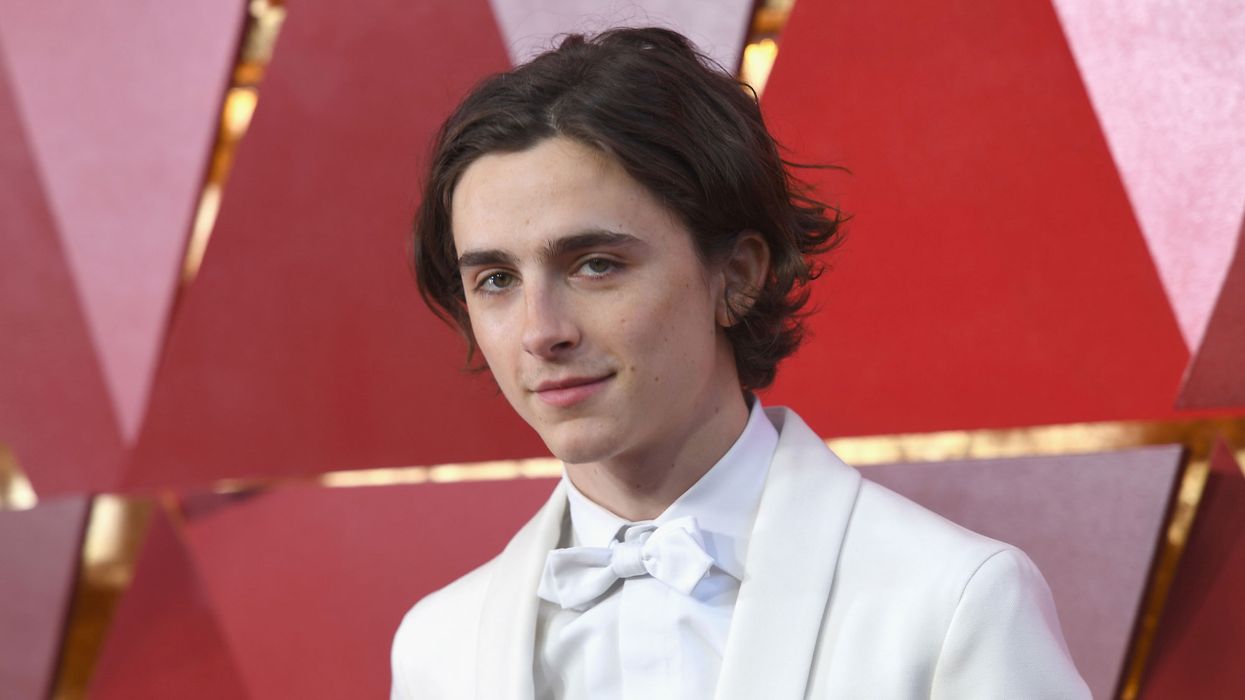 This past Sunday there were two Timothée Chalamets at the Oscars. There was, of course, the Timothée in a fitted all-white Berluti suit looking like a snack (or dare I say...a peach?) and the sad-boy Timothée Chalamet painted onto the custom white button-down worn by Call Me by Your Name screenwriter James Ivory.
---
James Ivory made history that night not just for wearing the greatest shirt ever created, but also for being the oldest Oscar winner in history and for being the only 89-year-old man to be Instagrammed, tweeted, and written about more than Meryl Streep after the ceremony. (They don't have a trophy for this, but they totally should.)
my oscars mood is james ivory's shirt https://t.co/hBTxvFJnod

— ellie⁷ 🍊 (@ellie⁷ 🍊) 1520204343.0
The reason why Ivory and his shirt were everywhere is no secret. If anything we think we're going to be seeing a lot more of Timothée's face, not only on the big screen, but also on our hangers. Hear us out.
Timothée Chalamet is currently the internet's favorite person. In the past couple of months, he rose to meteoric fame out of seemingly nowhere. He's a 22-year-old from Hell's Kitchen who starred in two of the year's most talked-about films—Lady Bird and Call Me by Your Name—was nominated for an Oscar, and picked up 1.2 million Instagram followers in the process. Each photo he posts of himself garners hundreds of thousands of likes and close to 20,000 comments, which range from "TALK ABOUT PERFECTION" to "I must marry him." There are also lots of peach and heart-eyed emojis.
We can't remember the last time a celebrity has been so rapidly beloved. But what we do know is that when this happens, fans will do absolutely anything to get a piece of them. Sometimes they bottle the air they breathe, but most of the time they just buy lots of merchandise with their face on it. Is James Ivory unknowingly the beginning of the Timothée Chalamet merchandise trend? I think so.
I mean, I would wear Timothée's face if I could. So would lots of other people who I know and respect. When I asked my cousin Jackie (who held my hand during *that* Call Me by Your Name scene where the credits roll, Timothée cries, love seems like a distant memory, and Sufjan Stevens plays quietly in the background wafting through the air like the wisp of an extinguished unscented candle) if she would wear a Timothée shirt, she texted me, "Yes. I can't think of a quote right now because the thought of me wearing his face anywhere on my body is making me tremble."
When I asked Leah—our senior features editor, who considers it rude that Armie Hammer didn't consult her before getting married—for her opinion on Timothée, she said, "My thoughts are 'Why aren't I young enough to date him?'"
Monique, our editorial producer, said she would wear a Timothée shirt "anywhere and everywhere," but it would be preferably "oversized" so that he could "cover her whole body." She has a boyfriend who frequently criticizes her Timothée snapchats, but like the rest of us, she just can't help it. When I asked my boyfriend if he'd wear a Timothée shirt, he was blunt and texted me, "Yeah."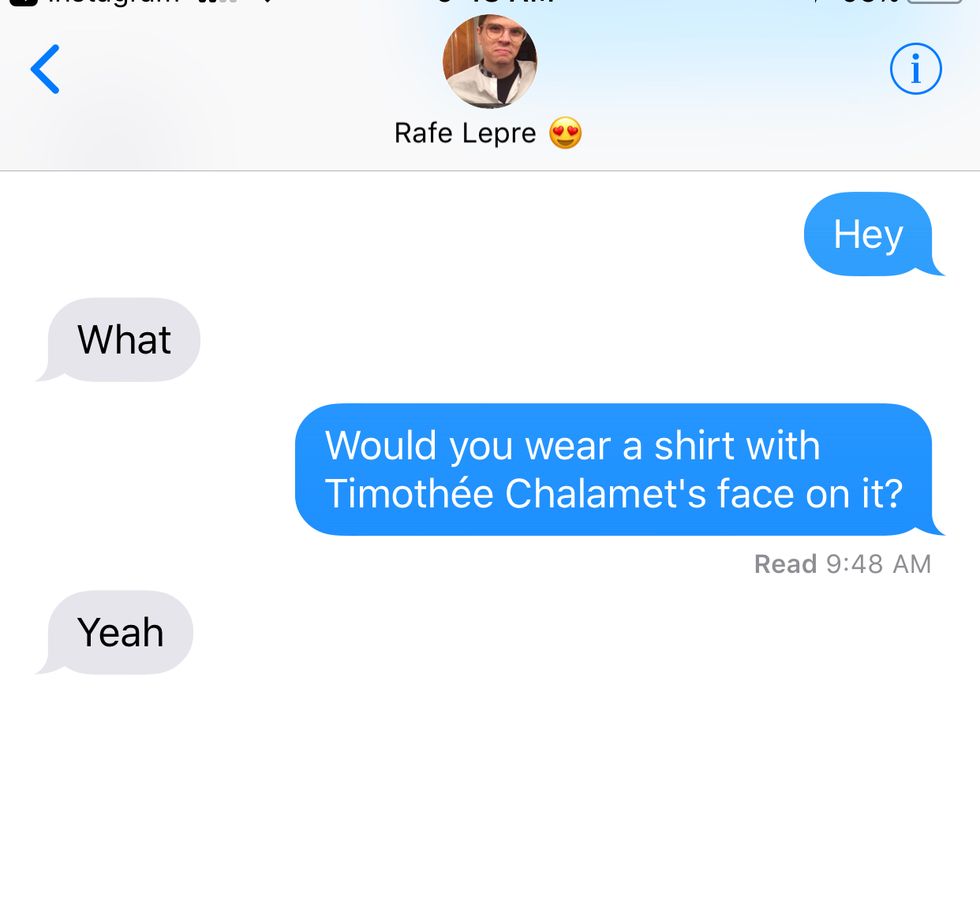 Ivory's custom button-down was made by artist Andrew Mania, and he has yet to respond to my DM inquiring about the availability of more hand-painted Timothée dress shirts. I assume this is because he is an artist and a very busy man, but also because he is receiving hundreds of DMs that read: I NEED THAT SHIRT, AND I NEED IT NOW!
As I wait to hear back from Mania, consider painting your own if you're an artistically inclined prodigy like Timothée's Call Me by Your Name character Elio, and if not, there is always RedBubble. The only thing better than one Timothée is two Timothées (or three or four).