Riverdale's Madelaine Petsch Says We're About to Find Out a LOT More about Cheryl Blossom
The actress told us that episodes 14 and 15 hold some big reveals.
Celebrity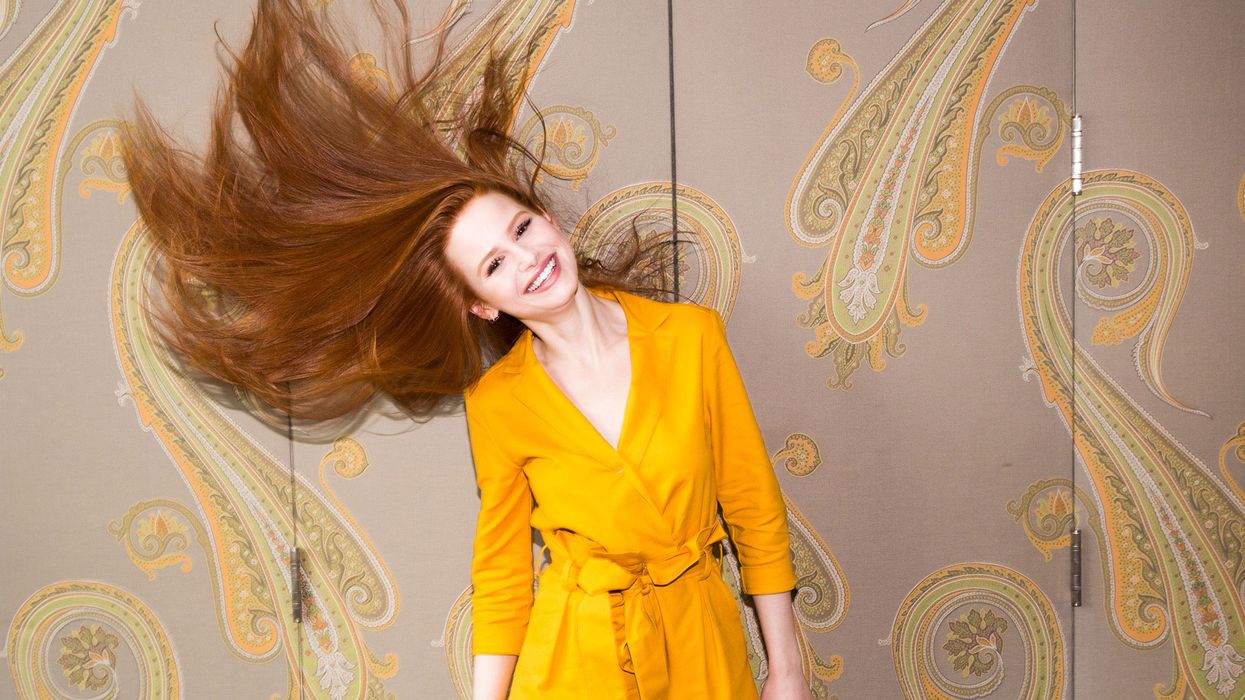 The first thing I notice when we arrive at our shoot with Madelaine Petsch? Her face, which is plastered everywhere lately while she promotes her recent partnership with Bioré. It's a move that could easily be considered very "Cheryl Blossom"—aka the queen-bee-type character that Petsch plays on Riverdale—but the actress quickly proves she's nothing like her on-screen alter ego. Where Cheryl can be dramatic and downright mean, Madelaine is laid-back and friendly, cracking joke after joke as her photo is taken. Her brand of humor is sarcasm (but not the rude kind), and when it comes time to talk, I feel as if we're old friends.
"I think Bioré was actually the first skin-care brand I ever tried," Petsch tells me as we sit on a striped brown couch and reflect back on the days when pore strips were considered *cool*. "I used to see girls having sleepovers in movies, and they'd have those things on their noses. I didn't know what they were, so I asked my mom, and she went and got them for me."
---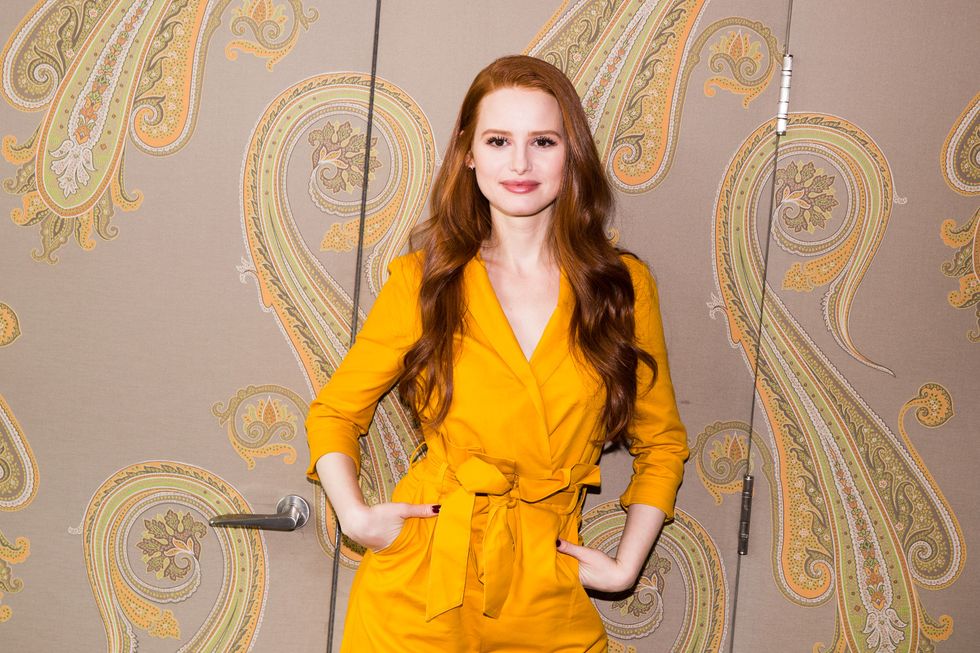 Petsch says she's still a big fan of the brand (hence the whole partnership thing), but now prefers its Baking Soda Acne Cleansing Foam—which makes sense, considering the amount of time she washes her face each day.
"I triple-cleanse," she says, which has me intrigued. "You'd be surprised. One wash does not get all the makeup off. I dare you to wash your face one time tonight, then try to use a white tissue—put some liquid on it and wipe it off—and see how much makeup is still left on there. It's disturbing."
The trick must be working, I think, as the actress's skin is flawless and pimple-free. She also shares another great tip: Don't exfoliate too often.
"I learned that if you have a pimple and exfoliate, you can actually spread the bacteria around. So now I'm scared," she admits, adding that she's also cautious about not picking at her skin. "I pop my boyfriend's [pimples], and I love popping my own, but I can't. I'll get a scar."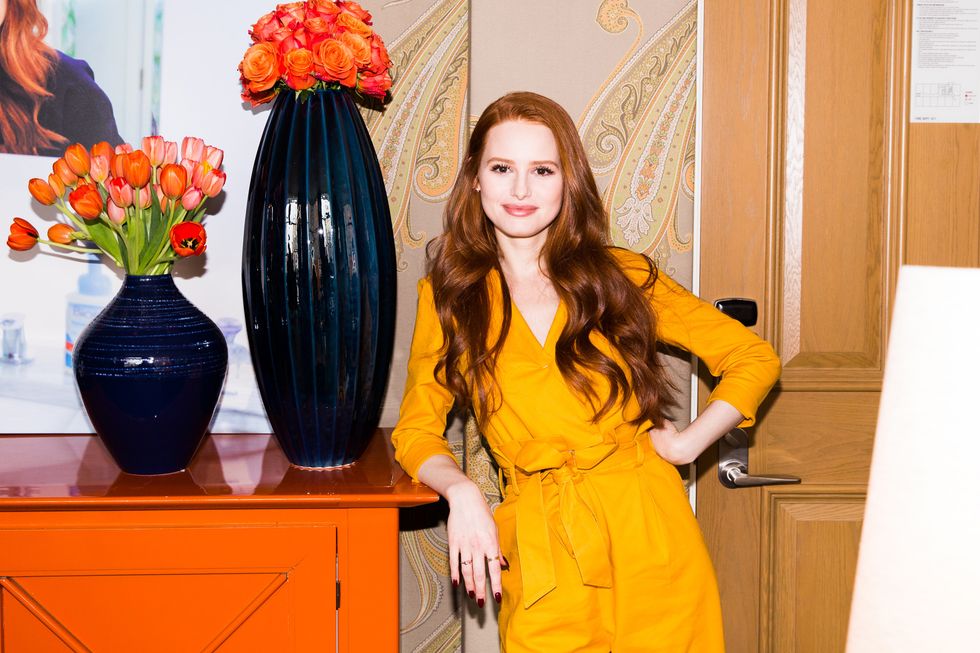 With all this beauty knowledge and savvy, it would be easy to assume that Madelaine has plenty of tricks for her long red locks, too. But when I ask her about them? There's not much to share, since she's never even dyed her hair.
"[People] are like, 'Oh, she must have a crazy hair-care routine.' I'm like, 'I just wash it.' My boyfriend blow-dries it sometimes, that's about it."
Yes, it's true: Her boyfriend blow-dries. her. hair.
"He went to cosmetology school," Petsch reveals, referring to recording artist Travis Mills, who often pops up on the star's Instagram. "I didn't think that would come in handy until one day my arm got really tired, and I was complaining about it. He was like, 'Oh, I can blow-dry it for you.' Now he does it every time. I got him a nice brush. He was like, 'Take me to the beauty store, let me pick out some stuff, and I'll blow-dry your hair whenever you want.' I think it's therapeutic for him because he can get in the zone for a little bit."
Of course, if you've ever watched the couple on Madelaine's YouTube channel, the sweet gesture isn't too surprising. The two have filmed multiple adorable videos, including one where they try crazy couple yoga poses, and another where Mills applies Petsch's makeup.
"I actually started [my YouTube channel] because Cheryl was such a mean girl, and a lot of people assumed that I was aligned with that personality," she says. "So I started with five or six videos, just to be like, 'Hey, guys, this is me. I'm weird and quirky.' Then I loved editing so much, and making the videos, and the connection that I made through fans, that I was like, 'I want to continue doing this.'"
Of course, once the topic of Cheryl comes up, I have a million questions. Why is she so cold? And would Madelaine ever be friends with her character in real life?
"I don't think Cheryl has friends in real life," she says, but adds that if Cheryl would let her in, then of course. "I think Cheryl needs friends—she needs a support system. You'll see more of that as the season unfolds."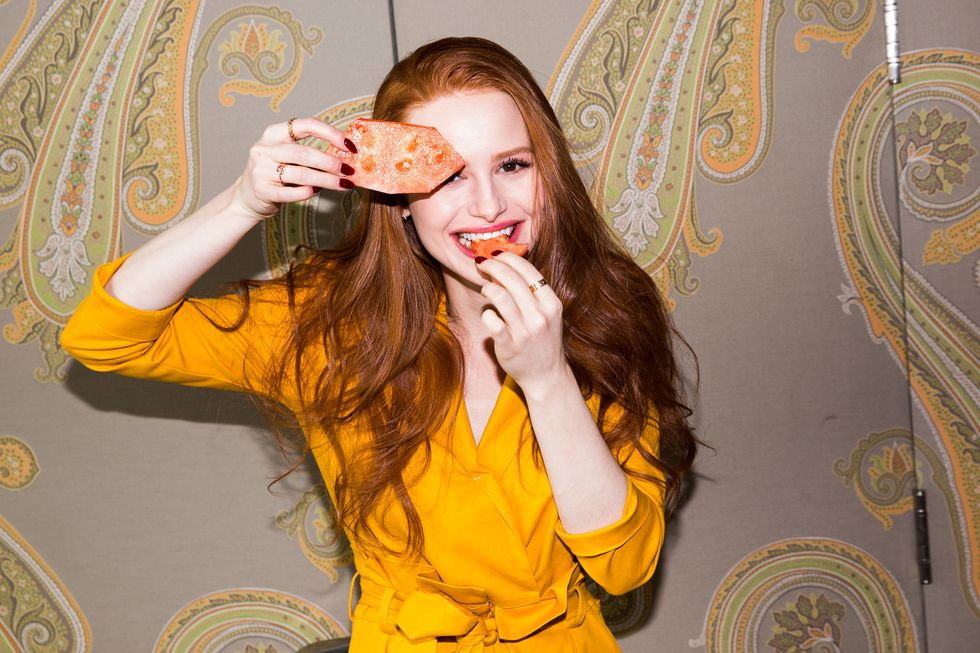 The actress admits it's hard justifying a bully's actions, since she was bullied herself growing up, but reveals there's more to Cheryl than your typical mean girl (Note: It was also recently revealed that Cheryl is bisexual).
"When you really get into the thick of it, you're like, 'Wow, she really does have so much going on in her life.' You kind of get it. The more the season unfolds, the more of that story is told—especially in episodes 14 and 15 that are about to come up. You really see why she's so cold to her mom, why this exterior is up, why the walls are up, and why she doesn't trust anyone. It's very interesting."
Interesting, indeed. And so, I find myself thinking as I say goodbye and exit the room, is Madelaine Petsch.
Want more stories like this?
Camila Mendes Is Not Interested in Latina Stereotypes
Lili Reinhart Almost Gave Up on Acting Before Being Cast in Riverdale
Will We Finally Learn the Truth about Alice Cooper and F.P. Jones on Riverdale?