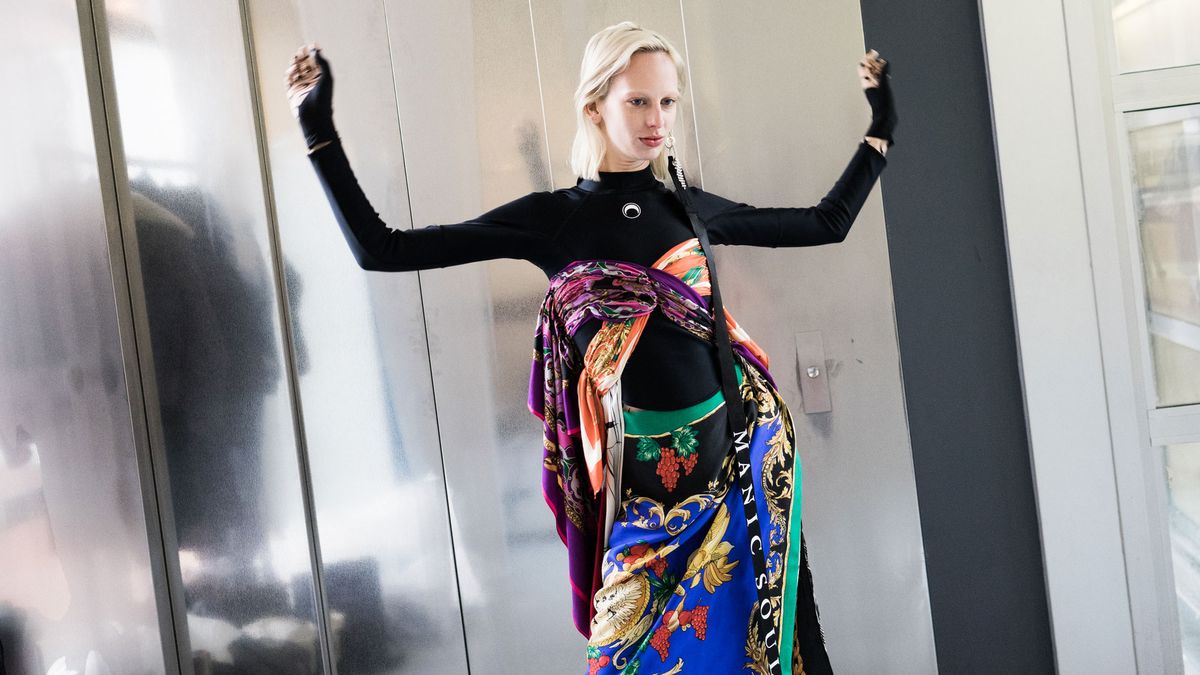 Fashion Week
The future looks a lot like….the future?
"But it doesn't mean anything now," my boyfriend told me as I mentioned adding safety pins to an old t-shirt last Saturday.
I liked the way it looked, and he wasn't trying to take that away from me, but when I brought up its punk connotations, he mentioned something his dad once said: "As soon as I went to one of your mom's med school parties and saw a surgeon with a full-sleeve tattoo, I knew it was over. It didn't mean anything anymore."
My boyfriend (and his dad) are right. Like with piercings and tattoos, safety pins holding together shirts don't mean what they once did. They've been capitalized on and commodified—something people use to reference a time of rebellion and nihilism. In essence, they represent everything they originally stood in opposition of. They're "cool" you can buy.
I've been thinking a lot about the kind of fashion that will define our generation. It's a weird time to even work in fashion, to tell people they need to buy a plaid skirt suit or colored tights when there are bulletproof backpacks for children selling out. To worry about the trends, the shows, and the glamour of it all while the lives of so many people are currently hanging in the balance doesn't seem especially important.
---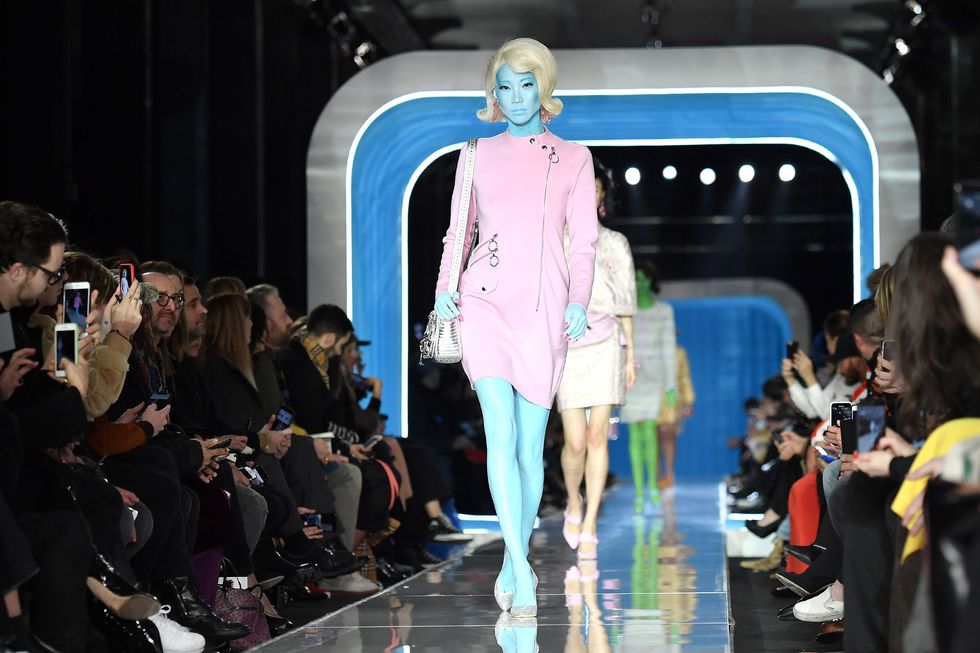 Moschino Fall 2018
Photo: Getty
But like any kind of art, fashion is subjective. It makes you feel. It provides a connection to something that's much bigger than you are—a way to talk without speaking. So in a time where so much needs to be said, how do we wear our voice? 
Probably not through safety pins. As Andrew Bolton writes in Chaos to Couture (a book that sits underneath my laptop at all times), "Despite borrowing elements from earlier street styles...punk was at its core anti-nostalgic. Punks lived in the present. Central to this philosophy, at least in England, was the anthem 'No Future.'"
Even though the world feels very apocalyptic right now, designers are actually looking towards the future instead of away from it for inspiration. At Milan Fashion Week there were protests in response to the recent rise of xenophobia ahead of Italy's elections next month, but you would never be able to tell by the street style photos or the shows—at least not inherently.
At Gucci, Alessandro Michele created looks that he described as "post-human" with models carrying dragons and replicas of their own heads, wearing clothing that was gender-fluid and cross-cultural (though white models wearing turbans was met with criticism). Michele created Cyborgs, people who have decided who they want to be and what that looks like.
At Moschino, Jeremy Scott gave conspiracy theories legs—blue, yellow, and pink ones—as models walked down the runway dressed up like alien incarnations of Jackie O. Dolce & Gabbana's show started with drones carrying handbags down the runway. Miuccia Prada continued to play with the concept of virtual reality, with a CGI Insta-girl Lil Miquela doing an Instagram story takeover before the women's show. At her most recent menswear show, she even told press, "We are living in a period which is interesting because we do not know where we are going." Her workwear-meets-rainwear-meets-tulle FW18 collection, presented in a Blade Runner-esque venue, was clearly crafted for the women who could deal with whatever the future holds.
And it holds a lot more than just matrix sunglasses, aliens, and cyborgs. There is perhaps—more frightening than alternative realities, alien invasions, and artificial intelligence—this impending sense of uncertainty which Miuccia Prada touched upon. Other designers, though, decided to focus less on what the future would look like and instead on what it would feel like and how clothing could work to shield us.
At Jil Sander, Lucie and Luke Meier's statement was one of repose. "It's a collection about the future, but in a human, warm, comforting way." They brought tranquility to life with large cocoon coats, duvets worn around the waist, and knit sweaters and skirt sets. Moncler created a puffer universe with their "Genius" fashion project, a "republic of imagination" with eight designers and eight collections that reimagined the coziest wardrobe piece as gowns, capes, and gloves.
"So what exactly will the future look like?" I ask my boyfriend as I walk away from my ripped t-shirt and bag of safety pins, scrolling through the Vogue Runway images from Milan and Paris on my phone. He shrugs, and I do, too. I'm not sure either. Everything feels so weird right now.
Will we slip into a world of make-believe and create an alternative reality, dressing up as characters? Or will we layer ourselves in soft armor, for protection and warmth? Or maybe it'll look a bit like the picture Marine Serrene paints—a fluttering hem on a dress that reads "Futurewear," a pair of crescent moon leggings that stands for inclusion (the shape is her motif, a symbol of Islam and a response to the 2016 bombings in Paris and Brussels), a bloodred raincoat, and some good cagoules. Serrene's collection was a little bit athletic, urban, and utilitarian, but also beautiful and optimistic—something that has been lacking amongst our present reality. Time will tell whose vision prevails and what the "punks" of the future will look like.
Photos: Getty
Want more stories like this?
How to Style the Colored Tights Trend
The Next Big Accessory Is Something you Already Own
These Are the 3 Colors Everyone Will Be Wearing This Year