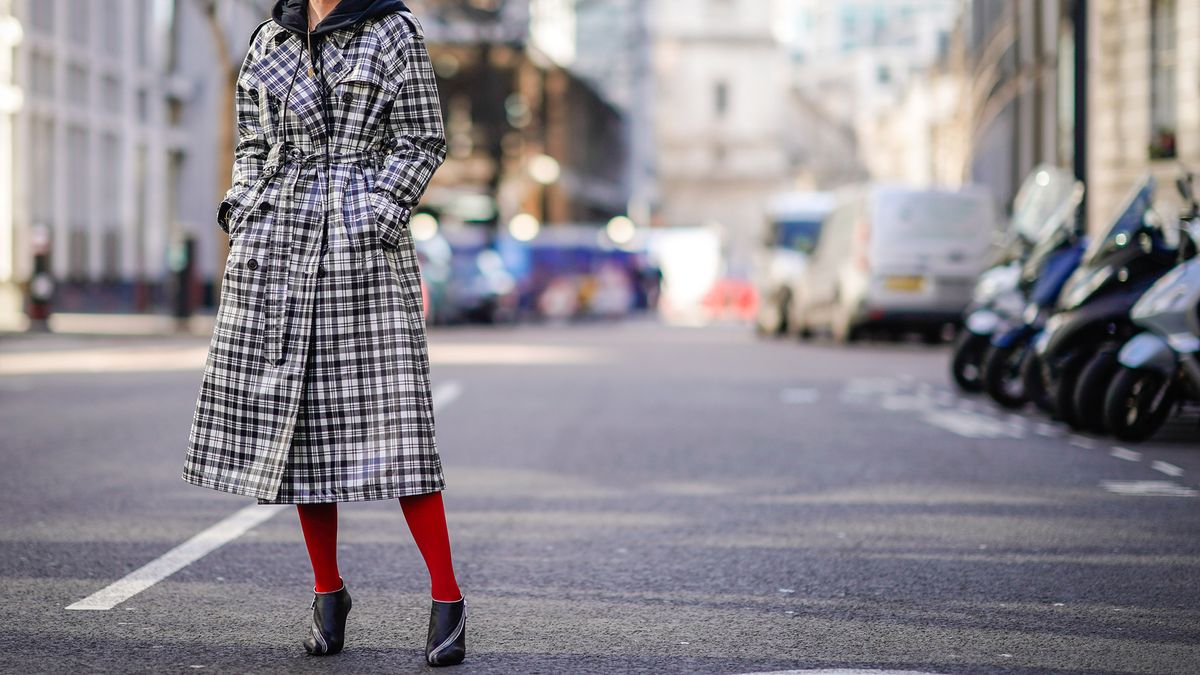 Fashion Week
It looks a lot cooler than it sounds.
I don't have a nice space for tights in my underwear drawer. Instead they're shoved and bundled up in a ball in a corner. It's not them, it's me—or, well, it's just the way I think about them. I don't think of tights like I do underwear (necessary) or pants (not always necessary but often fun). I think of tights like an obligation, one that tends to snatch and tear and leave me frustrated. They're a last-minute addition to an outfit, one that doesn't add anything except warmth (and a shield for a day when I accidentally shave my left leg and not my right, also known as the Saturday after NYFW).
Since I think of tights as something I have to but don't necessarily want to wear, I was surprised to find myself Googling "blue tights" after leaving the Saks Potts presentation at NYFW. I felt something similar after leaving Tom Ford, Adam Selman, and Ulla Johnson. There were sheer red tights worn with denim skirts, purple leopard tights paired with cocktail dresses, sparkly gold tights peeking out underneath evening dresses. For the first time in a long time, the tights felt like part of the outfit and not an afterthought. They felt like something I'd want to wear multiple days of the week, not something I'd bundle up and stuff into a drawer only to be forgotten nine months of the year.
Colorful tights have been popping up quietly for a couple of years–Blair Waldorf did, after all, frequently wear red tights with her uniform in the earlier seasons of Gossip Girl. More recently, the spring/summer '17 collections for Céline, Balenciaga, and Valentino featured looks styled with bright tights back in the fall of 2016. But the trend felt particularly present this past NYFW, with hosiery so vibrant it could (and often did) catch your eye before the actual outfit did.
Luckily, you can easily get behind the look now (fun light blue tights start at $3.00 according to Google!!!). But since going from wearing black tights out of necessity to styling red, yellow, blue, and neon animal print ones for fash-un isn't the easiest transition, consider the following your guidebook for styling them into your everyday—featuring tips straight off the NYFW runway.
---
Wear colorful animal print with...more colorful animal print
Photo: Courtesy of Instagram/@tomford
Tom Ford's FW18 collection felt one part Edie Sedgwick with slinky black dresses, thick headbands, and bedazzled hoops, and one part '80s pop star with animal print pantsuits, rainbow embroidered Beverly Hills bomber jackets, and silver sparkle everywhere. But even if Sedgwick mostly wore all black, she did have a penchant for leopard print, and, if given the chance, something tells me she would have jumped at the chance to do the most and wear red leopard print from her head to her toes (literally!). The trick to pulling this look off is to wear with confidence and don't feel weird about it; it's not sooooo far off from the all-red monochrome that's everywhere right now.
But if that's *too* much, pair your favorite animal print with a sheer colored tight instead!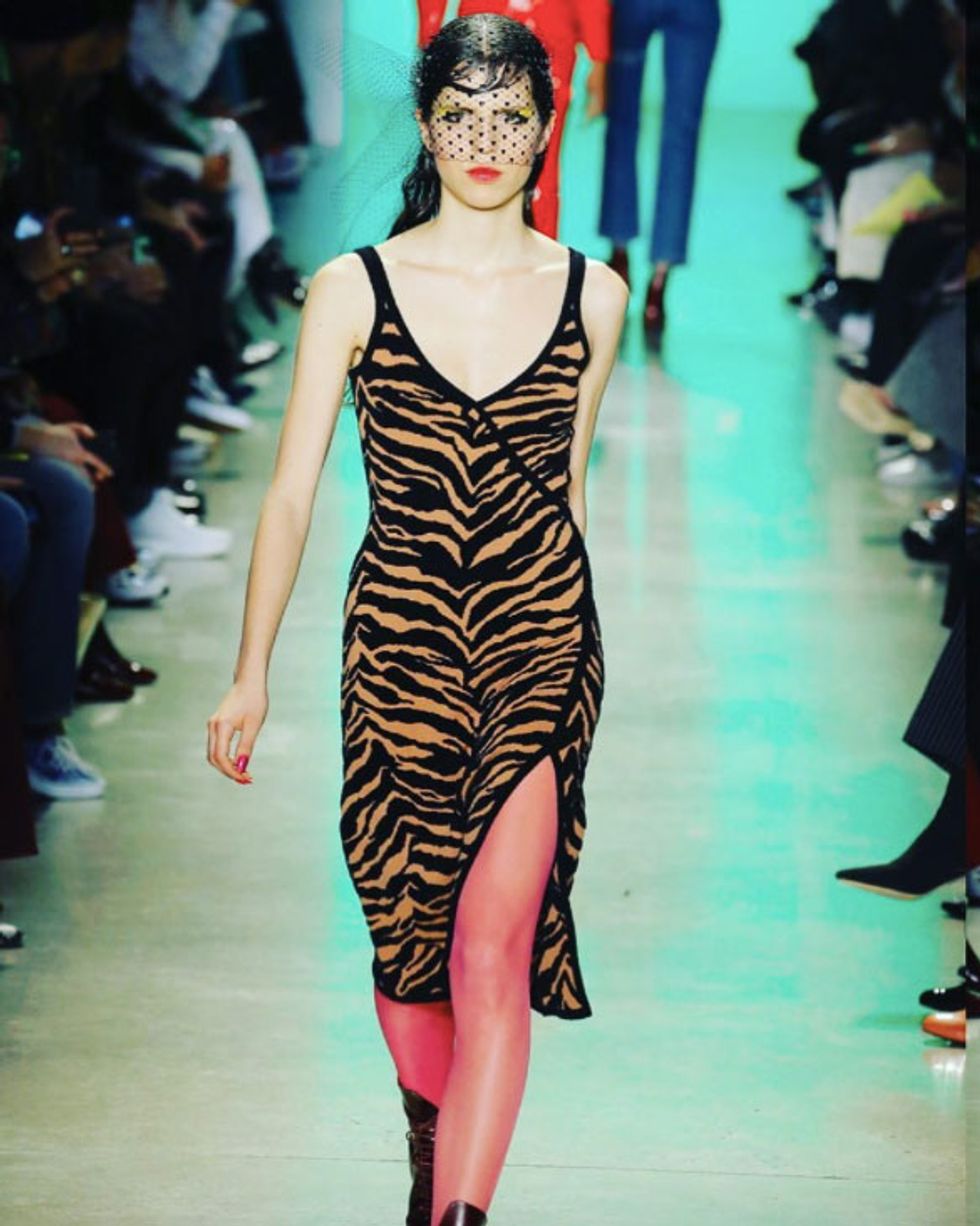 Photo: Courtesy of Instagram/@hayettmccarthy
Adam Selman's FW18 collection was also heavily inspired by the glam of the '80s as well as by two photo books titled Foxy Lady and Banana Split and a series of sexually suggestive greeting cards from the same era. Naturally there was a lot of sultry animal print looks—namely, Tiger—worn with less in-your-face and more opaque leggings than at Tom Ford. Pair yellow leggings with your zebra sweater or red tights with your tiger dress as a way to make a statement without drawing too much attention to (or from) the actual print itself.
Contrast isn't everything, so match your legs to your top!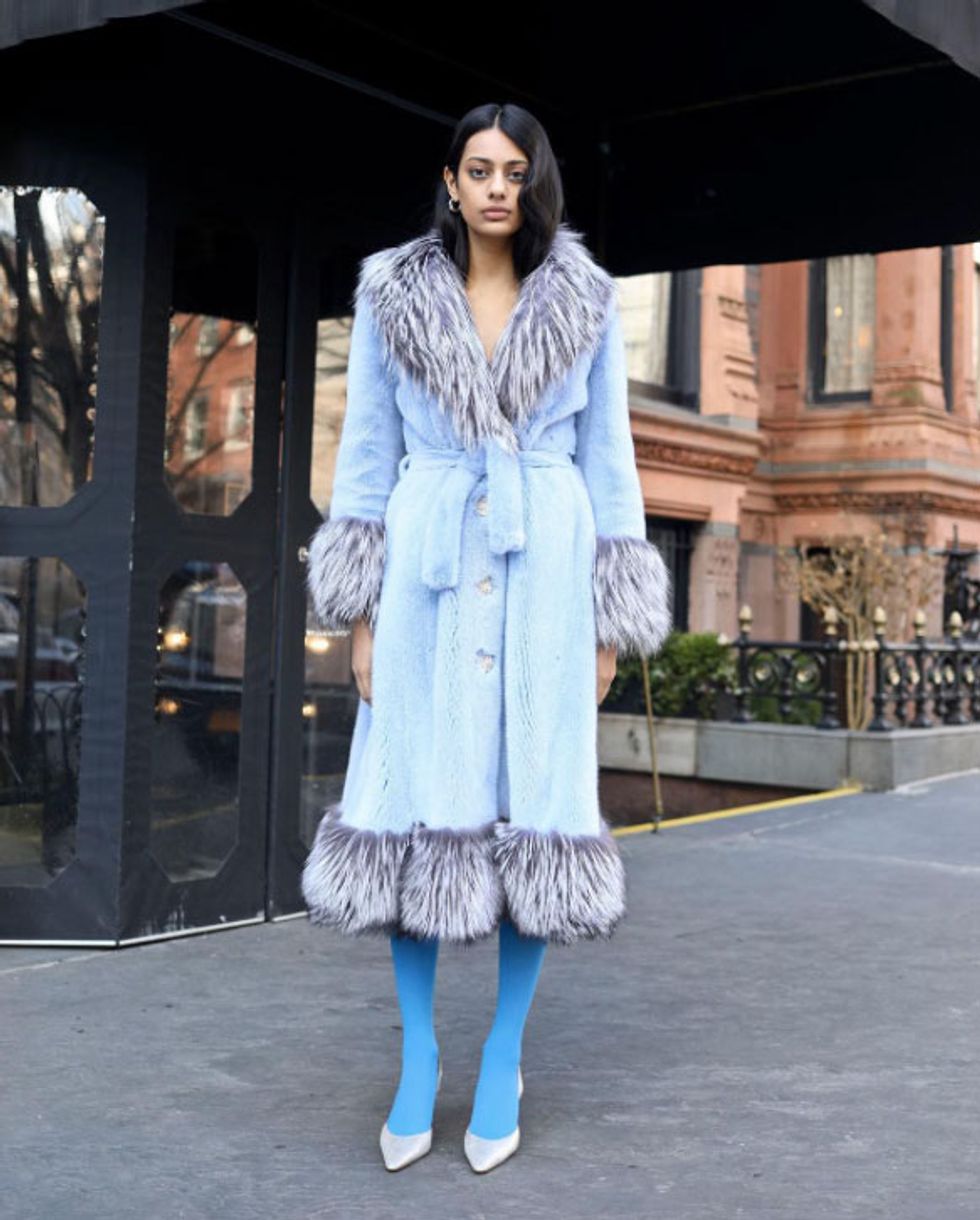 Photo: Courtesy of Instagram/@sakspotts
Saks Potts' fall/winter '18 presentation, hosted in The National Arts Club in Gramercy Park and served with a side of scones and jam, wasn't one of the most Instagram-able moments of NYFW for nothing. Yes, it was literally a tea party, but the outfits themselves also felt like a warm cup of English Breakfast and a pastry flown in from Copenhagen (which they were). One favorite look was worn by a model on a beige tiger-print couch (more animal print!)—she wore a powder-blue trench with grey shearling trim and blue tights. The look was angelic, but the matching blue tights and coat—with just a slight difference in shade—was definitely the cherry on top (or the butter on the Danish scone).
Or go rogue and wear colors you rarely see together
Photo: Courtesy of Instagram/@sakspotts
Saks Potts does everything right. So while the matching blues were great, so are the clashing greens and purples. There was also a great blue coat paired with psychedelic swirl pink tights and a yellow coat with green tights (and red polka dot pumps!!!). Sounds like a lot? Just do as Saks Potts does—go with it, and wear all your favorite colors at once. If the outfit is good, it's good, no matter what color your torso or legs are.
Embrace golden sparkle as the new neutral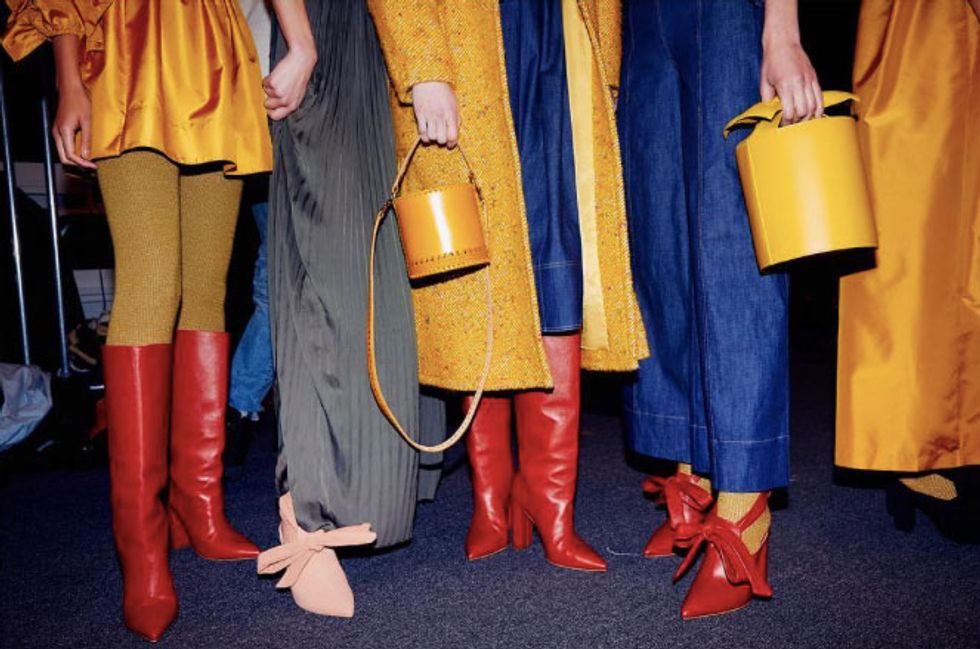 Photo: Courtesy of Instagram/@ullajohnson
This season Ulla Johnson paired everything from a camel knit sweater to a lace evening gown with a pair of thick golden leggings that had just a hint of twinkle. Every time you're tempted to go for your tried-and-true (and, let's be honest, most likely ripped) standard pair of black tights, opt for this alternative instead. It's a guaranteed way to make your outfit different. Plus, golden sparkle is essentially Gen-Z yellow, which is basically the next millennial pink. It's the gateway accessory to being ahead of trend.