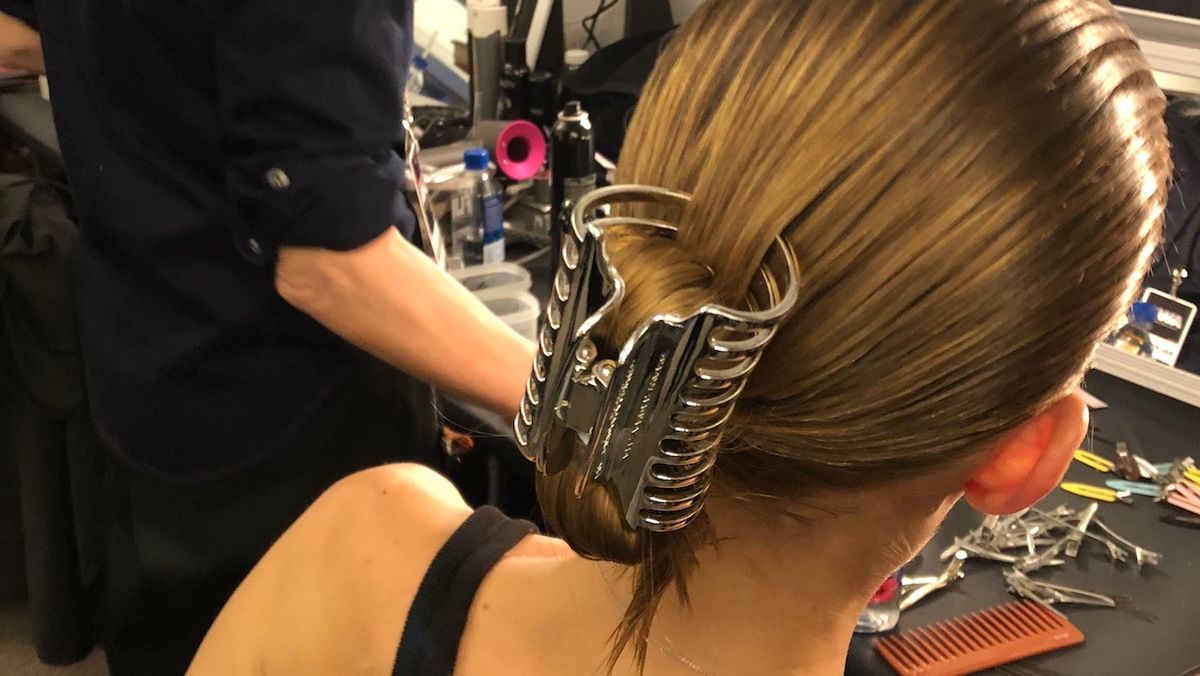 Fashion Week
Alexander Wang Is Bringing Back This Major 90s Hair Trend
This is a throwback you can get at the drugstore.
It's been a long time since anyone wore a hair claw (or what some people call a banana clip) in public with pride. But after Alexander Wang's fall 2018 show tonight, where models hit the runway wearing the iconic and once tacky hair accessory, we're going to strongly suggest you run to your nearest drugstore or Ricky's to buy whatever claws are left. Leading up to the two Alexander Wang shows, the first of which was held at the office building 4 Times Square (the former home of Conde Nast), the Alexander Wang Instagram grid was filling up with AWG-labeled corporate images: those inspirational posters with sayings like "Teamwork" and an AWG Corporate Handbook. While the show location and social teases could easily cue assumptions of this season's power suit inspiration, we did not see the claw coming.
---
But we're so glad it's here. Hairstylist Guido Palau of Redken told us that Wang called him during couture with the idea and told the stylist he was getting the silver clips custom-made with the Alexander Wang logo on them. To complement, Palau used Redken Satinwear 04 blowout lotion, Mess Around 10 cream paste, and Forceful 23 hairspray with the Dyson Supersonic Hairdryer to create sleek, pulled-back twists with rake marks. Onto the twists, one or sometimes two clips were attached. "It's a take on power dressing, looking at the '80s, those executives with big shoulders," says Palau. "They pulled their hair back out of their faces with these clips. But then it sort of fell out of taste. Now, like many things, we revisit it 20 or 30 years later. The girls today don't even know about that clip, so, for them, it's super cool." It's rare that one hair look from a season is deemed straight-up "it"—but this is an easy call. Seriously, go find a CVS that's open 24 hours and try to nab a can of silver spray paint while you're out. The second option is to get this one on Amazon for $10 before they're sold out. Last resort: Wait until fall and hope the designer sells the real thing.
Want more stories likes this?
See Alexander Wang's H&M Collaboration
The DJ Behind Alexander Wang's NYFW Soundtrack
Alexander Wang x Adidas Has the Track Pants You'll Want