How Social Media Made This 69-Year-Old Supermodel Even More Confident
Maye Musk truly is the epitome of #goals.
Models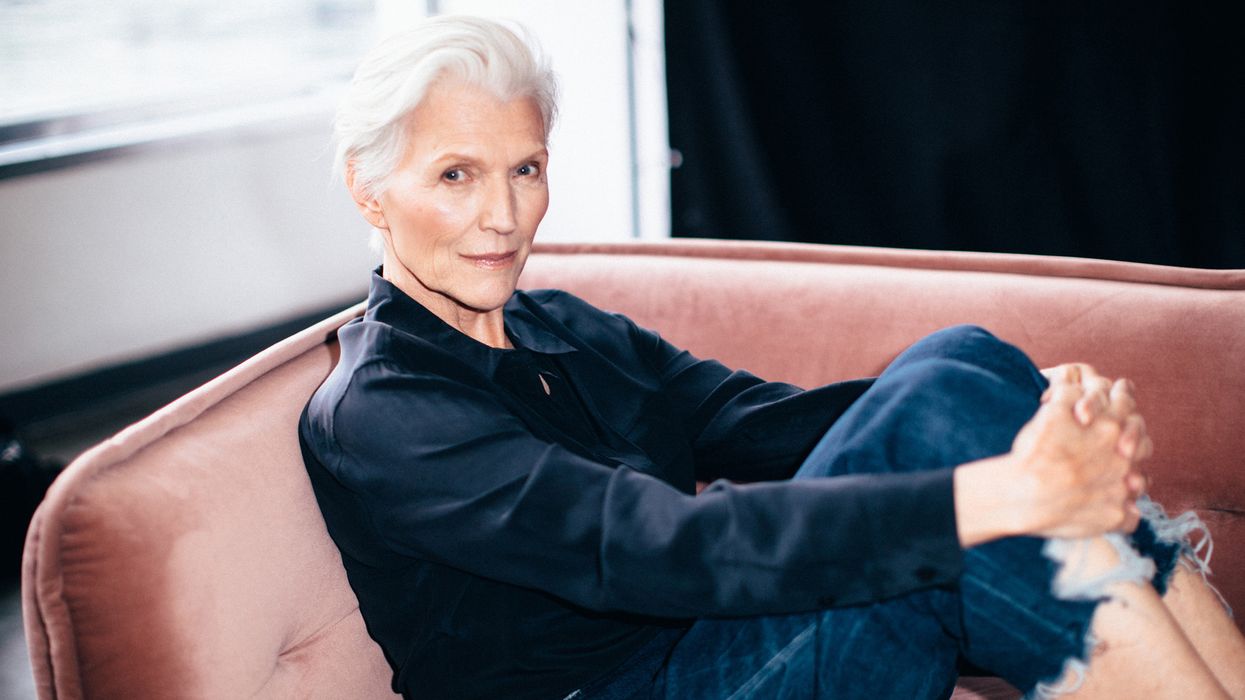 In an industry that values youth to a fault and frequently features teens and young adults on the covers of magazines, it's rare to find a model who excels in her career after her twenties and thirties. Even rarer is for a woman to find the apex of her success as a senior citizen; but that is exactly what makes 69-year-old Maye Musk such a phenomenon, although she is apt to disagree. "I think 70 is going to be my peak," she says, laughing warmly on the set of her DL1961 shoot (she's one of the brand's newest faces). "I'm very excited about that." We begin to furiously scribble notes as the budding supermodel lounges on the studio's rose velvet couch, all lithe limbs and glowing complexion while our photographer snaps away.
---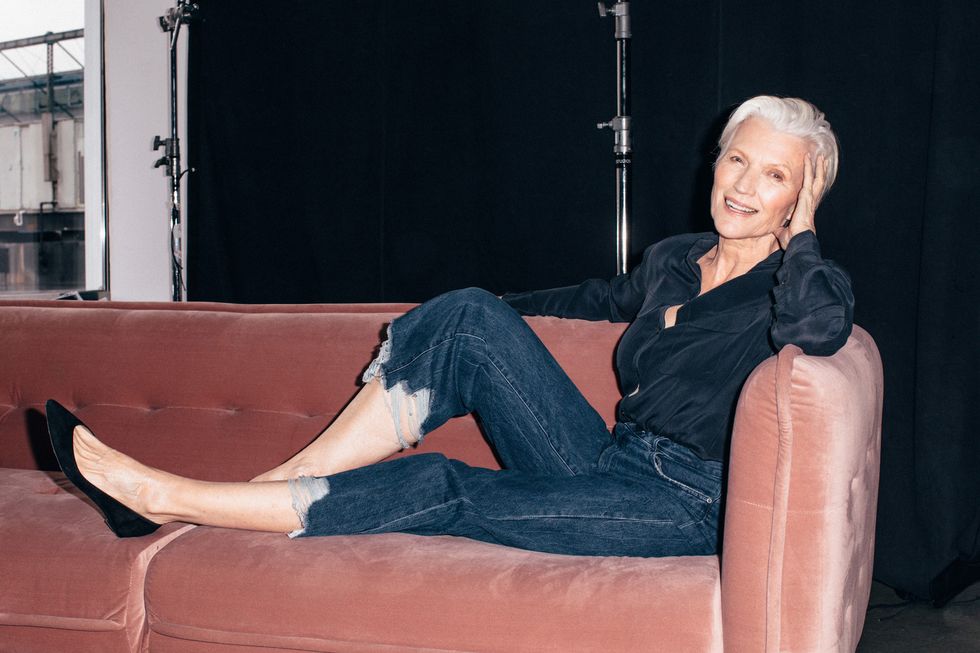 "I started modeling at 15," she explains in between takes for what is the latest in a long line of recent campaigns (in case you haven't yet heard, she's also a bonafide CoverGirl). "My mom's friend had an agency, so she booked me for my first runway show. I remember there was a model who was 30, and I thought, 'Wow! She's so old, and she's modeling.' Look at me now [laughs]." Musk's crisp South African accent and undeniable charm belies her impressive career outside of the industry. "There weren't any other models over 18, so I didn't expect to carry on. That's why I went to university [for] my first degree—bachelor's of science in dietetics."
Her expertise in nutrition and health have no doubt kept her in top modeling form even after stepping back from her work in fashion, and she's quick to credit a supplement-free regimen for her youthful glow. "No powders, juices, [or] supplements," she iterates when we ask for her top three wellness tips. "No fad diets. I'm a scientist, so I follow what's good for the body according to science. Eat more fruits and vegetables. Follow the food groups. Who wants to take a pill when you can eat yummy food?"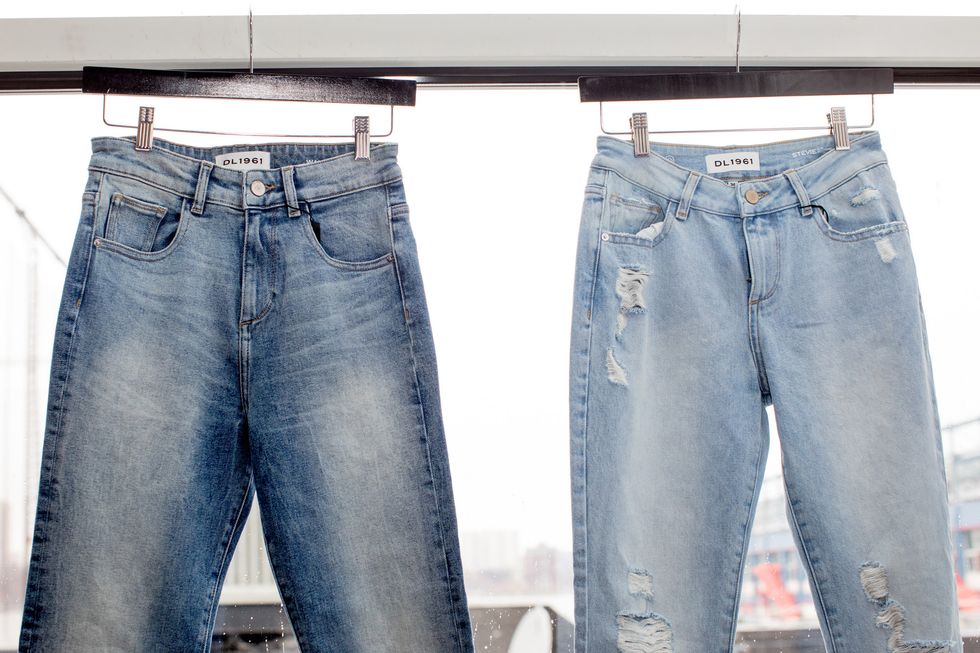 Musk tucks a strand of her signature silver bob behind one ear before revealing why she ultimately chose to let her natural color shine. "I just decided, 'I don't need to model anymore, [so] I'm not going to color my hair anymore.' I was really a dietician who modeled, and I was giving talks all over the world. As you're growing it out, you go blonde, and then you [cut] it shorter, and then you got this white halo, and then eventually you're all white." She is still surprised to find that her grey hair is an asset, rather than a hindrance, in her career rebirth. "I think immediately [after going grey] I was booked for editorials. It just gives you that extra look."
Musk is refreshingly forthright about her approach to aging, claiming she's never felt bad about growing older. "I've ignored it; my mum ignored it," she says, waving away the thought. "She passed away at 98 and never discussed age or aging. You need to develop your confidence in other fields, or in your work, so that you don't think about, 'Oh gosh, I've got a wrinkle'—that type of thing." She also believes that social media has encouraged others to reconsider their preconceived ideas about what it means to grow older. "When I post on Instagram, the comments are 'thank you for representing us!' Or, if they're 20, they say, '#goals.' It seems to make women happy at all ages [because] they know they can continue and still work and be confident about themselves, because confidence gets knocked off of you a lot in your life [laughs]."
So, what exactly is the secret to her effervescent confidence? "[It] should [come] from feeling good about yourself. First of all, if you eat well, you'll feel good about yourself. If you study, [you'll] become successful at your profession. Work hard, because that gives you confidence." Just before her name is called to return to the makeup chair for touch-ups, Musk reminds us that with confidence comes power, and with her newfound notoriety she is encouraging other women, old and young, to accept themselves at any age. "What I loved about 2017 is that the women are speaking out and supporting each other. Men and women like to hear what I have to say, especially knowing that you can work past 65 and be independent and look after yourself and be confident." Musk smiles, and with this final tidbit of wisdom and a delightfully warm hug (she is a grandmother, after all), she's off, returning to her place in front of the camera.
Want more stories like this?
This Italian Supermodel's Advice Will Change How You Think about Aging
Seven Green Beauty Products That Will *Actually* Help Fight Aging
How to Reverse This Type of Premature Skin Aging