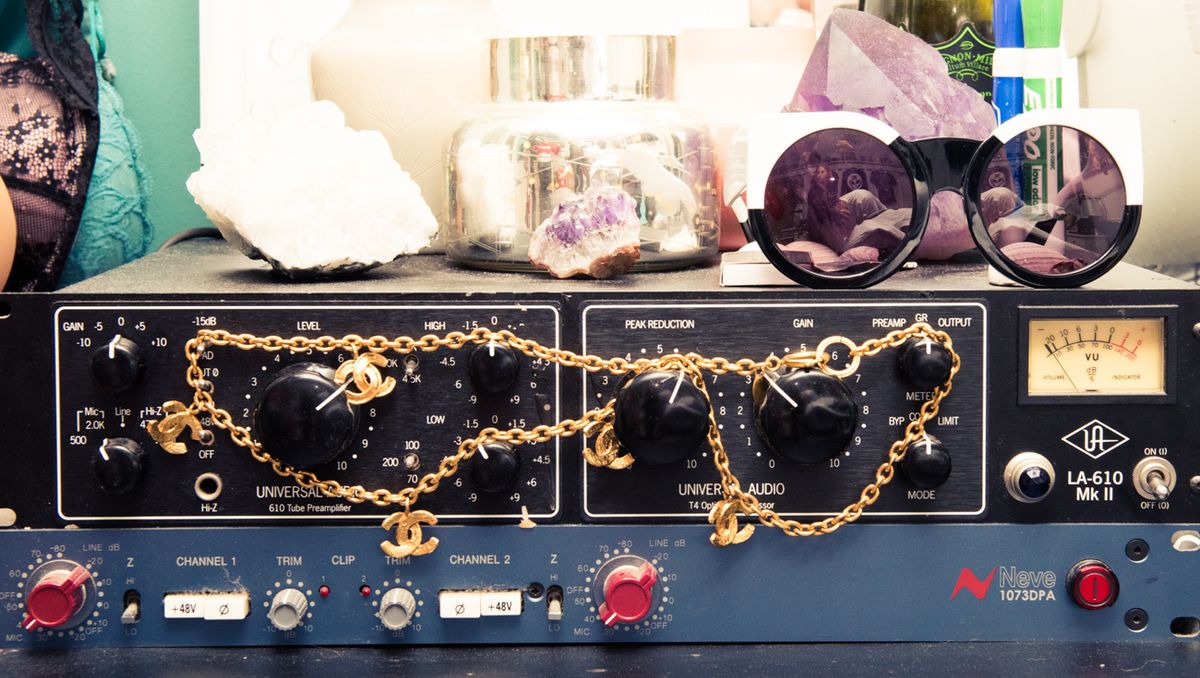 Series
Add them to your playlists now, because we promise they're about to blow up, and their music will not disappoint.
Music is released at an almost alarming rate these days—just as you finish getting acquainted with a new album, there are another six awaiting you. And that's if music is a true passion of yours. Otherwise, chances are you're simply hitting Play on the recommendations offered on your streaming service of choice (Apple Music, Tidal, Spotify). At Coveteur HQ, between hanging Prada dresses in showers and balancing Nikes on cookie jars, we do our best to to stay ahead of the game, listening to music all day while we work, seeking out new artists, and religiously checking sites like Pitchfork, Pigeons & Planes, and Complex to make sure nothing fell through the cracks.
We like to think that we have a pretty good grasp on things, and so we've gone ahead and compiled a list of artists (in no particular order) that we highly suggest you keep your eye on in 2k18. Add any (or all) of the below to your current playlist, and we promise your friends will be impressed.
---
Signee of the TDE Camp, artist and producer SiR dropped his first album in 2015 and had the world falling in love with his part-hip-hop part-soul sound. We only have two more days to wait until his new album, November, is released, and we're betting it's only the beginning of a very good year for him.
From her catchy "On My Mind" single with electronic artist Preditah, to two features on Drake's More Life, to winning the Brit Awards 2018 Critics Choice Award this past weekend, this UK artist is only going up. We currently have "Let Me Down" (her newest single featuring Stormzy) on repeat and are excited to hear what's next.
If you're a hip-hop fan, chances are this year you'll became familiar with this Harlem rapper's single, "Live SheckWes Die SheckWes." Recently signed to Travis Scott's Cactus Jack Records, this young artist is set up with a good crew that can help take him to the top.
From her music to her style, Colombian-American singer Kali Uchis has made quite the name for herself. After her recent release of "After the Storm," featuring Tyler the Creator and Bootsy Collins, we've been left wanting more of her soulful and catchy love songs. If you have yet to score a ticket for her current tour, we suggest you do so ASAP.
We've said it before, and we'll say it again: Soon you're about to see Norwegian artist Sigrid at every turn. The combination of her progressive and powerful lyrics, her dance-inspiring beats, and her light and fun videos that have her dancing her way through different settings make her a force to be reckoned with. There is no doubt she is a true pop star, and we're looking forward to seeing what she does with her performance at this year's Coachella.
In addition to quietly producing for the likes of AJ Tracey, Chip, Wiley, Skepta, and Metric, Canadian artist Tre Mission has been teasing the release of an album drop any minute, and we couldn't be more impatient to hear it. This would mark his fifth album thus far, and considering Skepta and JME both lent their vocals to his 2014 album,
Stigmata
, we're setting the bar pretty high for his upcoming release, whenever that may be.
This Brooklyn rapper has his look down to a T—from his music visuals to his stage presence to his outfits. His lyrics are just as thought-out and permeated with emotions—SAINt JHN is making sure that we get to know him from the inside out.
Rumored to mark the future sound of pop, this Japanese singer-songwriter and model is turning heads with her music (and accompanying videos). She's peppy, she's fun, and a healthy mix of both pop and R&B. Her 2017 release of her eight-track album Rina truly showed us what she is capable of—elevating the pop scene by bringing us a fresh and exciting sound.
Yet another Toronto artist, Seon Leon is leading the way when it comes to rappers from the city. Through his latest 10-track project C.C.W.M.T.T., you can hear the artist's hunger and drive to make something of himself as he gives his all to the world, telling his story through well-thought-out and fully transparent lyrics of how he went from being homeless to giving his all to music. Toronto is known to breed good talent, and we have no doubt Leon is next.
While most became familiar with this California native's name through Kendrick Lamar's single "Love," Zacari has been no stranger to the music world, working on two other TDE tracks and slowly but surely making a name for himself on Soundcloud. The artist has said he is currently working on an album, and we're dying to hear all of the tracks that we're sure are so, so perfect thanks to Zacari's melodic sound.
The electronic world has a new best friend named Yaeji. The Brooklyn-based singer-slash-DJ-slash-producer has found a way to blend electronic and hip-hop together, layering her soft and smooth lyrics on top. If you're looking to start your day with a skip in your step, she's your girl.
88 Camino and Derek Wise make up the Toronto duo 88Glam. The release of their namesake debut album this past November included only one feature (from artist Nav), allowing the listener to truly get to know the artists through their dark yet punchy tracks. 88 Camino serves up melodic verses with Wise mixing in a healthy offering of rap. With a co-sign from The Weeknd's label XO, we're betting they have big plans ahead.