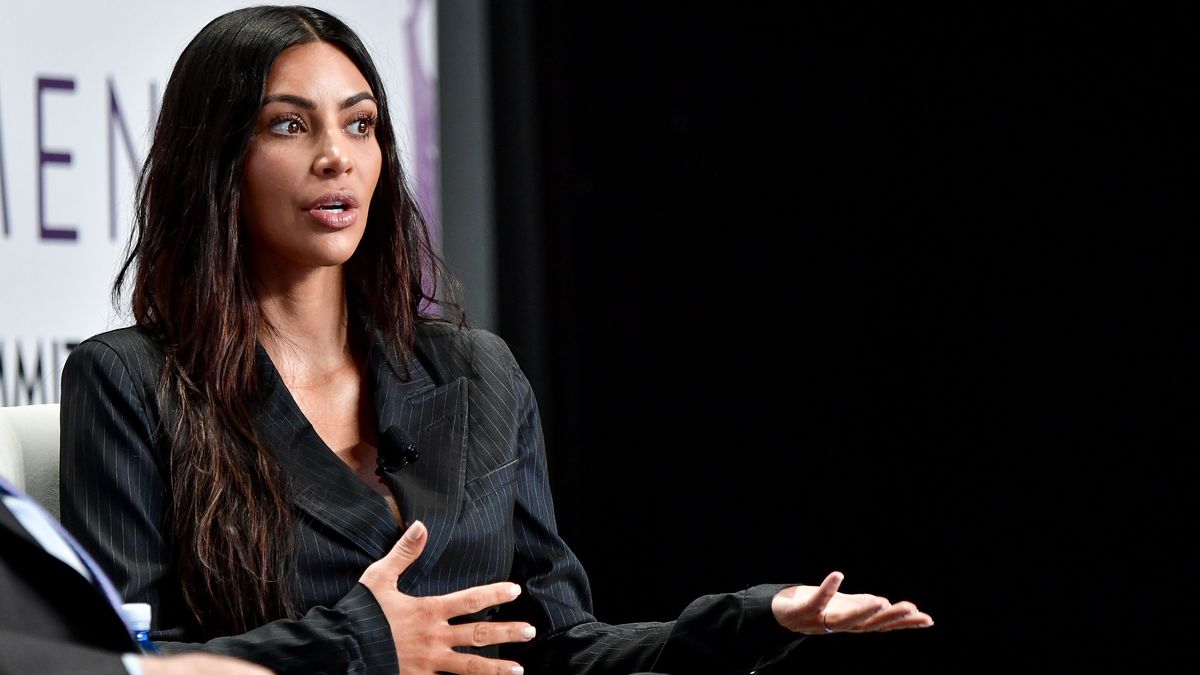 Celebrity
Plus how she really felt about the choice.
Kim Kardashian is finally opening up about her experience using a surrogate—or, as she says is the proper technical term, "gestational carrier"—for her third child. In a post titled "The Truth," the star addressed some misconceptions, while revealing that the journey has not been an easy one.
"Having a gestational carrier is definitely different, but anyone who says or thinks it's the easy way out is completely wrong," Kim wrote on Thursday. "People assume it's better because you don't have to deal with the physical changes, pain or complications with delivery, but for me it was so hard to not carry my own child, especially after I carried North and Saint." 
As we've previously reported, the Kardashian sister suffers from a condition called placenta accreta, something she's been pretty open about in the past. According to the American Pregnancy Association, while women typically shed their placenta after giving birth, placenta accreta occurs when "[the] placenta attaches itself too deeply into the wall of the uterus." One in 2,500 pregnancies result in placenta accreta, and there are also different levels of severity: increta (when the placenta penetrates the uterine muscle) and percreta (where placenta penetrates through the uterine wall and attaches to another organ). 
"My doctor had to stick his entire arm in me and detach the placenta with his hand, scraping it away from my uterus with his fingernails," Kim once wrote about the condition, detailing what she went through after a "fairly easy" delivery with North. "How disgusting and painful!!!"
Doctors had warned Kim—who also went through an unsuccessful operation to repair her uterus—that there would be health risks if she decided to have another baby. In some cases, placenta accreta can lead to hemorrhaging, which can then lead to death.
"I'm so grateful for modern technology and that this is even possible," Kim added in Thursday's post about her gestational carrier. "It's not for everyone, but I absolutely love my gestational carrier and this was the best experience I've ever had. Our gestational carrier gave us the greatest gift one could give. The connection with our baby came instantly and it's as if she was with us the whole time. Having a gestational carrier was so special for us and she made our dreams of expanding our family come true. We are so excited to finally welcome home our baby girl."
The star first shared her happy news on Tuesday, announcing via her website that her and Kanye's gestational carrier gave birth to a girl at 12:47 am Monday morning. "She's here," Kim wrote, adding that the baby weighed in at 7lbs, 6oz. Later, it was revealed the new bundle of joy, who joins older siblings North and Saint West, was named Chicago. Soon, she'll also have a new baby cousin, once Khloé Kardashian gives birth.
Before ever going public with her decision, Kim spoke about surrogacy on Keeping Up with the Kardashians. "I've come to the conclusion in my mind that I can't carry another one," Kim shared wit her mother, Kris Jenner. "So now I want to explore surrogacy."
TMZ first reported that Kim and Kanye agreed to pay $45,000, in 10 monthly installments, to the agency facilitating the surrogacy. They also has to put down a $68,850 deposit—a small price once you a) consider their income and b) consider all the risks. The family is definitely in good company: Celebrities like Nicole Kidman, Tyra Banks, and Sarah Jessica Parker have all had children via surrogacy.  
Photo: Getty