Travel
Think a museum filled with handmade gold leather bags and a fancy hotel. In collaboration with W Hotels.
Alec Kugler
We don't know about you, but Colombia has always been at the very tippy-top of our travel bucket list (and no, not just because of our Netflix addiction to Narcos). Our sights have long been set on the country's capital, Bogotá, and thanks to Katie deGuzman—the designer behind jewelry brand K/ller Collection—we were finally able to make our Colombian travel dreams come true.
We tagged along with DeGuzman during a CFDA Fashion Incubator inspiration trip. The days were spent roaming local markets, drooling over ancient gold, and enjoying farm-to-table meals, among other incredible experiences. The trip was just as culturally enriching and inspiring as we imagined it would be. Our suggestion? Use the last of your vacation days to take a trip to Bogotá, add the following activities to your itinerary, and prepare to fall in love with Colombia's capital city.
---
"The [W Bogotá was] everything you could want and more! The breakfast buffet each morning was insane! All the amazing Colombian fruits were such a treat. Also, all the gold touches throughout the hotel and the rooms really spoke to my aesthetic." —Katie deGuzman
2. Have Lunch at Prudencia
"I loved our first lunch at Prudencia, [which is] owned by a husband and wife. Everything is sourced locally, and they focus on slow cooking methods—lots of smoked and fermented foods. We had a vegan sunflower-seed risotto that was out of this world! Even the hardcore meat eaters went crazy for it. Also, the smoked chicken was amazing. We got a tour of their facilities and garden after. I loved seeing all their jarred fermented goodies." —KD
3. Drool Over Leather Goods at Blumarino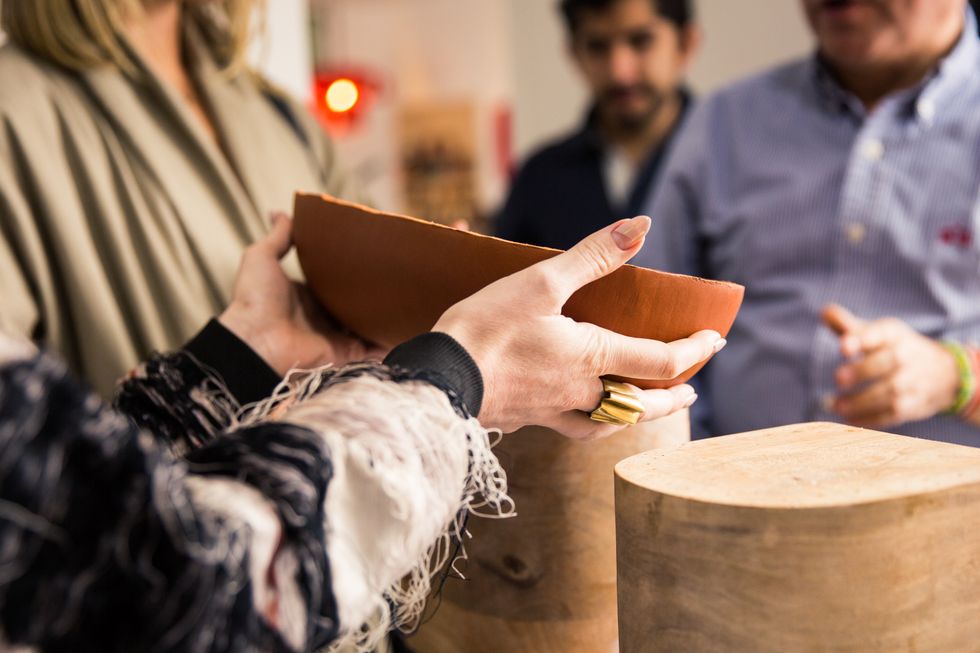 "I'm very interested in learning more about leather work, and the team at Blumarino took us through their process from start to finish." —KD
4. Visit the Museum of Gold
"The Museo del Oro (the gold museum) was the whole reason we went to Bogotá—to learn more and see their incredible collection of gold artifacts." —KD
5. Go to Paloquemao Market
"I loved the [Paloquemao] market! I don't even remember the names of the fruit that we sampled, but I had tastes in my mouth that I had never experienced before. We'd crack open something that looked like a dragon egg, and inside would be something that looked like fish eggs but tasted like sweet cream. It was really incredible."—KD
6. Take a Day Trip to Cucunuba
"I think everyone bought at least one [poncho in the Cucunuba village outside of Bogotá]. I bought one that was made by a blind weaver who we met in Cucunuba. I was so touched by his story—the poncho is now one of my prized possessions. I also purchased a great straw hat, palo santo, and dried ant butt snacks!"—KD